Girls Pentathlon - Ryann Krais PA 3670
Krais was 15 points behind Alexandra Coppage DE going into the closing 800 meters. That meant she needed to beat Coppage by 2 seconds. For 3 of the 4 laps, Coppage ran right on Krais' heels (below), but Krais pulled away swiftly at the bell to win by 6 seconds, good for a 59-point overall margin.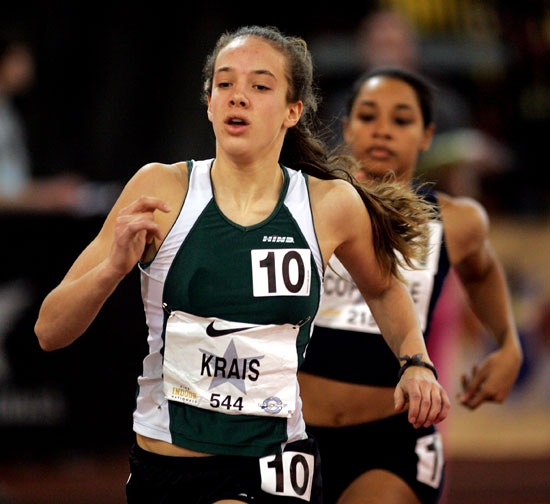 photo by Vic Sailer / PhotoRun
text by Elliott Denman
Their efforts started with the 60-meter hurdles at 8:30 a.m., long before the crowds descended on the Prince George's County Sports and Learning Center. They continued with the high jump at 9:30, the shot put at 12:15 p.m., the long jump at 2 p.m. and wrapped up their long day in the arena with the 800-meter run at 4:15 p.m.
All in all, this was one long, tough challenge for the 24 athletes who answered the call for NIN pentathlon. When all was said and done, all the numbers totaled up, it was Eagleville Elite Cub/Methacton, Pa. High School sophomore Ryann Krais; Wilmington Friends Academy (Delaware) senior Alexandra Coppadge; Marietta, Ga. senior Tiffany Chavis, and Bradford, Pa. senior Erin Hannon who answered it best of all.
Competing in the first pentathlon of her life, Krais stunned all her elders by taking it all with a 3,670 point score, second best in NIN annals, and capping it all with a 2:26.12 800 that convincingly separated her from the pack of pursuers. Only Gayle Hunter's 3,709-point score for North High of Riverside, California in 2004 now tops Krais' 3,670 on the al-time NIN charts.
Coppadge, who had led through four events and needed to stay within two seconds of Krais in the closing 800 meters to win it all, wound up second at 3,611 and this was NIN's sixth best-ever total. Chavis claimed third at 3,333 and Hannon, who slipped from third to fourth with a 2:48.31 four-lapper, registered 3,297. Two other young talents bested the 3,000-point threshold - Nashville, Tennessee's Gabrielle Gioia (3,232) and Blacksburg, Va.'s Annie Grant (3,087.)
Krais opened her day with an 8.80 clocking in the 60 hurdles, followed with a 5-3 ¼ PR high jump, 31 0 ½ shot put and 18-5 ¼ long jump before taking on the 800.
"That high jump was a total surprise," said Krais, a straight -A student. "I thought I could do, maybe 28 feet, in the shot, but not 31.
"I never thought I could do all of this. I was just hoping to make the top four, maybe."
Amazingly, Krais had never put the shot or raced the 800 in formal competition before this meet. After a well-earned rest, Krais will return to tackle the individual 60-meter hurdles and long jump on the Sunday program.
But it's the multi-event challenges that will now be her focus. "Believe it or not, we brought up Jackie Joyner-Kersee's name about a week and a half ago," said Methacton coach Rob Ronzano.
"I told her there were a lot of similarities, that her best events were the hurdles and long jump, too.
"And now we know that she can do the other events pretty well, too. We expect to see her do a hep(tathlon) at one of the Junior Olympic meets this summer."

	  Event 44  Girls Indoor Pentathlon

================================================================

    National: N  3846  3/13/2004   Shana Woods, Poly, Long Beach, CA           

        Meet: M  3709  3/13/2004   Gayle Hunter, JW North, Riverside, CA       

    Freshman: (  3485  3/9/2002    Jenna Utecht, Aquinas, Ft Laudrdl, FL       

   Sophomore: R  3846  3/13/2004   Shana Woods, Poly, Long Beach, CA           

      Junior: J  3827  3/12/2005   Shana Woods, Poly, Long Beach, NJ           

      Senior: $  3711  1998        Loren Leaverton, Naaman-Forest,Grlnd,TX     

    Name                    Year School                  Finals 

================================================================

  1 Krais, Ryann              08 Eagleville Elite,Ea       3670( 

  2 Coppadge, Alexandra       06 Wilmington Frien,Wi       3611( 

  3 Chavis, Tiffany           06 Unat-GA-Marietta,Ma       3333  

  4 Hannon, Erin              06 Unat-PA-Bradford,Br       3297  

  5 Gioia, Gabrielle          07 Kindersport,Nashvil       3232  

  6 Grant, Annie              07 Blacksburg HS,Black       3087  

  7 Lewis, Carolyn            06 Heritage HS,Newport       2990  

  8 Lindaman, Lauren          07 Valley HS,West Des        2974  

  9 Newby, Ashley             09 Columbia Hs-Nj,Mapl       2867  

 10 Posimo, Jessica           06 Jenkintown OC,Phila       2850  

 11 McMahon, Erinn            06 Jenkintown OC,South       2831  

 12 Dolan, Lindsay            06 Beaver County TC,Al       2812  

 13 Holiday, Kierra           06 Largo TC,Upper Marl       2760  

 14 Nolet, Sarah              07 Foxathletics,Los Al       2747  

 15 Thomas, Chelsey           08 Unat-GA-Locust G,Lo       2710  





	  Event 44  Indoor Pentathlon: #1 Girls 60 Meter Hurdles Indoor Pentathlon

==========================================================================

    Name                    Year School                  Finals  H# Points

==========================================================================

  1 Krais, Ryann              08 Eagleville Elite,Ea       8.80   4  952  

  2 Coppadge, Alexandra       06 Wilmington Frien,Wi       8.86   4  939  

  3 Dolan, Lindsay            06 Beaver County TC,Al       9.23   1  862  

  4 Chavis, Tiffany           06 Unat-GA-Marietta,Ma       9.29   7  850  

  5 Holiday, Kierra           06 Largo TC,Upper Marl       9.30   3  848  

  6 Hannon, Erin              06 Unat-PA-Bradford,Br       9.36   2  836  

  6 McMahon, Erinn            06 Jenkintown OC,South       9.36   6  836  

  8 Grant, Annie              07 Blacksburg HS,Black       9.43   6  822  

  9 Gioia, Gabrielle          07 Kindersport,Nashvil       9.47   1  814  

 10 Posimo, Jessica           06 Jenkintown OC,Phila       9.69   6  771  

 11 Mackey, Brittiny          07 Parisi Iap,Branchbu       9.77   3  756  

 12 Lewis, Carolyn            06 Heritage HS,Newport       9.80   5  750  

 13 Wright, Joanna            07 RJ Reynolds Hs-G,Wi       9.92   2  727  

 14 Lindaman, Lauren          07 Valley HS,West Des       10.05   8  703  

 15 Thomas, Chelsey           08 Unat-GA-Locust G,Lo      10.06   7  701  

 

Event 44  Indoor Pentathlon: #2 Girls High Jump Indoor Pentathlon

=================================================================================

 Starting height is 1.37, Progression by 3cm 1.40, 1.43, 1.46,

 1.49, 1.52, 1.55, 1.58, 1.61, 1.64, 1.67, 1.70, 1.73, 1.76 etc.

    Name                    Year School                  Finals            Points

=================================================================================

  1 Hannon, Erin              06 Unat-PA-Bradford,Br      1.70m    5-07.00  855  

  2 Coppadge, Alexandra       06 Wilmington Frien,Wi      1.67m    5-05.75  818  

  2 Chavis, Tiffany           06 Unat-GA-Marietta,Ma      1.67m    5-05.75  818  

  4 Krais, Ryann              08 Eagleville Elite,Ea      1.61m    5-03.25  747  

  5 Newby, Ashley             09 Columbia Hs-Nj,Mapl      1.58m    5-02.25  712  

  6 Lindaman, Lauren          07 Valley HS,West Des       1.55m    5-01.00  678  

  6 Lewis, Carolyn            06 Heritage HS,Newport      1.55m    5-01.00  678  

  6 Grant, Annie              07 Blacksburg HS,Black      1.55m    5-01.00  678  

  6 Nolet, Sarah              07 Foxathletics,Los Al      1.55m    5-01.00  678  

 10 Gioia, Gabrielle          07 Kindersport,Nashvil      1.52m    4-11.75  644  

 10 Thomas, Chelsey           08 Unat-GA-Locust G,Lo      1.52m    4-11.75  644  

 12 Dolan, Lindsay            06 Beaver County TC,Al      1.49m    4-10.50  610  

 12 Posimo, Jessica           06 Jenkintown OC,Phila      1.49m    4-10.50  610  

 12 Holiday, Kierra           06 Largo TC,Upper Marl      1.49m    4-10.50  610  

 15 Wright, Joanna            07 RJ Reynolds Hs-G,Wi      1.43m    4-08.25  544  

 

Event 44  Indoor Pentathlon: #3 Girls Shot Put Indoor Pentathlon

=================================================================================

    Name                    Year School                  Finals            Points

=================================================================================

  1 Coppadge, Alexandra       06 Wilmington Frien,Wi     10.39m   34-01.25  555  

  2 McCoy, Dominique          06 Bruton HS,Williamsb     10.19m   33-05.25  542  

  3 Gioia, Gabrielle          07 Kindersport,Nashvil     10.11m   33-02.00  537  

  4 Krais, Ryann              08 Eagleville Elite,Ea      9.46m   31-00.50  494  

  5 Hannon, Erin              06 Unat-PA-Bradford,Br      9.11m   29-10.75  471  

  6 Grant, Annie              07 Blacksburg HS,Black      8.88m   29-01.75  456  

  7 Nolet, Sarah              07 Foxathletics,Los Al      8.84m   29-00.00  454  

  8 Lindaman, Lauren          07 Valley HS,West Des       8.78m   28-09.75  450  

  9 Dolan, Lindsay            06 Beaver County TC,Al      8.64m   28-04.25  441  

 10 Chavis, Tiffany           06 Unat-GA-Marietta,Ma      8.59m   28-02.25  438  

 11 Newby, Ashley             09 Columbia Hs-Nj,Mapl      8.45m   27-08.75  428  

 12 Sargent, Christine        07 Norfolk Academy,Vir      8.28m   27-02.00  417  

 13 McMahon, Erinn            06 Jenkintown OC,South      7.88m   25-10.25  392  

 14 Lewis, Carolyn            06 Heritage HS,Newport      7.78m   25-06.25  385  

 15 Licari, Megan             06 St. Anthony's HS,Am      7.75m   25-05.25  383 

 

 Event 44  Indoor Pentathlon: #4 Girls Long Jump Indoor Pentathlon

=================================================================================

    Name                    Year School                  Finals            Points

=================================================================================

  1 Krais, Ryann              08 Eagleville Elite,Ea      5.62m   18-05.25  735  

  2 Hannon, Erin              06 Unat-PA-Bradford,Br      5.34m   17-06.25  654  

  3 Lewis, Carolyn            06 Heritage HS,Newport      5.29m   17-04.25  640  

  4 Chavis, Tiffany           06 Unat-GA-Marietta,Ma      5.28m   17-04.00  637  

  5 Coppadge, Alexandra       06 Wilmington Frien,Wi      5.26m   17-03.25  631  

  6 McCoy, Dominique          06 Bruton HS,Williamsb      5.10m   16-08.75  587  

  6 Gioia, Gabrielle          07 Kindersport,Nashvil      5.10m   16-08.75  587  

  8 Wright, Joanna            07 RJ Reynolds Hs-G,Wi      4.99m   16-04.50  557  

  9 Lindaman, Lauren          07 Valley HS,West Des       4.94m   16-02.50  543  

  9 Posimo, Jessica           06 Jenkintown OC,Phila      4.94m   16-02.50  543  

 11 Sargent, Christine        07 Norfolk Academy,Vir      4.90m   16-01.00  532  

 11 Grant, Annie              07 Blacksburg HS,Black      4.90m   16-01.00  532  

 13 McMahon, Erinn            06 Jenkintown OC,South      4.85m   15-11.00  519  

 14 Thomas, Chelsey           08 Unat-GA-Locust G,Lo      4.84m   15-10.50  516  

 15 Dolan, Lindsay            06 Beaver County TC,Al      4.75m   15-07.00  492

 

 Event 44  Indoor Pentathlon: #5 Girls 800 Meter Run Indoor Pentathlon

==========================================================================

    Name                    Year School                  Finals  H# Points

==========================================================================

  1 Krais, Ryann              08 Eagleville Elite,Ea    2:26.12   2  742  

  2 Coppadge, Alexandra       06 Wilmington Frien,Wi    2:32.01   2  668  

  3 Gioia, Gabrielle          07 Kindersport,Nashvil    2:33.49   2  650  

  4 Nolet, Sarah              07 Foxathletics,Los Al    2:36.60   1  612  

  5 Newby, Ashley             09 Columbia Hs-Nj,Mapl    2:36.88   1  609  

  6 Lindaman, Lauren          07 Valley HS,West Des     2:37.66   2  600  

  7 Grant, Annie              07 Blacksburg HS,Black    2:37.76   2  599  

  8 Posimo, Jessica           06 Jenkintown OC,Phila    2:37.83   1  598  

  9 Licari, Megan             06 St. Anthony's HS,Am    2:38.08   1  595  

 10 Chavis, Tiffany           06 Unat-GA-Marietta,Ma    2:38.48   2  590  

 11 McMahon, Erinn            06 Jenkintown OC,South    2:40.08   1  572  

 12 Mackey, Brittiny          07 Parisi Iap,Branchbu    2:41.05   1  561  

 13 Wright, Joanna            07 RJ Reynolds Hs-G,Wi    2:41.69   1  554  

 14 Lewis, Carolyn            06 Heritage HS,Newport    2:43.21   2  537  

 15 Thomas, Chelsey           08 Unat-GA-Locust G,Lo    2:46.39   1  502