Donna on the Side at 2006 NIN
Part 1 - the scene
Part 2 - on the side
Part 3 - sprints & hurdles
Part 4 - distance
Part 5 - relays
Part 6 - pentathlon and race walk
Part 7 - field events
Part 8 - workerbees
by Donna Dye
Pentathlon
Girls
1st Ryann Krais, 08 Eagleville Elite


2nd Alexandra Coppadge, 06 Wilmington Friends
3rd Tiffany Chavis, 06 GA-Marietta,Ma
4th Erin Hannon, 06 PA-Bradford,Br
5th Gabrielle Gioia, 07 Kindersport,Nashvil
6th Annie Grant, 07 Blacksburg HS,Black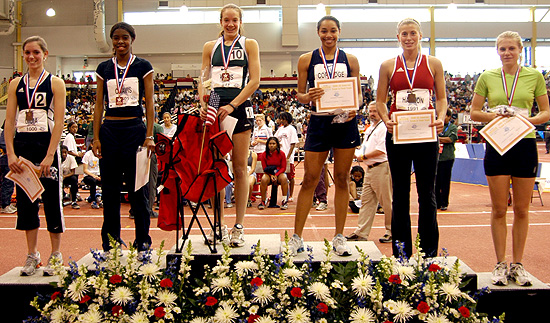 1st place Ryann Krais with mom, Janelle, Coach Rob Ronzano and dad, John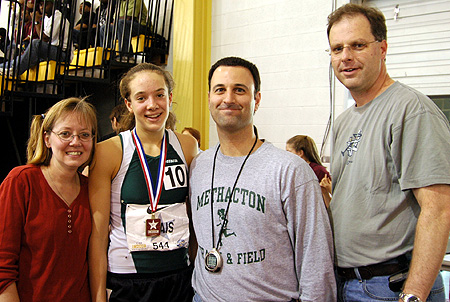 2nd Alexandra Coppadge with Coach Barry Swanson and parents Joel and Arlene
Guess where she will be in September.....North Carolina of course.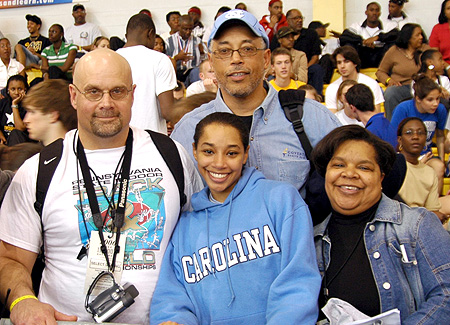 Boys Pentathlon
1 258 Klech, David 06 California HS,San R 3980J


2 1666 Prentice, Terry 07 So Cal Cheetahs,Pom 3756R
3 1325 Allen, Jason 06 Mt. Hebron,Ellicott 3562R
4 1197 Shotwell, Frank 06 Medina HS,Medina, O 3481
5 1001 Ayers, Michael 07 Kindersport,Nolensv 3438
6 1251 Crosta, Nick 06 Monsignor Donova,To
1st David Klech with his parents Bill and Yvonne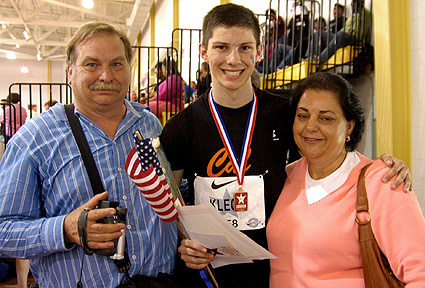 3rd place Jason Allen with Coach Matt Gettermann, dad, David and Grandmom, Barbara Allen
Jason will be at the University of Maryland next year.
6th place Nick Costa with Tom Reabold; Dad, Nick; Jack O'Leary and mom, Judy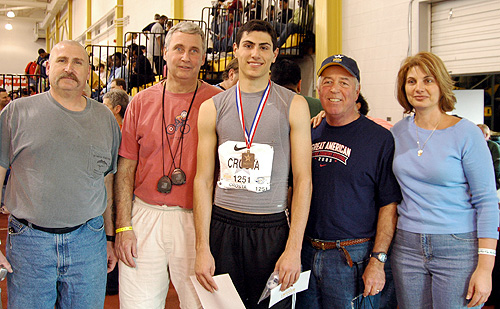 Race Walk
Girls
1st Christina Peters, 06 Miami Valley TC,Yel 7:25.71


2nd Heather Buletti, 06 Westhampton Beac,Ea 7:27.27
3rd Kate Cannon, 06 Somers HS,Lincolnda 7:28.05
4th Lauren Forgues, 06 Boothbay HS,Boothba 7:30.97
5th Lindsay Conway, 06 Eastridge HS,Roches 8:02.23
6th Carly O'Keefe, 07 Penfield HS,Rochest 8:04.46
1st Christina (Tina) Peters OH with dad,Vince
Vince Peters is the USATF rep for race walk in the US. Currently, he is alerting all race walkers about scholarship opportunities going begging at NAIA colleges. The National Association of Intercollegiate Colleges (NAIA) consists of approximately 350 small-college athletics programs
in the United States. For more information, contact Vince at [email protected]
2nd Heather Buletti NY with mom, Susan Smith
6th Carly O"Keefe NY with Coach Dave Hennessey
5th Lindsay Conway with mom, Christina, sister, Chelsea and dad, Tom

3rd Kate Cannon with Jake and mom, Dania
Boys Race Walk
1 1609 Vergara, Roberto 08 S Texas Walking,Edi 6:49.20(


2 1608 Vergara, Ricardo 08 S Texas Walking,Edi 6:49.56
3 1610 Villarreal, Abraha 08 S Texas Walking,Don 7:33.60
4 1288 Shaffer, Kyle 08 Mount Vernon HS,How 7:51.15
5 1607 Chavez, Alejandro 10 S Texas Walking,Pha 7:51.70
6 1619 Burns, Taylor 07 Scarborough HS,Scar 7:54.04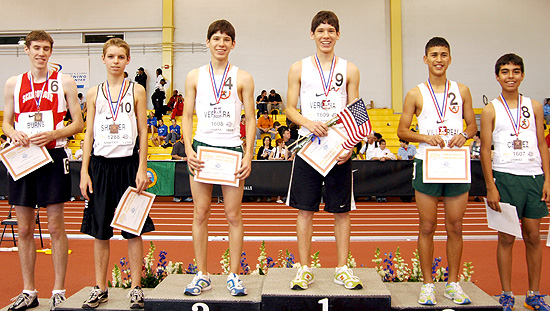 Donna on the Side at 2006 NIN
Part 1 - the scene
Part 2 - on the side
Part 3 - sprints & hurdles
Part 4 - distance
Part 5 - relays
Part 6 - pentathlon and race walk
Part 7 - field events
Part 8 - workerbees