Donna on the Side at 2006 NIN
Part 1 - the scene
Part 2 - on the side
Part 3 - sprints & hurdles
Part 4 - distance
Part 5 - relays
Part 6 - pentathlon and race walk
Part 7 - field events
Part 8 - workerbees
by Donna Dye
Distance
800 meters
Girls
800 meters: (from left)
6th Shaniel Chambers, 4th Tameka Jameson,

1st Katie Doswell

, 2nd Emily Infeld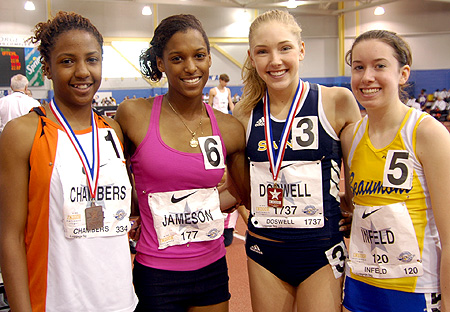 1st place Katie Doswell VA with her family and coach: (from left) sisters Cavell, Allison; dad, John; mom, Mary, Katie; Coach Ben Ackerley and Coach's son Cooper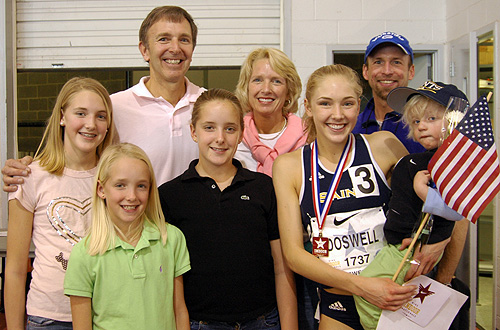 Boys
1 1345 Williams, Karjuan 06 New Bern HS,New Ber 1:52.56M


2 665 Mostrag, Axel 07 Fork Union M.A.,For 1:53.32(
3 345 Johnson, William 06 Cincinnati Expre,We 1:53.95(
4 1667 Bean, Alex 06 Somers HS,Somers, N 1:54.50(
5 724 Rhodes, Elliot 08 Germantown Acad,Phi 1:56.58
6 1543 Kauffman, Aaron 06 Red Land HS,Etters, 1:56.73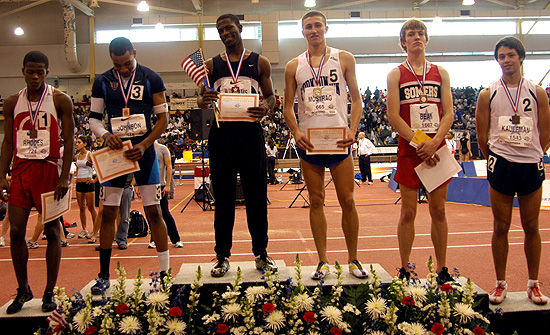 1st place Karjuan Williams with his sponsor, Nicholas Sparks
Mr. Sparks is a best-selling novelist and track enthusiast who helped Karjuan relocate to North Carolina after hurricane Katrina wrecked Karjuan's home in Louisiana.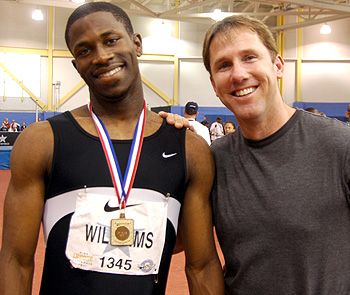 2nd Axel Mostrag with family and friends: (from left) friend, Rola Szymon, Assistant Coach Steve McCoy; brother, Mariusz; American mom, Beth Brown; Axel; Coach Winston Brown and friend George Winslow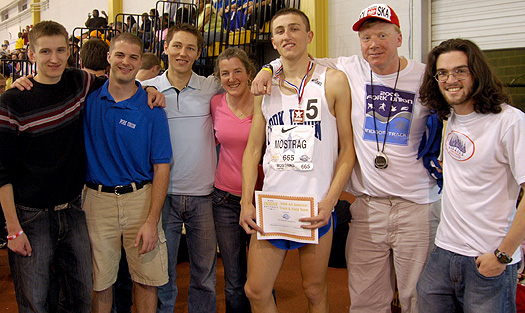 Freshman Mile
Girls
1 2167 Britto, Michelle 09 Woodbridge HS,Woodb 5:12.12


2 1839 Bottorff, Juliet 09 Adrenaline TC,Newar 5:12.37
3 355 Stone, Kristen 09 Cinco Ranch TC,Katy 5:13.39
4 308 DiValentin, Lia 09 Chantilly- Xbc I,Fa 5:15.61
5 184 Rivers, Teshika 09 Blazin' Raiders,Gre 5:17.37
6 821 Malloy, Kristen 09 Hereford TC,Phoenix 5:17.80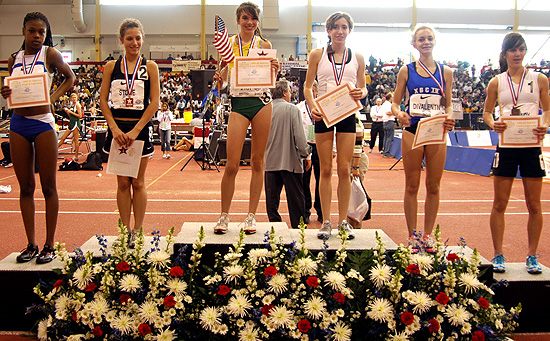 1st place Michelle Britto with Coach Adam Daniels, Dad Greg and fans and friends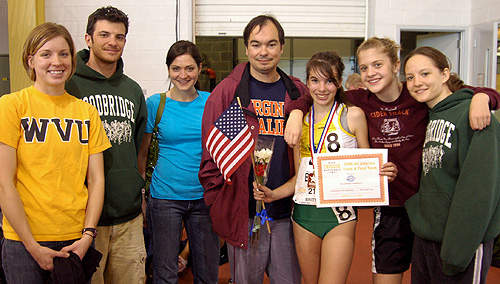 Boys
1 1306 Porter, Thomas 09 Mountain View HS,St 4:28.14


2 2089 Springer, Andrew 09 Westerly HS,Westerl 4:28.23
3 1302 Matthews, Bill 09 Mountain Brook T,Bi 4:30.11
4 878 McGregor, Patrick 09 Hoover HS,Hoover, A 4:30.16
5 977 Revord, Connor 09 Jesuit HS,Tampa, FL 4:30.65
6 1071 Wood, Philip 09 LaSalle College,Yar 4:31.23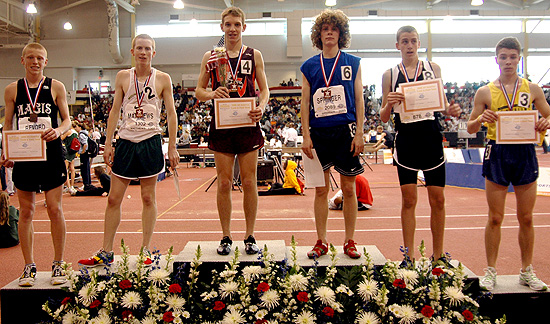 1st place Thomas Porter with parents Deb and Mike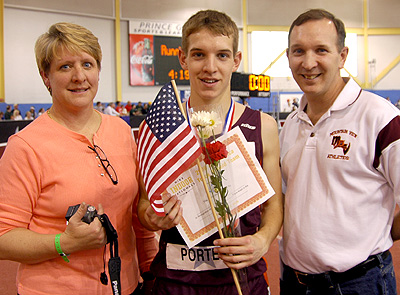 Mile
The Bill Bowerman Trophy is presented to the boy and girl Mile winner. Bill Bowerman was the co-founder and ultra-innovator of Nike, Inc. He was also coach at the University of Oregon in Eugene OR. In his quest for a shoe for running, he created the first lightweight outsole shoe with some latex, leather, glue and his wife's waffle iron.

Bowerman was a running man through and through. So it is fitting that the Nike Indoor Nationals winner of the mile receive the Bill Bowerman Trophy.
Girls
1 67 Areson, Jackie 06 Atlantic HS,Delray 4:50.13


2 509 Wetherbee, Colleen 07 Dolphin TC,West Yar 4:51.22
3 871 Wetsch, Bria 06 Holy Family Cath,Ch 4:52.77
4 1123 Smith, Alison 07 Mach Los TC,Columbi 4:57.09
5 944 Marino, Amada 07 Jackson Memorial,Ja 4:57.45
6 1007 Ferguson, Lindsey 06 Kinetic RC,Greenfie 4:59.72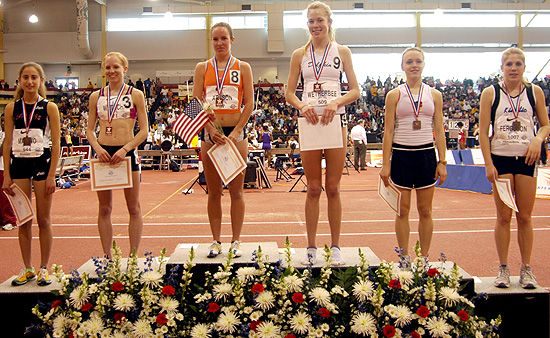 1st place Jackie Areson with Coach Ike Coles and mom, Mary
Jackie has a varied background. Her mother is from Australia and Jackie was born in Hong Kong. Now she lives in Florida but next year she will be in Knowville at the University of Tennessee.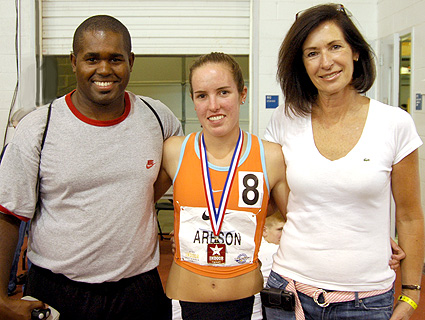 4th place Alison Smith MD with Coach Brian Funk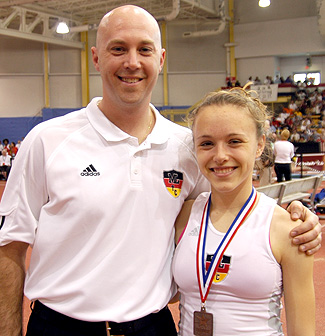 Alan Webb, Elite Nike runner, gave out the awards and poses with the milers: (from left) Lindsey Ferguson, Alison Smith, Colleen Wetherbee, Alan Webb, Jackie Areson, Bria Wetsch and Amanda Marino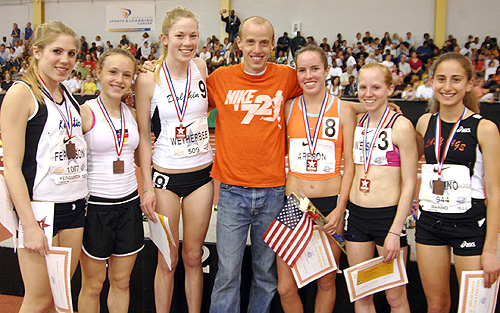 Announcer Ian Brooks flanked by Lindsey Ferguson (l) and Hannah Davidson from Saratoga Springs NY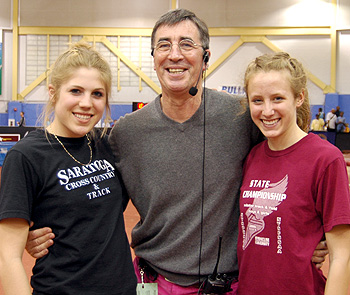 Boys
1 427 Taye, Ayalew 07 Cushing Academy,Ash 4:14.31


2 632 Harbor, Justin 06 Flagler Palm Coa,Pa 4:15.66
3 1837 White, Ben 06 Syracuse Charger,Li 4:16.96
4 313 Siragusa, Brad 06 Chantilly- Xbc I,He 4:17.06
5 1617 Della Pelle, Domin 07 Salesianum,Kennett 4:17.56
6 428 Taye, Sintayehu 08 Cushing Academy,Ash 4:18.21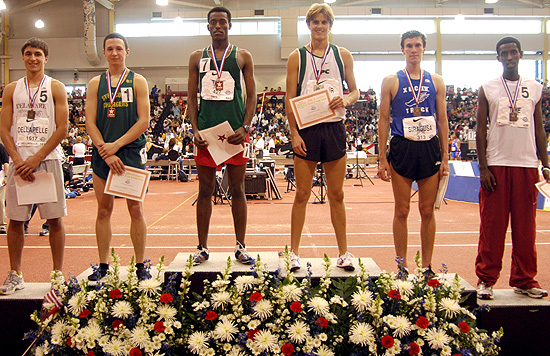 3rd place Ben White with The Ben White Fan Club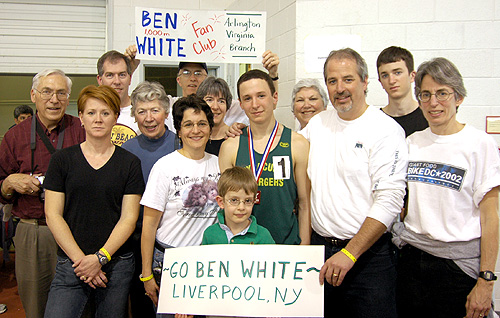 Donna on the Side at 2006 NIN
Part 1 - the scene
Part 2 - on the side
Part 3 - sprints & hurdles
Part 4 - distance
Part 5 - relays
Part 6 - pentathlon and race walk
Part 7 - field events
Part 8 - workerbees