Donna on the Side at 2006 NIN
Part 1 - the scene
Part 2 - on the side
Part 3 - sprints & hurdles
Part 4 - distance
Part 5 - relays
Part 6 - pentathlon and race walk
Part 7 - field events
Part 8 - workerbees
by Donna Dye
On the Side
Jocelyn and Vincent Thomas are proudly wear their feelings about track. Their daughter Chelsey participated in the Pentathlon.
The guys from Morris Hill NJ: (top from left) Jayson Decker, Coach Sean Robinson, Brandon Rodhewitz (bottom from left) Kyle Soloff, Ryan Uhrynowich, Jared Labor

Morris Hills' Jayson Decker brought fans: his sister, Jessica and mom, Joyce Decker.

Camden NJ
Otm Mustangs of Bladensburg MD

Bobby's Girls is really the Hurricane Track Club from Malvern PA. But for the NIN they decided to have some fun and honor their coach, R. Phil Genther with the Bobby's Girl T-shirts.
(from the left) Bridget Carroll, Annie Rachko, Cailin Reusche, Eva Derrickson,
Audrey McGonigle and Coach Genther
Germantown Academy Philadelphia PA

Friends and rivals both: Kierra Holiday from Largo HS MD and Jacia Montgomery Eleanor Roosevelt HS MD

Fast Lane teammates, Nicole Blood now from CA ,
Caitlin Lane NY and Chelsea Barbolla

Huguenot HS Richmond VA

Mt. Airy Track Club PA

The gang from West Charlotte NC

Newburgh NY

Christie Jones Cinco Ranch TX

Chaminade Flyers NY
(from left) Mike Kiley, Chris Tonn, Charlie Donnelly, Stephen Donnelly, Steve Childs

Long time friends: NSSF's Mike Byrnes and Coach Jackie Kendall from Bethel Hampton VA

Sa'de Williams with mom, Crissy Malone
Sa'de placed 2nd in the 200 meters and 400 meters.
Warming Up
Bishop McNamara Forrestville MD: (from left)
Monica V. Mason 09, Lindsey Blake 08, and Lakisha Campbell 09
In their own words: "Three beautiful young ladies warm up intensively."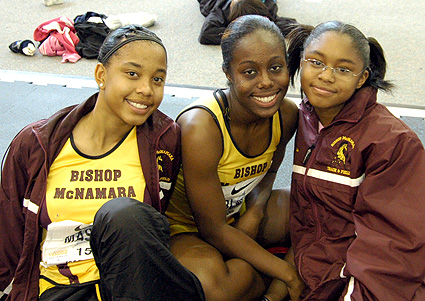 Getting ready are: Alicia Yanez CA, Chanel Tarett-Minor PA and Bria Nelson CA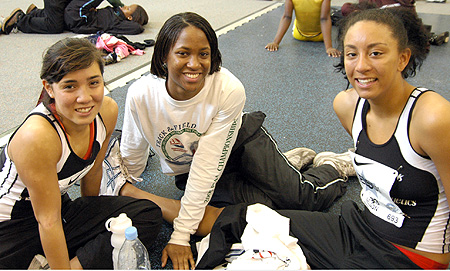 From St. Catherine's in Virginia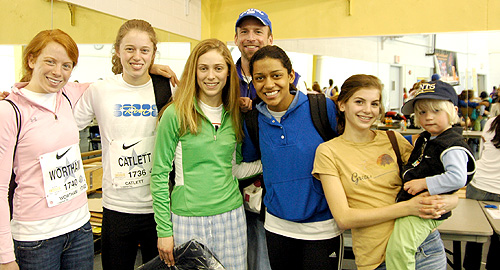 Sideline Action

There's more than waves and smiles on the side. There is serious action too.
Donna on the Side at 2006 NIN
Part 1 - the scene
Part 2 - on the side
Part 3 - sprints & hurdles
Part 4 - distance
Part 5 - relays
Part 6 - pentathlon and race walk
Part 7 - field events
Part 8 - workerbees