Boys Distance Medley:
Kinetic TC (Saratoga NY) wins nail biter
This was a DMR that had a finish worthy of a sprint. With 30 meters to go, Kinetic anchor Steve Murdock had lost most of a big lead and was hanging on for dear life as Fork Union Military Academy VA's Alex Mostrag was charging. Murdock held on by three hundredths of a second as Mostrag ran a 4:13 anchor.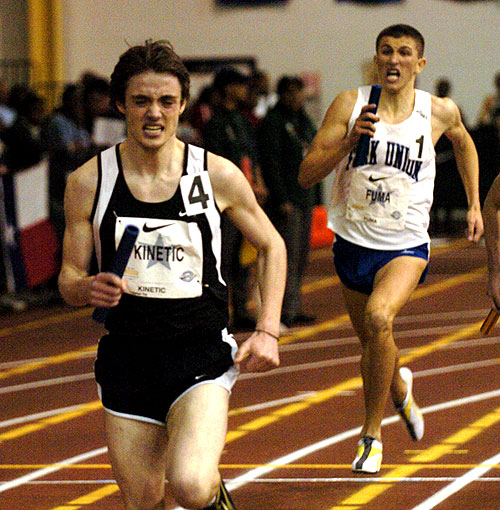 .
photo by John Dye
text by Pete Cava
Boys distance medley relay (1200, 400, 800, 1600) – Junior Stephen Murdock held off a charging Axel Mostrag at the finish to give Kinetic Running Club (Saratoga, NY) a razor-thin edge over Fork Union (VA) Military Academy.
The Saratogans led early, thanks to Greg Kelsey's opening leg. By the first exchange, Ben White had the Syracuse (NY) Chargers in the lead, with Kinetic second.
Mike Compson of Syracuse battled Kinetic's Cameron Benidt on the second exchange. A the third exchange, Greg Kiley had the Saratogans in the lead with Mountain Brook (AL) TC second and Syracuse well back in third.
Murdock ran unchallenged most of the way, with Fayetteville Manlius (Manlius, NY), Mountain Brook, Stark Street AC (Portland, OR) and Fork Union waging an apparent battle for second.
On the final lap, Mostrag began surging like an avalanche, leaving the rest of the field behind in an all-out effort to overtake Murdock. At the finish, there was barely enough room for a shadow to pass through, but Murdock held on for the victory.
Kinetic's winning time was 10:17.01 to 10:17.04 for the Virginians. Third was Fayetteville Manlius, winners of the 4xMile relay earlier Saturday. Fayetteville Manlius's time was 10:20.00. Syracuse dropped to eighth place.
"Teamwork," said Kelsey, the acknowledged leader of the Kinetic crew. "That's what won it for us. I knew they were going to kick, but you can always count on Steve."
The gallant Mostrag, an exchange student, is been one of Poland's top junior middle distance runners. Fork Union coach Winston Brown clocked him in 4:13.68, including a jet-quick 28-second final 200.
Mostrag, who will remain in the U.S. through next year, has a brother who attended Virginia Commonwealth University.
Event 27  Boys Distance Medley

================================================================

    National: N  9:59.94  3/10/2000   Gloucester, Gloucester, MA               

        Meet: M 10:03.70  3/2001      Atlantic, Delray Beach, FL               

    School                                               Finals 

================================================================

  1 Kinetic RC                                         10:17.01  

  2 Fork Union M.A.                                    10:17.04  

  3 Fayetteville Track                                 10:20.00  

  4 Stark Street AC                                    10:20.62  

  5 Mountain Brook TC                                  10:21.48  

  6 West Springfield HS                                10:28.09  

  7 Chardon HS                                         10:29.24  

  8 Battlefield HS                                     10:39.38  

  9 Mighty Mustangs                                    10:40.73  

 10 Syracuse Chargers                                  10:41.56  

 11 Ridgefield HS                                      10:42.56  

 12 Chaminade HS                                       10:45.13  

 13 McFarland TC                                       10:45.70  

 14 Brookline HS                                       10:45.93  

 15 Smiths Station                                     10:50.21  

 16 Hillsborough HS                                    10:55.70  

 17 Bay Shore TC                                       10:58.04  

 18 DE Striders                                        11:00.89  

 19 Quince Orchard                                     11:01.46  

 20 Beall TC                                           11:07.09  

 21 Unat-MD-Clinton                                    11:11.08  

 22 St. Xavier HS                                      11:13.24