Boys Weight Throw - Walter Henning NY 83-2.5 USR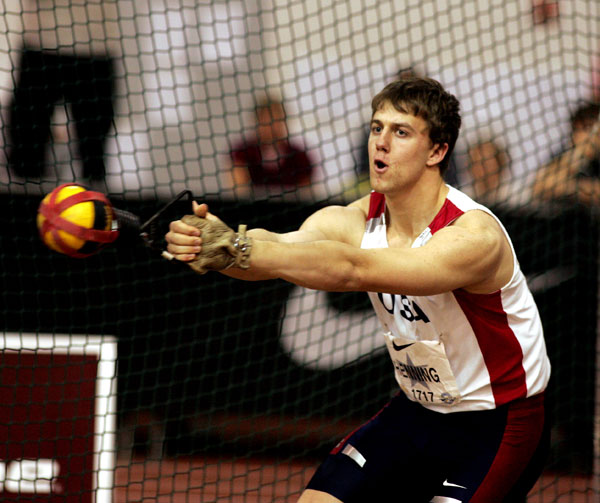 photo by Vic Sailer / PhotoRun
Pete Cava's report
At the same time the vault fireworks were going on, Walter Henning was staging a one-man pyrotechnic display of his own over in the weight cage.
The 6-2, 224-pound junior from St. Anthony's High School (South Huntington, NY), had a heart-stopping series of 77-4.5, 83-2, 78-1.5, 81-8.5, 81-2.75 and 81-5.25. Henning's second round mark bettered the two-year old national indoor prep record of 82-10. It also gave him the best-ever junior class record.
"I was doing really good in practice this week," said Henning. "I came here last night for practice and had a couple of 80-foot practice throws.
Henning's heroics shaded the rest of the competition. Eric Flores (Custer, WY) was second with a 75-11 while junior Trevor Krachir (Twenty-nine Palms, CA), the son of former shot putter Hank Kraychir, took third with a mark of 74-11.75.
"I was real happy with today," said Henning. "These were my best four throws, and now I have nine over 80 feet."
Henning said he's a dozen pounds heavier this year than he was in 2005, when he placed fourth at the Nike Indoors. "Last year my focus was all on training," he said.
Boys Weight Throw

==========================================================================

    National: N    82-10  2/14/2004   Leif Arrhenius, Mtn View, Orem, UT       

        Meet: M    87-05  3/1999      Dylan Armstrong, Westside, Canada        

    Freshman: ( 63-06.25  1/22/2005   Wes Wright, Villa Rica, GA               

   Sophomore: R 75-00.50  2/26/2005   Walter Henning, St. Anthony's,S Hunt,NY  

      Junior: J    81-00  1/7/2006    Walter Henning, St. Anthony's,S Hunt,NY  

      Senior: $    82-10  2/14/2004   Leif Arrhenius, Mtn View, Orem, UT       

    Name                    Year School                  Finals           

==========================================================================

  1  1717 Henning, Walter J   07 St. Anthony's HS,Ki     25.36m   83-02.50 

  2   430 Flores, Eric        06 Custer HS,Custer, S     23.14m   75-11.00 

  3  1859 Kraychir, Trevor    07 Team Kraychir,29 Pa     22.85m   74-11.75 

  4  1073 Schiedt, David      06 Lassiter TC,Mariett     21.24m   69-08.25 

  5   559 Zajac, Michael      06 EC Glass HS,Lynchbu     21.20m   69-06.75 

  6  2178 Pearce, Craig       07 Woonsocket HS,Woons     20.49m   67-02.75 

  7    49 Megerdichian, Matt  06 Archbishop Mollo,Co     19.19m   62-11.50 

  8   247 Keller, Andy        06 Brownsburg TC,Brown     18.75m   61-06.25 

  9   142 Sampson, Patrick    06 Bishop Hendricke,Mi     18.74m   61-05.75 

 10  1367 Daly, Tim           07 North Kingstown,Sau     18.32m   60-01.25 

 10  1956 Loughney, Ryan      07 Tri Valley Schoo,Wo     18.32m   60-01.25 

 12    50 Sileikis, Darius    06 Archbishop Mollo,Ja     18.28m   59-11.75 

 13  2154 Paladino, Danny     06 Wilson Memorial,Mon     18.09m   59-04.25 

 14   139 Chace, Nick         06 Bishop Hendricke,Fo     17.66m   57-11.25 

 15    10 Gonzalez, Raul      07 Alta Loma HS,Fontan     17.20m   56-05.25 

 16  1368 Tiernan, Joe        06 North Kingstown,Nor     17.13m   56-02.50 

 17  1920 Blair, Dana         06 Tollgate HS,Warwick     17.08m   56-00.50 

 18  1858 Kraychir, Trent     08 Team Kraychir,29 Pa     17.06m   55-11.75 

 18  1712 Clark, Chip         06 St. Anthony's HS,Ba     17.06m   55-11.75 

 20  1904 Krokey, William     07 Throw One Deep,Wood     17.04m   55-11.00 

 21   245 Gormley, Mitchell   08 Brookwood HS,Lawren     16.75m   54-11.50 

 22  2179 Smith, Dan          06 Woonsocket HS,Woons     15.64m   51-03.75 

 23   143 Stanton, Craig      07 Bishop Hendricke,Wa     15.53m   50-11.50 

 24  1329 Santerre, Jake      06 Nashua North,Nashua     15.51m   50-10.75 

 25   140 Galle, Kyle         06 Bishop Hendricke,Wa     15.32m   50-03.25 

 26  1101 Bertholf, Troy      07 Liberty HS,Liberty,     14.93m   48-11.75 

 27  2155 Torrisi, Vincent    08 Wilson Memorial,Cen     14.74m   48-04.50 

 28   141 Gama, Michael       09 Bishop Hendricke,Wa     14.51m   47-07.25 

 29  2050 Channels, Martin    06 Wayne HS,Huber Heig     14.15m   46-05.25 

 --   108 Plumer, Todd        06 Beacon HS,Beacon, N       FOUL            

 --   301 Farley, Matthew     07 Chaminade HS,Oyster       FOUL