Boys High Jump - Marlon Woods VA 6-8.75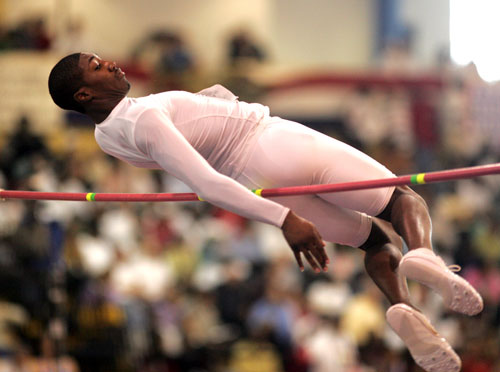 photo by Vic Sailer / PhotoRun
text by Pete Cava
Marlon Woods (Booker T. Washington HS, Norfolk, VA) set a personal best last weekend when he won the Virginia state meet with a jump of 6-9. He didn't know what to expect this weekend at the Nike Indoor Nationals.
"I had a cold coming on and a sore throat," Woods told NSSF's Dave Kearney. "I didn't know how I'd do today."
Hold off on the Listerine.
Woods almost matched his PR Sunday, winning the national title with a 6-8.75 clearance. He finished ahead of Tim Lovick (New Bern, NC) and Justin Frick, who tied for second at 6-6.75.
"I'm very happy with the win," Woods said. The 6-2, 185 Woods, who also played high school football, plans to continue in track and field next year at East Carolina or Norfolk State.
Boys High Jump

==========================================================================

 Progressions:  6-4.75, 6-6.75, 6-8.75, 6-10.75, 7-0.5 7-2.5,

 7-4.25, 7-5.75

    National: N 7-05.25  3/14/2004   Scott Sellers, Cinco Ranch, Katy, TX      

        Meet: M 7-05.25  3/14/2004   Scott Sellers, Cinco Ranch, Katy, TX      

    Freshman: (    6-08  1998        Ivan Schmidt, Penncrest, Media, PA        

   Sophomore: R    7-02  1/11/2003   Scott Sellers, Cinco Ranch, Katy, TX      

      Junior: J 7-05.25  3/14/2004   Scott Sellers, Cinco Ranch, Katy, TX      

      Senior: $    7-05  3/11/1978   Gail Olson, Sycamore, IL                  

      Senior: $    7-05  2/12/2005   Scott Sellers, Cinco Ranch, Katy, TX      

    Name                    Year School                  Finals           

==========================================================================

Flight  1  

  1 Woods, Marlon             06 Washington Hs-Bo,No      2.05m    6-08.75 

  2 Frick, Justin             06 Freehold HS,Freehol      2.00m    6-06.75 

  2 Lovick, Tim               06 Garner HS,New Bern,      2.00m    6-06.75 

  2 Healey, Michael           07 Cinco Ranch TC,Katy      2.00m    6-06.75 

  5 Burns, John               06 Mt. St. Charles,Fra      1.95m    6-04.75 

  5 Boswell, Tyler            06 Hoover HS,Hoover, A      1.95m    6-04.75 

  5 Buice, Jonathan           06 Notre Dame HS,Wysox      1.95m    6-04.75 

  5 McPherson, Jordan         07 Wayne HS,Dayton, OH      1.95m    6-04.75 

  5 Johnson, Aaron            06 Four Quarters,Clint      1.95m    6-04.75 

  5 Armstrong, Edward         06 New Bern HS,New Ber      1.95m    6-04.75 

  5 Johnson, Sean             06 Four Quarters,Clint      1.95m    6-04.75 

 -- Large, Hunter             06 Knoxville TC,Knoxvi         NH            

 -- Bryant, Anthony           06 Albemarle HS,Charlo         NH            

 -- Onuscheck, Doug           08 Ravenscroft Scho,Ra         NH            

 -- Hruch, Nick               07 Liberty TC,Eldersbu         NH            

 -- Randolph, Brandon         06 Old Mill TC,Severn,         NH