Boys 2-Mile: Michael Coe CA 8:56.87
see story by Stephen Underwood
It came down to a duel between Michael Coe CA and Craig Forys NJ, and Coe won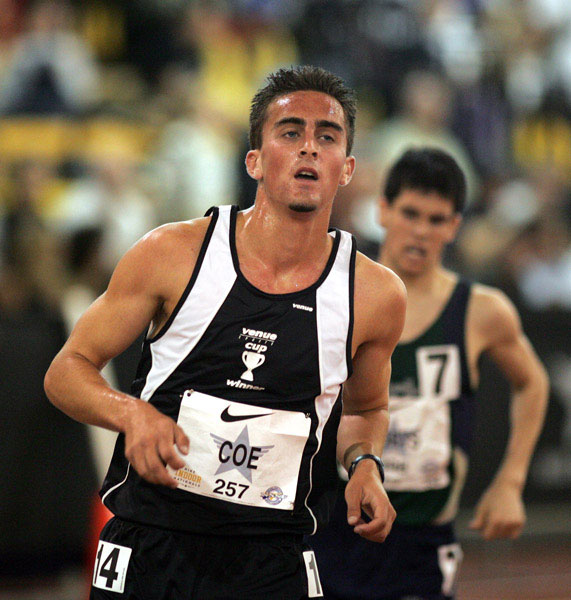 photo by Vic Sailer / PhotoRun

text by Pete Cava
Michael Coe took over the lead with two laps remaining and cruised home unchallenged. Coe, whose name inevitably draws questions about British Olympian Sebastian Coe, finished in 8:56.87. Michael Eaton (Bowling Green, KY), Stephen Murdock (Saratoga, NY), Isaac Stoutenburgh (Central Point, OR) and Craig Forys (Colts Neck, NJ) all took turns in front during the race. Meanwhile, Coe was content to hang back, watching the race develop.
With five laps to go and Stoutenburgh in first, Coe picked off Eaton to move into third place behind Forys. With four laps remaining, Forys moved into the lead with Coe on his tail. It turned into a two-man contest with two laps to go as Coe and Forys pulled away. At the bell, Coe began to leave Forys behind. The junior from New Jersey finished second in 8:59.98. Matthew Tebo (Albuquerque, NM), another junior, moved up for third in 9:10.02.
"Oh, yeah," Coe said when asked about his name. "Everywhere I go, people ask if I'm related to Seb. Maybe in ability, I hope.
The California-bound senior from Cabrillo High School (Lompoc, CA) said he felt lethargic during Sunday's race. "With three laps to go, I let it out," he said.   Coe's time takes over the top spot on the year's prep indoor list.
Boys 2 Mile Run

================================================================

 SECTIONS 1 + 2  AT 7:30am SUNDAY

 SECTION 3 AT 2:32pm SUNDAY

    National: N 8:40.00  2/15/1964   Gerry Lindgren, Rogers, Spokane, WA       

        Meet: M 8:45.19  3/2001      Alan Webb, South Lakes, Reston, VA        

    Freshman: ( 9:16.65  3/4/2005    Sintayehu Taye, Portland, ME              

   Sophomore: R 8:55.80  1974        Rudy Chapa, Hammond, IN                   

      Junior: J 8:52.94  2000        Dathan Ritzenhein, Rockford, MI           

      Senior: $ 8:40.00  2/15/1964   Gerry Lindgren, Rogers, Spokane, WA       

    Name                    Year School                  Finals 

================================================================

Section  1  

  1 Biddle-Snead, Simon       07 Clarke County HS,Be    9:33.64  

  2 Weigel, Philip            06 Mount Pleasant H,Wi    9:34.80  

  3 Parker, Dwight            07 World Express AC,Ba    9:36.62  

  4 DuBois, Seth              06 Guilderland HS,Alta    9:37.63  

  5 Wolpert, Kyle             06 NC School of Sci,Du    9:41.46  

  6 Edwards, Zac              06 Northside HS,Roanok    9:44.93  

  7 Kaye, Adam                06 Brookline HS,Brookl    9:51.68  

  8 Goldsmith, Kyle           07 Cinco Ranch TC,Katy    9:52.61  

  9 Mayes, Clay               06 Jenks America TC,Cl    9:56.44  

 10 Carothers, Tanner         07 Northland Prep,Flag   10:07.87  

 11 Koubek, Rick              07 Deep Six Racing,Por   10:12.39  

 -- Fahey, Matt               07 Unat-PA-Conestog,Be        DNF  

Section  2  

  1 Centrowitz, Matthew       07 Broadneck HS,Arnold    9:20.38  

  2 Osborne, James            06 Jesuit HS,Lutz, FL     9:23.21  

  3 Bateman, Noel             06 Aquinas,Rochester,     9:24.81  

  4 Divinnie, Tom             06 Harpeth Valley H,Br    9:27.31  

  5 Birdsong, Anthony         06 Monterey Senior,Lub    9:31.83  

  6 Duncan, Ron               06 Fleming County,Hill    9:33.21  

  7 Sauvageau, Joe            06 Cinco Ranch TC,katy    9:37.48  

  8 Moldovan, Robert          07 Northrop HS,Fort Wa    9:40.50  

  9 Moujoodi, Jeremy          06 Hoover HS,Hoover, A    9:41.00  

 10 Keithan, Chas             06 Cinco Ranch TC,katy    9:56.01  

 11 Parks, Joe                06 Deer Park HS,Deer P    9:58.06  

 12 Chandler, Matt            06 Gonzaga HS,Alexandr   10:03.70  

 -- Webb, Tom                 06 Bishop Hendricke,Ba        DNF  

 -- Spooner, Mike             07 West Springfield,Sp        DNF  

Section  3  

  1 Coe, Michael              06 Cabrillo HS,Lompoc,    8:56.87( 

  2 Forys, Craig              07 Colts Neck HS,Howel    8:59.98( 

  3 Tebo, Matthew             07 Eldorado HS,Albuque    9:10.02( 

  4 Balyo, Chad               06 Springboro HS,Sprin    9:10.12( 

  5 Eaton, Michael            06 Greenwood HS,Bowlin    9:10.50( 

  6 Jackson, Dan              07 Dexter HS,Ann Arbor    9:15.66( 

  7 Heineking, Emil           07 Chardon HS,Chardon,    9:17.32  

  8 Gruenewald, Thomas        07 Fayetteville Tra,Ma    9:18.10  

  9 Stoutenburgh, Isaac       06 Crater HS,Central P    9:18.12  

 10 Kelsey, Greg              06 Kinetic RC,Saratoga    9:20.06  

 11 Massam, Ben               06 Chatham HS,Chatham,    9:27.40  

 12 Murdock, J. Stephen       07 Kinetic RC,Saratoga    9:32.73  

 13 Klotz, Kenny              06 Stark Street AC,Por    9:34.13