Boys 200 - Charles Clark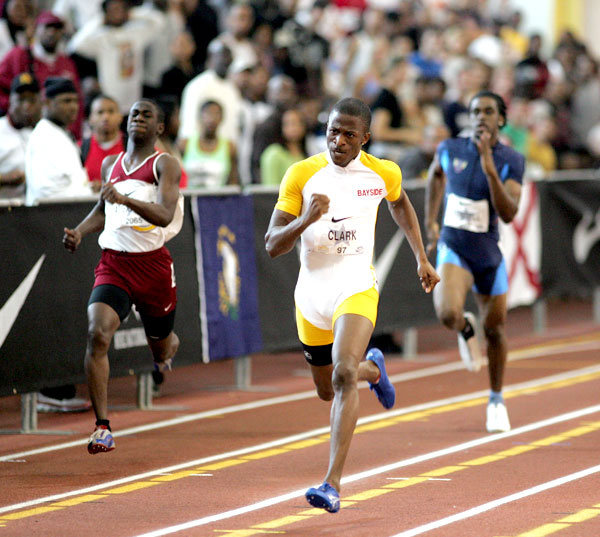 photo by Vic Sailer / PhotoRun
Boys 200 Meter Dash

================================================================

 Final of 8 fastest qualifers in 2 heats of 4

    National: N 20.69  3/14/2004   Xavier Carter, Palm Bay, Melbourne, FL      

        Meet: M 21.22  3/13/2005   J-Mee Samuels, Mt Tabor,Wins-Salem,NC       

    Freshman: ( 21.95  2001        Michael Grant, S. Gwinnett SnellvilleGA     

   Sophomore: R 21.64  3/16/2003   Anthony Wiseman, De Matha, Hyattsville,MD   

      Junior: J 21.02  2001        Brendan Christian, Reagan, Austin, TX       

      Senior: $ 20.69  3/14/2004   Xavier Carter, Palm Bay, Melbourne, FL      

    Name                    Year School                  Finals 

================================================================

Section  1 Finals

  1 Woods, LaDarius           07 Homewood TC,Homewoo      22.06  

  2 Kelso, Raschad            06 Appomattox HS,Appom      22.09  

  3 Banks, Brandon            06 Garner HS,New Bern,      22.28  

  4 Ward, Chris               07 Evans HS,Kissimmee,      22.45  

Section  2 Finals

  1 Clark, Charles            06 Bayside Tc-Boys,Vir      21.69( 

  2 Alexander, Eward          07 West Charlotte,Char      22.19  

  3 Chesson, Anthony          07 Manchester,Midlothi      22.56  

  4 Postell, Marcus           06 Evans HS,Orlando, F      22.87  


Boys 200 meters – qualifying: Once again, competition in the qualifying was more cutthroat than the used car business. Only eight advanced from 13 heats for Sunday's two final heats of four.
As expected, Charles Clark (Virginia Beach, VA) made it through. Clark, fourth here last year, had the fastest prelim time, 21.96.
Marcus Postell (Orlando, FL) came through in 22.06 and Edward Alexander (Charlotte, NC) ran 22.13 to qualify. Anthony Chesson (Midlothian, VA) made it courtesy of a 22.16 time.
Chris Ward (Kissimmee, FL) rebounded from a disappointing 400m performance. Ward's 22.16 earned him a berth in the final. LaDarius Woods (Homewood, AL) qualified with a 22.18 time. Rounding out the final will be Raschad Kelso (Appomattox, VA), who ran 22.19, and Brandon Banks (New Bern, NC), who posted a time of 22.22.
Alexander, Chesson, Ward and Woods are all juniors.
Simply out of luck was Corey Vinston (Hampton, VA), whose 22.23 was the day's fastest non-qualifying time.
Event 3  Boys 200 Meter Dash

===================================================================

 Final of 8 fastest qualifers in 2 heats of 4

    National: N 20.69  3/14/2004   Xavier Carter, Palm Bay, Melbourne, FL      

        Meet: M 21.22  3/13/2005   J-Mee Samuels, Mt Tabor,Wins-Salem,NC       

    Freshman: ( 21.95  2001        Michael Grant, S. Gwinnett SnellvilleGA     

   Sophomore: R 21.64  3/16/2003   Anthony Wiseman, De Matha, Hyattsville,MD   

      Junior: J 21.02  2001        Brendan Christian, Reagan, Austin, TX       

      Senior: $ 20.69  3/14/2004   Xavier Carter, Palm Bay, Melbourne, FL      

    Name                    Year School                 Prelims  H#

===================================================================

Preliminaries

  1 Clark, Charles            06 Bayside Tc-Boys,Vir      21.96q  4 

  2 Postell, Marcus           06 Evans HS,Orlando, F      22.06q  7 

  3 Alexander, Eward          07 West Charlotte,Char      22.13q 12 

  4 Chesson, Anthony          07 Manchester,Midlothi      22.16q  4 

  4 Ward, Chris               07 Evans HS,Kissimmee,      22.16q  1 

  6 Woods, LaDarius           07 Homewood TC,Homewoo      22.18q  3 

  7 Kelso, Raschad            06 Appomattox HS,Appom      22.19q 13 

  8 Banks, Brandon            06 Garner HS,New Bern,      22.22q  7 

  9 Vinston, Corey            06 Phoebus HS,Hampton,      22.23  10 

 10 Alexander, Oli            06 Bayside Tc-Boys,Vir      22.29  11 

 11 Sales, Antonio            07 East Chapel Hill,Ch      22.31   6 

 12 Bentley, Adrian           07 Chattanooga Jets,Ch      22.33   5 

 13 Speller, Thomas           07 Norfolk Real Dea,Ch      22.34  11 

 14 Holston, Sean             07 RE Lee HS,Springfie      22.35   7 

 14 Lipscomb, Rodney          06 Ridge View HS,Colum      22.35   5