Runners from Saratoga Springs high school continue to set records and accomplish big-time firsts, even if they don't all run for the same team. In 2004, they took four of the top eight spots at the Northeast Regional, and in 2005, they repeated. Training and racing independently this season, senior Nicole Blood and sophomore Caitlin Lane took 1st and 3rd, exactly ten seconds apart; with current Saratoga Springs top runners Lindsey Ferguson in 3rd and Hannah Davidson in 9th, earning one of the two new NTN/FL slots.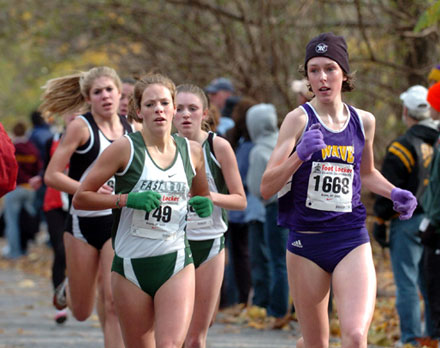 With no wind and cool temps but some spotty mud from rain earlier in the week, the action heated up quickly with pre-race favorite and defending Foot Locker Champion
Aislinn Ryan
side-by-side with Blood at the top of Freshman Hill (
left
). They had gone through the mile in a brisk 5:24. Blood said she was surprised that she felt as comfortable at that pace as she did. Both she and Lane had different perspectives on the 2nd mile where the back hills loom. Lane also thought the first mile was comfortable, but said "the second mile got tough. But when doesn't it?" Blood was using the second mile for its intended purpose..."where people break."
Everyone fell back with the exception of Ryan. Blood said that she had led for a while before Ryan passed her. Ryan described it as back-and-forth. But by the time they completed the big downhill stretch after two miles, Blood had built a gap which she was able to maintain before breaking the tape in 17:42 for an unprecedented third consecutive Foot Locker Northeast title.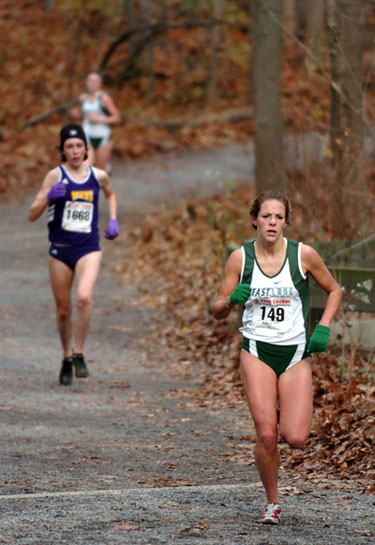 Both Blood and Ryan just started dropping their training miles, Blood from the 50's... and both working on turnover. Ryan said she was more confident entering this year's race, because "last year was my first time as one of the top people. The whole year was a blur." And she looked every bit as confident as Blood heading for the woods. Approaching the 4k though (
right
), it was Blood who looked like a person on a mission she had been waiting for for a long time. "The previous (open) races this season didn't mean that much to me. I had a lot more adrenaline here and I was really psyched. I waited for this race all season long."
Both talents are confident going into the national meet. Ryan, as defending champ, says she didn't conserve on the home stretch. She doesn't know how not to race. And both Blood and Lane can now join Ryan in focusing on the big race in two weeks. Blood didn't have a great Foot Locker race in 2004 after the long stretch of six consecutive high caliber meets. This year, her attention could be on fewer races and staying healthy..."If I had something aching, we'd take the next day off, or take it a little easy and come back strong in the next workout." As for Ryan, she has shelved the college search until this season is over. Both are obviously aiming to cross the line at Balboa Park in first. Blood has momentum. Ryan has precedent.
The remainder of the elite field going to Nationals includes five newcomers, New Jersey MOC winner Danielle Tauro, a Southern Regional junior, took 5th in 17:55; PA AAA State Champ Liz Costello of Conestoga, a senior, 6th in 18:00; frosh Briana Jackucewicz of Colts Neck NJ, 7th in 18:01; Honeoye Falls-Lima NY junior Elisabeth Deir, 8th in 18:01; and Suffern freshman Shelby Greany, 10th in 18:09. Finishing just out of the top ten was Suffern senior Kara McKenna, 11th, and Sayville NY junior Kristy Longman, 12th.
In the team race, New York didn't score a perfect 15 as they did in 2004 by sweeping the top five (OK, eight), spots. But 18 isn't too bad, especially since the top seven made the finals. New Jersey took 2nd with 55 points and two qualifiers, and Pennsylvania made a strong showing in 3rd with 73 points behind qualifier Liz Costello; Chambersburg junior Sarah Morrison, 13th, and homeschooled Neely Spence, 15th. Spence had been with Costello approaching 4k, but faded after exiting the woods.
Costello, a senior headed to Princeton, isn't just a newcomer to Foot Locker, because 2005 is her first full season of running. She played soccer, and didn't even race at the District meet in 2004 because her team was in the playoffs. But Costello, who owns a 2:12 800, wanted to see how fast she could get in the half mile and decided to use cross country as a great training tool. Needless to say, she got pretty serious during the season as she raced to 3rd at Paul Short behind Ryan and Jackucewicz; and then took her district title along with a state championship, breaking the Hersheypark course record of 2003 Foot Locker finalist Frances Koons of Allentown Central Catholic (Villanova University). Running in 9th place as she approached the 4k mark, after being back as far as 14th in the back hills, Costello said she got a second wind when she came out of the woods. "Air just rushed into my lungs and I started to pick it up and found another gear. It was 'get out of my way, this is for San Diego.'