by Don Rich, DyeStat Northeast regional editor
with Eric Bonnette

Coming into this school year, Ayalew and Sintayehu Taye moved from Maine to Cushing Academy, a private school in Massachusetts. They spent the fall training with coach Stirling Ince, who was somewhat unsure of just how fast they could go when tested against great competition. Now they know, and so does the rest of the US. At Saturday's Northeast Regional in the Bronx, they toured the famed and chilly Van Cortlandt course in 15:21 and 15:29, respectively. Those quick trips earned them their first visits to a much warmer San Diego for the Foot Locker Finals on December 10th. That's good, because neither brother is a fan of the cold. Joining them in California will be 18 other very talented prep runners.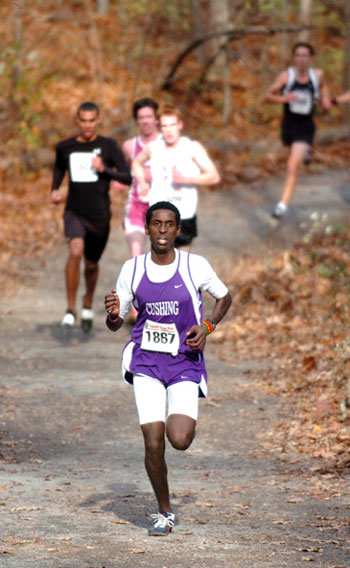 The two were at the front when they came through the mile in 4:40, and charged up Freshman Hill to the lead they would not relinquish the rest of the way. Actually, it was Sintayehu who led his older brother into the woods. "He encouraged me," said Ayalew... "and then I passed him." They hadn't run any courses like Van Cortlandt all season, and the hills weren't popular with Ayalew. "It doesn't look that tough, but it breaks your stride."
The brothers aren't making any predictions for Nationals. Ince says that with the competition they have had this year near their home, he couldn't learn a lot about their potential. But, he quickly adds, "I learned some things today."
at 4k mark
Saratoga story
While girls who attend Saratoga Springs High School were dominating the other race, the boys of Saratoga Springs looked like they might qualify two. First man Steve Murdoch was in 3rd place crossing the bridge at 2,000 meters, but fell, and did not finish. Saratoga's second man, Greg Kelsey, picked up the team, and a San Diego ticket, by finishing 4th in 15:34.
New Jersey's Jeffrey Perrella, a Westfield senior, was 3rd at last week's New Jersey Meet of Champs. On Saturday, he was 7th in the entire Northeast as the only boy from Jersey to qualify. Joining Kelsey from New York will be Aquinas senior Noel Bateman, 3rd in 15:32, and Guilderland Junior Brian Rhodes Devey, 6th in 15:36. Connecticut sends two to San Diego, as Griswold senior Tradelle Ward is 5th in 15:35 after narrowly missing the trip with a 9th place finish at the Northeast Regional in 2004; and Guilford senior Jay Koloseus takes 8th in 15:38.

Pennsylvania qualified two for the second year in a row, and almost had three. Keith Capecci, a Council Rock North senior, usually runs from behind in races, and had used that strategy with great success in winning his District meet, and later pushing Craig Miller over the final mile to a course record at the PA state meet. But Coach Dave Marrington said before the race that Capecci wouldn't use that strategy with the level of competition at Foot Lockers. Well, Capecci did use that strategy, although not intentionally. First, he found himself in the 50's at the mile. Figuring he had time, he pushed the pace over the back hills, and by the 4,000 meter mark found himself in 10th with just over 1,000 meters to go. Thanks to the two added spots in the finals afforded by the agreement between NTN and Foot Lockers over the NTN/West Region date conflict, Capecci's 9th place finish earns him a trip to San Diego.
Hatboro Horsham senior Josh Hibbs took the more even approach, staying near the front in 7th to cross the bridge, and holding off challengers to take 10th by three seconds. Ellwood City senior Jake Walker had been in 3rd-4th for much of the race, and even though he held 6th at 4,000 meters, he faded to 13th. Brad Miller of Manheim Township; Craig Miller's twin; was with Hibbs as they entered the woods, but would finish 42nd.

Another favorite, New Jersey Meet of Champs winner Craig Forys of Colts Neck, ran despite having to stop a workout last Tuesday due to illness. He wasn't recovered, and toughed out a 28th place finish.