Every now and then a star comes into our vision that is so bright that we are almost unable to see it, at least not clearly, and we are compelled to leap to a dazzling array of conclusions about its nature, not truly knowing it any better than we do.
Such a star is Jordan Hasay of Arroyo Grande CA, who displayed in dramatic fashion last weekend another example of what a blend of talent, hard work, love for the sport, support of family and coaches, and the capacity for aerobic development can do a girl in her early teens. With her stunning 17:05, she ran away from a talented field with one of the top ten performances ever at the Foot Locker Nationals Morley Field site. With that, so begins the endless speculation on how a girl so young could run so fast, has she pushed or been pushed too hard or otherwise done something unhealthy to get there, and how much more can she improve after such an auspicious beginning to her career.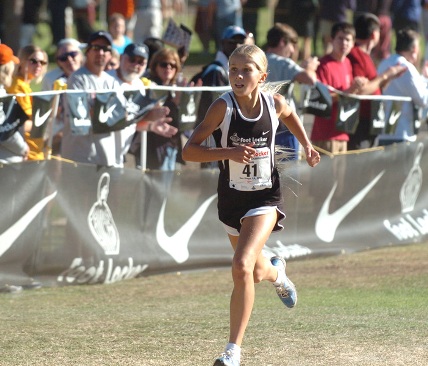 If you've been around the sport awhile, you've heard it all before, read it on message boards, or maybe piped up yourself. Almost all of us have. But this story isn't about making assumptions about Jordan based on stereotypes and arrogance. It's about looking a little deeper at who she is, and her personal path to that spectacular finish in San Diego. It's about a young lady's true love for the sport and the thoughtful coach who's gently trying to nurture that. It's not the end, but only the beginning.
Actually, the Foot Locker Finals were quite well populated this year with those who have been success stories since their middle-school years and, believe it or not, most of them have shown continued or even greater success in the years since. Minnesotans Bria Wetsch and Elizabeth Yetzer, New Yorkers Nicole Blood and Caitlin Lane, New Jersey's Bria Jackucewicz – all were outstanding runners as eighth-graders or younger, and of all it can be said that their best years might be ahead of them.
Still, for all the success freshmen girls have had at Foot Locker, there was only one champion before Jordan … Saratoga's Erin Davis in 1993 … and how can a stereotype be formed on a party of one? Some voices, perhaps the wiser ones, have been recently heard to say, "Win championships when you can."
Of Jordan Hasay, this we know:
* ‑ Her pure love of the act of swiftly putting one foot in front of the other began long before she started competing, and she started competing for fun long before she started competing seriously.
* ‑ Her love for training and racing appears to far exceed any premeditated ideas of what that should be from her parents or any coaches.
* ‑ Her physical person, appearing young for her age, belies strengths and attributes BEYOND her years, including training elements that may aid her for years to come.
* ‑ She has already shown the ability to rebound from significant adversity and learn things that some runners never do.
* ‑ And she IS the Foot Locker National Champion, something that only 23 others have achieved and that many greats have tried for four years to attain.
Jordan's talents were first really recognized when she was in fourth grade. "The PE coach thought I was fast and wanted me to try and running against the middle school team," she recalled. She won and though she isn't sure how fast she ran, it was "about 6 minutes."
But Jordan says she actually remembers running as young as four, just for fun, and has also swam and played basketball for many years (though she recently has stopped with the hoops). In fact, the family pedigree in those sports is stronger than the running.
The fun with the "Air Jordan" nickname, it turns out, goes a little deeper than just the name "Jordan" and the now-familiar tongue-wagging thing she shares with the NBA legend. Her father, Joe Hasay, told DyeStatCal co-editor Rich Gonzales this fall, "When Jordan was born, all of our friends and family thought we named her after Michael Jordan. Actually, his name was the furthest thing from our minds. Now, coincidentally, just like MJ, she wags that tongue when she runs – and now again 14 years later we're hearing it all over again!"
Mr. Hasay was a Michael Jordan fan, however, and there's even more than that: It turns out he was quite the prep hoops player in Pennsylvania back in the 70s, tallying 2,065 career points for a spot just outside the state's all-time top 100 scorers. Jordan's mother, Teresa, was an Olympic-level swimmer for England and her younger brother, Jedd, is a fine runner himself and competes in national junior lifeguard competitions (as has Jordan).
So the athletic prowess in the family is strong and while the new "Air Jordan" may not have a game above the rim, she flies in her own way! The young star is very grateful for the support of her parents and adds that "Jedd is my biggest fan."
While in seventh-grade, she began running for the San Luis Distance Club under Coach Jim Barodte. With the structured training, her massive talent began to emerge. By the end of 7th-grade, she had run 9:48 and 4:34 for 3k and 1500m, winning national titles and setting age group marks in both.
In eighth grade, with her prep career looming, the media attention grew. Jordan ran fast enough that she was invited to the Golden West mile, where she was 5th in 4:56.38. Better times were ahead in the summer, when she lowered her PRs to 9:35.12 and 4:28.61 and again won USATF JOs. Her 3k ranked second in the country among preps only to Blood.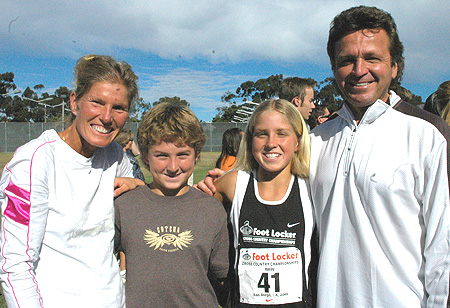 She entered Mission College Prep, a D5 private Catholic school, under the coaching of Leslie Monaco. But little did she know that her career was about to intersect with the coaching debut of another Golden State legend.
Dr. Armando Siqueiros, a doctor of internal medicine in the San Luis Obispo area, had a wonderful career as a runner, ranging from All-American achievements in college, to an eventual 29:12 10k PR, to national recognition as one of the USA's top masters runners (sub-32 10k). As he began to look beyond the competitive horizon, he was inspired to began working with the team that his son was running for … little did he know he would wind up coaching Jordan Hasay.
"I had kind of burnt the candle out in my own racing," he said. "My son was going to school there and I knew they were looking for some help. How lucky could I get? I just started this to be with my son. Jordan is very driven and self-motivated."
The pivotal point in Jordan's fall season came in a meet she still has a hard time talking about, the Stanford Invitational. For most of her short career, she has rarely had to worry about pace, winning by huge margins. There was an exception though, the Golden West race, where an opening 200 in about 30 seconds had proven to be unwise as her lead was lost after 800 and she split 2:20-2:36. She hadn't however, been realistically expected to win there.
At Stanford, she was a legit favorite, and having been moved up to the D1 race, faced the first tough field of her young harrier career. The pressure of the day's races and autograph requests had unnerved her. She rocketed out to a 5:01 first mile, slowed but was still leading at 11:09 for two, but then the early fall heat and deceptively tough course took its toll. "I just ran out of gas," she says now without much consternation. "I was so nervous. I was actually shaking on the starting line and I just went out too fast."
Coach Siqueiros had been concerned about Jordan racing Stanford at that early stage in her career/season and had actually recommended she not run there. But now he had something to build off of and something to teach and emphasize.
To her undying credit, Jordan began learning the lesson quickly. At the Mt. SAC Invite, she was still a bit fast, but at 5:14 for a easy first mile, she held well for a outstanding 16:48 (2.91M). That easily won her division and was second only to Marie Lawrence's 16:29.
Then Jordan quietly improved over the next several weeks, emerging in Fresno with a 17:11 winner for the D5 race, nine seconds up on the next best time (a 17:20 from Annie St. Geme in D3) and leading her team to fourth in their class. "We were very happy with the team result," said Coach Siqueiros. "These kids don't even know how good they are."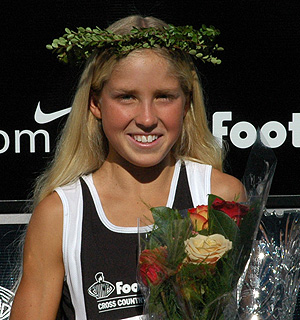 But did anything prepare anyone for what happened at Mt. SAC the next week? Not since Stanford more than two months earlier had she faced competition at or near her level. At 5:20 at the mile, though, she looked well positioned in the lead pack, which included the inimitable Lawrence.
Then it happened. Lawrence started rolling hard through the switchbacks, but Jordan rolled right with her. Together they went, up Poopout Hill and to the 2-mile mark, hitting 10:36. Jordan had been patient. She had held back. Now she moved. In the final 1.1, she gained 24 seconds on Lawrence and, to the jaw-dropping surprise of everyone, tied Amber Trotter's course/meet record of 17:14.
She was stunned at the result. "I still can't believe it," she said.
Jordan had truly learned her Stanford lesson. "It helped me to realize I could just stay calm and not necessarily lead a race," she said later. "When I was going to my next race, I was kind of scared it would happen again. But it's kept getting better every race."
There was more. In many of her workouts after Stanford, she would do intervals at 5:40 pace and close at a faster pace, to get used to running comfortably fast, then finishing hard. The key to the workouts was awareness of how she felt at different paces. And as already a superb uphill runner, she had worked on her downhills.
In addition to her 50-miles-per-week average, Jordan's training regiment has also included some moderate weight training and a good deal of swimming, up to two miles a day five times a week. "It really helps," she said. "I don't get as sore from running and it helps with my breathing."
"The most important thing for her has been learning appropriate rest, learning how to back off, and learning how to race," said Coach Siqueiros. "She was so used to just being able to take off and demoralize everybody.
"We worked on making her last mile her fastest mile (or at least the mile where she puts in the most effort)," he continued. "Her fear was that she didn't have a good finish. But over time she started to gain confidence."
"He's taken her aside and given her the confidence she needs," said Mr. Hasay. "He's taught her splits and strategy; of course, until the last two meets, she didn't need the strategy. He's done a tremendous job."
Jordan appreciates the specific help she gets from Dr. Siqueiros, as well as the overall guidance in the program from Coach Monaco. "She really supports us," she said. "She's just the nicest person. The other kids on the team are all really nice, too. It's been really fun to have the high school experience." Academically, she likes math and science best and is interested in maybe studying medicine some day.
The blonde-haired and blue-uniformed speedster had gone from a solid favorite to make the West team to National favorite in a few short weeks. But again there were the questions. Could she deal with the pressure at Foot Locker Finals. Did "Mel" just hold back to qualify? How would Jordan deal with the Nicole Bloods, Aislinn Ryans, and Keara Sammonses of the world?
Maybe like she did the previous week? Well, it took her a little while to wholly embrace that conclusion. Thursday night before the race, she was on fire with nervousness. A call from Coach Siqueiros calmed her somewhat, however, and Friday was more tolerable.
As it is for Jordan in every race, the first half mile is a barometer of how she'll do. And the initial self-check was good. Then all she had to do was follow the plan.
Meanwhile, however, defending champion Ryan had exploded out of the gate so fast it was if the rest of the field was being shaken by the scruff of its collective neck until it gave in. That might have worked some days, but not on this day. Ryan enjoyed a 20-30 meter lead at times, but the field never let her run away. She had a 2-second lead at the mile, with Jordan right in the midst of the lead pack in about 5:21, right where she wanted to be.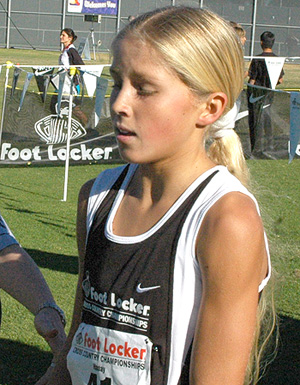 She caught Ryan, but stayed patient through two miles, this time in 11:03. Then it was acceleration time. By the time Jordan blazed up the big hill a second time, it was all over and she was the champion. So wisely did she run her race that AJ Acosta's coach Tom Kloos would later say that Jordan ran the way he wanted his star to run.

When Ryan went out in the lead like that, Jordan's first reaction was "Wow, she's really good. But I have to not let her get too far away. … At two miles, I caught up to her and felt really good. Winning this race was the best moment of my life."

Jordan had found she could win at the highest prep level and do it even in a scenario where she had to forsake parts of her pre-race routine. Regarding the whole weekend: "I thought it was a great experience. I'll never forget it. It was great meeting Suzy Favor Hamilton and the other Nike athletes. She encouraged me not to be nervous and it helped."

Coach Siqueiros was well-pleased with the results, especially her maturing mental approach. "Her ability to deal with the tension and pressure amazes me. I've seen a lot of kids with tremendous talent who couldn't handle the pressure."

While he focused most on developing his young athletes' endurance, he notes that one of the differences in Jordan is her "core body strength," something that is probably a product of good genes, hard work, and the swimming that has provided a great training balance.

With all of his experience, Coach Siqueiros is well aware of the challenges facing girls who are able to perform at a championship level at a young age. "My big plan is to recognize that there will be difficult times, but if you have faith, courage, and utilize different training modalities, you have done everything you can do."

For now, there may be more "best moments" coming up soon. Without question, Jordan likes track better than cross-country, no matter how much fun she had this fall, and her favorite season is just around the corner.