Partway into the bus ride from the Coronado del Mar to Morley Field at Balboa Park last Saturday, Foot Locker West Regional coordinator Doug Todd discovered he had a small problem on his hands. He also realized that his number one male runner was about to emerge as the next great spokesperson for GEICO.
"I went to him and said I've got good news and bad news," revealed our, uh, very special hero, AJ Acosta, "which do you want to hear first?"
"The bad news," said Todd.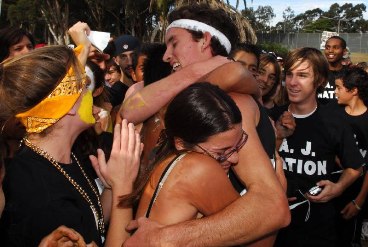 "I'll tell you the good news first," AJ insisted. "I just saved 15 percent on car insurance. (pause for laughter) The bad news is that I left my uniform at the hotel."
Leave it to the wild and crazy Foot Locker West champ to try and soften what could have been a problematic miscue with
the punch line from one of the country's most popular
radio/TV ads.
When spotted by some of the media shortly later, still more
than an hour before the 27th Foot Locker Finals boys race but without the uni, AJ was laying in the grass in the bullpen, cool as could be. After the boys' introductions, the FL West Region champ played coach, rallying the West team together. Then he went out in the race, before dozens of screaming "AJ Nation" fans, and did exactly the opposite of what his coach, Tom Kloos, wanted him to do. Instead of running within himself and setting up for a kick, he ran a fast first mile with the Mercados, then surged off of that, pushing into redline territory and racing on the edge of the oxygen-debt abyss.
But he won, outlasting Michael Coe with both timed in 15:02, under perhaps the most difficult circumstances he could have created for himself. "When I get on the stage, I feel like the more pressure, the better," he would say.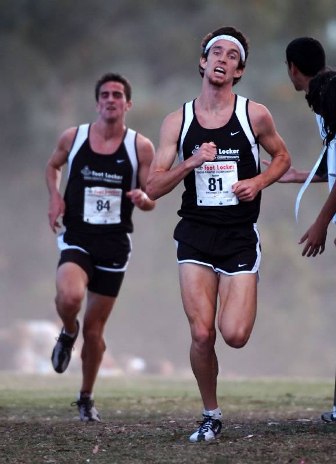 "Well, it didn't materialize quite the way we thought it would," said El Camino Coach Tom Kloos with a laugh. He had anticipated that at least one or two others would try and break AJ early-to-mid race, and felt his star should sit back and wait to make a move until at least the last mile, or even a kick at the end. "Meb (Keflezghi) called and gave him the same advice. Jordan (Hasay) ran more like we wanted him to run. He got a little carried away, but it worked out. Maybe I underestimated AJ, or overestimated the competition."
Larger than Life
As big of a cross-country star as AJ has become, his rep as an outrageous character is equal to the task. At Saturday's race alone, one could hear his personality being compared to that of Terrell Owens, Muhammad Ali, 1986 Foot Locker champ (and eventual Olympian and now DyeStat senior editor) Marc Davis, and others.
The Owens comparison is much too severe, but perhaps Davis or Ali. Davis, in fact, stunned AJ by introducing himself to him in an airport last spring. Then he was on hand Saturday to crown him in front of the Fox Sports TV cameras. They are fast friends, both originally from Oceanside, and now the only two metro San Diegans to win the title. "It's funny how similar we are," said AJ. "We're not overly cocky, but we're both out there."
Hmm. Okay. The Ali link might be best, however. Ali made bold predictions and read outrageous poetry at press conferences. AJ said he would run a record 14:19 at the prestigious Mt. SAC Invite (he didn't), then presented the "Ode to (Foot Locker's) Jeanine Zocks" at the Finals awards ceremony (a great success).
On the other hand, Brian Rhodes-Devey (BRD), fellow FL finalist and fast friend from the Northeast Region, calls AJ the "Chuck Norris of running." Surely there's a good story behind that (or not), but it has not fully been availed to outsiders.
In any case, the highest level of prep distance running has never seen a character more out there, more public and mischievous, at least in the DyeStat internet era. Steve Magness, the 4:01 miler from Texas a few years back, was close. "The 'Playground' is my home," AJ said of the notorious, (almost) anything goes forum on DyeStat's message boards. "I was on DyeStat long before I really became an elite runner."
His parents, David and Susan Acosta, know the score. Said Mrs. Acosta: "Either you love AJ or you hate him. There's no in-between."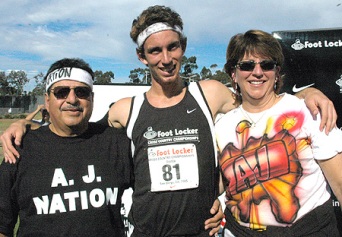 But beneath that exterior is an El Camino CA senior who is a good student, is pondering a major in political science, and has coached middle school cross-country and loves working with younger kids. He is also quick to help out his peers, especially if he senses a need, either on or off the course. "At NON last year, after the race I was hanging out with some Shaker kids and AJ, and a bunch of other famous runners were there," remembered BRD. "I was real intimidated in a room with at least 3-4 national champions, but AJ talked to me like an equal instead of a shy sophomore who was way out of his element. … And he takes his sport very seriously, but not too seriously that you don't have fun."
Indeed, for all of the hijinks there was a stretch of time, from sometime before Saturday's race until he was at least well into the post-race recovery, when AJ was as serious as he can be. "People get the impression of me that I'm someone who likes to have a lot of fun," he said. "But when it comes to race time, I'm a different person. Saturday, people got to see what I'm about."
AJ's rebellious, prankster persona is not a new development. It didn't take him more than a few days into a preseason camp his freshman year of CC to almost get himself booted off the team. At the team's beach camp, there were certain things that freshmen were traditionally expected to do. When AJ flat out refused his duties one day, his status at El Camino was in jeopardy. "It was kind of a tense and awkward moment," remembered Coach Kloos. It was a simple task, fetching water jugs, as he remembers. "He finally agreed to do it. It kind of became a key moment in our relationship. He still pushes things as far as he can sometimes, but we have a great relationship now. He's almost like an assistant coach out there. He's not all about himself, but he loves helping people."
Said AJ about his coach: "Coach Tom really knows his stuff. He knows how to relate and he's really laid back. It really helped this year that we did less intervals early and more tempos and fartleks."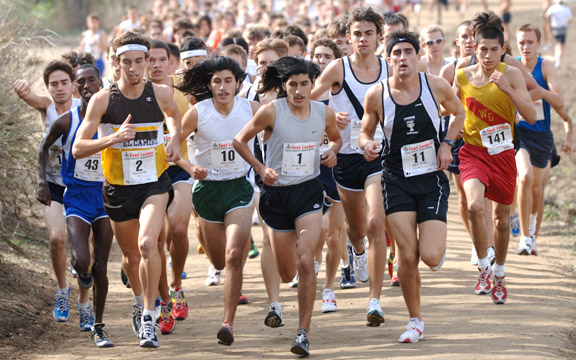 But back to the beginning, he wasn't even the fastest 9th-grader on his team in cross-country, running around 17:30 usually as the 7th-man. But AJ stunned everyone with a 4:32 mile in his first-ever track race the following spring. "He showed flashes of talent in cross-country, but he was hurt a fair amount that fall," said Coach Kloos. "In the spring, I remember there was one spectacular workout on a Saturday that made me realize what he could do. We were doing 4x400 with a pretty good rest. He averaged 55 or 56 for those, like 57-55-56-58 or something like that. We had a freshman-sophomore meet that afternoon and another coach asked me why I didn't bring him. I said, 'He's going to win county.' He laughed at me, but he almost did. He got second."
AJ would go on to run 4:18 and 1:59 that spring. The next fall, he got sick before state and was just 41st, but ran a PR 15:42 at his San Diego section meet, keeping pace until the last half mile with senior Babey Wagnew, who was 10th in FL West as a junior himself the year before. Then his sophomore year in track, AJ ran 4:12 at Arcadia, raced to a 1:53/4:12 double at sections, and was fifth in a kickers' race at state in 4:20.
Growing Pains
As a junior in CC, AJ was ready to move up the national ladder. At Stanford, he was 2nd to senior Fitsum Tesfa, 15:13-15:14, and ahead of senior Brandon Bethke. But like this year, Mt. SAC was something of a bummer, as he was 14 seconds behind Tesfa in 14:57 and was beaten by several others in other divisions. State was another good one, though; he was 2nd only to Bethke with a 15:11.
"After Stanford, I was like, okay, maybe I have a shot (at FL qualifying)," he recalled. "Then I had a subpar race at Mt. SAC. But then after state, I was like, okay, I have a pretty realistic shot." Of course, at FL West, he was 5th, then 9th at FL Nationals, setting the stage for this year.
Except there was AJ's junior year of track first, which was "good, but kinda disappointing. I would have liked to run a couple seconds faster in the mile and gone under 9 in the two-mile." Ironically, his mile PR of 4:10.08 came in a USATF meet where he was nipped by his coach, who is also an 8:30 steeplechaser.
Speaking of the star and his coach, they would have liked a reexamination of the state meet 1600, where AJ was DQ'd for interference while finishing second to Mark Matusak. Hardly the shrinking violet, even in a difficult situation, AJ made the following post on the DyeStatCal message board (excerpted):
"This is what was told to me by my coach ... The disqualification came as a result of me 'lowering my shoulder and ramming the other runner off of the track and onto the infield.' … However, if I was the only one being disqualified, certainly the whole field should have been penalized for such events earlier and later in the race. … Now, I am not saying that I am at not at fault; what I did was cut in front of Joe, and perhaps I should not have cut in that early, but from the day we start racing, we are told to not look back, and that is what I did. … I want to congratulate everyone on their fine performances this weekend, especially Mark winning the 1600 and getting 2nd in the 3200 ... Lastly, I would like to apologize to my family, friends, teammates and fans for my actions after the race (ripping off the singlet). It was immature and foolish, and for that I would like to apologize."
Could any post better describe the many dimensions of AJ? (except one that would also include tales of running around with a toilet seat on his head or making outrageous prank calls to Kenny Cormier, more stories which can't fully be told) More than that, though, it was another learning experience to be filed away.
There was one more painful lesson to be had, however, and in October at Mt. SAC. It was, perhaps, the hardest. Wanting to make a statement this fall, and buoyed by a powerful win (15:07) at Stanford, AJ watched the Mercados run away from him (he caught Danny in the end) and Diego take the most prestigious crown in the West, along with the course record 14:24 that AJ had declared he would run a 14:19.
"I'm glad that it happened," he says now. "It helped me refocus my season and realize I wasn't untouchable."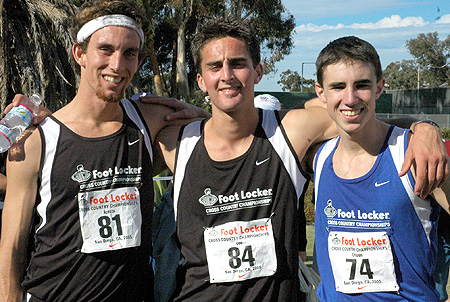 AJ's season also included a nice FL warmup at Morley Field, a 14:40 for 2.95-miles at the Mt. Carmel Invitational that was just eight seconds off the course record. But then there also was the issue as to whether runners from FL West schools participating in Nike Team Nationals would get a chance to qualify for FL nationals. AJ and fellow Golden Stater Michael Cybulski put themselves square in the middle of the debate with their posts on DyeStat. The issue was eventually resolved with AJ's verse at the awards ceremony being the icing on the cake. "(Jeanine Zocks) knew where I was coming from," he said. "I just wanted the right thing to be done."
Finally, by state, he was ready to impress, but a persistent side stitch kept him from stretching things out and posting a really fast time. He had to settle for 15:15, three seconds ahead of Nathan Sellers, and the third fastest time of the day behind German Fernandez and Michael Coe. Not everything he wanted.
Not leaving anything to chance, AJ and his family enlisted the help of a yoga instructor (possibly related to Chuck Norris? Who knows?) that taught him some breathing techniques to ease his pain. The techniques were apparently not yet mastered at FL West, because he experienced similar pain. Fortunately for him, the slowdown by the eight eventual qualifiers in the second half of the race allowed him to relax and he was able to beat Ben Sitler in the half-hearted kick to the finish.
But there were no such problems in the Final. "I think it was more of a mental thing," he said. "I guess it worked for nationals."
More Than We Knew
At this point, you may be wondering, is there more I want or need to know about AJ Acosta, or I can I turn off my computer and watch a Chuck Norris movie? Well, there's a few more things. As mentioned before, AJ has developed a real passion for coaching and has a natural inclination to assist others and be interested in their welfare. When fellow qualifier Jeff Helmer (WA) was struggling to stay with the gang of eight at FL West, he dropped back to encourage him. He says he similarly aided Diego Mercado last year. "I'm always for helping others," he said. "I had never met the guy (Jeff), but I could tell he was laboring.
"I really love coaching and leading," he continued. "I'm just that type of person. I can try and take the pressure off other guys. I can just relax out there and not get too excited."
"He cares about a lot for people," admitted Rhodes-Devey (BRD). "He even called me after my regional to see how I had done. Even when he had just won the biggest race of his life, he was out shaking hands and congratulating people instead of going off to celebrate his win once we got back to the hotel."
Somehow, between training, coaching, and posting on DyeStat, AJ also finds time to study and has close to a 4.0 GPA. "I've passed all of my AP tests," he said. Political science and business are educational interests of his. Apparently, he has started an Armchair Quarterback Political Club at El Camino, which serves as a forum for vigorous debate. Depending if and for how long the running career works out, AJ has all sorts of options open to him. Don't be surprised if he becomes the first governor of Illifornia, a new state merger thing symbolic of the strange bond forged by he and his new Illinois friends from Foot Locker. Or perhaps he will have his own talk show, sort of a blend of Bill Maher with some Howard Stern sprinkled in.
In all seriousness, the new Foot Locker champion will be looking toward the World Junior CC trials in February, then point toward a great track season, though he and Coach Kloos haven't mapped out goals yet. He is deciding between Oregon, Colorado, and Wisconsin to continue his running career.
But he will also surely be having more of what BRD calls "boyish fun." Why, even during the writing of this story this week, an AJ post was hastily removed from the message board after it caused great offense. The headband will be worn, homage will be paid to Chuck Norris, car insurance will be sold and stories will be told, and AJ will walk the tight rope between pushing the limits and going too far. But more than maybe any elite runner of his era, he will have fun, be a regular guy, post goofy stuff on DyeStat, wear "silly high socks," and be accessible to anyone who wants to learn to be a ninja or play a certain water bottle game. He is who he is and winning Foot Locker isn't going to change him.
Love him or hate him, AJ is our new national champion. We might as well get used to it.