Results
John Dye Photo Albums
BOYS - GIRLS
Video Vault
- by Marc Davis
Donna on the Side
Preview
Box Assignments
Entry List
Schedule
Prior Years
Meet's Own Website

Record
entries

11,000 athletes
365 schools
18 states and Canada

Saratoga girls win a close one.
Fayetteville-Manlius boys win decisively.
Aislinn Ryan dominates.
Justin Harbour is fastest boy.

Don Rich story - NOT THE SAME FAYETTEVILLE-MANLIUS. MAYBE EVEN BETTER.
Marc Davis Videos - see the victories by Aislinn Ryan, Fayetteville-Manlius, Saratoga, Justin Barbour, and Ben Massam
Donna on the Side - scenes from the sidelines on a muddy, wet, windy day

Girls Eastern States - Defending Foot Locker national champion Aislinn Ryan crushes the Girls Eastern States field in 14:04, third fastest girls time ever on Van Cortlandt Park's 2.5-mile course (13:57 Nicole Blood in 2004, Erin Keough 14:02 in 1986). Ryan finished 39 seconds in front of Saratoga's first two -- Hannah Davidson 14:43 and Lindsey Ferguson 14:46. Considering the driving rain conditions, it may have been the greatest girls performance ever at Van Cortlandt Park..

Before the race, there was speculation that US#1 NE#1 Saratoga, winner of this meet 5 straight years, might be vulnerable. The results proved this is true, but the mighty Toga squad prevailed over NE#2 Hilton NY 133-147, with six more teams scoring within 100 points (Suffern NY 193, Warwick Valley NY 205, Eleanor Roosevelt MD 205,, Colts Neck NJ 212, Bronxville NY 213, and Fayetteville-Manlius NY 232.) Saratoga's spread of 1:38 (2-3-26-48-54) was the widest in years and Hilton's fifth girl finished ahead of Saratoga's fourth, but Saratoga's top end duo was enough to carry the day for the defending champs. Hilton (4-17-38-41-47) was led by Amanda Griggs 14:47 in fourth place.

Boys
Race C - NE#1 US#2 Fayetteville Manlius didn't duplicate last year's amazing 1-5 finish, but they still dominated with 36 points (3-5-6-9-14) over NE#5 Christian Brothers Academy NJ 67 and NE#3 Morris Hills NJ 74. Individual winner was Justin Harbour , of Flagler Palm Beach FL, in 12:35, fastest time of the day.
Race B - Matt Leeder, Thousand Islands Canada, 12:41. Liverpool NY 57, Queensbury NY 85.
Race D - Tom Webb 12:53 and NE#7 Bishop Hendricken RI 56 (Shenendehowa 58).
Race E - NE#2 Saratoga Springs NY 36, with Steve Murdock 13:01 and Greg Kelsey 13:05 finishing 1-2.
Race F - NE#4 Warwick Valley NY 58. Ben Massam, Chatham NJ 12:48.
Best average team times -- Fayetteville-Manlius NY 12:57, CBA NJ 13:12, Morris Hills NJ 13:13, Liverpool NY 13:23, Warwick Valley NY 13:23, Saratoga Springs NY 13:25, and Bishop Hendricken RI 13:31.
Aislinn Ryan finishes. photo by John Dye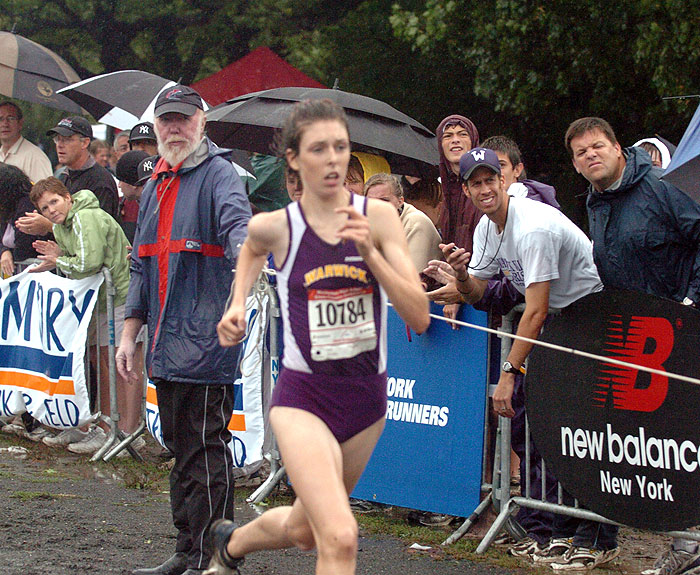 | | | |
| --- | --- | --- |
| Results | Individual | Team |
| Girls Eastern States | Aislinn Ryan, Warwick Valley NY 14:04 | Saratoga Springs NY 133 |
| Boys Varsity A | Brian Rhodes-Davey, Guilderland NY 12:44 | Guilderland NY 90 |
| Boys Varsity B | Matt Leeder, Thousand Islands Ontario 12:41 | Liverpool 67 |
| Boys Varsity C | Justin Harbour, Flagler Palm Coast FL 12:35 | Fayetteville-Manlius NY 36 |
| Boys Varsity D | Tom Webb, Bishop Hendricken RI 12:53 | Bishop Hendricken RI 56 |
| Boys Varsity E | Steve Murdock, Saratoga Springs NY 13:01 | Saratoga Springs NY 36 |
| Boys Varsity F | Ben Massam, Chatham NJ 12:48 | Warwick Valley NY 58 |
| Boys Varsity G | Dan Busby, New Paltz 12:47 | Ridgewood NJ 103 |
| Girls Varsity A | Reilly Kierman, Pelham 15:38 | Ridge 61 |
| Girls Varsity B | Mary Alice Howard, Somers 15:29 | Guilderland 127 |
| Girls Varsity C | Caroline King, Scotia 15:28.3 (Jilian King 15:28.8) | Holy Names 41 |
| Girls Varsity D | Elizabeth McMahon, W. Genesee 15:34. | Horace Greeley 59. |
| Girls Varsity E | Kristi Longland, Sayville 15:27. | Pearl River 67 |
| Girls Varsity F | Theresa Rush, Valley Stream 15:45 | Shaker 25 |
| Boys JV - A. | Andrew Schlemmer, Danbury 14:10 | Brentsville VA 61 |
| Boys JV - B | Matt Travalini, Londonderry 14:12 | Londonderry NH 36 |
| Boys JV - C | Phil Wood, LaSalle, Wyndmoor 13:54 | CBA NJ 21. |
| Boys JV - D | Sean Gallagher, Queensbury 14:39 | Queensbury A 34 |
| Girls JV - A | Cassie Goutos, Saratoga 16:18 | Saratoga NY - A 13 |
| Girls JV - B | .Alyssa Panozzo, Fayetteville-Manlius 16:59 | Fayetteville-Manlius 34. |
| Girls JV - C | Angel Yarborough, Eleanor Roosevelt MD 17:26 | Eleanor Roosevelt MD 41. |
| Soph Boys - A | Colin Anderson, Cornwall 13:52 | Warwick Valley NY 53 |
| Soph Boys - B | Parker Boudreau, Danbury 14:15 | Bishop Hendricken RI 65 |
| Soph Boys - C | Matt Rogers, Islip 14:15 | Washingtonville 73 |
| Soph Girls - A | Diana Sofers, Mt. Olive 16:30 | Shenendehowa NY 36 |
| Soph Girls - B | Charlotte Larry, Thousand Island CAN 16:43 | Thousand Islands CAN 43 |
| Freshman Boys - A | Rob Cherkis, Northport 9:07 | Northport 53 |
| Freshman Boys - B | Michael Danaher, CBA Albany 8:49 | Chaminade 75 (Don Bosco 76) |
| Freshman Boys - C | David Hurley, Chariho 8:37 | Warwick Valley 80 |
| Freshman Boys - D | Artem Skobreu, Darren 8:57 | Colonie 56 |
| Freshman Boys - E | Doug Kalmbach, Brookwood 9:03 | Shenendehowa 54 |
| Freshman Girls - A | Shannon McCartan, Bethlehem Central, 10:10 | Pearl River B 87. |
| Freshman Girls - B | Morgan Miller, Queensbury 10:24 | Shenendehowa A 50 |
| Freshman Girls - C | Caitlin Smith, Levittown 10:54 | Shaker 61. |
| Freshman Girls - D | Morgan Wheeler, Averill Park 10:15 | Colonie 44 |
| Intermediate Boys | Tim Luthin, Warwick Valley 9:23 | . |
| Intermediate Girls | Anna Kerkendahl, Warren Hill 10:14 | . |
Forget Yankee Stadium, let's go to Vanny


NEW YORK 10/6/05 -- For high school cross country fans, the big venue in the Big Apple this weekend isn't Yankee Stadium. It's that other venerable park in the Bronx, Van Cortlandt Park, at 242nd and Broadway -- "Vanny" to the legions of elite runners who have performed there over the years. The 33rd Manhattan Invitational -- billed as the "biggest and best" one-day high school distance event in the country -- will attract 18 teams ranked in the Nike Team Nationals regional rankings -- eight in six boys flights and 10 in the Girls Eastern States championship race.
Don Rich's preview - It's all talk. Let's race. Then we can argue.
Bizarre incident in New Jersey sidelines CBA's #4 runner, puts shadow over race within a race at Manhattan Invitational (Boys C) between New Jersey's top two boys teams -- NE#3 Morris Hills and NE#5 Christian Brothers Academy. Public-private school issues also highlighted. Ed Grant's NJ report
Matchups of top teams featured
Box Assignments released Sept 28 show some terrific matchups, but also some missed opportunities to have top boys teams meet face to face.
Girls - As always, the Girls Eastern States race will feature the best teams in one race. This year is one of the best concentrations in recent years. Perennial US#1 Saratoga Springs NY, US#1 this year in the Harrier Super 25 and NE#1 in the Nike Team National rankings, will try to win its 6th straight Manhattan. They may get more serious competition than usual from NE#2 US#11 Hilton NY, NE#3 US#15 Bronxville NY, NE#4 Jackson NJ, NE#7 Suffern NY, NE#10 Bay Shore NY, SE#2 Brentsville VA, SE#6 Eleanor Roosevelt MD, SE#7 Tatnall DE, and SE#9 Midlothian VA. Unranked Warwick Valley NY and Colts Neck NJ bring individual stars Aislinn Ryan, defending Foot Locker national champion and 2-time Great American champion, and Brianna Jackucewicz, now a freshman after several years of national age group competition.
Boys - The Manhattan deviated last year from its historic practice of spreading the top teams across seven flights when it paired Fayetteville-Manlius NY and Christian Brothers NJ in the same flight. This will happen again this year as NE#1 US#2 F-M and NE#3 US#5 CBA are matched in flight C and are joined by NE#5 US#9 Morris Hills NJ. But new NE#2 Saratoga Springs NY, winner of the Great American Race of Champions in North Carolina last week, is alone in flight E. Warwick Valley NY, which rose to NE#4 after finishing second at Great American, is in flight F along with SE#8 Brentsville VA. NE#6 Bishop Hendricken RI is alone in flight D.
Prior Years
2004 - A record day at a cross country mecca, as two team average records are crushed, an individual course record goes down as well, and the other stays on the books by less than a second. The talk leading up to the Manhattan Invitational was about Saratoga Springs and speculation about their place in cross country history. The chatter will only increase. But now you've got to add the boys from Fayetteville-Manlius NY to the mix as one of the great teams ever. Nicole Blood used the back woods to gap Warwick Valley's Aislinn Ryan, and pulled away over the final straightaway to finish in 13:57 and break the 18-year-old mark of 14:01.9 set by of Langley Virginia's Erin Keogh in 1986. And her team wasn't far behind, finishing in 3rd, 7th, 13th and 15th for 39 points with an estimated team average of 14:34. The mark smashes their own record of 14:57.54 set last year.

The individual matchup of the day for the boys was in Varsity Race G, as Newton North's Chris Barnicle missed the meet record of Victor Gras by less than a second, going 12:18 to beat Northport's Kevin Tschirhart by 21 seconds. Fayettetteville-Manlius followed up their record day at McQuaid to break Shenendehowa NY's 2003 record by nearly ten seconds, averaging 12:48.82. Oh, and 23 boys broke 13. That's a record, too, by one.
2003 - One of the most brilliant of the many Manhattans. Victor Gras - 12:17.1 breaks John Trautman's 18-year-old meet record. Nicole Blood 14:17.8 leads Saratoga girls to first sub-15:00 average team time. Saratoga scored 56 points to beat Argyle 87 and Bay Shore 120. Shenendehowa NY boys 12:58.7 team average is a meet record.
2002 - The mud was the story of the day, but it didn't stop Nicole Blood and Brendan Fennell from turning in stellar performances. Blood leads Saratoga girls 24 to 89-point margin in Eastern States Girls Championship. Shenendehowa NY boys 13:15.8 had fastest average boys time. (top boys teams are spread across seven varsity races, so there is no head to head team winner).
2001 - Meet is an emotional affirmation of New York and American spirit, just one month after the September 11 World Trade Center attack. Brian Dalpiaz and Tracy Brauksiek are the fastest runners of the day. Saratoga NY girls win Eastern States. Old Bridge NJ is a split second winner of fastest boys team time over Bishop Hendricken RI and St. John's MA.
2000 - Julia Pudlin's "one last burst" catches Erin Donohue at the finish (below). Saratoga's deep squad wins varsity girls by 88 points and scores perfect 15 in both JV races. Charles Million NY and Austin Smith VA share fastest boys time of the day, 12:35. Danbury CT boys 13:19.3 have fastest team average.
1999 - Colonie NY edges Saratoga NY 59-61. Third was Peninsula CA 101 (#1 in Rich Gonzalez' California Southern Section) rankings. Laurel Burdick of Fayetteville-Manlius, Syracuse NY, unbeaten in her sophomore season, won the individual race in 14:34.6, best girls time of the day, 5 seconds ahead of Lisa Capello of Starpoint NY and 16 seconds ahead of Danielle Coon of Saratoga. Colonie is still without their top runner, Jen Kramer, who has missed the season due to a stress fracture.