Donna on the Side

- before the meet

at the Headquarters Hotel - Friday at UMS Wright - Rancho Verde's Unforgettable Voyage -
Saturday Breakfast - the Radio Show
by Donna Dye
The Mobile Scene
This is the 5th year of Donna on the Side at the Mobile Challenge of Champions. During those years we've seen a lot of Mobile. We've been to historic downtown , the Spanish Plaza, Fort Conde. We've been out to the causeway, the battleships, the seafood restaurants. We saw the new government complex, the convention center. We've admired the Live Oak Trees. We've been out to the Bellingrath Gardens and Dauphin Island.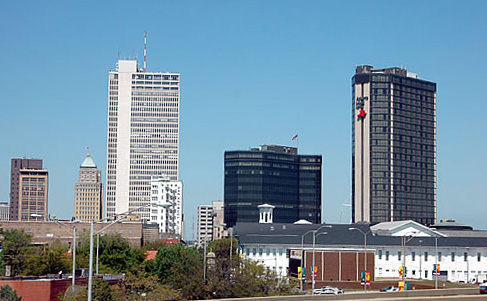 | | | |
| --- | --- | --- |
| Gazebo in Bienville Square | Malaga Inn on the Spanish Plaza | |
| | | |
| | | |
| | | |
| | | |
| | | |
So what's to do this year? Well, we tried to see the Dead Sea Scrolls exhibit.

But the only tickets available were the same time as meet time. Then we gave serious consideration to the Mobile Historic Home Tour but we thought trapsing around in serious thunderstorms was a bad idea and it didn't matter afterall because the event was cancelled for

Friday and we couldn't go Saturday. Then we considered going to the Fairhope First Friday Artwalk. But we decided that was too far to go in stormy weather.
After all of this deliaberation, it was lunch time and we were hungry. Finally we figured out what to dew and headed for the Dew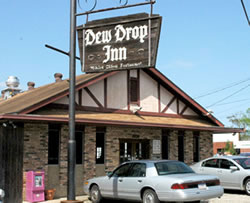 Drop Inn for the "World Famous Dew Drop Inn Hot Dog." Once there, Amy our upbeat and effecient server and 8 year veteran at the Dew Drop Inn, helped us make our selection.. While the menu is quite varied with sandwiches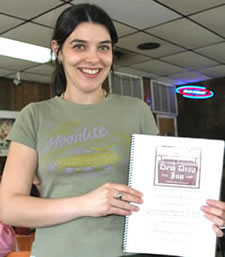 , Po Boys, dinners, seafood and daily specials, we settled for the hot dog, served with homemade chili, mustard, ketchup, kraut and a pickle slice and the Dew Drop Cheeseburger that came with homemade chili, mustard, ketchup and a pickle slice. Now, I don't eat hot dogs or cheeseburgers anymore. But I couldn't pass up these world famous delights that have been bragged about by such names as Jimmy Buffet in word and song.
Waiting for our lunch, we read the history of the Inn. on the menu. "The Dew Drop Inn has been a Mobile institution since 1924, when George L. Widney opened a little sandwich shop at 156 S. Ann Street near Government Street. Legend has it that Widney's restaurant offered the city its first taste of a revolutionary new sandwich called the hot dog. Widney was pronounced 'Hot Dog King' in 1939 article in the Mobile Press Register" In 1937 it was sold and relocated to its current location and away from an elementary school in order to get a beer license.
The restaurant boasts Jimmy Buffett as a fan. "Jimmy Buffett who grew up in Mobile and who writes in his Parrot Head Handbook that his 'burger lust was formulated' at the restaurant, which he lists first among the country's best cheese burgers."
We left the Dew Drop Inn to tour nearby treelined streets off Old Shell Road and Dauphin streets.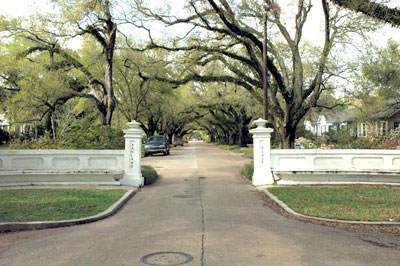 Historic Old Dauphin Way - Louiselle Street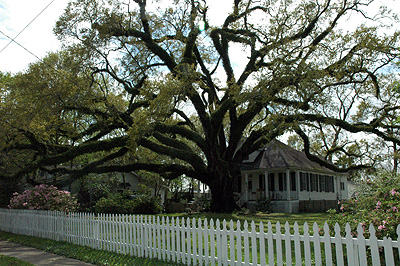 As we drove down Dauphin street, we came upon a Mobile landmark,the Wintzell's Oyster House.

Wintzell's is a colorful spot that dates back to 1938. Famous for fresh Gulf seafood, Wintzell's was named in Willard Scott's All-American Cookbook for the Best Oysters and Crabs.Today, it is owned by SouthernPointe Group, Inc. which plans to keep the tradition going.

The walls of both the dining room and bar are filled with colorful and clever homespun sayings that keeping you smiling and sometimes laughing.
| | |
| --- | --- |
| Wintzell's Dining Room | |
Getting Settled -- The Meet Hotel
Glen Oaks from Baton Rouge LA checks in.

Grayson, Lietchfield,KY relaxes in the lobby

More of Grayson out front
Friday - The UMS-Wright Scene
UMS Wright Track and Field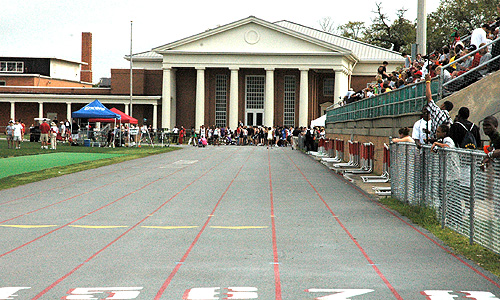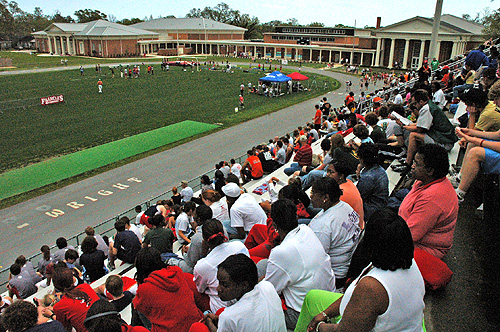 Daphne AL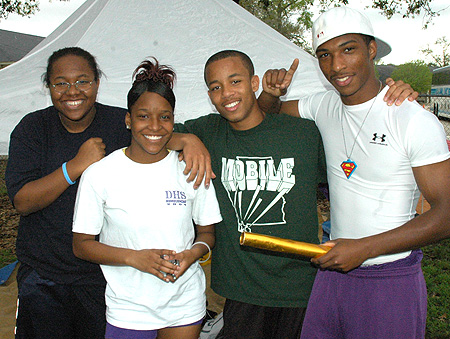 McGill Toolen AL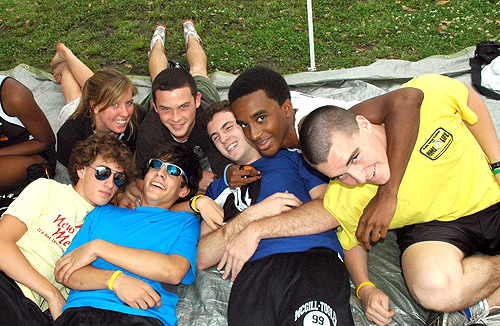 Guntersville AL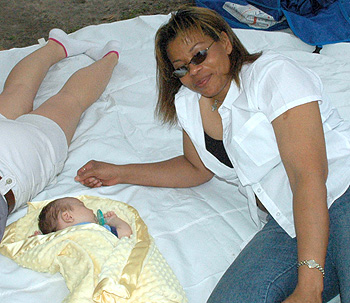 Gunterville AL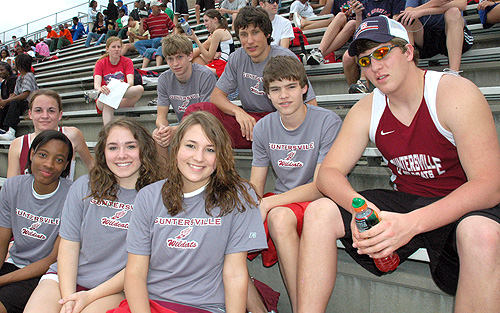 Oak Mountain AL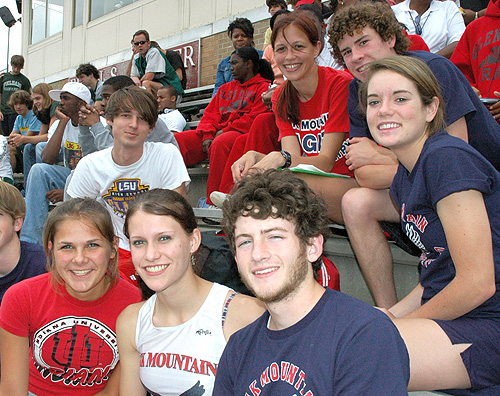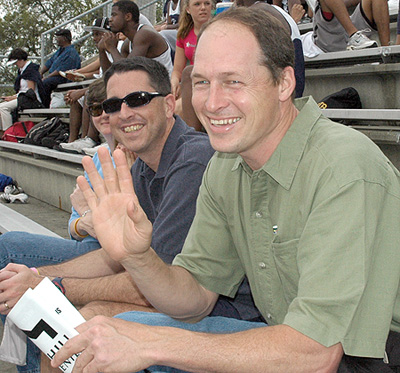 Glen Oaks, Baton Rouge LA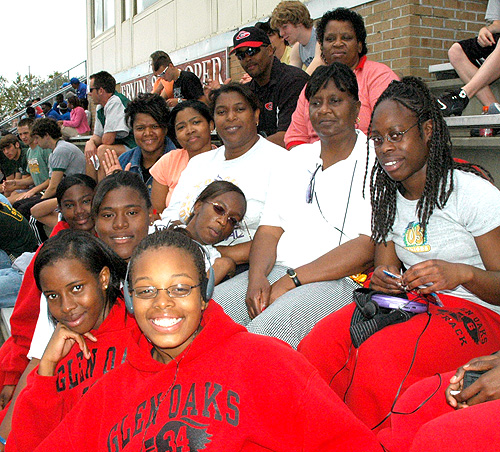 Bishop Kenny, Jacksonville, FL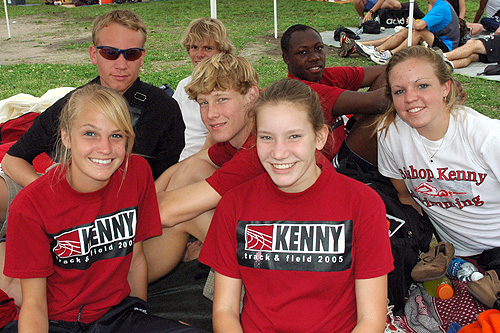 Auburn,AL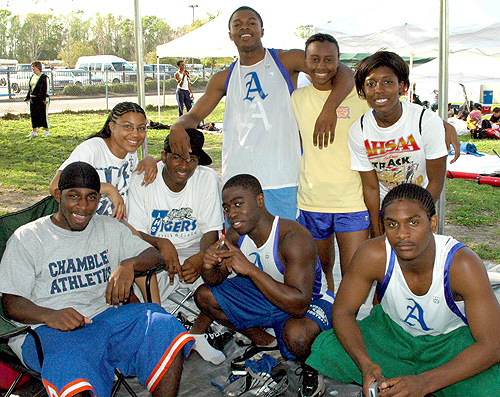 West Knoxville TN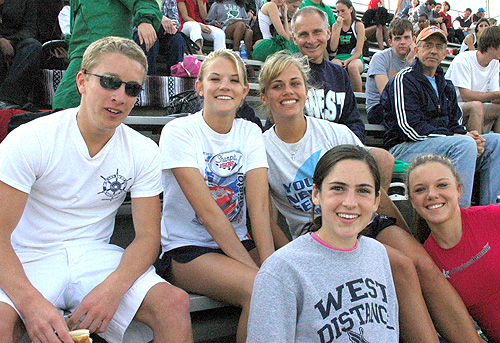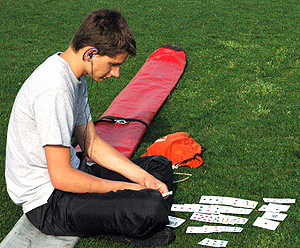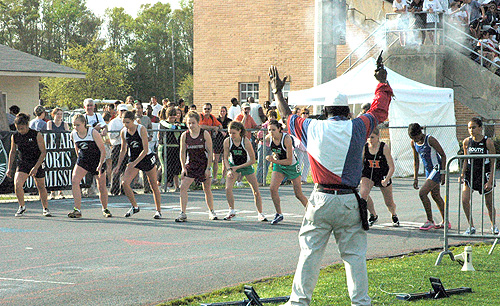 West Knoxville TN athletes: (from left) Raven Boettger, Ashley Day, Ryan McGray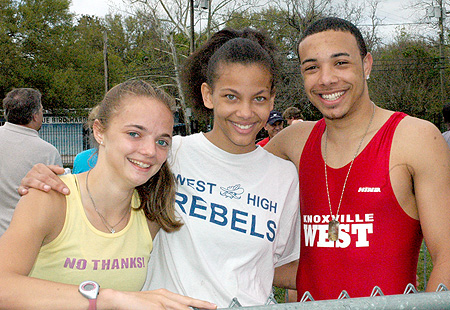 Scotlandville LA: (from left) Courtney Stepter, Keith Valentine, Hollis Walker, Nate Smith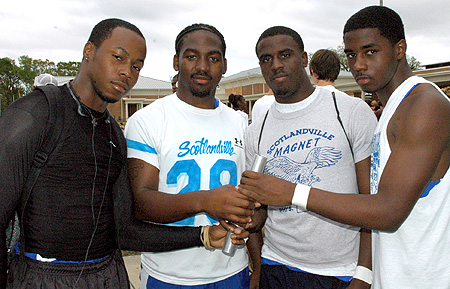 Hillwood HS, Nashville Coaches: (from left Head Coach Chuck Lewis (l) and
Coach Kevin Komisar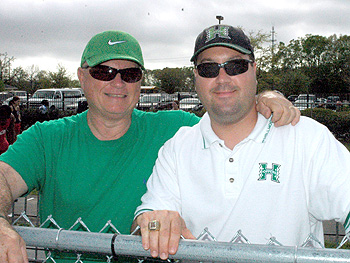 Discus Throwers from Scottsboro FL: (from left) Katie Williams and Dannielle McCrary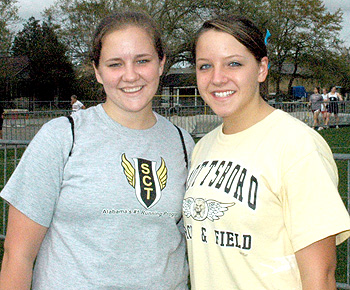 From B.C. Rains: (from left) Erica Shelton, Arleyea Wiggins and Yosha Haughton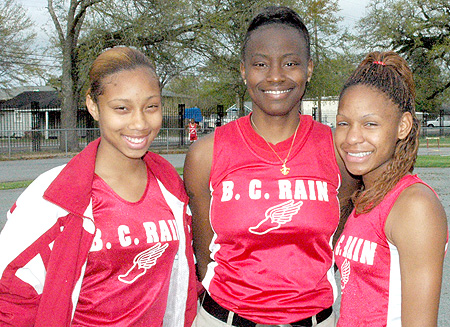 Evan Lavin Knoxville West TN Thrower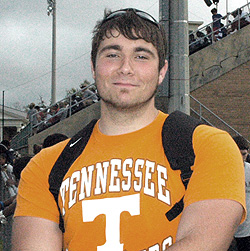 UMS Wright Parents: (from left) Kim and Bob Willett (daughter-Caroline) and Kathy Sinclair (r)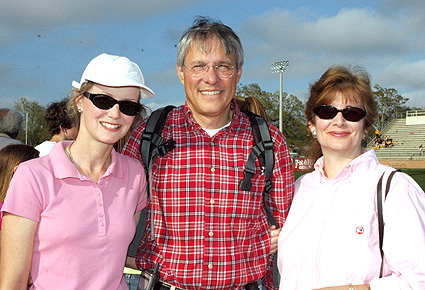 The Unforgettable Voyage
Rancho Verde High School of California thought it would be great to travel east to the Meet of Challenge. But little did they know how great a task it would be. The planned itinerary was from Ontario CA to Atlanta GA for a connection to Mobile. But there were thunderstorms and heavy rain in the southeast, particularly in Mobile as they were landing in Atlanta. Hoping to find a let up in the store so they could land in Mobile, they left Atlanta. Unfortunately, the storms did not let up and they flew back to Atlanta. In the Atlanta airport they were greeted by airline staff with some "bad news and worse news." They would need to spend the night in Atlanta, but there were no hotel rooms available nearby. They ended up spending the next few hours trying to sleep in the airport and left in the morning for Mobile, tired with some sore backs. But, determined to do their best at the meet.
Coach Chris Drescher from Rancho Verde CA sits amid his athletes.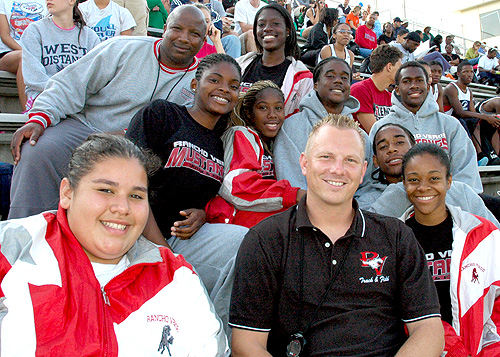 Saturday Morning Breakfast Scene
A Fellowship of Christian Athletes breakfast was held Saturday morning. Motivational remarks were made by Bubba Crowder (talking) and Cornell Prince (sitting at head table). Bubba Crowder is the area representative of Fellowship of Christian Athletes and Cornell is Minister at Destiny Center Church.
Bubba Crowder addresses the athletes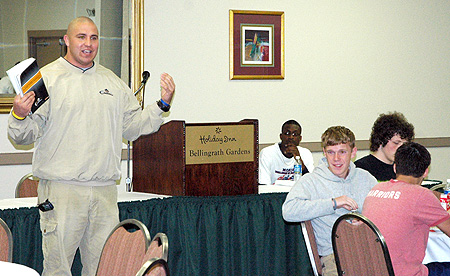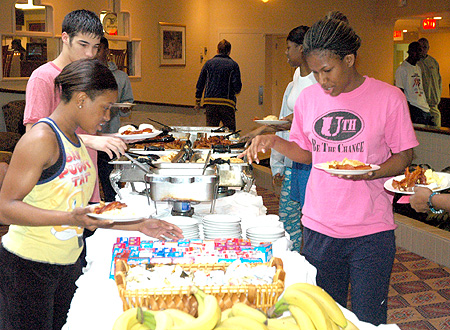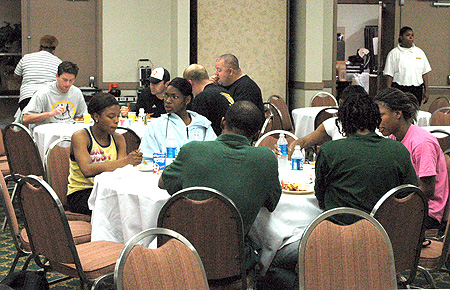 Westgate,New Iberia, LA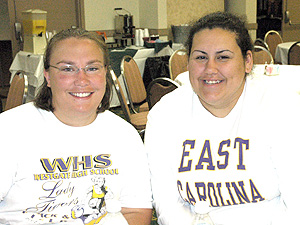 The Radio Show
The Challenge of Champions gets good coverage in Mobile from the media including radio, TV and newspaper. Arthur Mack from the Mobile Register started the ball rolling with a preview article on Thursday. TV coverage followed at the press conference on Thursday and then at the Open meet Friday. On Saturday there was a radio show to preview the exciting Saturday events. The session was highlighted by athlete interviews with elite high school sprinters J Mee Samuels and Justin Oliver, competitors and friends.
Mobile's Prep Sports Report Voice, Rick Cleveland led the broadcast. He was joined by Challenge of Champions Director, Steve Schoenewald, Arthur Mack, Sports Writer from the Mobile Register; and John Dye from DyeStat.

Steve Schoenewald, Meet Director

Arthur Mack

J Mee Samuels

Justin Oliver

Coach Gary Staley, (l) Louisana Tech and Bethel VA Coach Eddie Williams

Francena McCorory VA with Coach Jackie Kendall and Head Coach Eddie Williams
Mobile Challenge of Champions index page