Donna on the Side
The Scene
The Marine Corp captured the Armory during the Marine Corps Holiday Classic!
On the track it was a time for team relays. And on the side, it was a time for mingling with The Few and The Proud!
Athletes tested their physicall skills on the chin bar and learned more about serving the country in the Marine Corp.
As always in the Armory, the music and encouragement from announcers Ian Brooks and Mike Rauh kept the
place rocking and the fans on the edge of their seats.
It was, as usual, a Great Time for All!
Former Marines, Actor, Harvey Keitel (l) and Former New York City Mayor, David Dinkins
celebrate the Marines at the Armory.

Marines demonstrate what they're made of on the track in the Marine 4x200 relay.

Testing their strength to be part of The Few. The Proud.

Dr. Norbert Sander, (center) President of the Armory Foundation, and Michael Frankfurt, Chairman of the Board of the Armory Foundation welcome General Rick Tryon and the Marines to the Armory

Athletes join Dr. Sander and Harvey Keitel in celebrating the Marine Corps Holiday Classic.
Sideline Smiles and Waves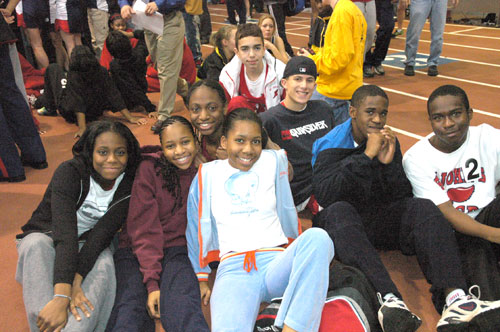 Chaminade NY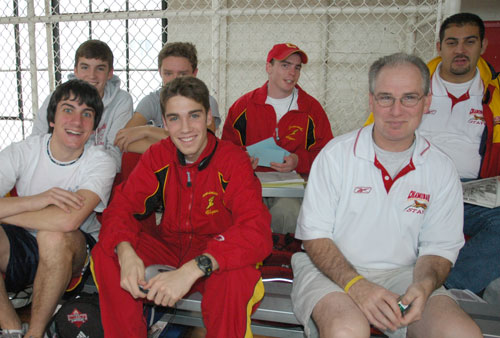 Shenendehowa NY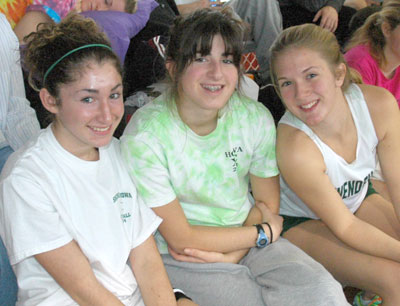 Delsea NJ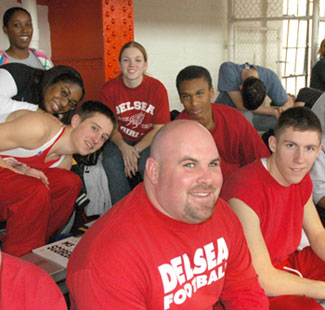 New Yorkers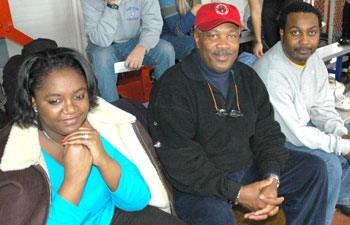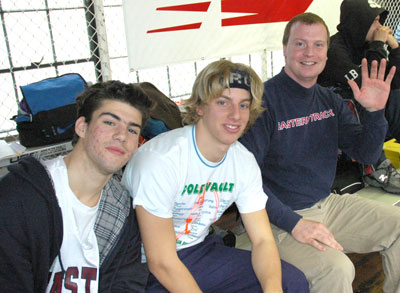 South Side NY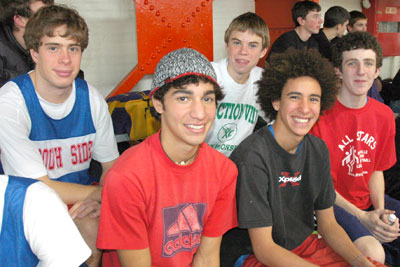 Commack NY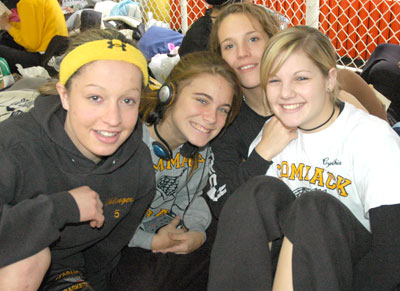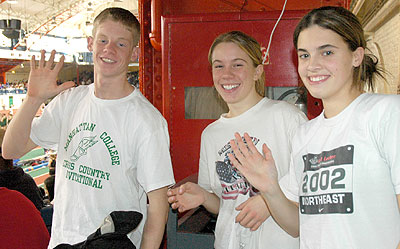 Sayville NY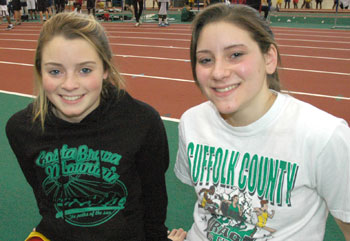 On the Track and Field
Shen Jumpers: Tyler Riderdy, Dan Yetto, Jason Koney, Felix Eng
Perkiomen Valley PA jumpers: Michael Pompa, Melony Alcorn and Adam Marsh
Hunterdon Pole Vaulters: (from left) Katrina Wyllie, Carly Miller, Ellen Mazujian,
Tara Oberg, Alison Ingunga, Jasmine Meadows
Individual winner of the pole vault and the lone Bayport Pole Vaulter, Alysha Rodriguez.
Winslow Township NJ: Miles Edwards, Darnell Barber and Nate Greene
Miles and Darnell together won the high jump. Nate is a hurdler whose team
came in 2nd in the Shuttle Hurdle relay.
Shen Jumpers: (from left) Christine Elliott, Kara Kollak, Libby Babcock
High Jumpers from Central Regional NJ: Alex Bowers (l) Dennis Lucy
Long Jumpers from Bergenfield NJ:
John Stepien (l) Harold Blyden
Pole Vaulters from CBA:
John Lane (l) and Jimmy Hall
New to high jumping, Chuck Mehaffui from Washington Township NJ with Coach Kevin Hanrahan.
Relays
Distance Medley Relay
Boys
1st Northport NY: (from left) Kevin Tschirhart, Sean Quinn, Andrew Sanchez, Andre Miller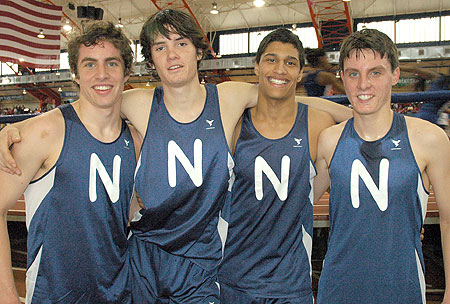 2nd Shenendehowa NY: (from left) Dan McManamon, Dan Serfilippi, Andrew Benson, Chris Goyo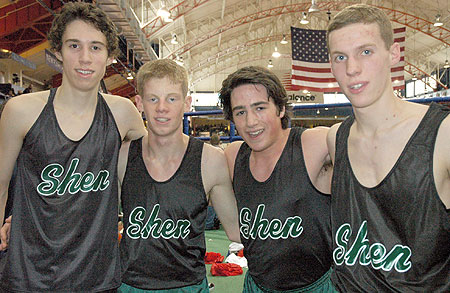 Girls
1st Warwick NY: (from left) Amanda Robotti, Jackie Young, Melissa Mark, Aislinn Ryan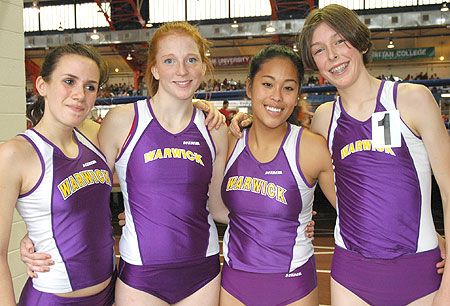 6th Ridgewood NJ: (from left) Cristina Law, Stephanie Westerman, Jessica Krejsa, Merideth Jones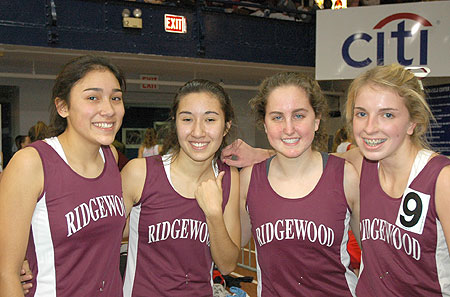 4x200 Relay
Girls
1st Woodrow Wilson NJ: (Not in order) S. Sharper, S. Alston, S. Loper, C. Blue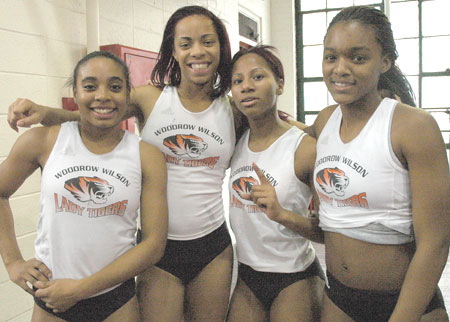 2nd Largo MD: (from left) Ayana Adams, Tanisha Wells, Michaylya Golladay, Jacia Montgomery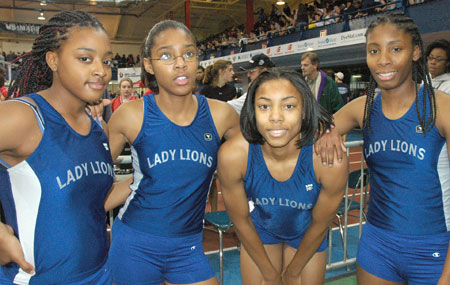 3rd Bergenfield NJ: (from left) Ashley Pringle Cassie Harris, Torkwase Green (bottom) Jessica Clarke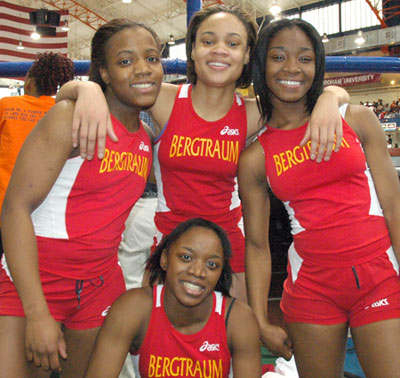 Boys
1st Simon Gratz PA with a time of 1:28.25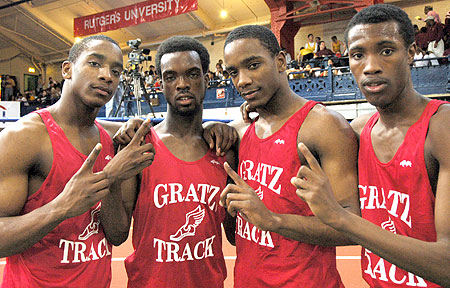 2nd CH Flowers MD: (from left) Brett Brown, Marcel Whitfield, Jimmy McClam, Afolabi Aromire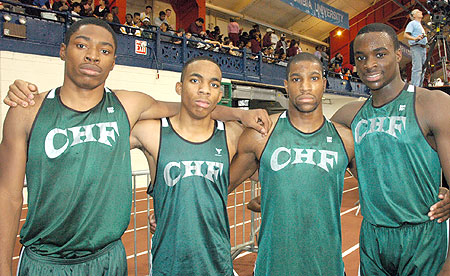 800m Invitational
1st Bryan Scotland
St Benedict's Prep NJ
with a time of 1:53.32


3rd Mikie Pachella
Wallkill NY

800m Winners: (from left) 1st Bryan Scotland, 2nd Lionel Williams, 3rd Mike Pachella, 4th Tobias Groneueldt, 6th Mike Mark

800m winners: (from left) 1st Michelle Seibert, 2nd Janean Morris, 3rd Shantile Blackburn, 4th Leslie Njohn, 5th Lauren Walsh
Marine Corps Holiday Classic index page