Donna on the Side
by Donna Dye

The Hispanic Games celebrate the New York City Washington Heights Dominican community and the Hispanic heritage that is very much part of the fabric of the diverse population of the New York area. In keeping with the celebration, "Leaders of Tomorrow" are recognized for their scholastic and athletic accomplishments.

With its wonderful facilities, upbeat atmosphere and professional meet operation, under the direction of meet director, Lou Vasquez, the Armory is just the right place to celebrate and be festive.

Lou Vasquez Meet Director

The Meet is the brainchild of Lou Vasquez who is the Director of Special Events at the Armory, a dedicated participant, fan and supporter of the sport.
Some Highlights
Sideline Waves and Smiles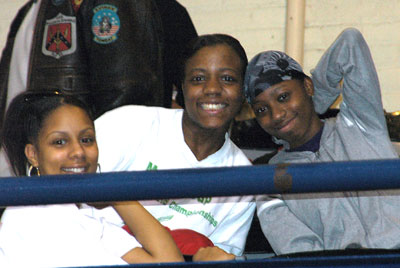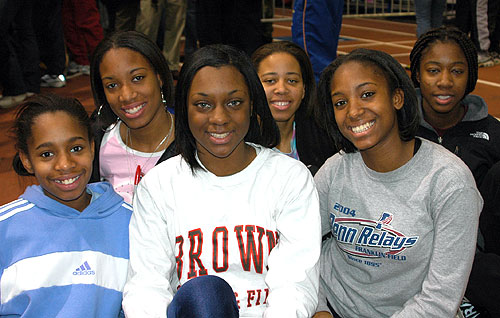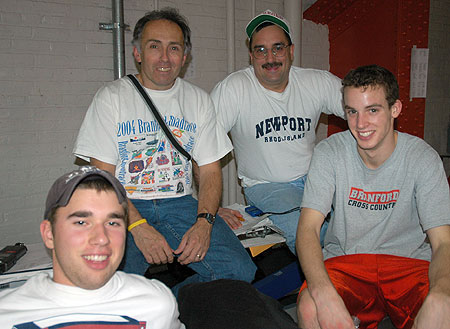 St John Villa Staten Island 4x200: (from left) Ally Payne, Ana Duka, Nicole Panik, Eunice Marks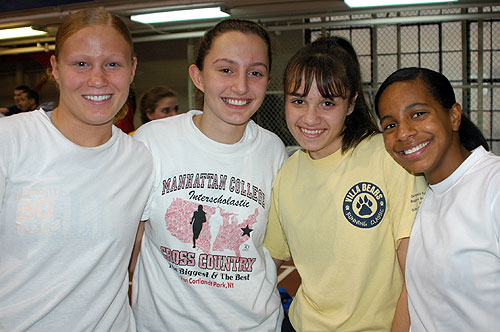 Kellenberg NY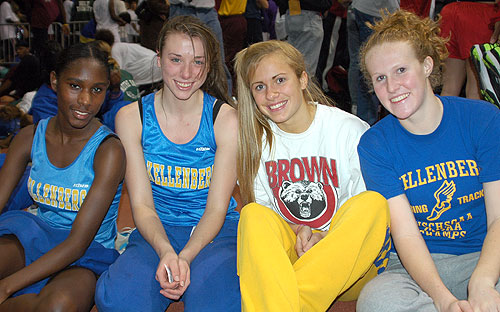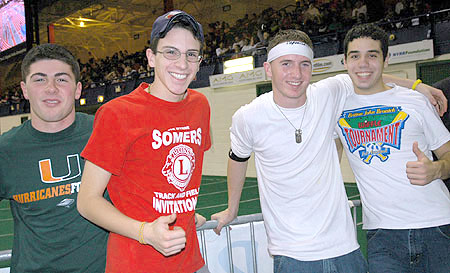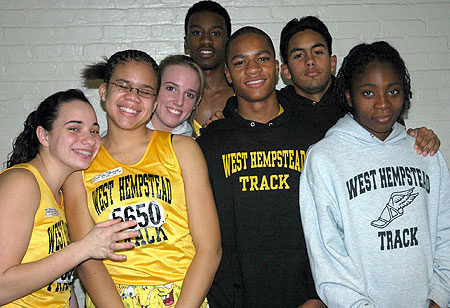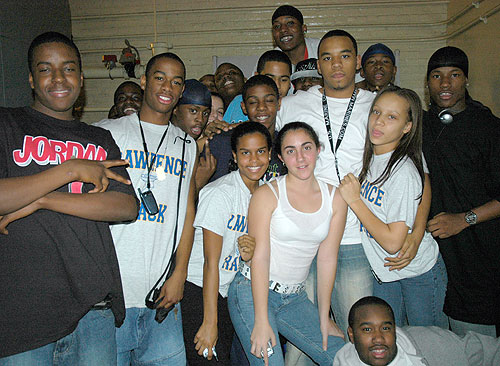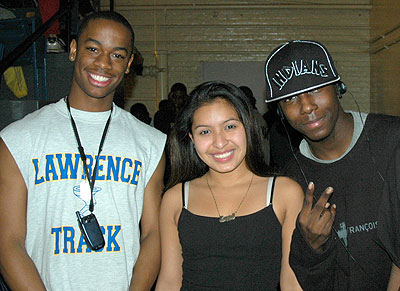 Erasmus Hall Brooklyn NY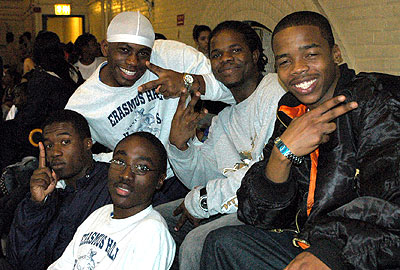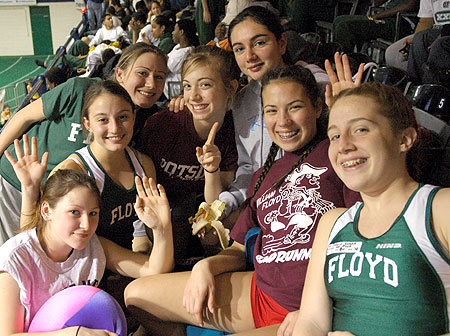 Sheepshead Bay Brooklyn NY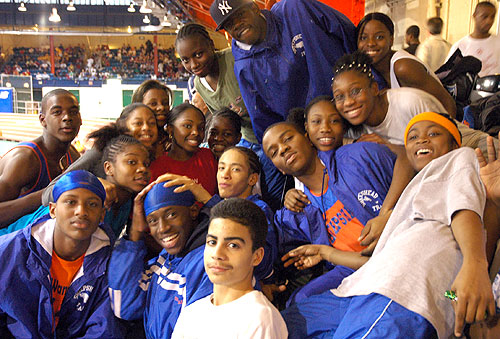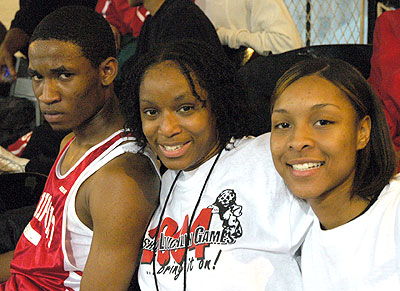 Brentwood NY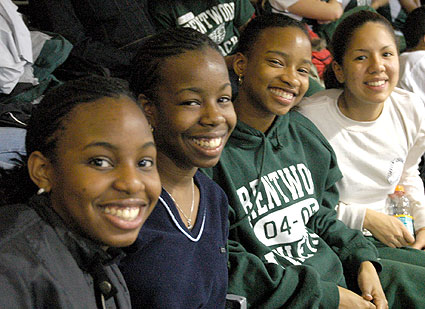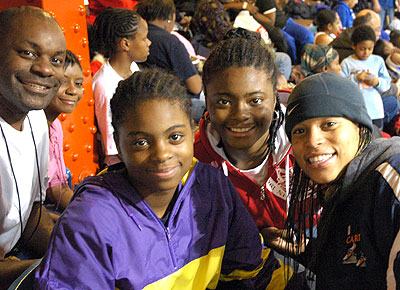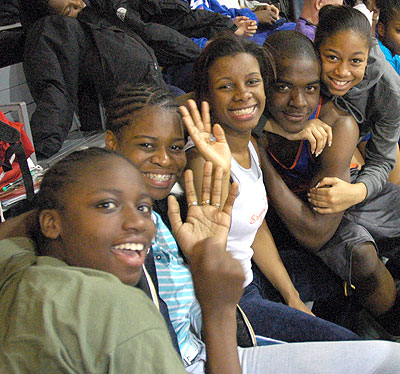 Cardozo NY Gang
Absegami NJ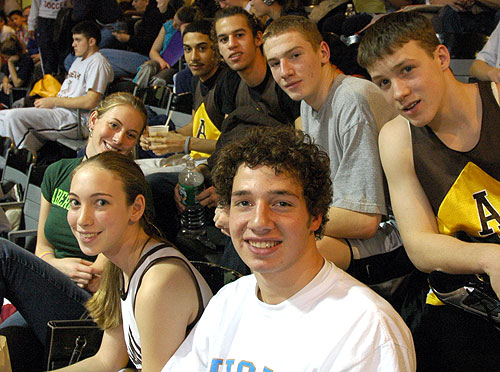 Freeport NY 4x200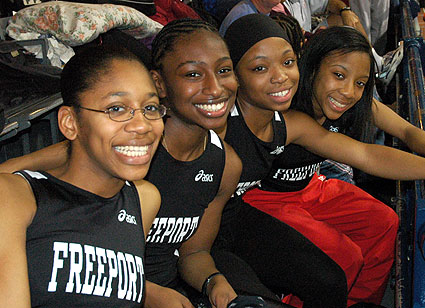 Monsignor Farrell: (from left) John Cassidy, Coach Tom Cuffe, Joe Brancale, Jeff Carbonella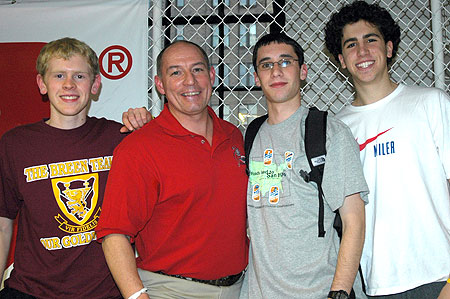 The Graneys from Tappan Zee Orangeburg NY: (from left) Mom Eileen, Sara, Emily and Oliver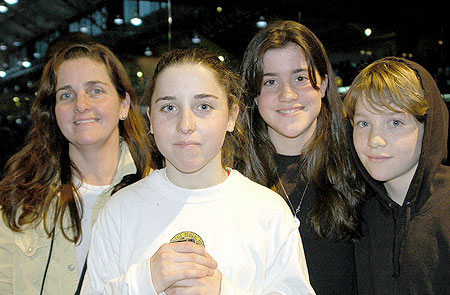 Enjoying the meet on the side: Joe Grimm and Emily Graney-NY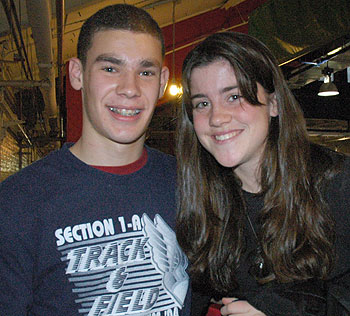 Sideline Enthusiasm
Track and Field Action
Bryan Scotland St. Benedicts's Prep NJ
won the Mile and set a new meet record with a time of 4:14.35
Lynne Layne New Rochelle NY
winner of the 55m dash set a new meet record with a time of 6.94.

Germa Segni Brooklyn Internalional NY
winner of the 2 Mile at 9:35.83
Aislinn Ryan Warwick NY winner of the 3000m

Bryan Duggan Farrell NY
winner of the pole vault at 15' 0"

Racquel Anderson Hempstead NYH winner of the long jump at 18' 11

Roje Robinson, MCHS NY-2nd in the triple jump
Dan Lewis, Farrell NY 2nd in the 2Mile
In the infield : (from left) Racquel Anderson Hemstead NY winner of the long jump,
Caren Knight, New Rochelle NY 2nd in the high jump and Gabriela Baiter Elwood 6th in triple jump.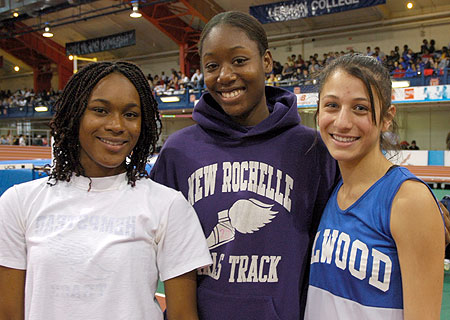 Bernard NJ High Jumpers: (from left) Marc Shapiro, Carson Christus, Chris Brooten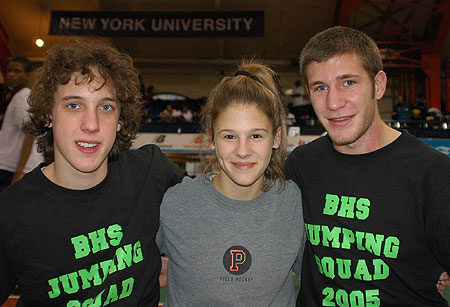 Clarese Bradley and Decodea Johnson high jumpers from Neptune NJ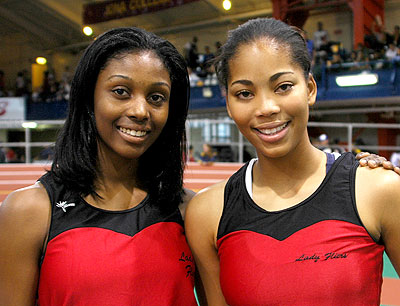 Ashley Ramsey, Chia Hudson and Keva Ramsey high jumpers from
Panan High School in NY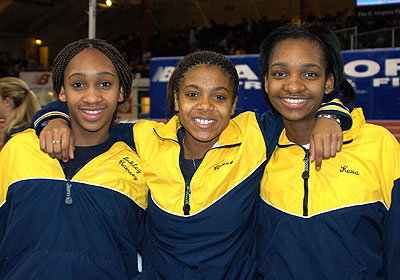 Winslow Township NJ: (from left) Woody Brevard, Darnell Barber, Nate Greene
(below) Miles Edwards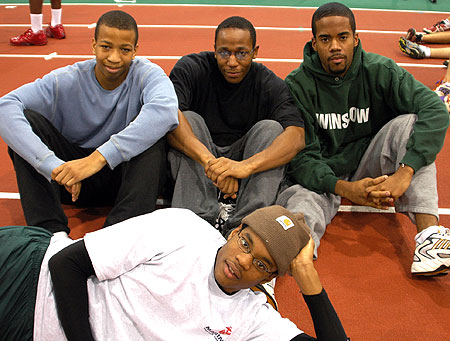 Pole Vaulting twins: Scott and Casey Di Cesara Irvington NJ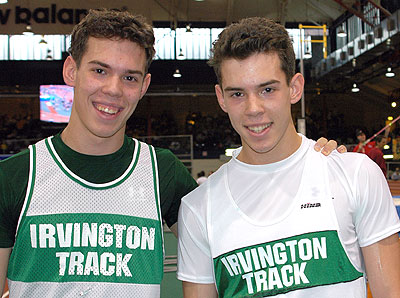 The Di Cesara twins Casey (l) and Scott with their parents Paul and Pam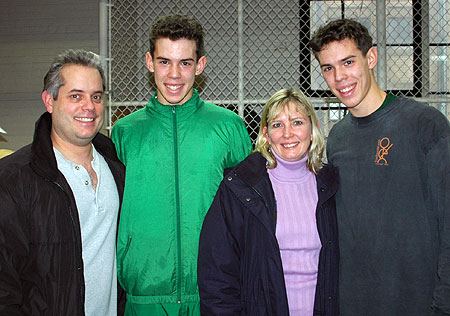 Pole Vaulters: (from right) Gina Allen (l) from St. Anthony's and
Katelyn Druby and Meghan Polis from Bellport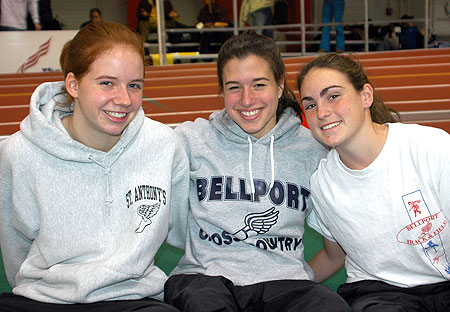 Jed Carpenter Newton North MA, Winner of the Triple Jump with his family:
(from left) brother Jared, Dad David, Jed and Mom Angela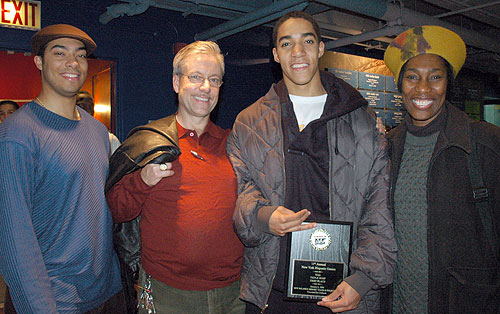 Coach Ray James and Stephanie Mallar, St. John the Baptist.
Coach Ray is with the All City Track Club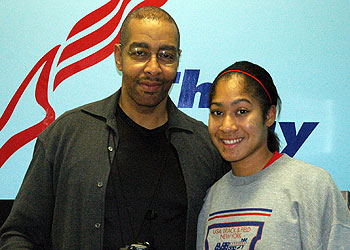 A Remarkable Recovery
Four weeks ago Bryan Duggan from Monsignor Farrell NY had surgury done to repair his torn meniscus. During the Hispanic Games he jumped 15ft to win the pole vault. To me and I suppose many others, this is remarkable. Looking at his knee you don't see anymore than a pencil mark. His recovery is great comfort for athletes who might be facing surgery.

Byran wasted no time after he was cleared for sports. When he reported for practice, Coach Tom Cuffe started him out doing laps slowly but Bryan kept taking the next step without any discomfort. Soon he was doing run ups, then jumps and next thing he was on the pole and over the bar. Coach said enough for now. They decided they were ready for competion and headed for the Hispanic Games. The 15ft win is the beginning of Bryan's remarkable recovery and his senior pole vault season.

Continued Good Luck, Bryan.

Bryan with Coach Cuffe
Relays
4 x 200m
1st Gratz PA: (from left) Kevin Talley, Talley, Khaliff Featherstone,
(below) Raishine Turner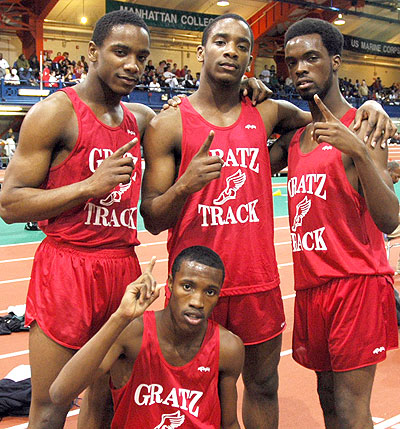 1st Place Middle College HS at Medgar Evers 4x200: (from left)
Deidra Rogers, Analisa Austin, Idara Otu, Chianne Ashman,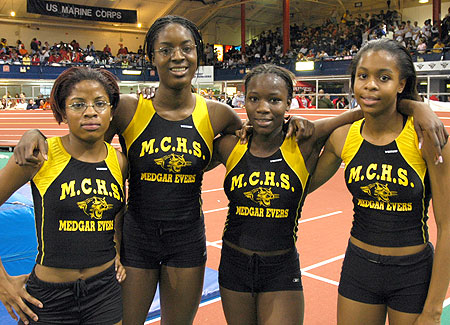 2nd Eleanor Roosevelt MD: (from left) Takecia Jameson, Lindsey Jefferson,
Patricia Anyanwu, Tamika Jameson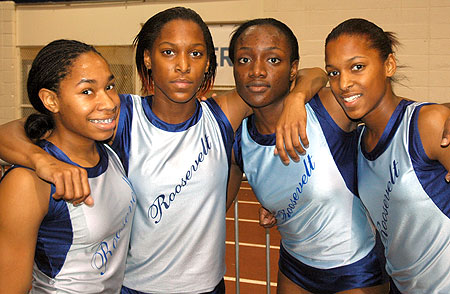 Camden NJ: (from left) Avionne Sloan, Erin Johnson, Bradi Sewel, Kamice Smalls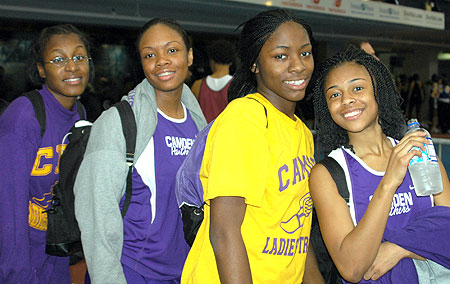 Grady NY: (from left) Alonso Hall, Travis Salesman, Lawrence White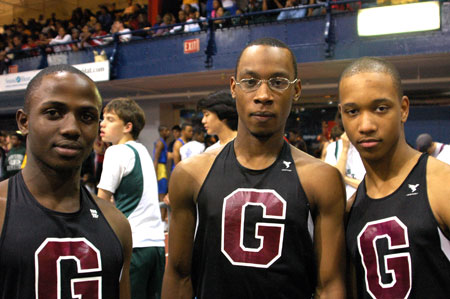 Leaders of Tomorrow Celebration
at the Hispanic Games
The Presentation
Dr. Norb Sander, President of the Armory Foundation and Master of Ceremonies introduces the guests and "Leaders of Tomorrow."

"It is an honor to recognize these young people who represent the best in their local community."

Mal Whitfield-- Olympic Gold medalist in the 800m 1948 and 1952 greets the crowd.

Rudy Chapa NCAA 5,000 meter champion and US high school 10,000 meter record holder is introduced.

Ed Gonzalez, Career Consultant, presents a plaque to William Valez

Ken Podziba New York City Sports Commissioner presents an award from Mayor Bloomberg and the City to Mike Frankfurt, Chairman of the Board of the Armory Foundation and Dr. Sander, President of the Armory Foundation, for "Outstanding Service and Dedication to the Sport of Track and Field and Youth of New York City."

"Leaders" picture time
A Citibank Grant
Steve Silverman presents a check for $50,000 from the Citigroup Foundation to Dr. Sander, President of the Armory Foundation,.
Charles V. Raymond, President of the Citigroup Foundation: "Citigroup and its Citibank business units are pleased to be associated with the Armory's 'Leader of Tomorrow' initiative that recognizes the outstanding accomplishments of our local young people. We are also pleased to provide grant dollars from the Citigroup Foundation to support the Armory Prep program, which successfully helps guide these student athletes through the college admission process."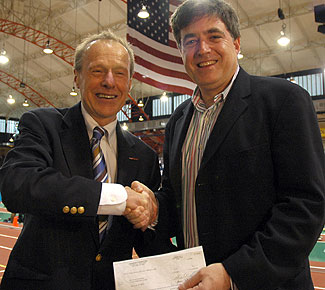 The Leaders of Tomorrow
The "Leaders of Tomorrow" awards are presented to individuals who have demonstrated a high level of academic achievement, community involvement, athletic participation and have earned the respect of their peers and coaches. Individuals were nominated by their coaches.
Angie Aguilar, Senior Brentwood NY
Luis German, Senior, Southampton NY
Rolanda Bell, Senior, Sacred Heart, NY
Elliot Luscombe, Senior, Plattsburgh NY

Alba Knight, Junior, DeWitt Clinton, NY
Carlos Techera, Senior, Frances Lewis NY
Jackie Rodriguez, Sophomore,
Southampton NY
Joe Torres Senior Brentwood NY
William Velez, Senior, St. Peter's NY
Anthony Toro, Senior, St. Anthony's NY
Happy Family and Friends
One very proud mom, Susan Garcia Rodriguez with daughter Jackie Rodriguez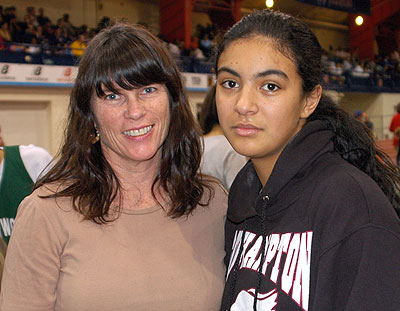 Twice the celebration for Brentwood, NY: (Coach Norman Daniels, Angie Aguilar,
Coach Danielle Pandolf and Joe Torres