a record day at a cross country mecca

Fayetteville-Manlius, Saratoga, Nicole Blood,
and a near-miss by Chris Barnicle.

Nicole Blood becomes first girl under 14 at Van Cortlandt for 2.5 miles
Saratoga Springs NY girls score 39, and Fayetteville-Manliuis NY boys roll with a perfect 15, destroying team average records in the process
Newton-North's Chris Barnicle misses course record by less than a second.

Don Rich sees "a ballet on spikes" from his perch on Freshman Hill

Ed Grant calls it "a meet that will be long remembered"

meet the Stotans - F-M coach Bill Aris calls his team "the new Stotans." In case you didn't know, that is a contraction of "stoic" and "spartan".

Boys Varsity C - NE#1 Fayetteville-Manlius NY demolishes NE#3 Christian Brothers Academy NJ and the meet record, with the first five finishers in a 12-second spread, all under 13 minutes.
Girls Eastern States - US#1 Saratoga batters own team average record and Nicole Blood is first girl under 14 minutes at Manhattan.

BOYS

GIRLS

Varsity A - Lockport 111, Mark Russell 12:56
Varsity B - Old Bridge 93, Bobby Papazian 12:20
Varsity C - Fayetteville-Manlius 15, Tom Gruenewald 12:42
Varsity D - Saratoga 75, Dan McManomon 12:44
Varsity E - Morris Hills NJ 92, Carlos Jamieson 12:47
Varsity F - Chaminade 64, Geary Gubbins 12:40
Varsity G - Newton North 67, Chris Barnicle 12:18
Eastern States - Saratoga 39, Nicole Blood 13:57
Varsity A - Pope John 119, Jillian King 14:59
Varsity B - Greenwich 67, Emily Fong 15:09
Varsity C - Orchard Park 83, Lynne Mandy 15:05
Varsity D - Ridgewood 96, Kristen Taylor 15:29
Varsity E - El Modena CA 57, Lindsay Southhard 15:26
Varsity F - Queensbury 88, Erica Planamento 15:43
Manhattan flash report:
Record day at a cross country mecca
by Don Rich, Northeast Region editor and publisher of PennTrackXC
Nicole Blood becomes first girl under 14 minutes at Van Cortlandt for 2.5 miles
Saratoga Springs NY girls score 39, and Fayetteville-Manliuis NY boys roll with a perfect 15, destroying team average records in the process
Newton-North's Chris Barnicle misses Victor Gras' one-year-old meet record by less than a second.
A record day at a cross country mecca, as two team average records are crushed, an individual course record goes down as well, and the other stays on the books by less than a second.
The talk leading up to the Manhattan Invitational was about Saratoga Springs and speculation about their place in cross country history. The chatter will only increase. But now you've got to add the boys from Fayetteville-Manlius NY to the mix as one of the great teams ever.
Nicole Blood used the back woods to gap Warwick Valley's Aislinn Ryan, and pulled away over the final straightaway to finish in 13:57 and break the 18-year-old mark of 14:01.9 set by of Langley Virginia's Erin Keogh in 1986. And her team wasn't far behind, finishing in 3rd, 7th, 13th and 15th for 39 points with an estimated team average of 14:34.
The mark smashes their own record of 14:57.54 set last year.
And Fayettetteville-Manlius followed up their record day at McQuaid to break Shenendehowa NY's 2003 record by nearly ten seconds, averaging 12:48.82.
Oh, and 23 boys broke 13. That's a record, too, by one.
New records: 10,600 athletes entered from 350 schools, 15 states and DC
Entries and Seeds - Departing from usual practice of spreading the boys power across all heats, Manhattan this time will match the top two ranked teams -- NE#1 Fayetteville-Manlius NY and NE#3 Christian Brothers Academy NJ -- in the same heat.
Preview: "The guys are itching to get 'em." -- NE#3 CBA NJ coach Tom Heath talking about his team's anticipated match-up against NE#1 Fayetteville-Manlius NY.
Manhattan lays claim to the title of biggest and best, which would raise a vigorous argument from Mt. SAC in California, but Manhattan is surely the biggest east of the Rockies. It is run on the venerable "Vannie" course that has seen the best in the country over the years. It is run at 2.5 miles, with a rich history of all-time records -- roughly a half mile on the flat plain, a mile and a half in the woods and hills and a half mile rush to the finish. It will be tough to top last year's record setting meet.
Runners enter the back woods and hills -- John Nepolitan's photo guide to VCP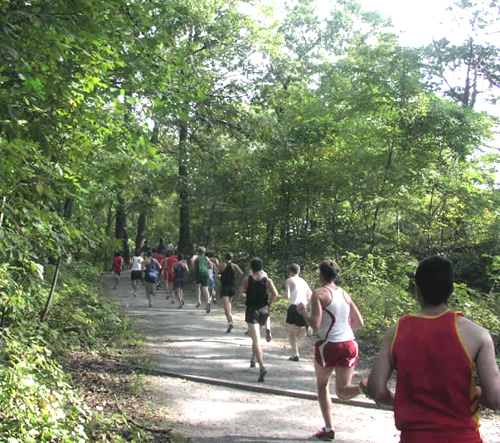 Prior Years on DyeStat
2003 - One of the most brilliant of the many Manhattans. Victor Gras - 12:17.1 breaks John Trautman's 18-year-old meet record. Nicole Blood 14:17.8 leads Saratoga girls to first sub-15:00 average team time. Saratoga scored 56 points to beat Argyle 87 and Bay Shore 120. Shenendehowa NY boys 12:58.7 team average is a meet record.
Nicole Blood


Victor Gras


photos by John Nepolitan

Shenendehowa boys with meet director Ed Bowes (left)

2002 - the mud was the story of the day, but it didn't stop Nicole Blood and Brendan Fennell from turning in stellar performances. Blood leads Saratoga girls 24 to 89-point margin in Eastern States Girls Championship. Shenendehowa NY boys 13:15.8 had fastest average boys time. (top boys teams are spread across seven varsity races, so there is no head to head team winner).

right, Jim Patchin tripped near the finish line
and belly flopped in the mud, but came up smiling.
2001 - Meet is an emotional affirmation of New York and American spirit, just one month after the September 11 World Trade Center attack. Brian Dalpiaz and Tracy Brauksiek are the fastest runners of the day. Saratoga NY girls win Eastern States. Old Bridge NJ is a split second winner of fastest boys team time over Bishop Hendricken RI and St. John's MA.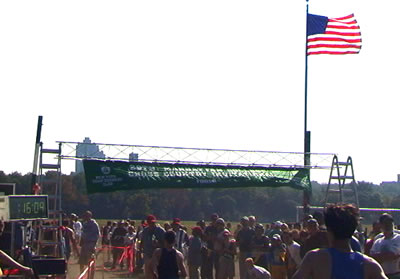 2000 - Julia Pudlin's "one last burst" catches Erin Donohue at the finish (below). Saratoga's deep squad wins varsity girls by 88 points and scores perfect 15 in both JV races. Charles Million NY and Austin Smith VA share fastest boys time of the day, 12:35. Danbury CT boys 13:19.3 have fastest team average.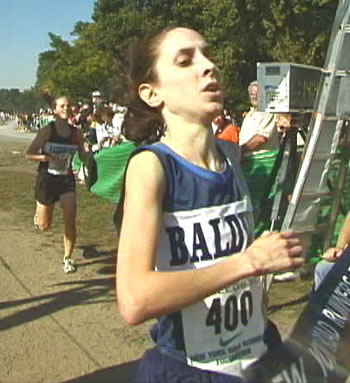 1999 - Colonie NY girls edge Saratoga 59-61. Laurel Burdick NY and John Huber NY are fastest individuals of the day.
Schedule
9:15

SOPHOMORE BOYS "A"

9:27

SOPHOMORE BOYS "B"

12:38

SOPHOMORE GIRLS "A"

9:39

SOPHOMORE BOYS "C"

12:52

SOPHOMORE GIRLS "B"

9:55

FRESHMAN BOYS"A"

1:03

PETER L. WATERS

VARSITY BOYS "A"

10:03

FRESHMAN BOYS "B"

1:15

GEORGE t. EASTMENT

VARSITY BOYS "B"

10:11

FRESHMAN BOYS "C"

1:27

DR. FRANCIS J. SWEENY

VARSITY BOYS "C"

10:19

FRESHMAN BOYS "D"

1:39

JOSEPH P. KEARNEY

VARSITY BOYS "D"

10:27

FRESHMAN BOYS :E"

1:51

EDWARD D. O'TOOLE

VARSITY BOYS "E"

10:36

INTERMEDIATE BOYS (GRADES 7-8)

2:03

LINDY J. REMIGINO

VARSITY BOYS "F"

10:43

INTERMEDIATE GIRLS (GRADES 7-8)

2:15

JOHN N. JOHNSON

VARSITY BOYS "G"

10:52

FRESHMAN GIRLS "A"

2:25

EDWARD J.J. BOWES

11:01

FRESHMAN GIRLS "B"

GIRLS EASTERN STATES CHAMPIONSHIP RACE

11:10

FRESHMAN GIRLS "C"

2:37

WARREN RING

VARSITY GIRLS "A"

11:19

FRESHMAN GIRLS "D"

2:49

BR. GREGORY HUNT FSC

VARSITY GIRLS "B"

11:28

JUNIOR VARSITY BOYS "A"

3:01

MIKE COHEN

VARSITY GIRLS "C"

11:40

JUNIOR VARSITY GIRLS "A"

3:13

FRED DWYER

VARSITY GIRLS "D"

11:52

JUNIOR VARSITY BOYS "B"

3:25

IRV KINTISCH

VARSITY GIRLS "E"

12:04

JUNIOR VARSITY GIRLS "B"

3:37

FR. GERALDINE BOWES, OP

VARSITY GIRLS "F"

12:16

JUNIOR VARSITY BOYS "C"