Results, stories & Pix
BOYS - GIRLS

Double Surprise!
Aislinn Ryan and Ken Cormier

| | | |
| --- | --- | --- |
| | Ken Cormier | Aislinn Ryan |
flash report
Sur-prise! Sur-prise!
SAN DIEGO -- In a wide-open affair bringing together the top boys from all over the map, the favorites ended up, well, all over the map! You had to go digging to the deepest parts of Arizona to find the national champion, where virtual unknown Kenny Cormier of Douglas HS in the southern-most part of the state unleashed a bold move along the final kilometer to overtake South Region champion Andrew Bumbalough and win in 15:22. The time was the slowest winning time ever at FootLocker Nationals in San Diego, where temperatures in the high 70s and shared pacesetting duties led to somewhat slow clockings. Cormier ("it's pronounced 'core-me-ay' but people always get it wrong"), a high-mileage maven whose training logs topped out at 120 weekly miles this summer and remained in the 90-mile range for much of the season, breezed past a startled Bumbalough (second in 15:24) and held off a last-minute challenge to win the crown and remain unbeaten in 2004. Teamwise, the West cleaned up as Californians Mark Matusakof Loyola HS (3rd in 15:26 after taking 22nd here last year), hometown hero A.J. Acosta of nearby Oceanside (9th in 15:38) and state champion Brandon Bethke of El Toro (11th in 15:41) all made late rushes to pass several others and seal the region's 32-38 victory over the defending champion Midwest squad. The South region inexplicably stuggled yet again, claiming 8 of the last 12 places in the 40-runner field to place a distant fourth.
Although the girls' race finish was not nearly as dramatic as the boys', it did not lack for its moments. In the end it was New York's Aislinn Ryan (pronounced Ash-lin) that overtook pre-race favorite Marie Lawrence of Nevada in the final mile to emerge the victor in 17:31. Lawrence claimed the runner-up position for the second consecutive year, being timed in 17:39 and helping propel the West girls to a second-place team finish to the champion Midwest squad (28-46). It appeared that South Dakota's Ramsey Kavan might pull off her second nationals race victory in as many weeks (earning the Nike Team Nationals individual crown last weekend), but her early-race lead soon wilted in the mid-morning warmth, as she claimed third in 17:47. The famed girls from Saratoga Springs endured a rough outing here, placing 21st (Nicole Blood), 23rd (Hannah Davidson), 24th (Lindsey Ferguson), and 38th (Caitlin Lane) in capping a long season oozing with phenomenal team efforts. The South also struggled a bit here, claiming 7 of the final 15 places.
Although runners competing at last weekendds Nike Team Nationals or FootLocker West Region were predicted to arrive here with somewhat-weary legs, many were able to quash that notion in mustering up very fine performances on the elite scale for the second time in eight days. Six of the top twelve boys finishers today were in action last weekend (three at NTN and three at the FootLocker West Regionals), and 5 of the top 11 girls from today bounced back strongly from a week ago as well. -- Rich Gonzalez
The regional qualifiers convene at the Del Coronado Hotel in San Diego on Thursday, look at the course in Balboa Park on Friday, and race on Saturday. The 80 finest runners in the country vie for a national championship.
Schedule
9:15 am - Girls
10 am - Boys
Which school has the most
Foot Locker finals appearances?


With the final roster set for the 2004 finals Saturday in San Diego, The Woodlands TX boys and Saratoga Springs NY girls are the all time leaders. Smoky Hill Aurora CO is a rising newcomer, with six appearances by the Kaltenbach sisters alone in the past 4 years.

Boys


11 The Woodlands, TX (formerly called McCullough) by 8 athletes
9 Kingwood, TX by 4 athletes
8 Mead, WA 7 by athletes
7 Jesuit, CA 5 by athletes
7 Wheeling, IL 2 by athletes
5 North Hunterdon, NJ by 4 athletes
5 Mt Tabor, NC by 3 athletes
5 Madison Memorial, WI by 3 athletes
5 Lyman, FL by 2 athletes

Girls


12 Saratoga Springs, NY by 7 athletes
10 Lake Braddock, VA by 7 athletes
8 Smoky Hill, CO by 4 athletes
7 Robinson, VA by 2 athletes
6 North Hunterdon, NJ by 3 athletes
6 Centreville, VA by 3 athletes

stats by John Sullivan
Registering at the Hotel Del Coronado

- photos by Donna Dye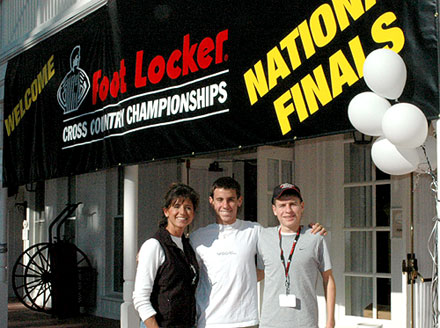 from right, Sean McNamara IL, Brandon Bethke CA and Bethke's mom, Toni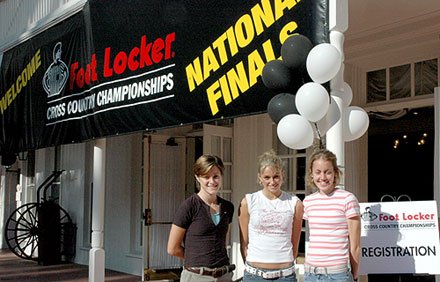 from left, Kelly Parrish FL, Brie Felnagle WA, and Carmen Mims KY
Qualifying for Foot Locker at NTN
The expansion of Foot Locker national finals to 10 per region, with the two extra slots coming from the top two individuals from Foot Locker regions at NTN, created a meet within the meet in Portland. Some Foot Locker alternates from the Midwest, Northeast and South regions had a second chance to get to San Diego Dec. 11. Read the meet within the meet to see how it all shaped up.

Boys

In the Northeast, a consolation prize for Fayetteville-Manlius as Tommy Gruenewald and Andrew McCann qualify.

From the Midwest, York's Sean McNamara in 1st and Matthew Dettman in 4th take the two auto spots.

In the South, Bedsole's 8th place vaults Sandy Roberts NC from 9th at South regional to San Diego. Ben Schulz, Woodlands, with 12th place finish, takes other FL spot and will make it 11 Foot Locker finals appearances for Woodlands runners, most of any school in the nation.

From the west, Brandon Bethke, El Toro CA, with 2nd; and Robbie Barany, Eisenhower WA, in 3rd, capture two auto qualifiers.

Girls

Because Blood and Davidson finish 1-2 for the Northeast Region, alternates Chantelle Dron and Brittany Sedberry are going to San Diego again!

With Ramsey Kavan 1st, Kaltenbach 4th and Sammons 5th, both Midwest alternates Rebekah Smeltzer MI and Molly Waterhouse MI will join them.

In the South, because Brooke Upshaw qualified at regionals, Carlene Mayfield TX is in as the 1st alternate... while Upshaw's teammate Miranda Walker is joining her in San Diego after finishing 14th today.

From the west, Crystal Reed CA and Brianna Felnagle WA are the automatic qualifiers. .
the race within a race
Foot Locker qualifiers at NTN -
Bernard Lagat surprises Sandy Roberts

Sandy Roberts of Broughton HS, Raleigh, NC, (at right in the Foot Locker South regional Nov 27) was hoping to get a call from someone in Portland Saturday learning whether or not he had qualified for Foot Locker Nationals. He did not expect to receive it from Bernard Lagat. "I was blown away," Roberts said a few hours later. "He's one of the greatest runners of all time." story by Steve Underwood
Prior Years on DyeStat
2003 - Midwest region rules with sweep of all four championships, boys and girls, team and individual. Matt Withrow IL runs down Galen Rupp OR and Shadrack Kiptoo NM in the boys. Katelyn Kaltenbach CO copies that to beat freshman Marie Lawrence NV. The meet was enriched by the presence of the four US high school boys who have run a sub-4 minute mile.
| | |
| --- | --- |
| Withrow passes Kiptoo and Rupp in the closing strides. | Kaltenbach passes Lawrence |
Killer Kat and Cowboy Matt get trophies at champhionship dinner-dance.

the exclusive sub-4 club of US high school milers:

Jim Ryun, Tim Danielson, Marty Liquouri and Alan Webb
2002
The Rocket
and The Zephyr!

Chris (the Rocket) Solinsky WI and Zoe (the Zephyr) Nelson MT dominate with powerful surges in the third mile in the return to Balboa Park, San Diego after several years at Disney World in Florida.


2001 - Tim Moore MI edges Bobby Lockhart VA in closest boys final ever, with future champion Chris Solinsky WI third; Amber Trotter CA romps by 40 seconds in one of the most lopsided finals ever.
| | |
| --- | --- |
| 2000 - Dathan Ritzenhein MI leaves Alan Webb and Ryan Hall in the Disney dust to become the fifth repeat winner of Foot Locker. Sara Bei CA rallies past Anita Siraki at the wire in a triumphant return to the finals that she first made as a freshman.. | |
| | |
| --- | --- |
| 1999 - Dathan Ritzenhein CO gets his first title; Vicki Chang HI sweeps to victory after Felicia Guliford falters in the last 200 meters. | |
1998 - Erin Sullivan VT repeats, Jorge Torres IL wins boys race in his fourth try..
1997 - New England sweeps with Abdirizak Mohamud MA and Erin Sullivan VT.