Results & Pix
ROC Boys
ROC Girls
Seeded Inv Boys
Seeded Inv Girls
Complete Results on
Great American site

Donna on the Side
100 photos of
sideline scenes

John Dye's Albums
ROC Boys
ROC Girls

Vic's Pix -
Vic Sailer albums
College
High School

100 girls of Great Am
- a Mile Leary collage

Entries and Box Assignments:
High School
College

Schedule
Course Maps
Directions





Saratoga NY girls, Cedar Cliff PA boys, Aislinn Ryan, Robert Bedsole win Race of Champions

Girls ROC - US#1 Saratoga NY 26 (2 3 6 7 8) crushed the field to leave no doubt that they are the best team in the country this year and, perhaps, any year. Saratoga had their five scorers in the first 14 finishers overall, led by Nicole Blood in 3rd. NE#3 Bethlehem NY 154 (12 18 20 41 63) finished second and SW#1 US#2 Smoky Hill CO, without injured ace Katelyn Kaltenbach, was third with 181 (4 5 39 61 72).
Girls ROC - Warwick Valley NY jr Aislinn Ryan 16:57 broke away from Summit Frisco CO sr Whitney Anderson 17:24 late to win convincingly. Blood 17:31 ran behind the leaders most of the way.
Boys ROC - NE#2 US#10 Cedar Cliff PA 149 (11 19 25 46 48) achieved a balanced win in a wide open race. SE#8 Tucker Richmond VA 173 (3 8 16 33 113) edged SW#2 US#6 Mountain View UT 176 (9 21 41 43 62) for second.
Boys ROC - Hoover AL sr Robert Bedsole 15:14 was an impressive winner, surging in front after the first mile and leading the rest of the way, a winner by 4 seconds over Middletown OH sr Jeff See 15:18. Tucker sr Michael Chapa 15:23 was third. All three were faster than last year's fastest boy, Ryan Deak 15:26.
Boys Seeded Invitational - D'Evelyn CO sr John McGuire 15:24 was a 24-second winner. NE#9 Cherokee NJ 98 was the team winner, followed by LaSalle Cincinnati OH 133, McLaughlin CVI of Canada 136, NE#7 Msgr Farrell NY 142, Warwick Valley NY 152, and Syosset NY 165.
Girls Seeded Invitational - Columbia NY 60 (4 5 13 18 20) was a clear winner, followed by Henderson PA 104 and five more teams only 20-points apart. Individual winner was Cooper City FL sr Jacy Kruzel 18:43.

College races Friday and then a huge plate of high school races on Saturday at the Great American Cross Country Festival at Cary NC. There will be 50 teams in the Race of Champions seeded race with the best teams and some elite individuals. It perennially includes a powerful lineup of some of the best teams in the country, and this year there are 22 teams that are in the top 10 of the NTN Regional Rankings. The girls ROC will feature the top two teams in the country in The Harrier Super 25 rankings as of Sept. 20, Saratoga Springs NY and Smoky Hill Aurora CO, although Smoky Hill will be without defending Foot Locker national champion Katelyn Kaltenbach, who has a stress fracture. In addition, the ROC will include 10 boys and 18 girls running unattached, including such elite runners as Brian Sharkey FL, Jennie Barringer FL, Carmen Mims KY, Bria Wetsch MN, Kate Niehaus SC, Erin Bedell TX, and Sarah Bowman VA. Great American entries.
100 girls of Great American - a collage by Mike Leary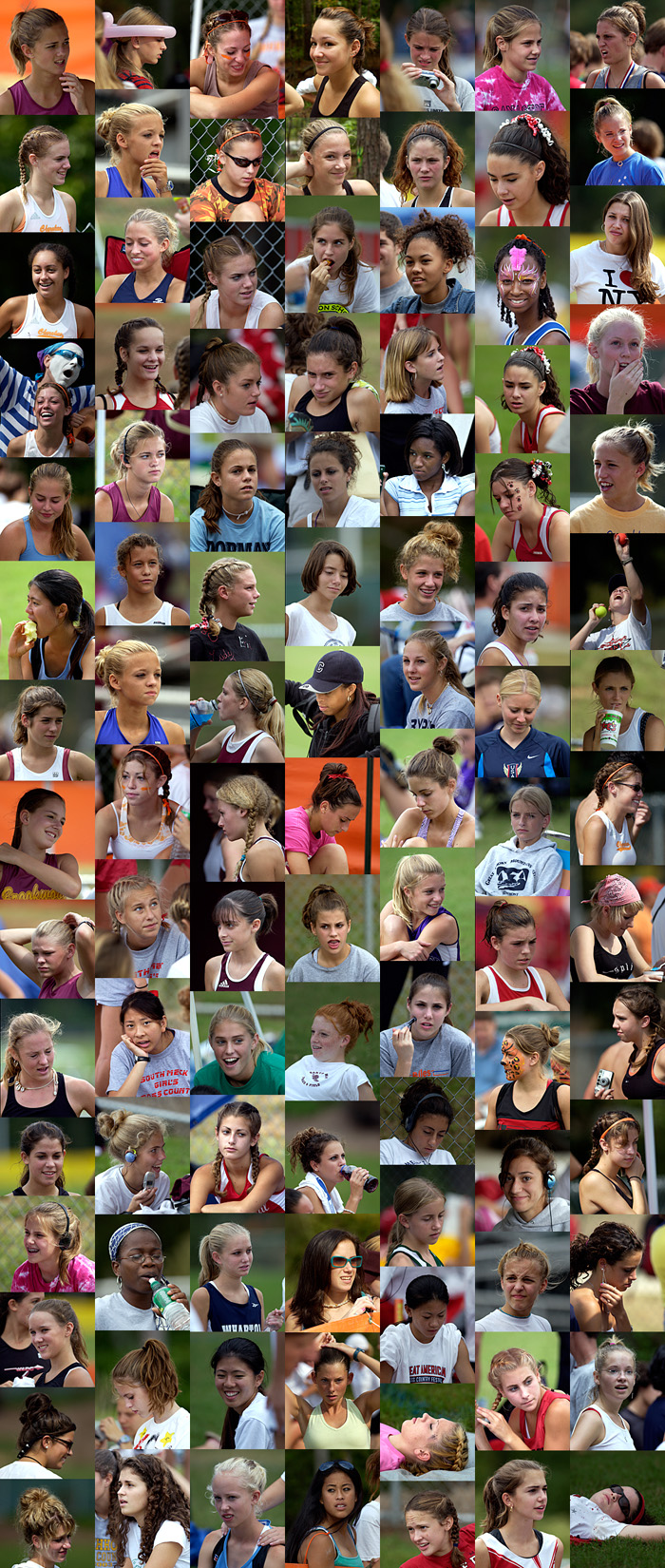 Invented by Rick Hill and continued by the National Scholastic Sports Foundation, the Great American has become an instant classic on the high school cross country scene. It is the premier in-season team competition in the country, with at least half of the teams on the starting line of the seeded races generally ranked nationally by Marc Bloom in his Harrier Magazine Super 25. With the advent of the Nike Team Nationals end-of-season championship this year, the Great American will provide plentiful evidence for the NTN Regional Rankings system which will be the basis of NTN selections. The meet returns this year to the splendid facility at the SAS Soccer Park, with a dramatic start down a quarter mile incline, a demanding route through woods and hills, and a stadium finish with permanent stands. Top flight college teams run Friday night, and high school races go all day Saturday.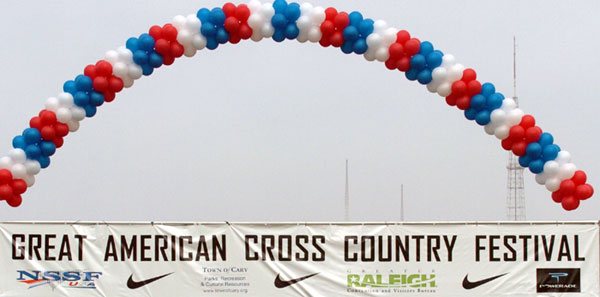 Prior Years on DyeStat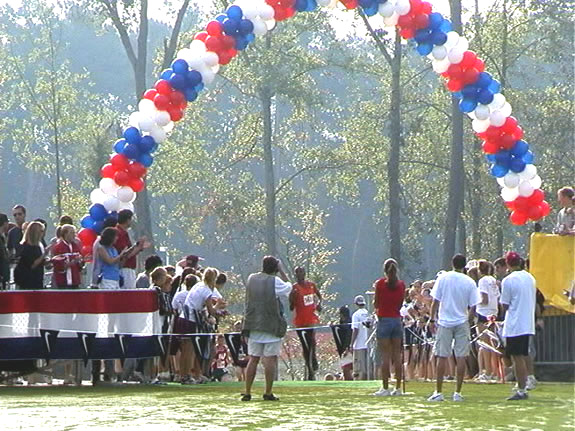 Entering the stadiuim for the stretch run on the track. photo by John Dye
2003 - The Woodlands TX boys and Saratoga NY girls solidified their claim on US #1 ranking that they held to the end of the season. It was the third straight Great Am title for Saratoga. Colorado runners grabbed three of the four major races: Mohammed Ige, Ryan Deak and Katelyn Kaltenbach.
Pictured from left: The Woodlands ace Brian Sullivan, Saratoga's Nicole Blood, and Smoky Hill CO's Ryan Deak and Katelyn Kaltenbach. Blood and Kaltenbach will be two of the leading girls in the country this year. photos by John Dye
2002 - Mud and disqualifications mar the only running of Great Am at Ballantyne Resort in Charlotte. Mountain View UT boys win when The Woodlands top two runners follow Bobby Curtis in cutting the course. Nicole Blood leads Saratoga NY girls. Chris Solinsky WI has fastest boys time of day. Rick Hill announces sale of meet to NSSF.
2001 - Saratoga NY girls, Kingwood TX boys win team titles. Alison Tubbs WA hammers top girls field. Bobby Curtis has fastest boys time. Races were run at Winthrop Farm Meadows at Rock Hill SC, just across the state line from Charlotte.
2000 - The year of the great flood. At the starting time Saturday morning, the start and finish areas were under water. Races were amazingly run after a 6 hour delay to let the swollen creek at McAlpine Park in Charlotte recede. The winners were Alan Webb (2nd straight year), Alicia Craig, Saratoga NY girls, and Mountain View UT boys.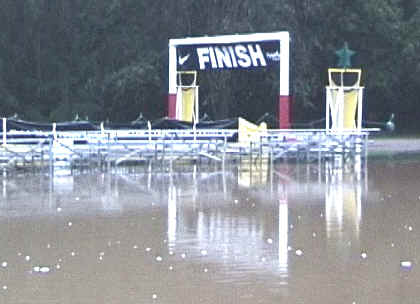 1999 - Inaugural Festival was a magic moment at McAlpine Park in Charlotte with a full Carolina moon overlooking the tent party and dance on Friday night. On Saturday, race announcer Doug Speck called it "the most significant day in the history of US high school cross country" because of the unprecedented showdown of top ranked national teams. Then, when the Bingham UT girls dominated the Race of Champions, Speck said it was "the greatest girls cross country team performance in US history," surpassing the previous standard University Irvine CA team. An average time of 18:13 for 5000 meters - a 35-point trouncing of the nation's No. 1 team Saratoga NY. A 2-3-10-11-19 finish - all five scorers under 19 minutes - the 6th and 7th runners finishing 28 and 33. Felicia Guliford NM won the girls ROC, followed by Bingham's Zeigle twins. Alan Webb VA and The Woodlands TX were the boys ROC winners.