Results
Schedule
Entry Info
Reunion Run

River Hill MD boys, Unionville PA girls win.
SE#4 C.Milton Wright MD girls lose.

Report from Donnie Mickey, www.mdrunning.net.

Maryland's big meet the Bull Run Invitational was held on a sloppy slow 3 mile course.

Boys: River Hill, the state's top ranked team, beat Broadneck the states 4th ranked team. 104 to 110.

River Hills Finishers:

5 Sergey Zubko 17:52

7 Nick Keane 18:10

13 Andrew Bank 18:29

35 Kevin McCoy 19:14

44 Andrew Seelaus 19;24

Girls: Unionville, Pa and Morgantown, Wv took down the CMW girls. Unionville, Pa looked really strong.

CMW girls:

7 Allison Barnes 21:14

14 Kelli Buck 21:38

15 Sara Bailey 21:40

24 Megan Ravenscraft 22:20

25 Danielle Burcham 22:27
The Bull Run Invitational is a major interstate meet on the very demanding 3-mile course which is the site of the Maryland State Meet. One of the toughest courses in the nation features two trips down and up a steep ravine known as "the Dip" and a long sidehill stretch through a corn field and woods. Sanctioned for MD, PA, DE, VA, WV, and DC. In addition to high school races, there is a Reunion Run, an all comers race for parents, coaches and all other runners.
Contact Mike Kalisz 410-887-1910. Applications must be received by Sept. 3 by Mike Kalisz, Athletic Director, c/o Hereford High School, 17301 York Road, Parkton, Maryland 21120.
the hellacious hills of Hereford - photo essay of the Bull Run course.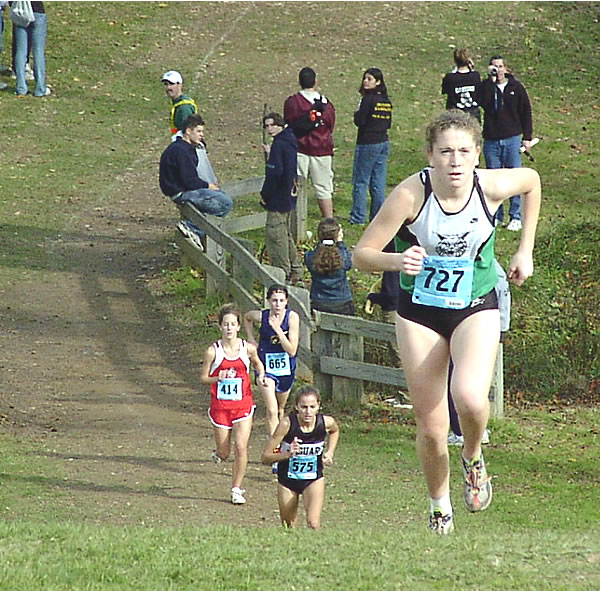 Ashley St. Denis digs out of the dip en route to 2002 Maryland 3A title. photo by John Dye
Prior Years on DyeStat
2003 - Meet cancelled because of Hurricane Isabel. The Dip became unpassable.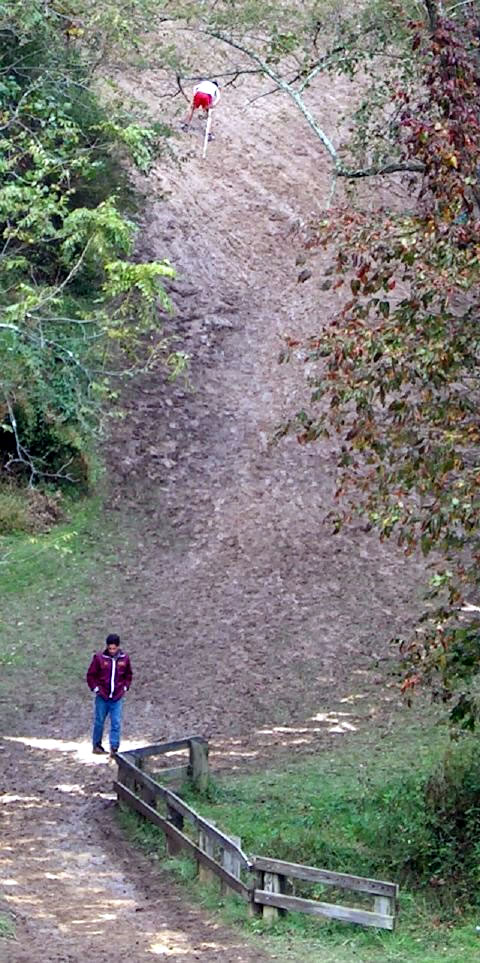 2002 - Pat Bailey and Lauren Centrowicz win the elite races.
2001 - C. Milton Wright MD boys and Dulaney MD girls win elite division. Fastest of day are Tenke Zoltani MD and Ryan Blood PA.
2000 - Middletown MD girls and Good Counsel MD boys win their third straight major meets.
1999 - Middletown MD girls and Westminster MD boys win.
1998 - Westminster MD boys and Dulaney MD girls win.
Schedule
7:30 A.M. Team registration begins by tree near water tower (gym lobby if raining).
8:00 Course walk for Large school and Elite races. Meet at start line.
8:15 Coaches meeting (Large school and Elite races). Gym activity room.
9:00 Boys Large & Elite JV/Open
9:35 Boys Large Varsity
10:05 Girls Large Varsity
10:35 Girls Large & Elite JV/Open
11:05 Awards presentation for Large schools on hillside by backstop.
11:10 Boys Varsity Elite
11:40 Girls Varsity Elite
12:30 P.M. Reunion Run
12:40 Awards presentation for Elite races on hillside by backstop.
12:50 Course walk for Small & Medium schools. Meet at the start line.
1:05 Coaches meeting (Small & Medium schools). Gym activity room.
1:55 Boys Small/Medium JV/Open
2:30 Boys Medium Varsity
3:00 Girls Medium Varsity
3:30 Boys Small Varsity
4:00 Girls Small Varsity
4:10 Awards presentation for Medium schools on hillside by backstop.
4:30 Girls Small/Medium JV/Open
4:50 Awards presentation for Small schools on hillside by backstop.