Donna on the Side at the
Holiday
Classic
The Scene
Tis the season to be jolly and to begin a new indoor season. In it's fourth year, the Holiday Games sets the year in motion. It's THE place for getting into the swing of relays, relays, relays.
| | | |
| --- | --- | --- |
| | Meet Director Lou Vazquez keeps the action going and the crowd happy. | |
Shenendehowa NY Parents

C.H. Flowers MD Parent

Wilton CT parents

From Lenape NJ

Parents with a good view on the side.
Jumpers and Throwers
Triple Jumpers from North Rockland -- Jade Watkins and Yvana Hepburn

Jumpers from Archbishop Curley --
Jesse Kolodziejski and Brian Hairfield

High Jumper, Laura Passalacqua from Rancous Valley NJ

Andrea McElyen Ridley PA
Best in the high jump

Shenendehowa NY high jumpers:
Libby Babcock and Kara Kollak

From Shenendehowa:
Kristin Ottaviano and Mallory Lesieur

High Jumpers from Manalapan NJ: (l) Stephanie Friedman and Mary Seery

1st place in the pole vault: Middletown South NJ: Julianne Toto and Laura Flath

Jamal Ames 1st in the High Jump and half of the 1st place Vineland NJ
winning relay

Walid Ali Matawan High Jumper

Best in the pole vault as an individual was Alysha Rodriguez NY with a 11' jump

Ian Cassidy and Chris Leung NY
Molloy pole vault team
Vineland Jumpers NJ: Gruseppe Lombardo (Pole Vaulter), Bruce Bartley, Jamal Ames, John Gage (Pole Vault)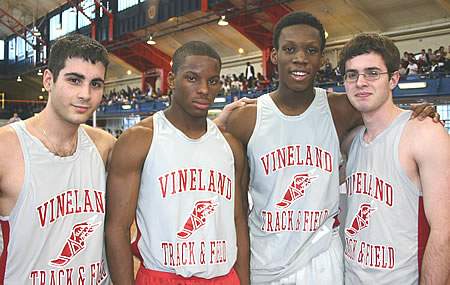 Willingsboro NJ high jumpers (l): Chris Smith, Lucius Battle, Delbert Johnson, Brandon Corley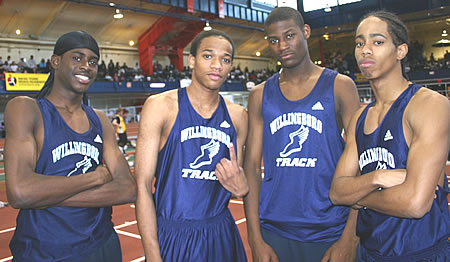 Long Jumpers: Bobby Ishmael and Sam Adaramola from Largo MD.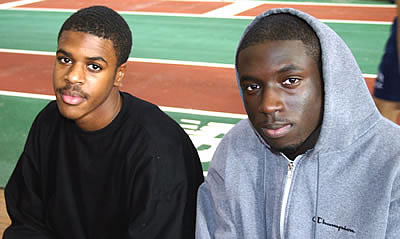 Roland Bias and Justin Cheeks jumpers from Maryland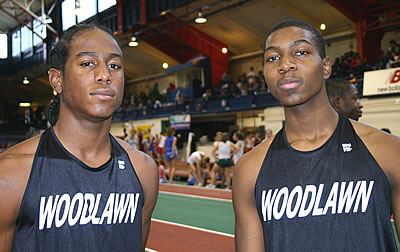 Toms River North NJ High Jumpers: Jessica Matthews, Amanda Anatucci and Alison Evans. Toms River North A team won the Girls High Jump.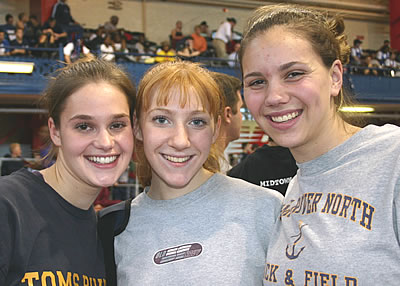 Long Jumpers from Harborfields: (l) Melissa Walker, Emalee Kohos, Meredith Pesce, Laura Smith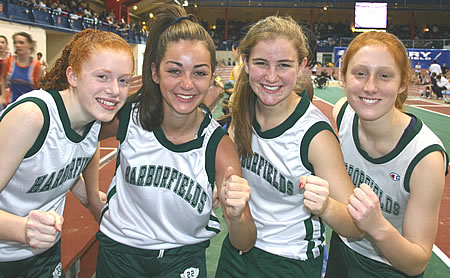 Toms River North NJ Jumpers: Coach Amos, Caleb Stuart (Pole Vault), Dan Cowan (High Jump) and rian Santay (High Jump)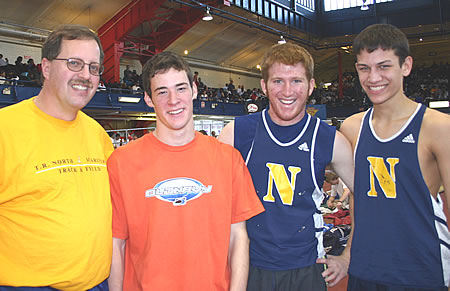 Throwers from Middletown South NJ
Alyssa Guderian, Kelly Harris and Coach Todd Liebman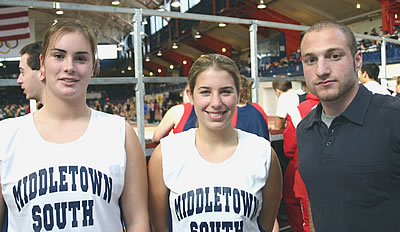 Throwers from Danbury CT:
Lynda Omoharo, Katie Pendzick, Marsha Locke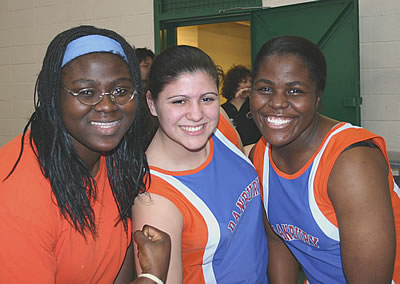 Relays
DMR 1st: Christian Brothers Academy (l)
Brett Fiorovanti, Will Melofchik, Peter Glachin, Chris Vuono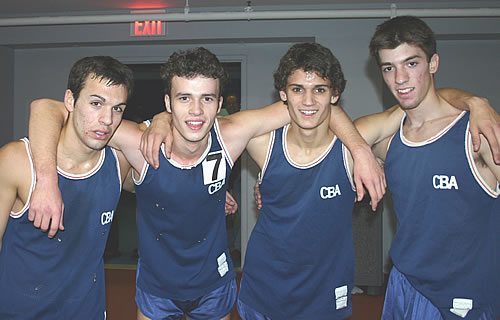 DMR 2nd from Shenendehowa NY (l) named here with their team name and their ever so important DyeStat Track Talk name: Dan Ensel, Alex Grout "shenrules," Cory Pilinko "ucplinks" and Phil Roach "phillydilly."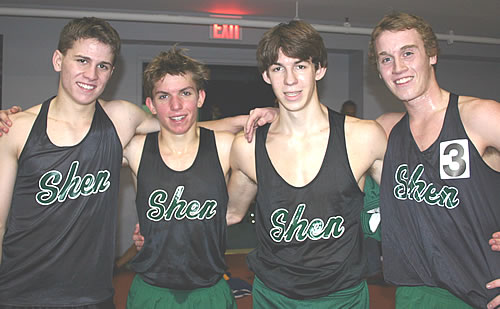 DMR 3rd Commack (l) Jon Molz, Jeff Jones, Kyle Fiasconaro and Dan Martin
DMR 1st Shenendehowa NY (l)
Libby Babcock, Leia Danboise, Sarah Rogers, Jackie Genwick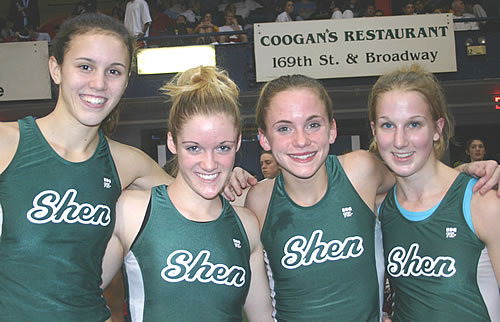 DMR 2nd Perkiomen Valley (l)
Carol Jefferies, Ashley Puotorak, Brittany Long, Sarah Roberts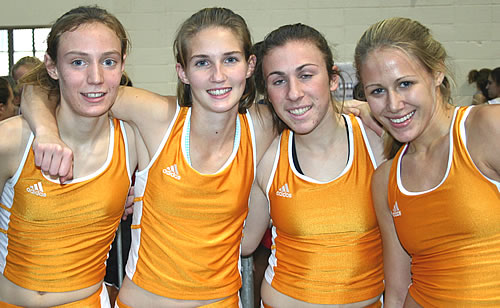 DMR 4th Bethlehem (l)
Lauren Ginsburg, Emily Malinowski, Marijn Kalas, Roxanne Wegman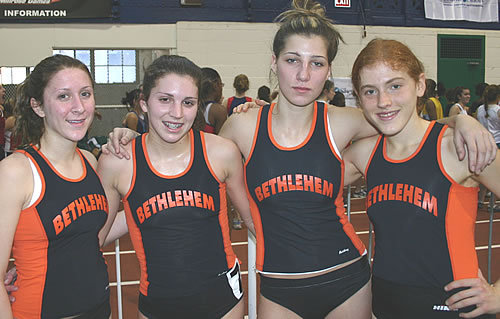 1st 4x200 C.H. Flowers MD (l)
Shanice Pratt, Anbria Alexander, Tiffany Nesfield, Dara Jones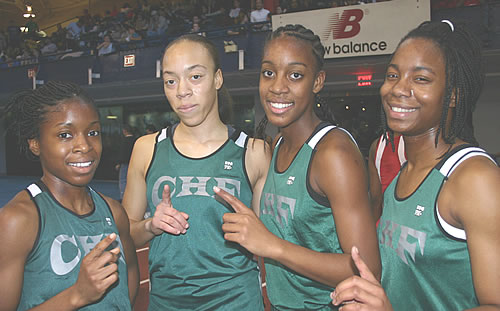 2nd 4x200--Bellport NY (l)
Katie Weider, Natasha Williams, Charity Chaplin, Erica Young
3rd Place 4x2: Jessica Clark, Shana Brown, Cassie Harris, Ashley Pringle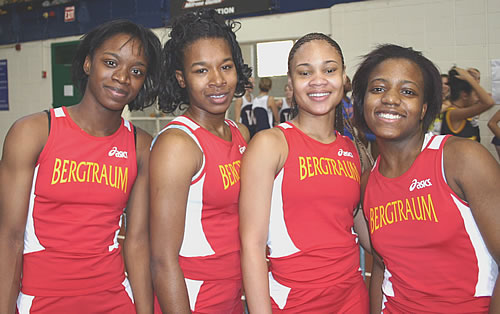 1st 4x200 (l) Scott Facey, Rahmel Huffman, Michael Wright, Jernaie Artwell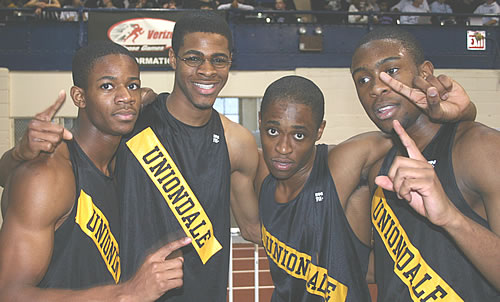 3rd 4x200 - Transit Tech -
(l) Mikel Thomas, Clemore Henry, Monaire Thompson, Ramell Nelson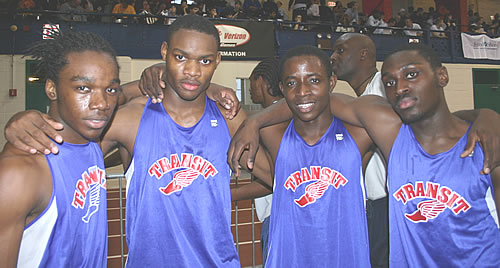 Pleasantville 4x200
Jamanck Freeman, Jordean Matthews, Shalan Laws, Monet Dairsow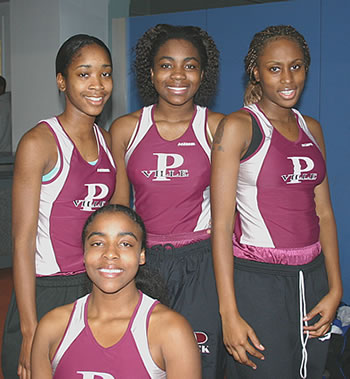 Boys and Girls 4x200 Relay:
Dannielle Biggs, Tiffany Alleyne, Katina Grosson, Ahilah Johnson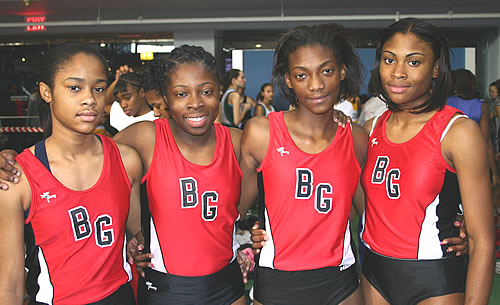 1st 4x200 Freshman Race
(l) Kristen Maggio, Kim Ladouceur, Courtney Vitkoria, Jillian Arato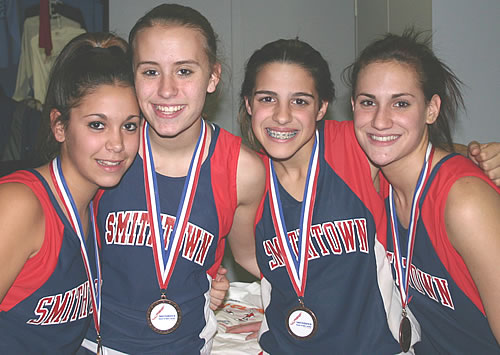 Potpourri
From West Hampton Beach: Casey Lacour, Liz Anderson, Taryn Anrig, Brianna Bevito and Maria Sicuranza--All are runners except Liz who is a pole vaulter.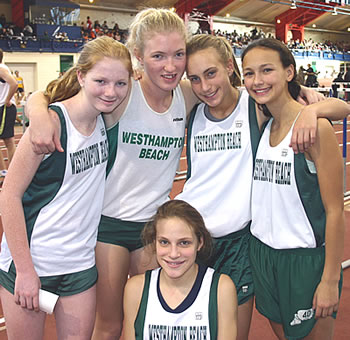 Middletown South NJ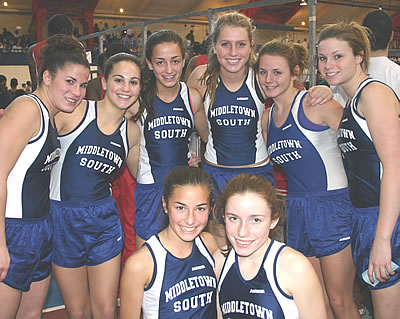 Ridley PA: Kellie Looby, Andrea McElyen and Michelle Jackson.
Andrea was best in the high jump.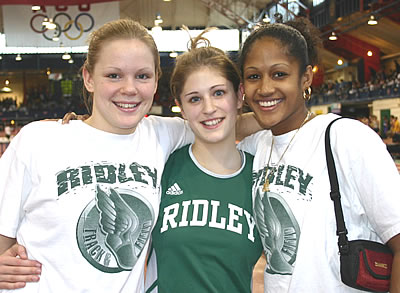 From Commack: Coach Hoover, Amber Bragis, Laura Carol,
Kim Mulhern and Michelle Fargnoli