Donna on the Side
2004 Citi Hispanic Games
by Donna Dye
The Hispanic Games is one of the largest meets of the season. The fans and athletes fill up the Armory. Energy is everywhere as the athletes run, jump and throw and the crowd cheers, screams and hollers. Inspired by music from the Oscar winning "Chariots of Fire" and "Y.M.C.A.", athletes race around the banked track. In the end many new meet records are made and there is satisfaction of a day well spent and enjoyed by all.
The Scene
And the Gang's All Here!
On the Side!
Bringing out the Best--Competitors on the track--Friends on the side. Bayshore St. John the Baptist and Shenendehowa (from left) Laura Cummings, Bay Shore; Alex Grout, Shen; Jen Rogan, Bay Shore; Rob Boerjes, St. John the Baptist; Kerri Mannino, St. John the Baptist; Phil Roach, Shenendehowa.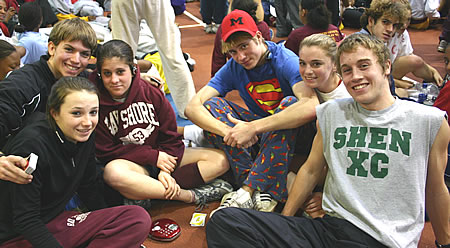 Jumps
| | |
| --- | --- |
| Felipe Reyes NY 1st in Long Jump with a Meet Record Jump of 24'5. Felipe was named Outstanding Boys Field Athlete in the meet. This jumps places Felipe 1st on the DyeStat Elite list for Long Jump. | |
| Troy Thomas 2nd in the long jump with a jump of 22'4.50 | Ian Cassidy NY Winner of the Pole Vault-Ian Set a new record for pole vault at the Hispanic Games, the NY Catholic league and the NY State record with a jump of 15.9 1/4. |
| | |
Ian Cassidy NY winner of the pole vault with Mom, Karen.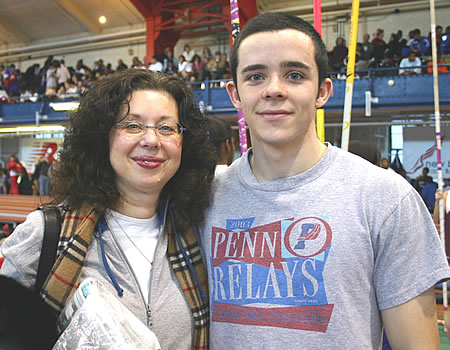 Felipe Reyes CBA NY with Dad, Roberto and Coach Nadir Simohamed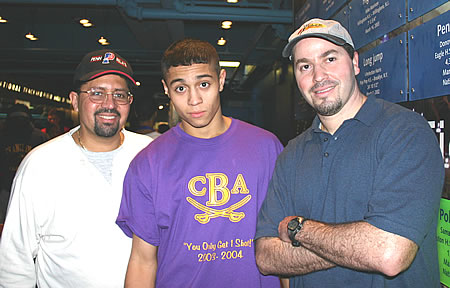 Hunterdon Pole Vaulters: (from left) Mike Roberti 3rd;
Mike Tucholski 2nd and John Contursi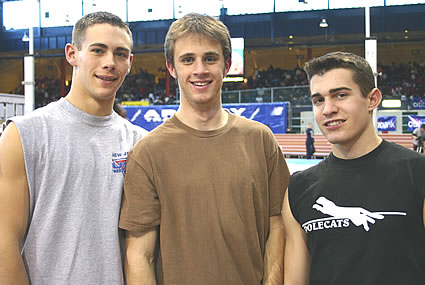 Jumpers Marlon Thornton and Emanuel Woodham-Blooomfield CT
Marlon's best jump was 20'7.35 and Emanuel best jump was 20'5.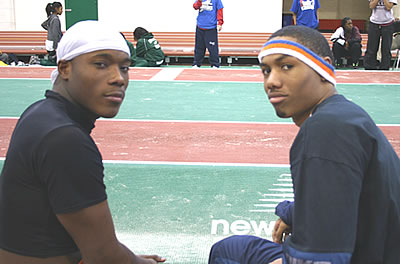 Will Earley, Mike Smith and Tyler Kane-Kellenburg NY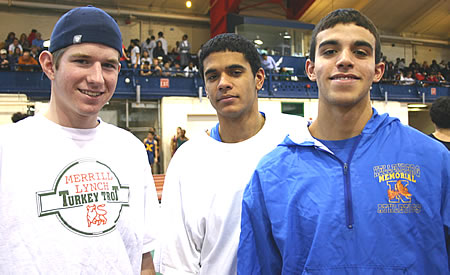 Shquandn Meyhlor, Pennsauken; Stephanie Lewis Sheepshead Bay;
Yves Line Holy Trinigy and Leah Covier Sheepshead Bay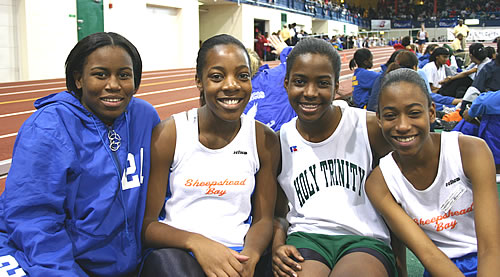 Ashley Reichelmann and Ashley Shafto Monsignor Donovan NJ

Gabrielle Negri and Hshkeni Richemond
Suffern NY

Ashley Williams (l), Wall NJ and Collette DeBenedetto Mountain Lakes NJ
Collette won the triple jump with a jump of 37'1.50.


High Jumpers from Albany NY: Carlissa Vargas and Liska Wilson (r)

High Jumpers from Middletown South NJ:
Siedah Smith (l) and Ariana LaFerlita

Julianne Toto (l) and Laura Flath pole vaulters from Middletown South NJ
Julianne and Laura tied for 2nd with a
jump of 10.6
Sprints and Hurdles
Jordan Lester 1st 55 meter dash.

Jason Richardson TX 1
st 55 meter Hurdles

Lynne Layne NY 1st 55 meter dash

Jamillah Nock
1st in the 55 meter hurdles
55 meter hurdlers: (from left)
Saidu Ezike 3rd, Terrell Gissendanner 5th and Ramon Sosa 6th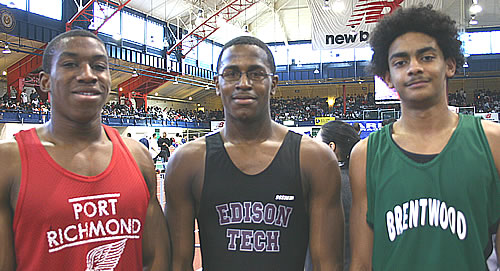 400 Winners:
Nicole Leach PA 2nd, Natasha Hastings 1st and Dominique Blake NY 3rd
Natasha was named Outstanding Girls Track Athlete
Distance
| | |
| --- | --- |
| Chris Pannone Hunterdon Central NJ 1st in the 3200. | Carlos Jamieson North Rockland NY 2nd in the 3200. |
| | |
| Craig Forys-Colts Neck a face we should see more off in the 3200. Craig ran the 3200 with a time of 9.38. | Devon Williams MD winner of the mile set a new meet record. |
| | |
The Mile 1-2-3:
1st Hakon DeVries; Steve Hallinan 3rd and Ahmed Haji CT 2nd.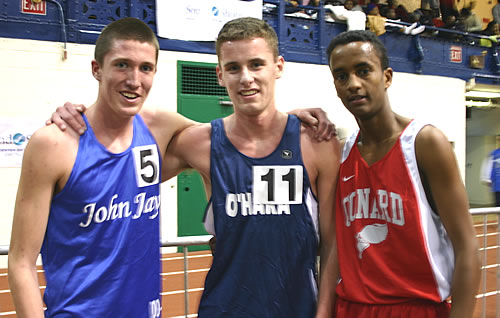 The Mile 1-2-3: (from left)
Devon Williams MD 1st; Amy Kelly PA 2nd and Frances Koons PA 3rd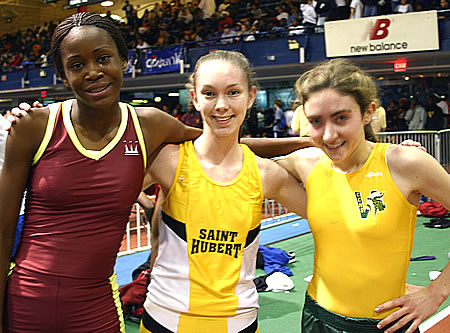 Carlos Jamieson with his friends and fan club. Carlos was 2nd in the 3200.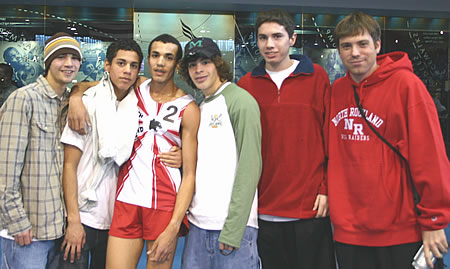 Relays
5th, 4x200 Newburgh NY: Sam Stubbs, Terrfirs McMillan,
Ed Jackson, John Bowden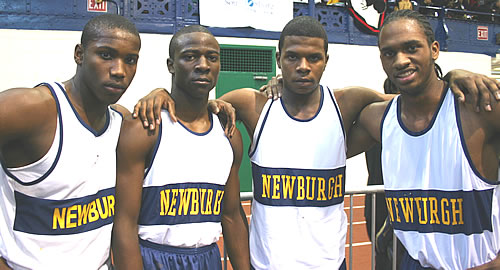 Camden NJ 4x200: (from left) Alonzo Brown, Carl Smith, Khari Duchett
(a freshman) and Sherron Bullock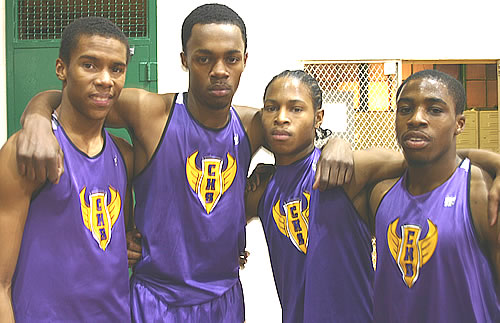 1st 4x200: Simon Gratz PA: (from left) Sabrina Shaw, Angela Wells,
Jabria Wallace, Lacole Fields
2nd 4x200: Murry Bergtraum: (from left top) Cassie Harris, Shana Brown,
Ashley Pringle and (bottom) Jessica Clarke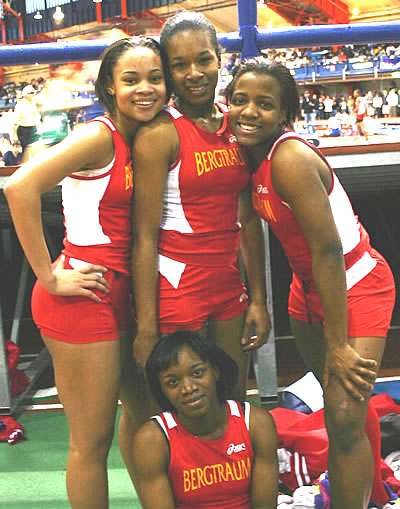 3rd 4x200 Dewitt Clinton: (from left) Dherece Dyer, Denete Wright,
AlbaKnight, Monique Coleran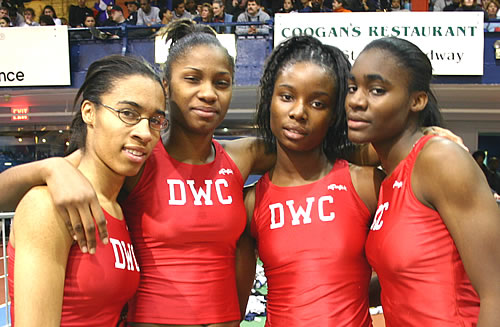 Coach Barter and Coach Yearwood working to make James Madison High School Track team in, Brooklyn NY, a school to remember.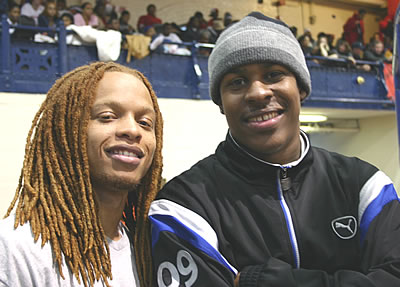 Laguardia NY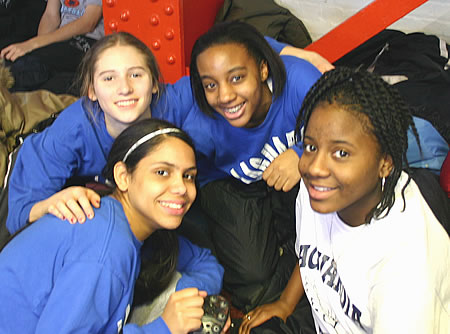 St. John the Baptist NY: Timothy Both, P.J. Conte, Jesse Quartaro, Antonio Ortiz, (bottom) Mike Fitzgerald, Ricardo Ortiz, Joe Bonventre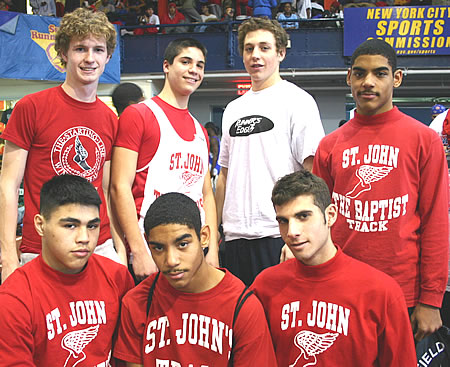 Bellmore JFK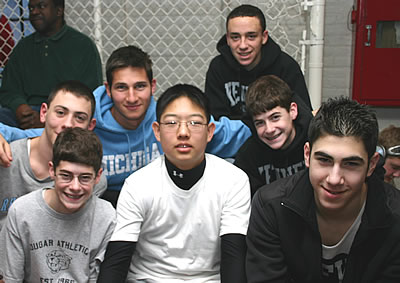 Vineland NJ