Donna on the Side
2004 Citi Hispanic Games Leaders of Tomorrow
One of the many goals of the Hispanic Games is to reach out to the Hispanic community through positive experiences for youth. Many leaders in the Hispanic community come to the event providing an opportunity for students to meet positive role models. Recognizing positive accomplishments of Hispanic youth as an indicator of tomorrow's leadership is part of the positive experience. Leaders are selected from nominations submitted by teams and coaches. Nominations are based on academic, sports accomplishments and leadership skills that youth have shown in school, home and the community.
This year the Hispanic Games were sponsored by Citibank.
Celebrities of the Day! The 2004 Hispanic Games Leaders of Tomorrow
with the Leaders of Today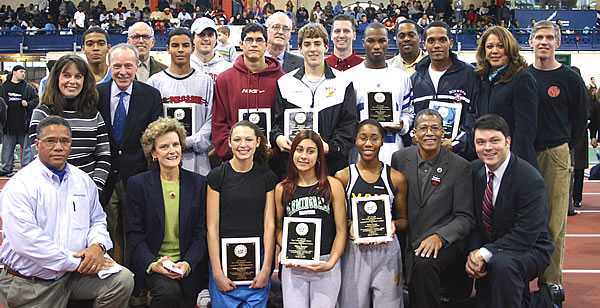 Master of Ceremonies-Dr. Norbert Sander; Sponsor Representative, Charles "Chip" Raymond with Presenters: Michael Frankfurt, Chairman of the Board The Armory Foundation; Steve Silverman, Director of Corporate Affairs Citigroup; Dina Weitzman, Vice President US Hispanic Market, Citicorp; Magda Genao-Souffront, Branch Manager, Citibank, Washington Heights; Clayton Banks, President Ember Media; Amy Ganz, Vice President Marketing Citigroup; Kevin Thurm, Director Consumer Planning; Daria Sheehan, Director, Citigroup Foundation; Tom Fitzgerald, Member US Olympic Handball Team
| | |
| --- | --- |
| Dr. Norbert Sander presents the Citi Hispanic Games Leader of Today Award to New York Council Member Robert Jackson. | Charles "Chip" Raymond, President of the Citigroup Foundation tells how "partnering with the Armory strengthens Citigroup's commitment to help make life better in hundreds of local communities across the tri-state area." |
| | |
The Leaders of Tomorrow
RICARDO VELEZ
Xavier High School, Manhattan NY
Sports Activities
Long Jum, 3200 relay, Middle distances, Team Captain
Academic/Community Accomplishments
Mentors younger members of the track team--captain of the soccer team and performs activities as an assistant coach.

LUIS GERMAN
Southampton High School
Southampton NY
Sports Activities
Mile-Cross country-Many All County Honors
Academic/Community Accomplishments
Native of Domincan Republic-Solid B+ student-Plans to attend a 4 year college.

EVER RUIZ
Southampton High School
Southampton NY
Sports Activities
Hurdles, 400m, 55-800m
Academic/Community Accomplishments
"A" student who would love to attend Uof Pennsylvania next year. Originally from Paraguay. Active Member of Athletes Helping Athletes.

ELISSA (VALDEZ) SALERNO
Rocky Point High School
Rocky Point NY
Sports Activities
800 and Mile
Acdemic/Community Accomplishments
National Honor Society, Leaders Club, Altar Server,Candy Striper,Volunteer Soccer Coach or Underprivileged Hispanic Youth

MILENA RESTREPO
Farmingdale High School
Farmingdale NY
Sports Activities
1500m and the Mile
Academic/Community Accomplishments
"A" student; liaison to Spanish speaking students and recruits them to the track team; tutors ESL students; volunteers for a number of organizations and helps raise money for charity.

TINITA ORTEGA
Staten Island Technical High School
Staten Island NY
Sports Activities
Hurdles, Sprints, X-C-Also helped lead team to indoor Borough Champs
Academic/Community Accomplishments
G.P.A. 90+; AP courses; many awards for academic excellence from institutions such as Columbia University; published Poet; member of the Latin American Club and other school organizations; works with youth in the community

CHRIS GREENE
McKee Tech/Staten Island Tech
Staten Island
Sports Activties
800-5K, X-C, 1000m-Borough Champ
Academic/Community Accomplishments
93 G.P.A; VP of National Honor Society, National Hispanic Scholar Award Recipient; Community Volunteer

ENRIQE MONGES
Midwood High School
Brooklyn NY
Sports Activities
Indoor,Outdoor, X-C
Academic/Community Accomplishments
89 G.P.A.in Medical Sciences; 1160 SAT Score; accomplished violinist; Latin dance choreographer; senior Peer-Tutor; part-time volunteer at St. Vincent's hospital

DREW HARRISON
Westbury High School
Westbury NY
Sports Activities
Sprints
One of top sprinters in Nassau County
Academic/Community Accomplishments
Member of the National Honor Society; top 1/4 of his class.

CARLOS AMARILLA
Bernards High School
Bernardsville NJ
Sports Activities
55m 200m
Academic/Community Accomplishments
3.0 G.P.A.Plans to attend college in the fall; Native of Paraguay in 7th grade; mentor, friend and liaison to members of the Hispanic community.

ANGELICA ZAMBRANA
St. John's Prep
Queens NY
Sports Activities
Mile
Academic/Community Accomplishments
Gifted artist and Spanish dancer; works on track yearbook; volunteers at soup kitchen and church.
A trio of leaders from the same school district:
Chris Greene, Tinita Ortega and Enrique Monges