DONNA ON THE SIDE AT THE HISPANIC GAMES
Part 1 - Introduction, Leaders of Tomorrow, Outstanding Athletes, Hugs and Cheers
Part 2 - Running
Part 3 - Jumps
Part 4 - a chat with Mike Morrison - "Track makes me tick," says nation's best high jumper
The Hispanic Games is one of the largest meets of the season. The fans and athletes fill every corner of the Armory. Energy is everywhere as the athletes run, jump and throw.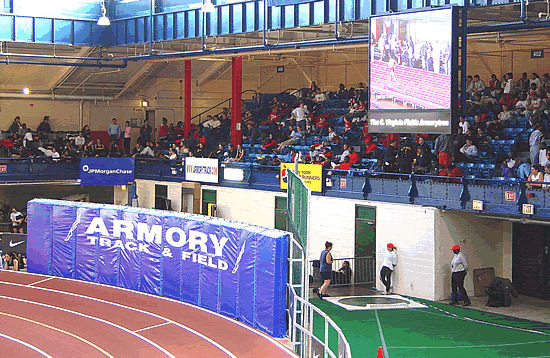 The Armory is Fan Friendly. Amanda Cenerelli and Laurel Bickford were two of many winners of free tickets to the Armory Collegiate Games in February. Fan appreciation is a regular event at Armory meets. From the Armorytron Fan Cam with feature sideline video of fans to the give-a-ways, the Armory likes its fans and shows it.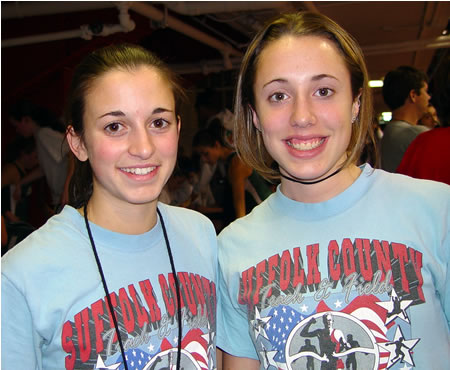 This is a meet that highlights the accomplishments of some of the area's finest youth through the "Leaders of Tomorrow" Award. This year the awards were presented to the following young people:
Natacha Emmanuel- Jr. A.P. Randolph HS, NY
Marqita Delgado-Sr Middle Country HS, NY
Lorachel Castro -Sr Dover High School, DE
Ever Ruiz - Southampton HS, NY
Tiffany Rodriquez Sr- Middle Country HS, NY
Josua Vargas - So, Erasmus Hall Campus HS, NY
Pedro Zapata -Jr, Midwood HS, NY
Johnny Batista -Sr, Moore Catholic HS, NY
The Leaders of Tomorrow Award Presentation
| | |
| --- | --- |
| | Among the celebrities was Derrick Adkins, Georgia Tech grad who was the 1996 Olympics gold medalist in the 400 hurdles. He is an Armory Board member who was presenting awards to the Leaders of the Future. |
Outstanding Athletes
Lou Vasquez, Meet Director and Director of Armory Operations presented the awards to the Outstanding Athletes in running and field events.
Outstanding Athletes in Running Events: Natasha Hastings Jr-A.P. Randolph NY. Natasha won the 400 setting a new meet record at 53.80 and taking the national lead for the 400. Jeff Porter - Franklin HS. Jeff won the 55 meter hurdles and set a new meet record at 7:37.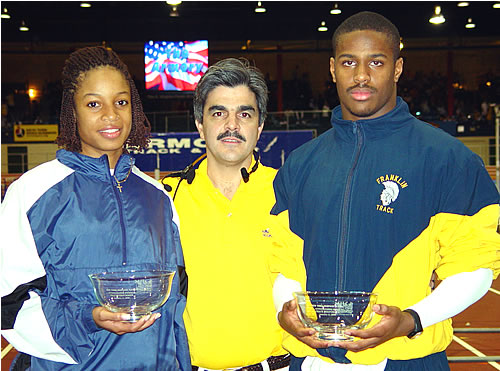 Outstanding Field Events. Angela Wells- Simon Gratz won the long jump at 18'5 1/2. Mike Morrison Sr-Willingsboro NJ. Mike's 7'3 high jump broke his meet and Armory record and placed him Number One in the nation.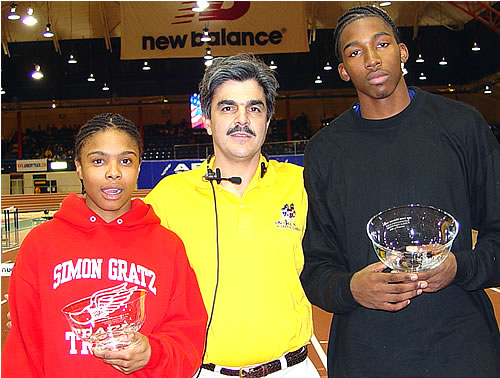 Hugs and Cheers
Natasha Hastings get a big hug from mom, Joanne after she won the 400, setting a meet record and running the fastest 400 in the nation this season and the 11th fastest on Jack Shepard's all time indoor list, where she already stands 6th.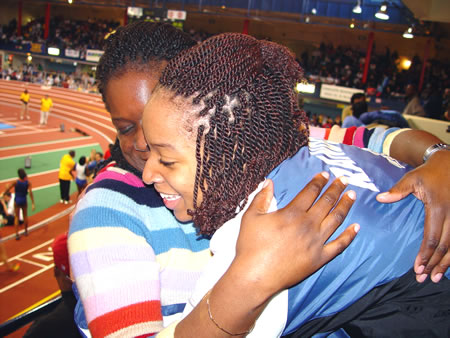 A.P. Randolph fans including Joanne Hasting, Natasha Hasting's Mom and
Randall Joseph cheer on Natasha to win the 400.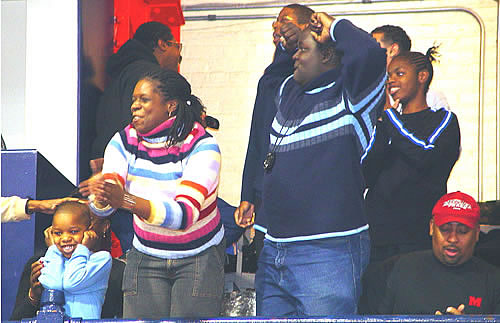 DONNA ON THE SIDE AT THE HISPANIC GAMES
Part 1 - Introduction, Leaders of Tomorrow, Outstanding Athletes, Hugs and Cheers
Part 2 - Running
Part 3 - Jumps
Part 4 - a chat with Mike Morrison - "Track makes me tick," says nation's best high jumper