Boys High Jump - Michael Morrison (NJ) 7- 4.25
Results
Slow motion bar foils national record try
| | |
| --- | --- |
| photos by DyeStat | Morrison clears 7-2.5 with room to spare |
by John Dye
Willingboro NJ sr Michael Morrison, the nation's leading high jumper, goes for 7-5.25, which would be a new national record. He clears, the crowd roars, he jumps up clapping his hands -- but wait. The bar, which wobbled a bit at first, came tumbling down and the red flag went up. So Mike settled for 7-4.25, which was better than the NCAA champion this same weekend. Entering the competition at 6-8.75, Morrison was perfect at five heights until trying for the record. Katy TX sophomore Scott Sellers was second at 7-0.5.
Morrison climbs toward the record height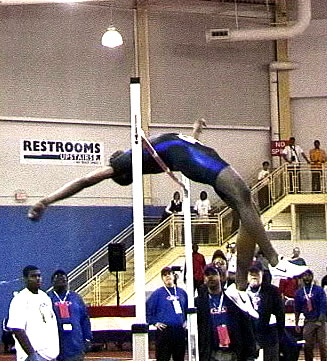 | | | |
| --- | --- | --- |
| The crowd roars and Morrison leaps to his feet clapping his hands. But the bar is already starting to fall off the standards. | | Morrison keeps clapping, not noticing the red flag come up and the bar falling to the ground. |
| | |
| --- | --- |
| Morrison is consoled by everyone in the vicinity. | Scott Sellers |
by Pete Cava and Ricky Quintana
Michael Morrison, who hails from Carl Lewis's hometown of Willingboro,
N.J., pulled off a successful double that even King Carl would never have tried.
Morrison won the high jump just two hours after finishing first in the
long jump. Lewis, the nine-time Olympic gold medalist, confined himself to the sprints
and long jump.
Morrison's winning height of 7-4.25 (2.24m) was a meet record, making him
2-for-2 on the day in that department. He also bettered his personal record
of 7-3.75, set Friday in New York City. No other athlete has won the men's high jump and
long jump in the history of the Nike Indoor Championships.
Morrison, who heads this season's indoor prep chart, cleared each of his
first five heights with one try. He had three unsuccessful attempts at a national high
school indoor height, 7-5 (2.27m). "I thought I had 7-5," he said.
"It's a nice way to end my senior year (indoor campaign), with the
double and all," he said. "I feel my legs a little bit. They're tired. I just had to pull
through. I didn't want to let anything stop me. I had everyone up on their toes."
Morrison says he's looking forward to the outdoor season. "If the
events are far enough apart, I'll keep doubling," he said. "The high jump comes naturally,
but the long jump is more challenging to me."
Second was Scott Sellers (Katy, TX), with a 7-0.5 (2.15) clearance. Adam
Linkenauger (Daleville, VA) was third at 6-10.75 (2.10m).

Results
names highlighted in blue qualify for DyeStat Elite 2003 indoor national rankings
 C.F.P.I. Timing & Data 
         Nike Indoor Championships 2003 - 3/15/2003 to 3/16/2003          
                 Prince Georges Sports & Learning Complex                 
                            Landover, Maryland                            
 
Event 25  Boys High Jump
==========================================================================
    National: N    7-05  3/11/1978   Gail Olson, Sycamore, IL             
        Meet: M 7-00.25  3/2001      Keith Moffatt, Menchville,NewNewsVA  
    Freshman: F    6-08  1998        Ivan Schmidt, Penncrest, Media, PA   
   Sophomore: R    7-02  1/11/2003   Scott Sellers, Cinco Ranch, Katy, TX 
      Junior: J    7-01  2002        Michael Morrison, Willingboro,NJ     
      Senior: S    7-05  3/11/1978   Gail Olson, Sycamore, IL             
    Name                    Year School                  Finals           
==========================================================================
Finals                                                                    
  1 Michael Morrison          03 Willingboro, NJ          2.24m    7-04.25
     1.95 2.00 2.05 2.10 2.15 2.20 2.24 2.27                              
      PPP  PPP    O    O    O    O    O  XXX                              
  2 Scott Sellers             05 Katy, TX                 2.15m    7-00.50
     1.95 2.00 2.05 2.10 2.15 2.20                                        
      PPP  PPP   XO  XXO   XO  XXX                                        
  3 Adam Linkenauger          03 Fincastle, VA            2.10m    6-10.75
     1.95 2.00 2.05 2.10 2.15                                             
        O    O    O    O  XXX                                             
  4 Jerome Miller             04 Stafford, VA             2.05m    6-08.75
     1.95 2.00 2.05 2.10                                                  
       XO    O    O  XXX                                                  
  5 Jason Miller              04 Colonial Forge, VA       2.00m    6-06.75
     1.95 2.00 2.05                                                       
       XO    O  XXX                                                       
  6 Juan Cave                 05 Voorhees, NJ             1.95m    6-04.75
     1.95 2.00                                                            
        O  XXX                                                            
  6 Blake Taylor              03 Lansdale, PA             1.95m    6-04.75
     1.95 2.00 2.05                                                       
        O  XXP    X                                                       
  8 Jason Williams            03 Indianapolis, IN        J1.95m    6-04.75
     1.95 2.00                                                            
       XO  XXX                                                            
 -- Brian Burtis              03 Bowie, MD                   NH           
     1.95                                                                 
      XXX                                                                 
 -- Michael Murawski          03 Cinnaminson, NJ             NH           
     1.95                                                                 
      XXX                                                                 
 -- DeMarcus Stalling         05 Salisbury, NC               NH           
     1.95                                                                 
      XXX                                                                 
 -- Gordon Smith              04 Rocky Mount, NC             NH           
     1.95                                                                 
      XXX                                                                 
 -- David Ford                05 Indianapolis, IN            NH           
     1.95                                                                 
      XXX                                                                 
 -- Chris Garmon Jr.          03 Raleigh, NC                 NH           
     1.95                                                                 
      XXX                                                                 
 -- Christopher Jacques       03 Chaminade-NY                NH           
     1.95                                                                 
      XXX                                                                 
 -- Jermaine Turner           03 Mc Kay-OR                   NH           
     1.95                                                                 
      XXX                                                                 
 -- Matt Shoemaker            03 Athens, GA                 DNS           
     1.95                                                                 
      DNS                                                                 
 -- Kevin Walsh               04 Havre De Grace, MD         DNS           
     1.95                                                                 
      DNS