Boys Mile
Bobby Curtis (KY) 4:10.20
stunning surge on lap 7 gives Curtis a 3-peat
Results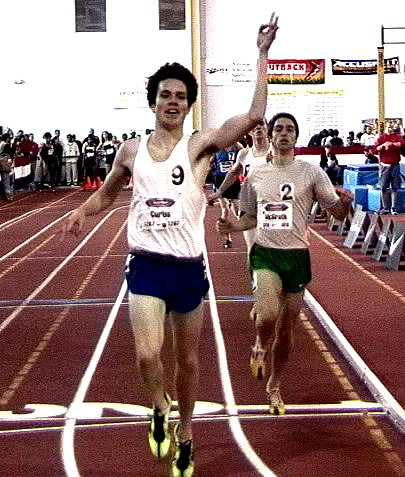 Curtis holds up three fingers as he hits the finish line.
by John Dye
A year ago, after winning the NIC mile on a last stride lunge for the second straight year, Bobby Curtis said, "I'm going to do it again next year too." He was true to his word, but he didn't wait for the last stride this time. Instead, Curtis won this race with a stunning 100 meter surge on lap 7.
For six laps, Oregonians Mike McGrath and Joaquin Chapa, who had the top two times in the nation this season, teamed up and took turns setting the pace. Each time past the finish line, the leader would swing wide and let the other one through. The team tactics were designed by their coach, Alberto Salazar, former world marathon champion. "We didn't want to come all this way and see a first half in 2:15," McGrath said.
McGrath-Chapa led the field through a first half in 2:04. The next two laps slowed to 32.8-second pace. Meanwhile, Curtis languished in fifth place, with Virginian Alex Tatu and Coloradoan Steve Shepherd also in front of him.
In the middle of lap 7, Curtis turned on the jets. When the bell rang for the last lap, Curtis was in front. His time for lap 7 was 29.9 seconds. Curtis wrapped it up with a 27.8 last lap to make it 57.7 for the last 400 meters. McGrath tried to kick with Curtis on the last lap, but had to settle for second after running the last 400 in 60.2 himself. Chapa slipped to fifth behind Tatu and Shepherd.
Curtis had only one race, a 3000 meters on February 22, before NIC. How did he get ready for a top field without racing? "Marcus O'Sullivan (Bobby's future college coach at Villanova) gives me all my workouts," Curtis said. "I've been doing all distance running, no speed work yet."
It worked. Curtis held up three fingers as he crossed the finish line. And McGrath said, "Bobby ran a smart race."
Portland OR training mates Joaquin Chapa and Mike McGrath took turns setting the pace for 6 laps.

Chapa-McGrath

McGrath-Chapa
| | |
| --- | --- |
| At start of lap 7, Curtis (right) was literally out of the picture in 5th place | |
At start of last lap, Curtis was on top, with his tongue out Jordan style, posterizing the field.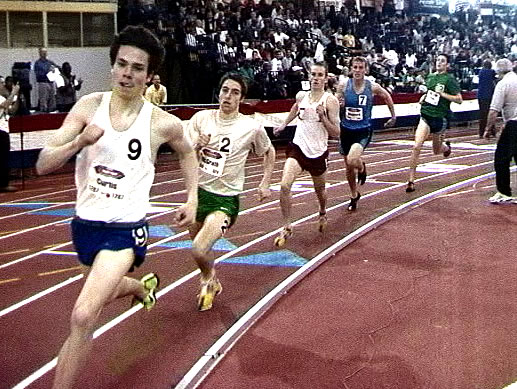 Notes by Scott Dance
From the start of the race, it was clear that the Oregon tandem of Joaquin
Chapa and Mike McGrath would work together to attempt to seal the race for
one of them and shut out two-time defending champion Bobby Curtis KY. It
was McGrath who jumped out to the early lead, as he and Chapa immediately
began to gap the field and push the pace. The two alternated leads through
400 meters in 63 seconds and 800 in 2:04, with Utah's Steve Shepherd
leading the chase at the four lap mark. By 1200 meters, however, the race
intensified with the pack closing the gap, led with Virginia's Alex Tatu in
striking distance of the two leaders. The pace quickened leading up to the
bell lap, when Curtis launched his infamous kick that won him this race
last year as well. Only McGrath was able to answer Curtis's move, but not
quite enough as Curtis held his gap over McGrath to the finish, followed
closely by Tatu.
by Pete Cava and Ricky Quintana
Villanova recruit Bobby Curtis made it three in a row at the Nike Indoor Championships, surging into the lead at the bell lap and finishing in 4:10.20.
Curtis, a senior at Louisville's St. Xavier High School, won the mile here in Landover in 2001 and 2002. His three-peat is unprecedented in the NIC. And just as he did in his earlier triumphs, Curtis came from behind for the win.
Michael McGrath (Portland, OR) zoomed into the lead on the first lap. He and Joaquin Chapa, another Portland resident from a rival school, stayed in front through the most of the race, alternating the lead. McGrath and Chapa, the son of former Oregon star Rudy Chapa, are coached by Olympic veteran Alberto Salazar. Salazar, the legendary distance runner and the last American to win the New York City Marathon, was the elder Chapa's teammate at Oregon.

Salazar's tactics worked until the seventh lap, when Curtis staged one of his patented come-from-behind surges. The Kentuckian, who was dawdling in fifth place on the previous lap, charged past McGrath and Chapa and never looked back. "The first two laps, I was just hanging around," Curtis said after the race.
Curtis finished in 4:10.20, with McGrath holding on for second in 4:10.70. Alex Tatu (Chester, VA), who followed Curtis's surge, moved up for third place in 4:11.72 followed by Steve Shepherd (Eden, UT) in 4:14.01. Chapa held on for fifth in 4:17.97.
"I had heard that McGrath and Chapa were going to work together to break away from the field," said Curtis. "If someone says they're going to go out at 2:05 in this track, you can pretty much call their bluff."
McGrath's halfway time was around 2:03.2, but it didn't look like he was bluffing. "It's so tactical here every year, we wanted to make the race more honest," McGrath said. "I didn't see him (Curtis) coming. He got a jump. I'm disappointed that I lost."
Curtis, meanwhile, said the race didn't go exactly as he'd planned. "If you would have stopped me at four laps and asked me how I felt four laps in, I would've thought I wasn't going to win," he said.
Results
names highlighted in blue qualify for DyeStat Elite 2003 indoor national rankings
 C.F.P.I. Timing & Data 
    Nike Indoor Championships 2003 - 3/15/2003 to 3/16/2003     
            Prince Georges Sports & Learning Complex            
                       Landover, Maryland                       
 
Event 9  Boys 1 Mile Run
================================================================
    National: N 3:59.86  1/20/2001   Alan Webb, South Lakes, Res
        Meet: M 4:07.87  3/2000      Alan Webb, South Lakes, Res
    Freshman: F 4:22.62  3/10/2002   Jeff See, Middletown, OH   
   Sophomore: R 4:09.82  1997        Andy Powell, Oliver AmesN E
      Junior: J 4:07.34  1998        Andy Powell, Oliver AmesN E
      Senior: S 3:59.86  1/10/2001   Alan Webb, South Lakes, Res
    Name                    Year School                  Finals 
================================================================
Section  1                                                      
  1 Derrick Robbins           05 Newport News, VA       4:23.48 
  2 Michael Syrnick           04 Central-PA             4:23.97 
  3 Glenn Collins             03 North Canton, OH       4:24.02 
  4 Eduardo Pasko             03 Colorado Springs, C    4:25.69 
  5 Logan Sherman             04 Dallas, TX             4:26.54 
  6 Adam Breisch              03 Quakertown, PA         4:27.48 
  7 Charles Thomas            03 Linganore-MD           4:28.31 
  8 Eddie Loniewski           03 Blauvelt, NY           4:28.93 
  9 Daniel Kane               03 Louisa County-VA       4:29.11 
 10 Jonathon Thomas           03 Frankfort, KY          4:33.19 
 -- Gregory Preis             03 Chaminade-NY               DNS 
 -- Mark Alizzi               03 Syosset, NY                DNS 
 -- Peter Quinzio             03 Arlington, VA              DNS 
Section  2                                                      
  1 Bobby Curtis              03 Louisville, KY         4:10.20F
  2 Michael McGrath           03 Portland, OR           4:10.70F
  3 Alex Tatu                 03 Cherster, VA           4:11.72F
  4 Steve Shepherd            03 Eden, UT               4:14.01F
  5 Joaquin Chapa             03 Portland, OR           4:17.97F
  6 Jeremy Zagorski           04 Morris Plains, NJ      4:19.89F
  7 Matt DeBole               03 W--S, NC               4:20.75F
  8 Alex McClary              04 Shelton, WA            4:21.88F
  9 Chris Platt               03 Haddonfield, NC        4:39.00 
================================================================
    Name                    Year School                  Finals 
================================================================
Finals                                                          
  1 Bobby Curtis              03 Louisville, KY         4:10.20F
  2 Michael McGrath           03 Portland, OR           4:10.70F
  3 Alex Tatu                 03 Cherster, VA           4:11.72F
  4 Steve Shepherd            03 Eden, UT               4:14.01F
  5 Joaquin Chapa             03 Portland, OR           4:17.97F
  6 Jeremy Zagorski           04 Morris Plains, NJ      4:19.89F
  7 Matt DeBole               03 W--S, NC               4:20.75F
  8 Alex McClary              04 Shelton, WA            4:21.88F
  9 Derrick Robbins           05 Newport News, VA       4:23.48 
 10 Michael Syrnick           04 Central-PA             4:23.97 
 11 Glenn Collins             03 North Canton, OH       4:24.02 
 12 Eduardo Pasko             03 Colorado Springs, C    4:25.69 
 13 Logan Sherman             04 Dallas, TX             4:26.54 
 14 Adam Breisch              03 Quakertown, PA         4:27.48 
 15 Charles Thomas            03 Linganore-MD           4:28.31 
 16 Eddie Loniewski           03 Blauvelt, NY           4:28.93 
 17 Daniel Kane               03 Louisa County-VA       4:29.11 
 18 Jonathon Thomas           03 Frankfort, KY          4:33.19 
 19 Chris Platt               03 Haddonfield, NC        4:39.00 
 -- Gregory Preis             03 Chaminade-NY               DNS 
 -- Mark Alizzi               03 Syosset, NY                DNS 
 -- Peter Quinzio             03 Arlington, VA              DNS