Girls Mile- Sarah Bowman (VA) 4:49.67
Results
by John Dye
Fauquier County VA sophomore Sarah Bowman, hitherto little known outside Virginia (she doubled in the Virginia Tech Invitational and the Virginia AA state meet this season), grabbed a spot in the nation's elite by knocking off last year's champion miler Megan Kaltenbach of Colorado. After taking a brief lead on lap 1, Bowman dropped back to 5th and got no further mention from the track announcer until lap 6, when she worked her way to the front. Then came the move that stunned the crowd and the opposition. Following a series of 37-38 second laps, Bowman streaked around lap 7 in 32.8 seconds. Kaltenbach gave chase, but the fastest HS girls mile of the year was over.
Indiana's Katie Harrington, who closed for second in front of Kaltenbach, said she didn't know how to react because she didn't know who Bowman was. Katie came to Landover hoping to test herself against Nicole Blood, who scratched from the mile in favor of the 2-mile. Kaltenbach was forlorn about losing her first race ever on the track, but pleased with her time in her first meet of the year.
Start of lap 7, Bowman (5) is poised to put the hammer down.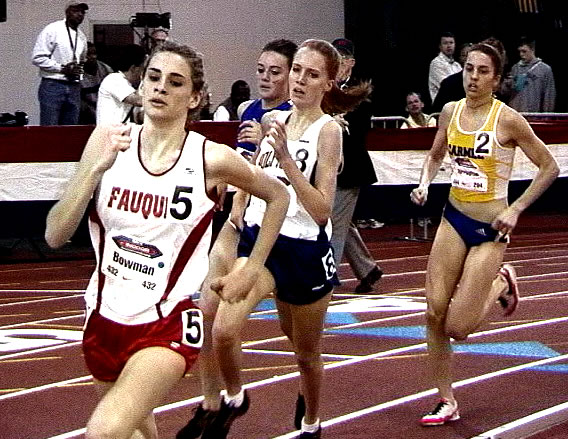 After lap 7, Bowman gets the bell with a commanding lead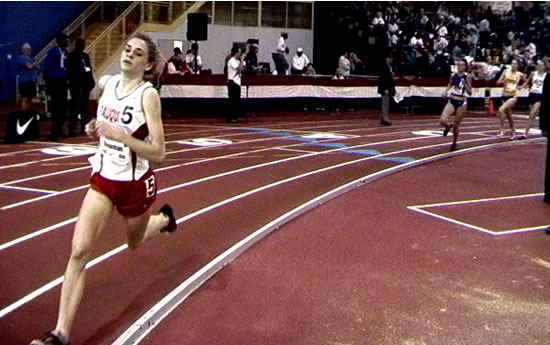 Through 5 laps , Liz Maloy (8) and Kaltenbach (7) led, with Harrington (2) moving up to third.
Bowman (5) is still in sixth place here, 100 meters before starting her winning surge.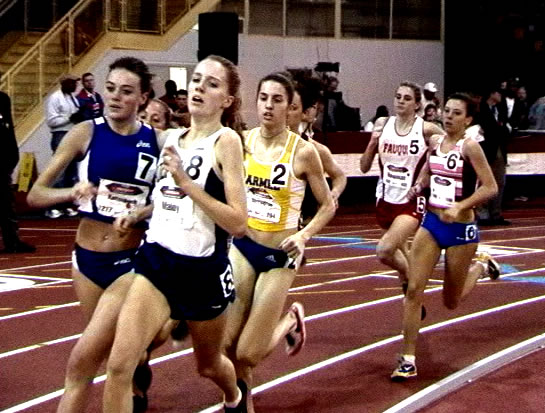 Notes by Scott Dance
The race began with Fauquier VA soph Sarah Bowman jumping out to the early
lead, but after the first lap she settled back in the pack to open up the
race for more heavily favored veterans Liz Maloy NY and Megan Kaltenbach
CO. At 400 meters, the race was led by upperclassmen Maloy, Kaltenbach,
Liza Pascuito CA and Katie Harrington IN, but by the time there was 400 to
go, it was all newcomer Bowman. On the backstretch of lap 7, Bowman surged
to an immediate 10 meter lead with Kaltenbach heading the chase pack, but
they would not catch her. At the far turn of the bell lap, Harrington then
made a move to pass Maloy and Kaltenbach to finalize the ultimate order.
by Elliot Denman and Rich Gonzalez
Put down Sarah Bowman as a future great.
Just a sophomore, the Warrenton, Va. racer took control of this race – named for Bill Bowerman, the late, great Oregon coach and Nike founding father – with two laps to go and strode home impressively in 4:49.67, just .03.06 off the National sophomore record.
Negative splits – 2:31 and 2:18 – won it all.
With 2002 Nike champion Molly Huddle (meet record-holder at 4:46.42) off to Notre Dame, a fresh new crop took over.
Giving valiant chase to Bowman were Carmel, Indiana's Katie Harrington (4:51.18), Aurora, Colorado's Megan Kaltenbach (4:53.30) and Loudonville, Kentucky's Elizabeth Maloy (4:55.79) with two more under the five-minute mark.
"This was one of my first big races, so I really didn't have my mind set on a plan," admitted Bowman.
"With a little over 400 to go, I started to make my move. I just wanted to keep contact.
"On the last lap, I was really tired and really started to feel it, but I worked hard to hold on.
"I've finally started to work on (running) negative splits, but (winning this) it's still a dream. I got second here last year in the freshman mile. While we were standing around waiting for our awards (in 2002), the girls were watching the seeded girls mile race and saying 'wow, I wish I could run that fast.' I said to myself, I'm going to run that fast.' ""

And now she really has.
Ashleigh Wetzel of Lewisburg, Pa. led off eight-lap festivities, taking the opening section in 5:10.31, and Marylander Lauren Centrowitz – daughter of former USA 5K record-holder and current American U. coach Matt Centrowitz – led home race two in 5:02.45.

Results
names highlighted in blue qualify for DyeStat Elite 2003 indoor national rankings
 C.F.P.I. Timing & Data 
    Nike Indoor Championships 2003 - 3/15/2003 to 3/16/2003     
            Prince Georges Sports & Learning Complex            
                       Landover, Maryland                       
 
Event 10  Girls 1 Mile Run
================================================================
    National: N 4:38.50  3/17/1972   Debbie Heald, Neff, La Mira
        Meet: M 4:46.42  3/2002      Molly Huddle, Notre Dame, E
    Freshman: F 4:40.10  1973        Mary Decker, Orange, CA    
   Sophomore: R 4:46.73  1995        Julia Stamps, Santa Rosa, C
      Junior: J 4:38.50  3/17/1972   Debbie Heald, Neff, La Mira
      Senior: S 4:39.00  1978        Lynn Jennings, Bromfield, H
    Name                    Year School                  Finals 
================================================================
Section  1                                                      
  1 Ashleigh Wetzel           03 Lewisburg, PA          5:10.31 
  2 Shauneen Garrahan         03 Thom Jeff Sci-VA       5:12.84 
  3 Madonna Schueler          04 Louisville, KY         5:14.85 
  4 Joanna Rodgers            03 Fairfax, VA            5:16.73 
  5 Andrea Bonner             03 Tulsa, OK              5:20.35 
  6 Laura Drossner            04 Bryn Mawr-MD           5:34.92 
  7 Lindsey Thomas            03 Sicklerville, NJ       6:02.50 
 -- Annaliese Chapa           05 Portland, OR               DNS 
 -- Artemis Saridakis         03 West Palm Beach, FL        DNS 
Section  2                                                      
  1 Lauren Centrowitz         04 Unattached-MD          5:02.45 
  2 Celeste Tyson             03 Austin, TX             5:02.79 
  3 Nicole Erby               03 Cumberlnd Val-PA       5:03.88 
  4 Elisabeth Goshu           05 Littleton, CO          5:04.64 
  5 Ruby Soloman              05 Saratogo Springs, N    5:06.45 
  6 Nicole Schappert          05 Unattached-FL          5:07.13 
  7 Rachel Barber             03 Tulsa, OK              5:10.16 
 -- Selina Sekulic            03 Virginia Beach, VA         DNS 
Section  3                                                      
  1 Sarah Bowman              05 Wairenton, VA          4:49.67 
  2 Katie Harrington          04 Carmel, IN             4:51.18 
  3 Megan Kaltenbach          03 Aurora, CO             4:53.30 
  4 Elizabeth Maloy           03 Loudonville, NY        4:55.79 
  5 Brianna McLeod            03 Jenks, OK              4:57.77 
  6 Margaret Infeld           04 University Heights,    4:59.35 
  7 Liza Pasciuto             04 Murrieta, CA           5:06.12 
 -- Nicole Blood              06 Gansevoort, NY             DNS 
================================================================
    Name                    Year School                  Finals 
================================================================
Finals                                                          
  1 Sarah Bowman              05 Wairenton, VA          4:49.67 
  2 Katie Harrington          04 Carmel, IN             4:51.18 
  3 Megan Kaltenbach          03 Aurora, CO             4:53.30 
  4 Elizabeth Maloy           03 Loudonville, NY        4:55.79 
  5 Brianna McLeod            03 Jenks, OK              4:57.77 
  6 Margaret Infeld           04 University Heights,    4:59.35 
  7 Lauren Centrowitz         04 Unattached-MD          5:02.45 
  8 Celeste Tyson             03 Austin, TX             5:02.79 
  9 Nicole Erby               03 Cumberlnd Val-PA       5:03.88 
 10 Elisabeth Goshu           05 Littleton, CO          5:04.64 
 11 Liza Pasciuto             04 Murrieta, CA           5:06.12 
 12 Ruby Soloman              05 Saratogo Springs, N    5:06.45 
 13 Nicole Schappert          05 Unattached-FL          5:07.13 
 14 Rachel Barber             03 Tulsa, OK              5:10.16 
 15 Ashleigh Wetzel           03 Lewisburg, PA          5:10.31 
 16 Shauneen Garrahan         03 Thom Jeff Sci-VA       5:12.84 
 17 Madonna Schueler          04 Louisville, KY         5:14.85 
 18 Joanna Rodgers            03 Fairfax, VA            5:16.73 
 19 Andrea Bonner             03 Tulsa, OK              5:20.35 
 20 Laura Drossner            04 Bryn Mawr-MD           5:34.92 
 21 Lindsey Thomas            03 Sicklerville, NJ       6:02.50 
 -- Annaliese Chapa           05 Portland, OR               DNS 
 -- Artemis Saridakis         03 West Palm Beach, FL        DNS 
 -- Nicole Blood              06 Gansevoort, NY             DNS 
 -- Selina Sekulic            03 Virginia Beach, VA         DNS 


>