Boys 200
J-Mee Samuels (NC) 21.76
Results
J-Mee Samuels (6) beats Adian Sanderson to the finish line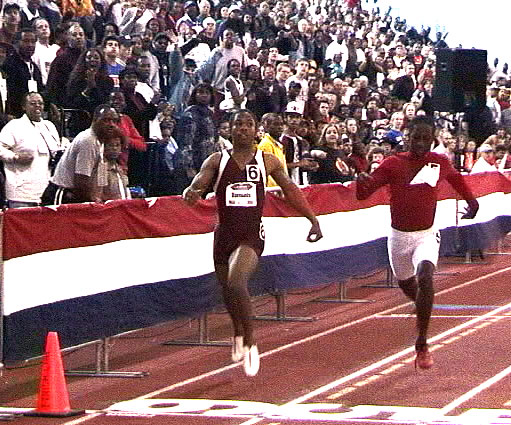 Ricky Quintana interviews
sophomore sensation after race
by Pete Cava and Ricky Quintana
Adian Sanderson (Ewing, NJ) got off to a fine start in lane five and was in front at the halfway mark. Coming off the last turn, J-Mee Samuels (Winston-Salem, NC) in lane six challenged and took command. Sanderson couldn't catch Samuels and wound second, just ahead of Morgan Trent (Brighton, MI) who moved up for third in lane three.
Samuels, the sophomore, was coming back on short rest from a second-place finish in the 60m, held less than half an hour earlier. "I got some rest inbetween," he said.
In the longer sprint, Samuels said his plan was to keep his form until the last 50m. "Even though they say I'm pretty fast, there's a lot more competition every year. Although it's nerve-wracking, I like to race like that."
Samuels admitted some disappointment with the 60m results. "I was going for that (a sprint double)," he said, "but I got second. I came out pretty good, but they just came up on me."
Ivory Williams (Beaumont, TX), a top entry, scratched from the final.
Results
names highlighted in blue qualify for DyeStat Elite 2003 indoor national rankings
 C.F.P.I. Timing & Data 
    Nike Indoor Championships 2003 - 3/15/2003 to 3/16/2003     
            Prince Georges Sports & Learning Complex            
                       Landover, Maryland                       
 
Event 3  Boys 200 Meter Dash
================================================================
    National: N 21.02  3/11/2001   Brendan Christian, Reagan, Au
        Meet: M 21.68  3/10/2002   Michael Loyd, Mt Tabor, Win-S
    Freshman: F 21.95  2001        Michael Grant, S. Gwinnett Sn
   Sophomore: R 21.68  2000        Brendan Christian, Reagan, Au
      Junior: J 21.02  2001        Brendan Christian, Reagan, Au
      Senior: S 21.05  2001        Glenn McFadden, Hillhouse, Ne
    Name                    Year School                  Finals 
================================================================
Finals                                                          
  1 J-Mee Samuels             05 W-S, NC                  21.76F
  2 Adian Sanderson           04 Ewing, NJ                21.89F
  3 Morgan Trent              04 Brighton, MI             21.90F
  4 Jason Craig               03 Huber Heights, OH        22.37 
  5 Wallace Spearmon Jr.      03 Fayetteville, AR         22.70 
 -- Ivory Williams            04 Beaumont, TX               DNS 
Prelims
| | | | |
| --- | --- | --- | --- |
| Heat 1 J-Mee Samuels | | Heat 2 Nate Yorks | |
| | Heat 3 Ivory Williams | | Heat 4 Wallace Spearmon |
| Heat 5 Morgan Trent | | Heat 6 Demi Omole | Heat 6 Jay Cooper |
| Heat 7 Adian Sanderson | Heat 7 Creighton Kiper | | |
| | | | |
| | | | |
 
Event 3  Boys 200 Meter Dash
================================================================   
    Name                    Year School                 Prelims    
================================================================   
Heat  1                                                            
  1 J-Mee Samuels             05 Mt. Tabor-NC, W-S,       22.26q   
  2 Antonio Freeman           04 Milwaukee Str-WI, M      22.45    
  3 Ray Williams              03 Varina-VA, Richmond      22.89    
  4 Brandon Jordan            03 Max Output Tc-Mi, D      24.23    
  5 Michael K. Bennett        05 Silver Spring Tc-Md      26.47    
 -- Shakira Edwards           04 Max Output Tc-Mi, D        DNS    
Heat  2                                                            
  1 Anthony Weaver            04 Geo Marshall--VA, M      22.44    
  2 Nate Yorks                05 Mullen-CO, Denver,       22.53    
  3 Joseph Porter             03 Franklin-NJ, Somers      22.68    
  4 Marcus Hall               04 Oxon Hill-MD, Oxon       23.43    
  5 Bryant Witcher            04 Charlottesvl-VA, Ch      23.89    
Heat  3                                                            
  1 Ivory Williams            04 Beaumont Tc-Tx, Bea    F 21.84q   
  2 Stan Waithe               03 Raiders Tc-Md, Balt      22.59    
  3 Christopher Taylor        03 Alief Elsik-TX, Hou      22.67    
  4 Frankie Pavelka           03 L.C. Express-TX, We      22.69    
  5 Marco Aguilar             03 W Wilson-DC, Washin      22.71    
  6 Zach Linville             05 Ritchie Cnty-WV, Pe      24.95    
Heat  4                                                            
  1 Jason Craig               03 Wayne-OH, Huber Hei      22.31q   
  2 Wallace Spearmon Jr.      03 Fayette-AR, Fayette      22.37q   
  3 Howard Harris, Jr.        12 Walsh Jesuit-OH          23.10    
  4 Derrick Williams          05 El Roosevelt-MD, Gr      23.21    
  5 John Schenck              03 Westfield-VA, Centr      23.75    
 -- Stewart Charles           04 Max Output Tc-Mi, F        DNS    
Heat  5                                                            
  1 Morgan Trent              04 Max Output Tc-Mi, B      21.97q   
  2 Philip Damaska            04 Max Output Tc-Mi, B      22.84    
  3 Robert Woodard            03 Bullis-MD, Gtown, M      22.88    
  4 Theirrien Davis           04 El Roosevelt-MD, Bo      23.21    
  5 Marvin McCoy              04 El Roosevelt-MD, Gr      24.38    
 -- Wil Banks                 03 Fork Union-VA, Fork        DNS    
Heat  6                                                            
  1 Jay Cooper                04 Jenks-OK, Tulsa, OK      22.57    
  2 Demi Omole                03 Milwaukee Str-WI, M      22.96    
  3 Darrius Butler            03 Oxon Hill-MD, Clint      23.42    
  4 Alex Cofield              03 Bethel-VA, Hanpton,      23.61    
  5 Antione McClure           03 Bullis-MD, Temple H      24.93    
 -- Jayson Slingerland        03 John Hardin-KY, Rin        DNS    
Heat  7                                                            
  1 Adian Sanderson           04 Ewing-NJ, Ewing, NJ      21.96q   
  2 Creighton Kiper           03 Denver Lghtng-CO, D      22.50    
  3 Basil Campbell            03 Ewing-NJ, Trenton,       22.57    
  4 Tony Cole                 04 Oakland Mills-MD, C      23.16    
  5 Jerrod Wiley              04 Mt. Tabor-NC, W-S,       23.21    
 -- Alex Julie                03 Sidwell Frnds-DC, B        DNS    
===================================================================
    Name                    Year School                 Prelims
===================================================================
Preliminaries                                                      
  1 Ivory Williams            04 Beaumont Tc-Tx, Bea    F 21.84q  3
  2 Adian Sanderson           04 Ewing-NJ, Ewing, NJ      21.96q  7
  3 Morgan Trent              04 Max Output Tc-Mi, B      21.97q  5
  4 J-Mee Samuels             05 Mt. Tabor-NC, W-S,       22.26q  1
  5 Jason Craig               03 Wayne-OH, Huber Hei      22.31q  4
  6 Wallace Spearmon Jr.      03 Fayette-AR, Fayette      22.37q  4
  7 Anthony Weaver            04 Geo Marshall--VA, M      22.44   2
  8 Antonio Freeman           04 Milwaukee Str-WI, M      22.45   1
  9 Creighton Kiper           03 Denver Lghtng-CO, D      22.50   7
 10 Nate Yorks                05 Mullen-CO, Denver,       22.53   2
 11 Basil Campbell            03 Ewing-NJ, Trenton,       22.57   7
 11 Jay Cooper                04 Jenks-OK, Tulsa, OK      22.57   6
 13 Stan Waithe               03 Raiders Tc-Md, Balt      22.59   3
 14 Christopher Taylor        03 Alief Elsik-TX, Hou      22.67   3
 15 Joseph Porter             03 Franklin-NJ, Somers      22.68   2
 16 Frankie Pavelka           03 L.C. Express-TX, We      22.69   3
 17 Marco Aguilar             03 W Wilson-DC, Washin      22.71   3
 18 Philip Damaska            04 Max Output Tc-Mi, B      22.84   5
 19 Robert Woodard            03 Bullis-MD, Gtown, M      22.88   5
 20 Ray Williams              03 Varina-VA, Richmond      22.89   1
 21 Demi Omole                03 Milwaukee Str-WI, M      22.96   6
 22 Howard Harris, Jr.        12 Walsh Jesuit-OH          23.10   4
 23 Tony Cole                 04 Oakland Mills-MD, C      23.16   7
 24 Theirrien Davis           04 El Roosevelt-MD, Bo      23.21   5
 24 Derrick Williams          05 El Roosevelt-MD, Gr      23.21   4
 24 Jerrod Wiley              04 Mt. Tabor-NC, W-S,       23.21   7
 27 Darrius Butler            03 Oxon Hill-MD, Clint      23.42   6
 28 Marcus Hall               04 Oxon Hill-MD, Oxon       23.43   2
 29 Alex Cofield              03 Bethel-VA, Hanpton,      23.61   6
 30 John Schenck              03 Westfield-VA, Centr      23.75   4
 31 Bryant Witcher            04 Charlottesvl-VA, Ch      23.89   2
 32 Brandon Jordan            03 Max Output Tc-Mi, D      24.23   1
 33 Marvin McCoy              04 El Roosevelt-MD, Gr      24.38   5
 34 Antione McClure           03 Bullis-MD, Temple H      24.93   6
 35 Zach Linville             05 Ritchie Cnty-WV, Pe      24.95   3
 36 Michael K. Bennett        05 Silver Spring Tc-Md      26.47   1
 -- Wil Banks                 03 Fork Union-VA, Fork        DNS   5
 -- Jayson Slingerland        03 John Hardin-KY, Rin        DNS   6
 -- Shakira Edwards           04 Max Output Tc-Mi, D        DNS   1
 -- Alex Julie                03 Sidwell Frnds-DC, B        DNS   7
 -- Stewart Charles           04 Max Output Tc-Mi, F        DNS   4