Girls 60
Marshevet Hooker (TX) 7.33
Results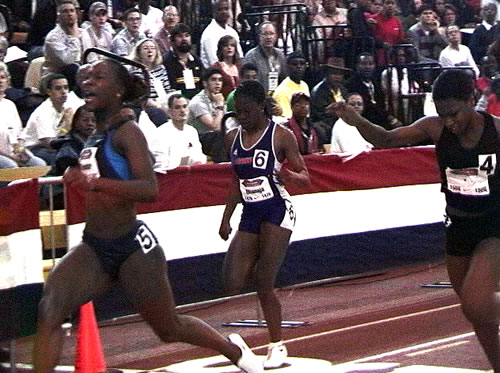 by Elliot Denman and Rich Gonzalez
Marshevet Hooker of San Antonio paced the prelims in 7.45 over Elyria, Ohio's Tianna Madison (7.54) and Colorado Springs' Ashley Owens (7.55.) Reacting well to the gun, Hooker looked very fluid and had a big lead by the 40-meter mark.
For Hooker, who said "the race felt pretty good, really smooth; my only goal in the first round was to drive strongly out of the blocks," it was on omen of faster things just ahead.
Sure did.
After Madison (7.43), Hooker (7.45) and Houston's Jessica Ohanaja (7.49) were speediest though the semis, Hooker blazed a 7.33 final to beat out Owens (7.40), Madison (7.44), Ohanaja (7.61) and North Carolinian Tempess Stark (7.68) with Juanita Broaddus of Philadelpia a scratch.
And this was just one phase of Hooker's hectic afternoon. Oh yes, she won the long jump at 20 6 ½.
"This is what I'm used to, running around all over the place to do my events," said Hooker, after she'd caught her breath.

"I felt like I was in a zone. And I prayed a lot."

Results
names highlighted in blue qualify for DyeStat Elite 2003 indoor national rankings
	   C.F.P.I. Timing & Data 
    Nike Indoor Championships 2003 - 3/15/2003 to 3/16/2003     
            Prince Georges Sports & Learning Complex            
                       Landover, Maryland                       
 
Event 2  Girls 60 Meter Dash
================================================================
    National: N  7.22  2/22/1997   Alisha Latimer, Palmer, Co Sp
        Meet: M  7.29  1999        Alexis Joyce, Washington, Den
    Freshman: F  7.50  1999        Zenobia Reed, Lamar, Houston,
   Sophomore: R  7.29  1999        Alexis Joyce, Washington, Den
      Junior: J  7.34  1997        Keyon Soley, Uniondale,NY    
      Senior: S  7.22  1997        Alisha Latimer, Palmer, CO Sp
    Name                    Year School                  Finals 
================================================================
Finals                                                          
  1 Marshevet Hooker          03 San Antonio, TX           7.33J
  2 Ashley Owens              04 Colorado Springs, C       7.40F
  3 Tianna Madison            03 Elyria, OH                7.44F
  4 Jessica Ohanaja           04 Houston, TX               7.61 
  5 Tempess Stark             03 NW Cabarrus-NC            7.68 
 -- Juanita Broaddus          03 Philadelphia, PA           DNS 


Semi Finals
top seeds (lane 4) won all three semis

	  Event 2  Girls 60 Meter Dash
================================================================   
    Name                    Year School                   Semis    
================================================================   
Heat  1                                                            
  1 Tianna Madison            03 Elyria, OH              F 7.43Q   
  2 Jessica Ohanaja           04 Houston, TX             F 7.49q   
  3 Judith Onyepunuka         06 Peoria, AZ                7.67    
  4 Kristina Davis            06 Hayward, CA               7.76    
  5 Jessica Jones             05 Detroit, MI               7.82    
  6 Shade' Smith              03 Unattached-MD             7.83    
Heat  2                                                            
  1 Ashley Owens              04 Colorado Springs, C       7.52Q   
  2 Tempess Stark             03 NW Cabarrus-NC            7.58q   
  3 Juanita Broaddus          03 Philadelphia, PA          7.60q   
  4 Imani White               03 Frederick, MD             7.64    
  5 Ariss Seals               03 Detroit, MI               7.82    
  6 Courtney Patterson        03 Fayetteville, NC          7.87    
Heat  3                                                            
  1 Marshevet Hooker          03 San Antonio, TX         F 7.45Q   
  2 Jannea Bridgeford         04 Upper Darby-PA            7.66    
  3 Jessica Onyepunuka        04 Peoria, AZ                7.68    
  4 Nina Warren               04 Gaithersburg, MD          7.78    
  5 Kharya Brown              05 Dumfries, VA              7.84    
  6 Nathandra John            04 Greenbelt, MD             7.86    
===================================================================
    Name                    Year School                   Semis
===================================================================
Semi-Finals                                                        
  1 Tianna Madison            03 Elyria, OH              F 7.43Q  1
  2 Marshevet Hooker          03 San Antonio, TX         F 7.45Q  3
  3 Ashley Owens              04 Colorado Springs, C       7.52Q  2
  4 Jessica Ohanaja           04 Houston, TX             F 7.49q  1
  5 Tempess Stark             03 NW Cabarrus-NC            7.58q  2
  6 Juanita Broaddus          03 Philadelphia, PA          7.60q  2
  7 Imani White               03 Frederick, MD             7.64   2
  8 Jannea Bridgeford         04 Upper Darby-PA            7.66   3
  9 Judith Onyepunuka         06 Peoria, AZ                7.67   1
 10 Jessica Onyepunuka        04 Peoria, AZ                7.68   3
 11 Kristina Davis            06 Hayward, CA               7.76   1
 12 Nina Warren               04 Gaithersburg, MD          7.78   3
 13 Jessica Jones             05 Detroit, MI               7.82   1
 13 Ariss Seals               03 Detroit, MI               7.82   2
 15 Shade' Smith              03 Unattached-MD             7.83   1
 16 Kharya Brown              05 Dumfries, VA              7.84   3

 17 Nathandra John            04 Greenbelt, MD             7.86   3
 18 Courtney Patterson        03 Fayetteville, NC          7.87   2


Prelims
Heat 1

Heat 2

Heat 3

Heat 4

Heat 5

Heat 6

Heat 7
Girls 60 Meter Dash
================================================================
    Name                    Year School                 Prelims 
================================================================
Heat  1 Preliminaries
  1 Marshevet Hooker          03 San Antonio, TX         F 7.45Q 
  2 Kharya Brown              05 Dumfries, VA              7.83q 
  3 Shade' Smith              03 Unatt-MD                  7.84q 
  4 Nathandra John            04 Greenbelt, MD             7.94q 
  5 Karina Francis            03 Philadelphia, PA          7.96  
Heat  2 Preliminaries
  1 Jannea Bridgeford         04 Upper Darby-PA            7.67Q 
  2 Tempess Stark             03 NW Cabarrus-NC            7.69q 
  3 Janessa Murphy            05 Prazer, PA                8.00  
  4 Dominique Payne           05 Clinton, MD               8.27  
Heat  3 Preliminaries
  1 Jessica Onyepunuka        04 Peoria, AZ                7.75Q 
  2 Audrey Wilson             09 Paulsboro, NJ             8.01  
  3 Dana Ventrone             03 Pittsburgh, PA            8.06  
  4 Shenah Opata              05 Mitchellville, MD         8.37  
  5 Nicole Powdar             03 New Milford, CT           8.50  
Heat  4 Preliminaries
  1 Jessica Ohanaja           04 Houston, TX               7.64Q 
  2 Jessica Jones             05 Detroit, MI               7.94q 
  3 Brittany Wright           03 Voorhees, NJ              8.02  
  4 Bettya Burgess            05 Oxon Hill, MD             8.17  
  5 Sheena Loving             03 Flint, MI                 8.18  
Heat  5 Preliminaries
  1 Tianna Madison            03 Elyria, OH                7.54Q 
  2 Ariss Seals               03 Detroit, MI               7.92q 
  3 Brittany Hackett          03 Lincoln University,       7.96  
  4 Carmen Meade              04 Herndon, VA               8.05  
  5 Tiffany Green             03 Washington, DC            8.14  
Heat  6 Preliminaries
  1 Juanita Broaddus          03 Philadelphia, PA          7.63Q 
  2 Kristina Davis            06 Hayward, CA               7.73q 
  3 Courtney Patterson        03 Fayetteville, NC          7.91q 
  4 Marcia Smith              04 Pontiac, MI               8.25  
  5 Artemis Spruill           04 Baltimore, MD             8.28  
Heat  7 Preliminaries
  1 Ashley Owens              04 Colorado Springs, C       7.55Q 
  2 Judith Onyepunuka         06 Peoria, AZ                7.59q 
  3 Imani White               03 Frederick, MD             7.60q 
  4 Nina Warren               04 Gaithersburg, MD          7.74q 
  5 Shanece Pratt             04 Springdale, MD            8.18