Lear's Latest Reaches the Medal Stand Again: Sub 4:00
By SteveU (Stephen Underwood), DyeStat.com
The Recommendation
This review of Sub 4:00 will start a little backwards, with my recommendation, which would usually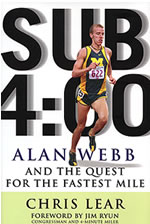 come at the end. Why? Because the most important thing I have to say is this: BUY THIS BOOK. If you love track and field, do it on principle alone. Not only will you be in for a very enjoyable ride, but in a very real sense, you'll also be contributing to the sport.
I'm not (yet, at least) a close personal friend of author Chris Lear, nor will I personally benefit from saying the above. But note this: Outside of the "How to Train For Your First Marathon" books, there ain't exactly a lot of literature out there for the competitive runner. Fans of baseball, basketball and football know that they're always going to have a wide selection of accounts on the elite levels of the sport, frequently by fine authors like John Feinstein, Frank Deford and a sea of others. Until Chris Lear came along, do you remember a whole lot of offerings on college track and CC? I sure don't.
Lear has given fans of our sport a lot more to enjoy the past few years. Buy the book.
The Challenge
All that said, Lear has a real challenge here and it's not unlike the expectations laid on his prime subject. His wildly popular debut, Running With the Buffaloes, was an unimaginable dream come true for a literature-starved competitive running community. There had been virtually nothing like his day-by-day account of the Colorado men's CC team before. So Lear is faced with improving in his sophomore effort, but that's not all. While many readers were familiar with what the Buffs did in 1998, there obviously was nowhere NEAR the scrutiny of their season that there was of Alan Webb and the Michigan Wolverines in 2001. And while the Buffs' NCAA meet wasn't entirely successful, though Adam Goucher had the monster win, it was a much "happier" ending than Webb's. So Lear has the additional task of capturing and holding our interest for a story we know reasonably well and that has a bummer ending. Not an easy thing to do.
But let's be honest. The conflict that developed that led to Webb's decision to go pro, in a sense, was a break for Lear as a writer. Drama that wouldn't have otherwise been there adds something to the book that was lost by the lack of Webb's success. We want to know as much as possible about the give and take between Webb, UM head coach Ron Warhurst and the rest, and for the most part, we get it.
The Early Laps
Admittedly, I wasn't completely enamored with the first five chapters or so of Sub 4:00. Like the first 600 meters or so of most championship 1500s, several elements of the book seem to be jockeying for position. The flow seems choppy and you get thrown around a little bit between past and present tense as Lear sets the story up. (On a second read, some of the complex structure early actually came together better for me, though).
However, we are given most of the necessary quality background material in the book's first five chapters, mixed in with what had happened to cause Webb to be injured, some present-day stuff and so on. (Note: For some reason, I had thought this book was going to cover Webb's entire freshman year, including that stellar cross-country season. Unfortunately it doesn't, but there are some key workout highlights that set things up).
Actually, one thing missing here is the dated daily diary approach. Lear writes most of the book in this style, using the present tense and time-frame wording such as "today" and "tomorrow," but without the actual dates to head up these chapters or sections it's confusing at points, especially during the book's first five chapters.
But the background stories of Webb, Warhurst, fellow super frosh Nathan Brannen and others are put together well. I enjoyed learning about Warhurst's military background and path to the present. And the story of Webb's legendary 3:53.43 HSR at Pre is well-documented, with an added perspective from collegiate elite milers Adrian Blincoe and Ryan Hayden slipped in. The thought they were left with after watching the race on TV, "How, then, do you possibly top that?" is one of the themes of the whole book.
Unfortunately, Webb never does top that, nor has he to this day. And in these early chapters, even before the spring season has started in earnest, Webb's doubt and discontent are festering.
As the days wore on, his winter season vanishing, he turned to Warhurst, searching for a plan. He didn't get it. "It wasn't good (Webb says). Many, many times I just had no idea what I was supposed to be doing ..."
The Later Laps
For me, things pick up noticeably by Chapter 6, appropriately entitled "Escaping the Abyss." To again use the championship 1500 analogy, someone has suddenly started running 56 pace and the race is on. Beginning with his account of Webb's (and Broe's) doubt-inducing "Arbs" run in early March, Lear's narrative gets more linear and the pace of the training and racing accounts gets moving. Most importantly, the drama kicks in, which is what we most have to look forward to.
As Webb struggles through the workout, what I can only describe as his impetuous nature is revealed. Lear writes, "Warhurst tells him to call it quits and head back to the indoor track for some speedwork. Webb stubbornly refuses." Says Broe after the workout, "Oh, well, he's got a lot to learn." But does he ever learn?
A few days later, Lear shares the details of a meeting where some of the potential trouble spots are further revealed. "You can only serve one master," Warhurst tells Webb. Later in the meeting, Lear writes, "Sully implores Webb to have faith in his own God-given ability." The meeting apparently has a good resolution, Webb saying, "I just got off track a bit." But it's only temporary. What Lear will describe as Webb's "perfectionist bent" and predominant inability to "satisfy his most demanding critic – himself" will contrast with the fact that the frosh star is also (as Lear says regarding the Mt. SAC race) "nothing more than a guy in the race – at the collegiate level." Brannen will eventually find the way to reconcile his pre-collegiate superstardom with the adaptation skills necessary on the collegiate scene. Webb will not, despite "the desire that separates him from so many."
Though some successful workouts ensue and high hopes are periodically raised, Lear deftly captures the ironic turning point in the stay-or-go question as Warhurst exults after a strong workout of Webb's. Collegiate track is, Warhurst says, "a bridge to the pro level. (Webb) may have had thoughts that he was ready to go pro earlier, but now the kid knows better." Then the coach receives the phone call from USA Today writer Dick Patrick that was truly the beginning of the end.
I loved the Penn Relays chapter that followed, which not only includes the USA Today drama as Webb's potential go-pro aspirations are subversively revealed, but Sully's (post-grad pro miler/assistant coach Kevin Sullivan) coaching baptism and the great Franklin Field atmosphere.
As the season continues to heat up, Lear's strengths are displayed as he conveys the ups and downs of training and racing at this level (Jim Ryun's Forward to the book does this well, too, by the way). Oddly, there was something from the Jurassic Park movie I saw (again) one day before I finished that was a metaphor for what's going on here. Remember the "Chaos Theory" of Ian Malcolm (Jeff Goldblum's character)? We see how the finest strategic moves, the finest adjustments in training, the most minute variances in mental states – mixed in with that of every other competitor – can make the difference between a winning 3:42 1500 and a 5th-place 3:44. Two athletes may have very similar training times and so on, but in the chaotic cauldron where every strength and weakness is exposed, every detail matters. Did Webb win or lose because of those details?
"If they're just patient, I can get 'em where they need to be," Warhurst says of the training. However, Lear writes, Webb has "developed a dependence on his watch (his 'digital governor'), often checking his spits in 100-meter increments, and this has maddened Warhurst, who'd like to see him running more according to feel. Winning requires moving on instinct, feeling when the time is right and reacting with reckless abandon."
The race-descriptions themselves could hardly be better. When Blincoe makes a move in the NCAA 1500, for example, Lear describes him as "bursting free like water through a levee." When Webb dies in the last 50 meters, "The track turns to sand before him."
While the story moves to its unfortunate conclusion, the companion accounts of Brannen's journey are most enjoyable. It could be said that Brannen provides an alternative center to the book, with Lear showing him to have a more natural life balance and seeming more like a normal freshman, despite his incoming credentials. Of course, the Canadian did have his own period of uncertainty following his first CC season. But during track, you almost look forward to the Brannen passages as a relief from the pain of the Webb sections. You know that ultimately, he's successful and his 1:46.00 5th at NCAAs is the comparatively upbeat finish that Webb's story didn't have. Frankly, without Brannen, the book, however well done, would feel like much more of a downer.
After his NCAA run, Lear writes, "the normally stoic Brannen is powerless to suppress a grin. 'I've never been as proud to wear the M as I was today.'"
But Brannen's reactions are strong to some of Webb's doings. After Webb stomps off after losing the Jesse Owens 800, "Brannen is ticked at Webb's indignant manner 'What does he think, he's just gonna kill us?'" Later, the Canadian's reaction to one of the USA Today stories is, "I'm sick of it."
The only thing missing in the Webb-Brannen axis that I would have liked to have read is how they got on as roommates. Lear does provide, at several points, insight into their relationship. But some off-the-track stuff would have been interesting, too. We do, at one point, get some pretty interesting stuff from one of Webb's professors, but that's about it, off the track.
The Final Kick
Ultimately, Lear squeezes just about all the juice out of the turnip of this season. Given what we already know about Spring 2001, we get about as much new insight as we could have. Lear does well in maintaining balance and neutrality, given the conflicts and the human instinct to pass judgment. You get a subtle sense of his take, but are left to draw your own conclusions regarding the approaches and decisions that Webb, Warhurst and the rest of the cast took and made that year.
Perhaps the most delectable piece of "new" information is a key interview with John Cook, a former George Mason coach who was a mentor to Raczko. In this we learn what MAY have been some of the genesis behind Webb's decision. But even as Cook is putting the collegiate system to task, he is indicting Webb for mixing Raczko's and Warhurst's training systems.
Ultimately, Lear will write of Webb, "For him, running is not just an activity – it defines his being. It's why, despite his full scholarship at Michigan and some notable successes, he's contemplating charting another course to get his running – his life – back on track." You are left with the question, "How could it all have been better?" Some readers may feel they know. I did not, especially given the uncertainty of Webb's success in the year since he's left Ann Arbor. Has Webb been a victim of the conflicting and scrutinizing forces around him or has he created his own difficulties? The closest I can come to an answer is that impetuousness is not a quality that well serves the post-high-school runner. Whether or not Webb went pro from the get-go or after a year at Michigan, there's seems to be something in his OWN personal approach that doesn't work. That's the strongest feeling I got from the book. But in any case, it is Lear's strength that he mostly walks the line in presenting the case and lets you decide.
It's quite interesting, though, that in the Epilogue, Lear describes a post-Webb 2002 Michigan cross-country scenario where "Everyone ... marveled at how tight the team had become and how much more cooperative the atmosphere seemed compared to what existed a year earlier."
Still, as Lear concludes, he's left with not answers, but more questions.
Many of my criticisms of the book are made as a fellow writer and editor, not simply a runner. As a runner, you should enjoy the ride and cherish it; yes, you should support it. We need more Chris Lears in the world and we want and need more from the one we've got. May he continue to reveal to us the world of elite distance running.