Boys: This Round to Dexter, Aprill
At left, Bobby Aprill passes 2M in 3rd, but would blaze the final mile in 4:54 for the win.
At right, "Let's Get Physical" - PInckney's Brenden Marcum and Brian Hankins muscle past Dexter's Ben Steavenson, but it wasn't enough for the Pirates. To their right, meet director Dan Wytko peers into the sun to check out the other runners surging in. Photos by Davey, runmichigan.com

| | |
| --- | --- |
By Steve Underwood
PORTAGE, Michigan – The Dexter MI boys cross country team may not be able to accept a bid to participate in Nike Team Nationals, due to state association policy, but at Saturday's Portage Invitational it continued to prove it's NTN-worthy.
Michigan's biggest meet of the year took on added significance when it was announced that the MW#2 Dreadnaughts would move up from D2 to D1 to clash with MW#5 Pinckney for the first time this fall. Each are ranked #1, are defending state champs in their respective divisions, have dominated in recent years and, although just 10 miles apart, don't compete much because of the class difference. But teams are allowed to move up in class at Portage, thanks to Meet Director Dan Wytko's wanting to give the best teams in the state a chance to meet, and the two schools rose to the challenge.
Dexter, though, was the clear winner on a beautiful fall afternoon (clear, little wind, temps in 60s by afternoon), both individually and collectively.
Dreadnaught junior Bobby Aprill ran a remarkably patient race, running back in 3rd or 4th the first two miles, then beginning a long, gradual charge in the final mile to win decisively in 15:16. It was easily the best time of the day and added to the evidence compiled at the Holly Invitational three weeks early that Aprill just might be the best runner in the state.
The hundreds of fans lining the finishing straight then began to look for the rest of the Dexter and Pinckney runners, frantically adding places in their head to try and determine the team champ. But they could quickly see Coach Jaime Dudash's team won each of the first five spots against the Pirates and the final count was 62-100, with Hilliard Darby of Ohio a distant 3rd with 221. Three other teams moved up to D1 with varying levels of success.
While perhaps not having quite the star power of the D1 race, the action was still fast, competitive and intriguing in the D2, D3, and D4 races. The D2 affair saw Forest Hills Eastern over Three Rivers for the top spot both team-wise (128-156) and individually (FHE sr Seth Bjorlie over Wildcat jr Nathan Martin, 16:04-16:05).
St. Clair jr Addis Habtewold pushes the pace early.
Photo by Davey, runmichigan.com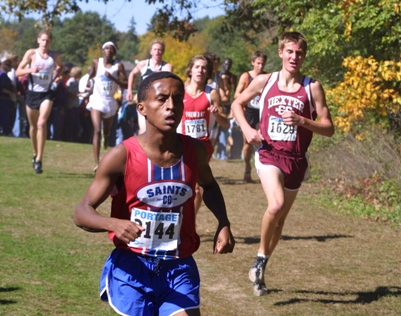 In D3, Erie-Mason was surprisingly dominant, scoring just 65 to runner-up Jackson Lumen Christi's 155, while Manistee sr Aaron Simoneau had a big breakthrough victory in 15:45. D4 saw a tight 3-way team battle as Hesperia (87 pts.) edged Saugatuck (89) and Whitmore Lake (94). Wyoming Lee sr Victor Ramirez repeated individually in 16:25.
Aprill, Bishop the Keys for Dexter
Not having your normal #1 guy and a 9:10 2-miler at full strength could be tragic for the championship hopes for a lot of teams. For Dexter, it's just been another reason for teammates to step up.
And junior Bobby Aprill and sophomore Jason Bishop stepped up big Saturday, as did the rest of the Dreadnaughts. And it's not like Jackson didn't contribute. He still was 9th as the #2 man.
The race for the individual title in the D1 race was almost as hype-worthy as the team showdown. As it was at Holly, arguably the best three runners in the state were competing with Aprill, Jackson, and St. Clair jr Addis Habtewold. Also expected to challenge were Cincinnati Sycamore sr Taylor Williams, Grosse Pointe North sr Robbie Fisher, and several others.
Williams didn't come from Ohio to fool around and before the mile it was clear he was going for it. He grabbed the lead and Habtewold went with him. They passed in 4:47, with Aprill at 4:48 and three others at 4:49, but the gap was growing. The top two built a lead of about 25m in the 2nd mile, but then Addis started fading and Williams was on his own.
Two miles went by for the Sycamore standout in 9:47, with Habtewold at 9:50 and Aprill reeling him in at 9:51. Aprill had laid back for more than 1.5 miles as the action had heated up; now he was turning on the afterburners. He would pull away from Addis and then catch Williams between 2.25-2.5. He won going away in 15:16, closing in a remarkable 4:54.
Behind him it was Fenton's Joe Dimambro also closing impressively for 2nd in 15:25, passing Habtewold (15:28) and a hard-fading Williams (15:33).
Then as the ravenous spectators looked on, the results of the team battle began unfolding. Pinckney sr David Emery, who'd been as high as 3rd/4th battling with Aprill, held a strong 8th (15:43). But then Jackson crossed in 9th (15:48) and Bishop an impressive 10th (15:53) to give Dexter three before Pinckney's 2nd.
To epitomize the late effort the Pirates put in, jr Brian Hankins and sr Brenden Marcum pushed in the final meters to literally squeeze past the Dreadnaughts' jr Ben Steavenson at the line for 15th and 16th as the clock turned over to 16:00. But that was only their 2-3 beating Dexter's 4th. The deal was closed when sr Ryan Neely crossed in 25th/16:10.
The tally:
Dexter 1-9-10-17-25 = 62
Pinckney 8-15-16-29-32 = 100
Neither team has the bad habit of going out too hard and knows how to close deals. The way Pinckney destroyed the Spartan Invite field in the last mile 3 weeks ago is testament to that. But this field was too massive and talented for that. Pirate coach Tom Carney summed it up perfectly: "I don't think we got out well enough. But Dexter ran really, really well."
Indeed they did. At the top, Aprill's breakthrough into sub-15:20 territory stamps him as a Foot Locker contender. "The race actually didn't unfold like I thought it would at all," he said. "I wanted to control it from the mile on, but when I saw how fast they were taking it out, I backed off. With 1200 to go, I passed Addis and I knew the guy up front had used up too much.
"I think I could have run more like this last year," he added, "but this summer I really got in a lot of miles and I have a lot more confidence. I've worked on my kick quite a bit, too."
But if there was one runner whose gritty effort represented the Dreadnaughts' performance and was a barometer during the race of his team's control of the race, it was Jason Bishop. Few wore a longer face after the Holly race than the diminutive soph, who ran just 17:20 there. Jason was not himself there, however, and he really shone Saturday. Grinding it out with his distinctive forward-leaning style (think New York star Tommy Gruenewald), he rose from 5th man and gave Dexter three under 16:00.
Afterward, there wasn't so much exuberance from Bishop, but instead a sense that he had finally woken up from a really bad dream. "I had a terrible start to the season," he said, shaking his head. "Now I'm taking iron supplements and I feel so much better. It's such a relief!"
"Jason was tired all the time, but now things are starting to click for him," agreed Coach Dudash. "When your 5th goes out and drops that much time, it's huge.
"We were really concerned about Pinckney and really respected them," he added. "I think every one of their kids has won a KVC race. We knew they really had depth, but that maybe we had the front runners, and that helped us today. We've never had 7 under 16:40 before." While Aprill had a nice margin, Dexter's 2-5 gap was a healthy 22 seconds.
Regarding Jackson, Coach Dudash said that his recovery from a summer infection has been compounded by a hip flexor problem, "but he's out there pushing because he really cares about the team."
For Pinckney, Emery stepped up nicely to lead the way, but the Pirates missed the late charge from Marcum that has led them in other invitationals. The 1-6 gap of 36 seconds was nice, but not fast enough.
The rest of the state found out who Fenton's
Joe Dimambro is - one of the state's best and
maybe even a Foot Locker contender.
Photo by Davey, runmichigan.com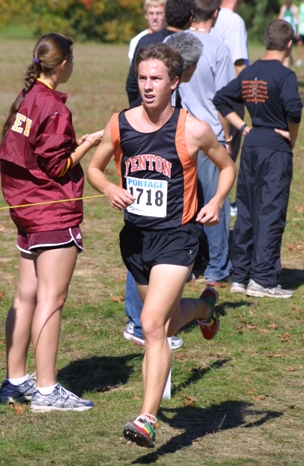 Emery said he had his first PR since state last year, but admitted as a team, "We've had a problem getting out all year. We've worked on it, but we didn't do as well as we wanted to today. We really wanted to make a run at them, but we have another chance."
"David was about the only one who really got out," Coach Carney agreed. "It was a learning experience and we have things to work on."
That next chance for Pinckney will come at the Gabriel Richard Invite in two weeks, but both teams will be missing one of their pack.
Behind Aprill, Williams and Habtewold felt the post-race pain of their early sacrifices. "Historically, my strength has always been the middle of the race," said Williams, who hung on to match his PR. "My goal was to come here and win. I don't have much of a kick, as you could see."
Said Habtewold: "I was feeling good at the beginning, but on the downhills my back started really bothering me." While he's had some medication for the season-long problem, he added, "Starting Monday, I'm going to get more treatment for it."
There were highlights and lowlights for the rest of the field that joined the battle. The other two D2 teams in the race, #2 Fremont and #5 Fenton, acquitted themselves well in 4th (256 pts.) and 5th (258), and were probably glad they decided to move up. Fenton got the terrific PR race from Dimambro and led Fremont through four runners.
The next two ranked teams after Pinckney in D1, Ann Arbor Pioneer and Rockford, were 6th and a disappointing 15th. D3 power Williamston was way off form and came in 17th.
(more to stories, pix to come from other divisions, girls races)