IHSA Illinois State Championships
Saturday, November 4, 2006 - Detweiller Park, Peoria IL
DyeStat On-Site with Rich Gonzalez, Scott Bush
Preview
Peoria... the new Speed City USA!
Class AA Results - Class A Results
Note: More follow-up feature stories from the 2006 Illinois State Meet still to come!
Upcoming: The York Machine Rolls On; Hinsdale Central's bid for NTN; Jager/Havel: America's Next Two FootLocker Chanpions?
By Rich Gonzalez
Evan Jager (right) and Kevin Havel do battle in the AA race.
Photo, Rich Gonzalez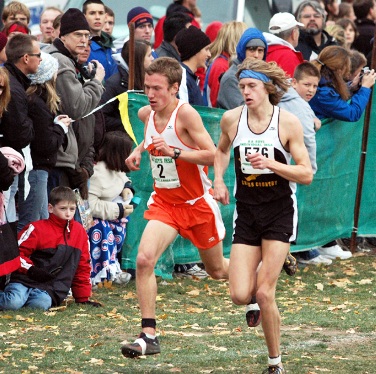 PEORIA, IL -- Fast. Faster. Fastest.
Welcome to the 2006 Illinois state meet, where a flat layout, excellent course conditions and perhaps the best depth of individual talent in the entire nation were parlayed into a historic day for prep cross-country running.
First comes the fast.
An amazing 41 boys cracked the sub-15:00 barrier, with 40 of those coming in the Class AA race, very likely to end up as the single-fastest state championship race in the country in 2006! On the girls side, 58 runners dipped under the challenging 18:00 mark on the 3-mile Detweiller Park course, with 52 of those performances cascading down during the Class AA showdown.
Oh, but it gets better... Now for the faster.
Highly popular Jacobs High senior Evan Jager stormed to his first state cross-country title in a superb 14:07 clocking in the Class AA race, a performance seven seconds faster than 2003 meet winner and eventual FootLocker Nationals champion Matt Withrow (Andrew HS, now at U of Wisconsin). Then there's Hersey 11th-grader Kevin Havel, whose runner-up placing in 14:12 was two full ticks faster than eventual national champ Withrow's junior-year best 14:14.
Yes folks, it gets even better. Now comes the fastest... times two.
Local favorite Caitlin Comfort (Notre Dame HS in Peoria) became the fastest three-miler in state meet history, being timed in 16:47 to win the Class AA race. Comfort kicked home just fast enough to shave one second off the previous standard set by Streamwood's Paulina Garcia in 2003. (The state meet moved from a 2.5-mile layout to the current 3-mile configuration in 2002.)
Not to be outdone, the fabled York dynasty rolled along quickly on the boys' side, even without legendary coach Joe Newton at the helm for the biggest race of the year. The Dukes delivered a race for the ages in what is believed to be the fastest 3-mile team-time clocking in U.S. prep history with a stunning 73:34 performance (14:42.8 average for its five scoring runners). It was also exactly 100 seconds faster than the team's winning aggregate clocking at the 2004 state meet, which came one month prior to it winning the inaugural Nike Team Nationals event in Portland, Ore.
York won its 26th state title in school history with a commanding 60-point scoring effort that proved 105 points better than a sensational out-of-nowhere performance by St. Charles North HS, which entered the weekend ranked only 11th in the final state Class AA poll. So thoroughly dominating was the Dukes' effort that its 6th (15:01) and 7th runners (15:09) finished ahead of the fourth scorer of all but one opposing team.
"They were a group of boys that all became men," said York coach Stan Reddel, referring to the team's poise when head coach Joe Newton and assistant Charlie Kern were placed on administrative leave of their coaching duties for the remainder of this season. Both were notified of the decision just eight days before the state meet for violating a state association summertime rule that recently came to light regarding coaching contact with athletes.
"Most teams would collapse under the pressure of losing their head coach just prior to the two biggest races of the year, "Reddel added. "These men remembered what they've been taught by their coaches and they went out there today and performed as champions."
So with the super-deep collection of swift harriers, two runners projecting faster than a previous national champion, a girls' state meet course record and perhaps the fastest team performance ever, can anyone keep up with Illinois? We'll have to wait and see what the Nike Team Nationals and FootLocker Nationals extravaganzas tell us, but for now it's pretty safe to be able to start calling Peoria what it is... Speed City U.S.A.
Course conditions/background: As soon as harriers arrived in town on Friday, the buzz around the course was echoing: "Times are gonna fly."
Temperatures were steadying in the mid 50's and the enjoyed Detweiller course had just the right bounce to it; the grassy surface was firm, but not too hard. Smiles spread from ear to ear as the runners toured the course for run-throughs.
When the big day arrived, adrenaline also took over as all four races had the leaders out to brisk starts, in a majority of the cases seeing the early leader gap the field by margins not to be relinquished.
"You couldn't ask for a better day," said Jager. "It was perfect."
For sake of historical comparison, it should be noted that although Jager's 14:07 winning effort officially ranks him as the eighth-fastest prep performer on the all-time Detweiller Park state meet lists, the course apparently was lengthened in 2003 to a full three miles. Prior to that, it had reported as being 2.96 miles long. Several coaches polled agreed the change tacked on an average of 10 seconds to the total time of elite prep racers.
York's boys take off from the starting line en route to victory.
Photo by Rich Gonzalez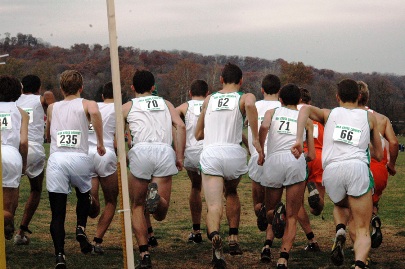 Although Jager's time was the fastest on the course since the lengthening to a full three miles, an adjusted 13:57 effort (along the pre-2003 layout) would rank him third all time, trailing only meet recordholder Craig Virgin (13:50.6) and Tom Graves (13:56.6). If using the adjusted time, it would make Jager the fastest state meet performer in 29 years.
Hinsdale's bid for NTN; Class A results: Although York's latest landslide victory on the boys' side garnered major attention nationally, the Class AA girls race also showcased a top-end performance with national implications.
Hinsdale Central, which entered the weekend as the #3-ranked team in the NTN Midwest Region weekly Top 10 poll, boosted its stock with a fine effort that netted an 80-point win over previously ranked Barrington. Hinsdale Central boasted four runners under 18 minutes and two others in the mid-18's. Hinsdale's very successful season may not be over just yet, as coach Mark McCabe's crew is now up for consideration for a possible NTN automatic berth from the Midwest Region. Two bids per gender will be extended to Midwest teams thus Sunday afternoon.
Class A girls action saw Carthage's Katelyn Bastert perform a rare feat by winning her fourth state title, this one being her fastest by one second as she was timed in 16:49. Bastert, who was nudged into the sport by her father three years ago, took the lead early and was never seriously challenged after the mile mark. Teamwise, Winnebago relied on strong frontrunning to barely offset Elmwood's depth in a hard-fought 131-134 team victory.
In the Class A boys race, Elmwood followed the brisk pace set by frontrunner Dustin Emerick (fourth overall in his race) to hold off Winnebago for a 110-120 triumph. The victory for Coach Gregg Meyers' Elmwood victory was the program's first state title in 21 years. When Elmwood last won in 1985, none of the current team members had been born and it was coached by Tom Meyers (perhaps related to Gregg?). Individually, St. Anthony junior Matt Feldhake took control by mid-race and sped away to a 13-second win over St. Bede's Matt Morse in 14:55.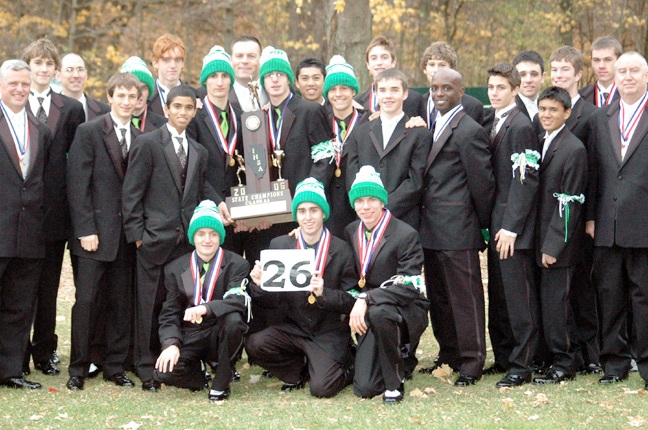 The winning men of York. Photo by Rich Gonzalez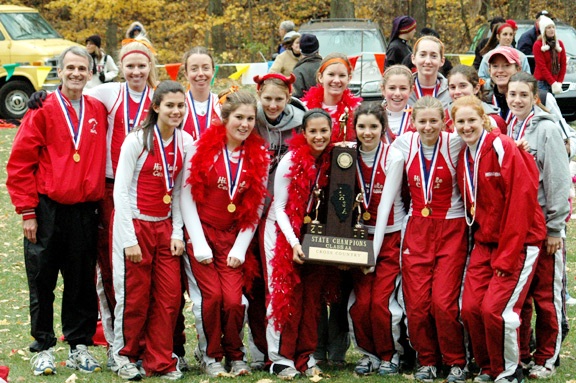 The winning girls from Hinsdale Central. Photo by Rich Gonzalez
By Rich Gonzalez, DyeStat.com
(PEORIA, IL) The forecast calls for temperatures in the mid 50s and a chance of showers.
Oh yes, and plenty of great competition.
Although the weather will be frigid, the action will heat up at Detweiller Park on Saturday, site of the annual Illinois High School Association Cross-Country Championships. Storylines abound, but the two most newsworthy angles figure to be for "The Kid" that is finally showing up and "The Man" that will not be.
Jacobs High senior Evan Jager is "The Kid", considered by many as the frontrunner for this year's FootLocker Nationals individual crown. Racing sparingly in meets of consequence thus far this fall, the distance-running star from Algonquin is the heavy favorite to capture the Class 2A title in a race where he placed third to since-graduated Steve Finley (Palatine HS) and Ryan Craven (Prospect). Jager, unbeaten thus far in 2006, made a verbal commitment to attend NCAA national power University of Wisconsin earlier in the week.
"The Man" who won't be in attendance will be legendary York coach Joe Newton, who is adhering to a school-imposed suspension for the remainder of the season (along with assistant coach Charlie Kern) for excessive days of coaching contact with student-athletes during the summertime period.
Newton, whose storied 51-year career at York includes an amazing 25 state titles, complied with the school's decision, thus leaving the interim coaching reins to Stan Reddel, the school's head track coach since 2001. This will be Reddel's second stint at the helm of the Dukes; he coached the squad in 1988 when Newton was in Seoul, South Korea serving as the Team Manager for the U.S. contingent at the Olympic Games. That year, York finished second at the state meet.
York's boys, currently ranked second in the NTN Midwest Region, are the heavy favorites to win the Class 2A race, although Palatine (ranked 8th in the Midwest) and Sandburg (ranked 10th) lead a deep list of challengers.
On the girls side, Hinsdale Central, fourth at last year's state meet, is the Class 2A favorite. Hinsdale is ranked third in this week's NTN Midwest region poll.