MITS State Meet
Mar 17, 2006 at U. of Michigan, Ann Arbor MI
DyeStat On-Site With Steve Underwood
Results - Story by Steve Underwood
Mumford Detroit jr Shayla Mahan wins 60 meters in 7.35, US#10 all time.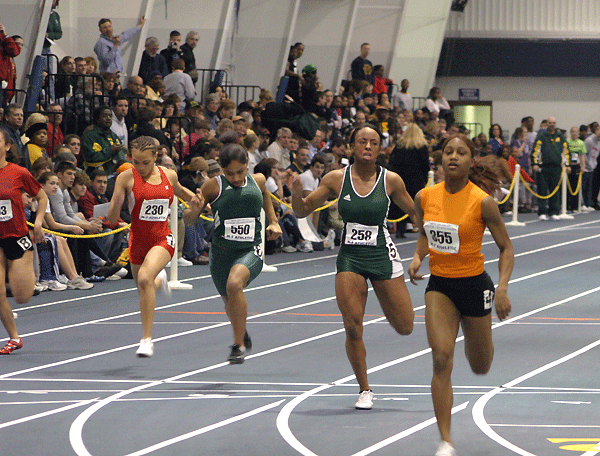 Photos by Davey, RunMichigan.com
Albion fr Amelia Bannister 2:14.09 800m edges Stephanie Morgan 2:14.89 and Ramzee Fondren 2:15.26.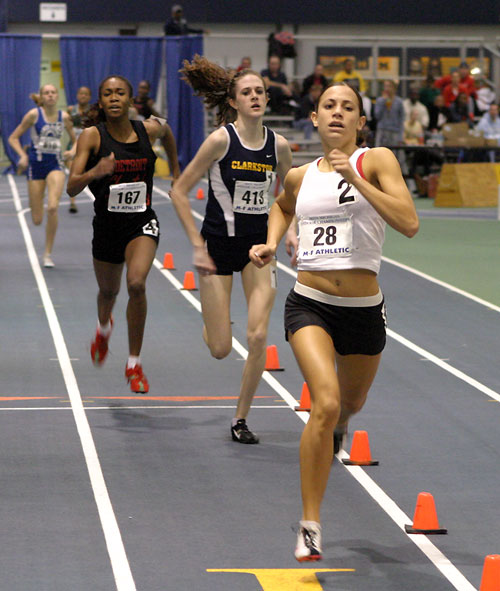 | | |
| --- | --- |
| Forest Hills Northern jr Josh Hembrough 7.89 60H. | Bedford MI jr Logan Lynch 15-6 PV. |
Mahan, Hembrough Shine in Michigan as Last Leg of Indoor Takes Off
By Steve Underwood, DyeStat Senior Editor
The rest of the nation may be taking a post-nationals break, or has already started outdoor action, but the peak of the indoor season for six Great Lakes states is just beginning.
Detroit Mumford jr. Shayla Mahan, Grand Rapids Forest Hills Northern jr. Josh Hembrough and a pair of pole vaulters followed up nationals with the top performances at the Michigan Indoor Track Series State Championships Saturday on the unbanked University of Michigan 200-meter oval in Ann Arbor.
After a disappointing fourth in the event at the NSIC meet last weekend, Mahan exploded to a US#3 7.35 60m, shaving 0.01 off the PR she set in the Kentucky Select meet back in mid-February. Hembrough, on the other hand, was pleased about his fourth at NIN, but he made another significant cut this time, from 7.94 to a US#5 7.89. Both dominated in their wins and were chosen athletes of the meet on the track.
Bedford jr. Logan Lynch, who broke a pole and no-heighted at NIN, hit 15-6, to edge Marine City soph Joe Wesley's 15-3. He couldn't quite match his 16-0 PR, but he still took field event athlete of the meet for the boys, as did fellow pole vaulter Ovid-Elsie sr. Carly Schiffer for the girls. The latter tied the meet record of 11-6.
Probably the most high-level competitive race came in the girls 800, where a trio of youngsters with great futures set the pace. With an eye-opening 31.0 last 200, Albion fr. Amelia Bannister outkicked Clarkston fr. Stephanie Morgan, 2:14.09 to 2:14.89. Detroit Renaissance soph Ramzee Fondren was 3rd in 2:15.26.
Showing Their True Speed
Mahan had hoped to give Mississippi superstar Bianca Knight a battle at NSIC, but after winning her heat (2nd overall) and semi (3rd overall), she exploded out of the blocks in the final. The race was called back because of someone else's false start, but Mahan had extended herself. On the restart, she was somewhat left in the blocks and took a heartbreaking 4th.
Saturday, she showed the nation what they missed. Completing a series that started with meet records 7.56 heat, and 7.46 semi, she got out hard and blazed to a defense of her 2005 title here. Her 7.35 won easily by 0.35 and broke a tie for 3rd on the US list, leaving her only behind Knight and the 7.30A of Colorado star Ashley Cruder.
The PR was a bit of a surprise to Mahan, who said it was good to come back from New York and run a great race in her home state, but seemed like she was still feeling the sting of New York. The rest of the day was less successful as she ran on two non-winning relays.
There was nothing but a smile on the face of Hembrough, however. He went 8.11 and 8.04 before nailing the 7.89 in the final. He got a decent battle from Detroit Cass Tech sr. Nicholas McCampbell, who just missed the sevens with his 8.01.
"It feels great," Hembrough said of his new state title. "My goal this season was just to break eight seconds. Today, it was to at least tie my 7.94."
Ypsilante Lincoln sr. Erin Humphrey, a sub-56 runner and 2nd in the D-1 outdoor meet last year in the 400, didn't travel to either national meet. She wasn't even in the fastest section in her event Saturday as she hadn't broken a minute on the circuit. But what a difference a few weeks of training makes. Saturday, she blasted out in 25.9 and stopped the clock at 56.58, No. 4 in state history and 1.37 faster than the fast section winner.
"I wasn't where I should have been," Humphrey said of her early-season performances. "But we've been doing some hard, extensive workouts, and I've also been doing pilates for my strength." Humphrey also anchored her Maximum Output club team to a 3:56.14 win over the Ann Arbor Youth's 3:56.74 with a 56.6 leg. Her teammates included Southfield Lathrup's Liz Harvin (60.6), Troy's Katrina Drayton (61.1), Notre Dame Prep's Ernanda Bendtsen (58.3).
Of note in the girls 400 was the finish of Dynasty McGee. The meet permits middle-school athletes to run and McGee, a 12-year-old 7th-grader at Mt. Morris Jr. High School, clocked a 58.56. Her 3rd-place finish is the best-ever for a non-high-schooler in the event. She is a 5-time AAU national medalist.
The boys 400 almost went to a penultimate section winner, too, as Detroit MacKenzie sr. Darrin Trammell set a high standard with a dominant 50.19. The fast section, however, featured list leader and Mumford jr. Cedric Everson (50.00) and he went out hard, taking the lead at the break, through the 200, and all the way to the tape with a meet record 50.08.
"(Trammell's time) gave me extra motivation to get out a little harder, to beat everybody to the first 200," said Everson.
Orchard Lake St. Mary's sr. Anthony Bowman dashed to victory in the boys 60 at 6.93, moving up from 5th last year, while the girls 60H went to Romulus sr. Landria Buckley in 8.73. The boys 200 suffered from the withdraw (tweaked hamstring) of NIN 60-meter champ Ahmad Rashad, but Detroit Murray-Wright jr. Dmitri Banks won impressively anyway, at 22.32. Mumford sr. Chanell Wright took the girls 1-lapper in 25.57.
The other speed relays went to the "Nameless" TC in the boys 4x400 (3:26.78) and 4x200 (1:33.43), and the Ann Arbor Youth girls in the 4x200 (1:43.32).
Middle Distance Divas
It is said that youth will be served, but this is ridiculous. The 800 has been a hot event in Michigan in recent years, highlighted by multiple national titles of stupendous Grand Blanc grad Geena Gall (now at Michigan), but the previously-mentioned handful of young stars that took the top three spots Saturday are taking up the slack nicely.
Bannister was 2nd here last year as an 8th-grader, but had a very low key outdoor season. At the Kentucky Select meet, she burst on the spotlight with a US#1 2:10.18 (later topped) on the oversized oval. Fondren was 3rd here last year and the D2 outdoor state champ as a freshman. CC star Morgan, who had some relay action last year on a national level, was coming off a blistering 2:13 in a narrow loss to Emily Infeld OH two weeks earlier.
Woodhaven soph Natalie Webb set a hot pace at 30.7, but things went down to normal with a 35.0 2nd lap (65.7) as the pack began to come back to her and tighten. Before 600 (1:42.4) Morgan went into the lead and the race was on. Unfortunately for her, she didn't have quite the wheels at that point to get away from the sprinter Bannister. Meet Director Mike Jurasek's protégé began her full kick around the last curve and finished the race almost as fast as it was started.
Morgan finished in an excellent 32.4, but afterward wore the look of someone who had done everything she could and it wasn't enough. "It was a great competition," said Bannister. "I wanted to take it at the corner and I had it left at the end."
Coach Jurasek, trying to bring his former youth age-group star along slowly at this level, didn't take her to a national indoor meet, but will probably do so for outdoors, which Bannister is looking forward to with great relish. "Our goal is to slowly build on her strength," Jurasek said.
The other distance events couldn't match the girls 800, but they were hardly sluggish. In the boys 1600, Jay Bilsborrow powered out in 30.6 and did a wire-to-wire number on the field, splitting 62.5/2:07.8/3:13.6 en route to triumphing in 4:17.33. The Coldwater sr., who has struggled some with asthma and other problems since running 4:18 as a soph, seems ready to fulfill his potential.
"This is what I've been trying to aim for all year and I ran my race," he said, having improved on his 3rd from last year. After focusing on the 800 last year (1:53.97 2nd D2 state outdoor), he plans to give the 1600 a better shot this time.
Another athlete coming off a great nationals performance was Sterling Heights Stevenson sr. Kellee Lemcke, who was 2nd at NSIC in the 5k at 17:49.56. Here she was out to lower her deuce under 10:50. Smartly not following the hard 76 first 400 from Gaylord sr. Thereseann Zimmerman, she slowly caught up on the 82-83 pace that followed. After the 2k mark, she put in a 79 400 that gave her a solid lead and led to victory in 10:50.08. Zimmerman rallied with a solid kick at the end for 10:57.79.
"I really wanted to get under 10:50," said Lemcke. "I just tried to take care of myself out there and run the splits I planned."
Though they were decked out in Williamston uniforms, the self-titled Defenders of Gondor took the boys distance medley relay and probably the award for the best team name. Gondor was indeed defended, as Matt Lutzke (3:18), Tyler Sharp (51.5), Chris Pankow (2:02) and Dan Nix (4:34) paced their fellow hobbits from start to finish in 10:45.99.
Much more emotional was the crew from Livonia Stevenson in the girls DMR, as Courtney Calka (3:47), Becca Rehberg (1:06), Lisa Arrowsmith (2:21), and Kristen Frey (5:14) combined for the 12:28.20 win. Her eyes tearful with pride in her girls, Coach Nancy Gavoor said it was the first time her girls had beaten state powerhouse Clarkston.
In this race, however, the girls from Saline were the tougher competition as anchor Eileen Creutz, the state CC champ, anchored in 5:13 but had too far back to come from (12:35.68 overall). Clarkston (Running Gear) was well back in 7th (13:09.19) with a crew that didn't include Jenny (injury) or Stephanie (other events) Morgan.
The younger Morgan, of course, would run the 800 and was in the winning 4x800. In that race, Livonia Stevenson put on a strong challenge and led until the 120 when Morgan (2:18 anchor) strode past to take Clarkston/Running Gear to the win, 9:36.62-9:37.84. Coach Jamie LaBrosse also got legs of 2:27 from Lisa Sickman, 2:24 from Beth Hoekstra, and 2:25 from Lyndsay Smith.
Ann Arbor Greenhills' Alexa Glencer made the NIN fast heat last weekend in the Mile off her 2005 outdoor time and wound up having an off race and finishing near the back. Saturday, she looked more like her old self in easily rallying to the lead and striding home in 5:08.76 for 1600.
Potterville sr. Aaron Hunt ran away with the boys 800 in the second half of the race, scoring a 1:57.07 victory, while Ovid-Elsie soph Maverick Darling led the whole distance in the boys 3200 for the 9:40.70 win. The Ann Arbor Track Club won the boys 4x800 by five seconds in 8:13.11.
Skyscraping Vaulters Lead Field Eventers
For once, Logan Lynch, who has dominated the Michigan circuit with 15- and 16-foot vaults all year, had some company. In fact, things were looking a bit dicey for the Bedford standout when he didn't come in until 15 feet and missed his first attempt. Then on attempt two, he smoothed his technique out and flopped at least a foot over the bar.
But he was getting quite a battle from Marine City's Joe Wesley. The soph matched Logan when he beat his 14-10 PR at 15, then PR'd again with a 15-3 clearance, thought to be an all-time class record. Lynch, however, was good for 15-3 and 15-6, finally clinching the competition. He then missed tying his own personal record at 16 feet.
Three Rivers sr. Erica Schroll, the high jumper also coming off a 4th at NIN with 5-7, matched her 5-6 of last year by defending her title here. The boys high jump saw four still alive at 6-8, but none of them could clear it. Trammell, the 400 runner-up, won at 6-6 on fewer misses over Niles' Kurt Poehlman, Sault Ste. Marie's Travis Baril, and OT Brown.
The long jump crowns went to Romulus sr. Brittany Howard at 17-10 and Tim Ferris at 21-8.75, while titles in the triple jump were claimed by Dakota sr. Tanisha Johnson 33-3.25 and Myles White at 40-7.75. The shot put champs were Troy sr. Ashley Lawrence with 40-7 and Hemlock's Eric Kushion with 51-11.
Licensed to University of Michigan       Hy-Tek's Meet Manager 3/18/06 05:20 PM

                    M.I.T.S. State Championships - 3/17/06                     

                                 Ann Arbor, MI                                 

                                    Results                    
Boys 60 Meter Dash

===================================================================

 MITS RECORD: $  6.83  2003        Morgan Trent, Maximum Output                

    Name                    Year School                 Prelims  H#

===================================================================

Preliminaries

  1 Williams, Darrin             Unattached                7.09Q  1 

  2 Bowman, Anthony              Unattached                7.12Q  3 

  3 Baker, Edwin                 Unattached                7.14Q  2 

  4 Owens, Jared                 Unattached                7.19Q  4 

  5 Taul, Mark                   Unattached                7.12q  1 

  6 Johnson, Worlie              Unattached                7.16q  1 

  7 Glaze, Isaiah                Unattached                7.22q  4 

  8 Robinson, Treton             Unattached                7.24q  3 

  9 White, Darryl                Unattached                7.25q  2 

  9 Seminski, Aaron              Unattached                7.25q  1 

 11 Fahnenstiel, John            Unattached                7.26q  4 

 11 Turner, Armon                Unattached                7.26q  2 

 13 Moore, Brad                  Unattached                7.27q  2 

 14 Lewis, Keith                 Unattached                7.28q  4 

 15 Castle, Herman               Unattached                7.29q  3 

 16 Hewlett, Curtis              Unattached               J7.29q  1 

 17 Baker, Jordan                Unattached                7.30   2 

 18 Brooks, Brant                Unattached                7.31   4 

 19 Lamouria, Craig              Unattached                7.32   1 

 20 Reilly, Eric                 Unattached                7.33   2 

 21 Doxie, Torry                 Unattached                7.37   3 

 21 Richardson, Ronnie           Unattached                7.37   3 

 21 Campbell, Tim                Unattached                7.37   4 

 24 Marshall, Rodney             Unattached                7.38   4 

 24 Rashad, Jamar                Unattached                7.38   3 

 26 Moorer, Ira                  Unattached                7.39   3 

 27 Bekken, Greg                 Unattached                7.40   3 

 28 Caper, Larry                 Unattached                7.43   1 

 29 Carnegie, Brandon            Unattached                7.50   2 

 

Boys 60 Meter Dash

===================================================================

 MITS RECORD: $  6.83  2003        Morgan Trent, Maximum Output                

    Name                    Year School                   Semis  H#

===================================================================

Semi-Finals

  1 Bowman, Anthony              Unattached                6.99Q  1 

  2 Williams, Darrin             Unattached                7.04Q  2 

  3 Baker, Edwin                 Unattached                7.01q  1 

  4 Robinson, Treton             Unattached                7.15q  2 

  5 Moore, Brad                  Unattached                7.16q  2 

  5 Johnson, Worlie              Unattached                7.16q  1 

  7 Lewis, Keith                 Unattached                7.17q  1 

  7 Taul, Mark                   Unattached                7.17q  2 

  9 Glaze, Isaiah                Unattached                7.18   1 

 10 Owens, Jared                 Unattached                7.19   2 

 11 Turner, Armon                Unattached                7.20   2 

 11 Fahnenstiel, John            Unattached                7.20   1 

 13 White, Darryl                Unattached                7.21   1 

 14 Hewlett, Curtis              Unattached                7.23   2 

 15 Castle, Herman               Unattached                7.26   1 

 16 Seminski, Aaron              Unattached                7.27   2 

 

Boys 60 Meter Dash

================================================================

 MITS RECORD: $  6.83  2003        Morgan Trent, Maximum Output                

    Name                    Year School                  Finals 

================================================================

Finals

  1 Bowman, Anthony              Unattached                6.93  

  2 Baker, Edwin                 Unattached                7.00  

  3 Williams, Darrin             Unattached                7.06  

  4 Robinson, Treton             Unattached                7.09  

  5 Taul, Mark                   Unattached                7.11  

  6 Moore, Brad                  Unattached                7.16  

  7 Lewis, Keith                 Unattached                7.20  

  8 Johnson, Worlie              Unattached                7.21  

 

Boys 200 Meter Dash

===================================================================

 MITS RECORD: $ 21.79  2004        Morgan Trent, Maximum Output                

    Name                    Year School                  Finals  H#

===================================================================

  1 Banks, Dmitri                Unattached               22.32   3 

  2 Alexander, Anthony           Unattached               22.96   3 

  3 Stewart, John                Unattached               23.14   2 

  4 Wells, Shane                 Unattached               23.24   3 

  5 Young, Sean                  Unattached               23.25   2 

  6 Jackson, Aaron               Unattached               23.45   3 

  7 Thomas, Tyler                Unattached               23.71   1 

  8 Lane, Zack                   Unattached               23.85   2 

  9 McDaniels, Matthew           Unattached               23.88   2 

 10 Kadykowski, Ronnie           Unattached               24.44   1 

 -- Haile, Serak                 Unattached                  DQ   3 

 

Boys 400 Meter Run

===================================================================

 MITS RECORD: $ 50.10  2002        Dekoven Lynch, Motor City                   

    Name                    Year School                  Finals  H#

===================================================================

  1 Everson, Cedric              Unattached               50.08$  4 

  2 Trammell, Darrin             Unattached               50.19   3 

  3 Terpak, Kyle                 Unattached               50.56   4 

  4 Aziz, Cyrus                  Unattached               50.98   4 

  5 Neal, Marcus                 Unattached               51.37   4 

  6 Fortin, Kyle                 Unattached               51.57   3 

  7 Beaver, Andrew               Unattached               51.69   2 

  8 Flowers, Phillip             Unattached               52.23   2 

  9 Jackson, Kevin               Unattached               52.60   2 

 10 Sutherland, Heath            Unattached               52.80   1 

 11 Mazure, Joe                  Unattached               53.20   3 

 12 Rumpf, CJ                    Unattached               53.33   1 

 13 Erdmans, Matt                Unattached               53.36   1 

 14 Miles, Jordan                Unattached               54.54   3 

 15 Carter, Donzell              Unattached               54.79   1 

 16 Simpson, Curtis              Unattached               56.86   2 

 -- Hunter, Derek                Unattached                  DQ   4 

 

Boys 800 Meter Run

================================================================

 MITS RECORD: $ 1:55.08  2004        Liam Boylan-Pett, Streaking Dweebs        

    Name                    Year School                  Finals 

================================================================

  1 Hunt, Aaron                  Unattached             1:57.07  

  2 Anderson, Brad               Unattached             1:59.02  

  3 Price, Kendrick              Unattached             2:00.03  

  4 McKeachie, Andrew            Unattached             2:00.28  

  5 Berry, Michael               Unattached             2:00.32  

  6 Barker-King, Graham          Unattached             2:02.14  

  7 Smalley, Kevin               Unattached             2:03.98  

  8 Dunston, Matt                Unattached             2:04.64  

  9 Sotvyo, Nate                 Unattached             2:04.68  

 10 Whitlock, Phatiel            Unattached             2:07.63  

 11 Lewis, Keith                 Unattached             2:13.44  

 

Boys 1600 Meter Run

================================================================

 MITS RECORD: $ 4:09.75  2000        Dathan Ritzenhein, North Kent             

    Name                    Year School                  Finals 

================================================================

  1 Billsborrow, Jay             Unattached             4:17.33  

  2 Girard, Ian                  Unattached             4:24.49  

  3 Dague, Willy                 Unattached             4:26.54  

  4 Brown, Ransom                Unattached             4:30.91  

  5 Sanseverino, Cole            Unattached             4:31.37  

  6 Maxfield, Jeff               Unattached             4:32.53  

  7 Poirier, Nate                Unattached             4:33.10  

  8 May, David                   Unattached             4:33.21  

  9 Craze, Michael               Unattached             4:34.89  

 10 Kubesh, Ben                  Unattached             4:35.75  

 11 Hohl, Jake                   Unattached             4:37.90  

 12 Barnes, Scott                Unattached             4:37.95  

 13 Demres, David                Unattached             4:40.56  

 14 Martin, Nathan               Unattached             4:40.61  

 15 Meier, Ryan                  Unattached             4:42.09  

 16 Evans, Jesse                 Unattached             4:42.73  

 17 Ayala, Ryan                  Unattached             4:42.91  

 18 McCurdy, Shawn               Unattached             4:43.45  

 19 Harris, Alex                 Unattached             4:46.54  

 20 Scaparo, Anthony             Unattached             4:50.71  

 21 Principe, Bryan              Unattached             4:53.30  

 

Boys 3200 Meter Run

================================================================

 MITS RECORD: $ 9:05.6h  1978        Eric Henricksen, Mad Dog                  

    Name                    Year School                  Finals 

================================================================

  1 Darling, Maverick            Unattached             9:40.70  

  2 Ahonen, Loren                Unattached             9:43.10  

  3 Quick, Mike                  Unattached             9:44.30  

  4 Neely, Ryan                  Unattached             9:51.40  

  5 Loy, Peter                   Unattached             9:52.50  

  6 Smith, Kyle                  Unattached             9:53.70  

  7 Dimambro, Joe                Unattached            10:00.30  

  8 Richmond, Adam               Unattached            10:02.20  

  9 Mayday, Michael              Unattached            10:04.20  

 10 Marchinkowski, Steven        Unattached            10:09.20  

 11 Shinouskis, Rob              Unattached            10:09.70  

 12 Veldman, Rob                 Unattached            10:10.20  

 13 Heck, Justin                 Unattached            10:13.50  

 14 Posner, Tom                  Unattached            10:15.90  

 15 Baker, Trevor                Unattached            10:16.10  

 16 Wall, Kenny                  Unattached            10:29.10  

 17 Breen, Sam                   Unattached            10:30.20  

 18 Scerbak, Matthew             Unattached            10:37.90  

 -- Grace, Josh                  Unattached                  NT  

 -- Richards, Doug               Unattached                  NT  

 -- Stoody, Wes                  Unattached                  NT  

 -- Lutzke, Matt                 Unattached                  NT  

 

Boys 60 Meter Hurdles

===================================================================

 MITS RECORD: $  7.79  2002        Kenneth Ferguson, Motor City                

    Name                    Year School                 Prelims  H#

===================================================================

Preliminaries

  1 Hembrough, Josh              Unattached                8.11Q  4 

  2 McCampbell, Nicholas         Unattached                8.32Q  3 

  3 Dodd, Tymel                  Unattached                8.33Q  1 

  4 Ferguson, Gary               Unattached                8.40Q  2 

  5 Latz, Joey                   Unattached                8.48q  2 

  6 Turner, Dante                Unattached                8.56q  3 

  7 Luce, Kevin                  Unattached                8.61q  1 

  8 Turner, Shawn                Unattached                8.68q  4 

  9 Corcoran, Cavan              Unattached                8.69q  1 

 10 Smith, Marcus                Unattached                8.70q  3 

 11 Humphries, Brock             Unattached                8.78q  3 

 12 Jackson, Darran              Unattached                8.79q  2 

 13 Lasher, Chris                Unattached                8.81q  2 

 14 Zemla, Wes                   Unattached                8.83q  4 

 14 Taff, Garrett                Unattached                8.83q  3 

 16 Hollie, Joseph               Unattached                8.84q  4 

 17 Gholston, Nathan             Unattached                8.99   2 

 18 Hanss, David                 Unattached                9.04   1 

 18 Jones, Cameron               Unattached                9.04   2 

 20 Henderson, DeAndre           Unattached                9.05   3 

 21 Vanbuhler, Eric              Unattached                9.16   1 

 

Boys 60 Meter Hurdles

===================================================================

 MITS RECORD: $  7.79  2002        Kenneth Ferguson, Motor City                

    Name                    Year School                   Semis  H#

===================================================================

Semi-Finals

  1 Hembrough, Josh              Unattached                8.04Q  2 

  2 McCampbell, Nicholas         Unattached                8.15Q  1 

  3 Dodd, Tymel                  Unattached                8.25q  1 

  4 Ferguson, Gary               Unattached                8.36q  2 

  5 Latz, Joey                   Unattached                8.49q  2 

  6 Turner, Dante                Unattached                8.52q  1 

  7 Smith, Marcus                Unattached                8.53q  1 

  8 Turner, Shawn                Unattached                8.54q  2 

  9 Corcoran, Cavan              Unattached                8.64   2 

 10 Luce, Kevin                  Unattached                8.66   1 

 11 Lasher, Chris                Unattached                8.75   2 

 12 Taff, Garrett                Unattached                8.82   1 

 13 Humphries, Brock             Unattached                8.84   1 

 14 Zemla, Wes                   Unattached                8.87   1 

 14 Jackson, Darran              Unattached                8.87   2 

 16 Hollie, Joseph               Unattached                8.93   2 

 

Boys 60 Meter Hurdles

================================================================

 MITS RECORD: $  7.79  2002        Kenneth Ferguson, Motor City                

    Name                    Year School                  Finals 

================================================================

Finals

  1 Hembrough, Josh              Unattached                7.89  

  2 McCampbell, Nicholas         Unattached                8.01  

  3 Dodd, Tymel                  Unattached                8.34  

  4 Ferguson, Gary               Unattached                8.35  

  5 Latz, Joey                   Unattached                8.52  

  6 Turner, Dante                Unattached                8.56  

  7 Smith, Marcus                Unattached                8.59  

  8 Turner, Shawn                Unattached                8.66  

 

Boys 4x200 Meter Relay

===================================================================

 MITS RECORD: $ 1:30.95  2002        Motor City                                

    School                                               Finals  H#

===================================================================

  1 Nameless  'A'                                       1:33.43   3 

  2 Motor City Track Club  'A'                          1:33.55   3 

  3 Autc  'A'                                           1:34.43   3 

  4 Pal  'A'                                            1:34.67   2 

  5 Melon Heads  'A'                                    1:37.03   2 

  6 Maximum Output  'A'                                 1:37.28   3 

  7 Herbs Runners  'A'                                  1:38.03   1 

  8 Ann Arbor Track Club  'A'                           1:38.11   2 

  9 Hardcore  'A'                                       1:38.26   1 

 10 Ledges  'A'                                         1:38.46   1 

 11 Michigan Ave. Track Club  'A'                       1:39.10   3 

 12 Carlson  'A'                                        1:39.39   2 

 -- Accelerators  'A'                                        DQ   2 

 

Boys 4x400 Meter Relay

================================================================

 MITS RECORD: $ 3:20.8h  1982        Trail Blazers                             

    School                                               Finals 

================================================================

  1 Nameless  'A'                                       3:26.78  

  2 Motor City Track Club  'A'                          3:27.86  

  3 Ann Arbor Track Club  'A'                           3:28.20  

  4 Accelerators  'A'                                   3:31.52  

  5 KP Athletics  'A'                                   3:37.96  

  6 Blaze  'A'                                          3:40.34  

  7 Herbs Runners  'A'                                  3:47.62  

 

Boys 4x800 Meter Relay

================================================================

 MITS RECORD: $ 7:59.12  2000        Ledges                                    

    School                                               Finals 

================================================================

  1 Ann Arbor Track Club  'A'                           8:13.11  

  2 Spirit of Pre  'A'                                  8:18.31  

  3 Michigan Accelerators  'A'                          8:22.16  

  4 Rltc  'A'                                           8:24.45  

  5 Albion  'A'                                         8:25.25  

  6 Ledges  'A'                                         8:25.41  

  7 Michigan Ave. Track Club  'A'                       8:27.83  

  8 Red Tide  'A'                                       8:42.15  

  9 Warrior Track Club  'A'                             8:58.11  

 10 Jackalopes  'A'                                     8:58.86  

 

Boys Distance Medley

================================================================

 MITS RECORD: $ 10:33.01  2004        Spirit of Pre, Mad Dog                   

    School                                               Finals 

================================================================

  1 Defenders of Gondor  'A'                           10:45.99  

  2 Herbs Runners  'A'                                 10:52.34  

  3 Top Run  'A'                                       10:53.91  

  4 Ann Arbor Track Club  'A'                          11:02.94  

  5 Sweet Connection  'A'                              11:04.98  

  5 Jackalopes  'A'                                    11:04.98  

  6 Ledges  'A'                                       J11:06.13  

  8 Nord Italia  'A'                                   11:12.31  

  9 Toilet Town Terrors  'A'                           11:15.01  

 10 Spirit of Pre  'A'                                 11:27.62  

 11 Albion  'A'                                        11:38.25  

 

Boys High Jump

================================================================

 MITS RECORD: $ 6-10.25  1997        Jacob Surber, Will to Win                 

    Name                    Year School                  Finals 

================================================================

  1 Trammell, Darrin             Unattached             6-06.00  

  2 Poehlman, Kurt               Unattached            J6-06.00  

  3 Brown, OT                    Unattached            J6-06.00  

  4 Baril, Travis                Unattached            J6-06.00  

  5 Amos, Kris                   Unattached             6-04.00  

  6 Miller, Nate                 Unattached             6-02.00  

  7 White, Mitchell              Unattached            J6-02.00  

  8 Lanier, Kevin                Unattached             6-00.00  

  9 Thornton, Bo                 Unattached            J6-00.00  

  9 Koon, Ricky                  Unattached            J6-00.00  

 -- Morrison, Danny              Unattached                  NH  

 -- Zelma, Wes                   Unattached                  NH  

 -- Lewis, Tyler                 Unattached                  NH  

 

Boys Pole Vault

================================================================

 MITS RECORD: $ 16-05  2002        Brad Gebauer, Tip of the Thumb              

    Name                    Year School                  Finals 

================================================================

  1 Lynch, Logan                 Unattached            15-06.00  

  2 Wesley, Joe                  Unattached            15-03.00  

  3 Latz, Joey                   Unattached            14-00.00  

  4 Burns, Greg                  Unattached           J14-00.00  

  5 Ray, Jacob                   Unattached            13-06.00  

  6 Yassay, Mike                 Unattached           J13-06.00  

  7 Santa, Ryan                  Unattached           J13-06.00  

  8 Monahan, Brad                Unattached           J13-06.00  

  9 Machisak, Chris              Unattached            13-00.00  

  9 Coleman, Dan                 Unattached            13-00.00  

  9 Utley, Will                  Unattached            13-00.00  

  9 Gibson, Mike                 Unattached            13-00.00  

  9 Fisher, Matt                 Unattached            13-00.00  

  9 Stearns, Jacob               Unattached            13-00.00  

  9 Gordeneer, Matt              Unattached            13-00.00  

  9 Jones, Spencer               Unattached            13-00.00  

 -- Walters, Josh                Unattached                  NH  

 -- Rancourt, Phil               Unattached                  NH  

 

Boys Long Jump

================================================================

 MITS RECORD: $ 23-09.50  1988        Marcel Richardson, Everett               

    Name                    Year School                  Finals 

================================================================

  1 Ferris, Tim                  Unattached            21-08.75  

  2 Haile, Serak                 Unattached            21-02.25  

  3 Koon, Ricky                  Unattached            21-01.50  

  4 Sutherland, Heath            Unattached            20-06.00  

  5 Garrett, Tory                Unattached            20-04.25  

  6 Babowsky, Mark               Unattached            20-04.00  

  7 Morrison, Danny              Unattached            20-02.25  

  8 Lanier, Kevin                Unattached            20-01.50  

  9 Rykse, Kirk                  Unattached            19-08.00  

 10 Ferguson, Gary               Unattached            19-05.75  

 11 Dykes, Martez                Unattached            18-09.50  

 

Boys Triple Jump

================================================================

 MITS RECORD: $ 44-07.50  2000        Gary Stanford, Motor City                

    Name                    Year School                  Finals 

================================================================

  1 White, Myles                 Unattached            40-07.75  

  2 Phillips, Charles            Unattached            40-07.00  

  3 Zhao, Eric                   Unattached            40-05.25  

  4 Malnar, Joshua               Unattached            39-09.00  

  5 Nicholson, Steven            Unattached            38-02.00  

  6 Smith, Marcus                Unattached            36-11.00  

  7 Morrison, Danny              Unattached            35-08.50  

  8 Andrews, Peter               Unattached            34-09.50  

  9 Evans, Matt                  Unattached            32-09.00  

 

Boys Shot Put

================================================================

 MITS RECORD: $ 60-09.50  1999        TJ Duckett, Animal Farm                  

    Name                    Year School                  Finals 

================================================================

  1 Kushion, Eric                Unattached            51-11.00  

  2 Yonker, Dan                  Unattached            51-05.00  

  3 Sawtelle, Darris             Unattached            51-02.00  

  4 Maloney, Jake                Unattached            51-01.00  

  5 Vunkocnig, Ben               Unattached            49-04.00  

  6 Freeman, Cam                 Unattached            48-11.00  

  7 Armstrong, Matt              Unattached            48-03.00  

  8 Helmuth, Vince               Unattached            47-04.00  

  9 Brewer, Lester               Unattached            46-06.00  

 10 Violes, Joe                  Unattached            45-04.00  

 11 Voris, Shaun                 Unattached            44-09.00  

 12 Early, Brian                 Unattached            42-05.00  


Girls 60 Meter Dash

===================================================================

 MITS RECORD: $  7.59  2001        Karla Marshall, Maximum Output              

    Name                    Year School                 Prelims  H#

===================================================================

Preliminaries

  1 Mahan, Shayla                Unattached              $ 7.56Q  5 

  2 Callaway, Keyria             Unattached                7.86Q  4 

  3 Mitchell, Bridget            Unattached                7.88Q  3 

  4 Howard, Brittany             Unattached                7.89Q  2 

  5 Long, Daisy                  Unattached                8.23Q  1 

  6 Harris, Jalicia              Unattached                8.07q  4 

  7 Jackson, Tiara               Unattached                8.09q  5 

  8 Squirewell, Courtney         Unattached                8.12q  4 

  9 Busby, Danielle              Unattached                8.23q  3 

 10 Pitts, Shavonna              Unattached                8.25q  3 

 11 Hawkins, Aja                 Unattached                8.34q  5 

 11 Ajegba, Brittany             Unattached                8.34q  2 

 13 Ward, Mikela                 Unattached                8.44q  1 

 13 Buchanan, Janica             Unattached                8.44q  4 

 13 Jackson, Teriana             Unattached                8.44q  5 

 16 Perow, Kelsey                Unattached                8.50q  1 

 17 Gallardo, Stephanie          Unattached                8.54   3 

 18 Donaldson, Ciara             Unattached                8.55   4 

 19 Etter, Samantha              Unattached                8.58   2 

 20 Thomas, Cashia               Unattached                8.59   5 

 21 O'Callighan, Stephanie       Unattached                8.60   3 

 22 Davis, Brittany              Unattached                8.72   1 

 23 Graham, Delia                Unattached                8.89   2 

 

Girls 60 Meter Dash

===================================================================

 MITS RECORD: $  7.59  2001        Karla Marshall, Maximum Output              

    Name                    Year School                   Semis  H#

===================================================================

Semi-Finals

  1 Mahan, Shayla                Unattached              $ 7.46Q  2 

  2 Callaway, Keyria             Unattached                7.77Q  1 

  3 Howard, Brittany             Unattached                7.84q  2 

  4 Mitchell, Bridget            Unattached                7.85q  1 

  5 Squirewell, Courtney         Unattached                8.03q  2 

  6 Jackson, Tiara               Unattached                8.13q  1 

  7 Harris, Jalicia              Unattached                8.17q  1 

  8 Pitts, Shavonna              Unattached                8.18q  1 

  9 Ajegba, Brittany             Unattached                8.19   1 

 10 Hawkins, Aja                 Unattached                8.21   2 

 11 Busby, Danielle              Unattached               J8.21   2 

 12 Buchanan, Janica             Unattached                8.30   2 

 13 Jackson, Teriana             Unattached                8.40   1 

 14 Perow, Kelsey                Unattached                8.48   2 

 15 Ward, Mikela                 Unattached                8.50   1 

 

Girls 60 Meter Dash

================================================================

 MITS RECORD: $  7.59  2001        Karla Marshall, Maximum Output              

    Name                    Year School                  Finals 

================================================================

Finals

  1 Mahan, Shayla                Unattached                7.35$ 

  2 Callaway, Keyria             Unattached                7.70  

  3 Howard, Brittany             Unattached                7.84  

  4 Mitchell, Bridget            Unattached                7.87  

  5 Squirewell, Courtney         Unattached                8.05  

  6 Jackson, Tiara               Unattached                8.16  

  7 Harris, Jalicia              Unattached                8.21  

  8 Pitts, Shavonna              Unattached                8.27  

 

Girls 200 Meter Dash

===================================================================

 MITS RECORD: $ 25.01  2005        Alexandria Sqruiel, Detroit P.A.L.          

    Name                    Year School                  Finals  H#

===================================================================

  1 Wright, Chanell              Unattached               25.57   5 

  2 Glass, Elise                 Unattached               26.00   5 

  3 Osborn, Aisha                Unattached               26.06   5 

  4 Byrne, Stephanie             Unattached               26.28   4 

  5 Jones, Brittany              Unattached               26.53   2 

  6 Rhoden, Darcy                Unattached               26.54   5 

  7 Beachum, Bethany             Unattached               26.63   3 

  8 Foster, Stephanie            Unattached               26.69   3 

  9 Willemson, Megan             Unattached               26.73   4 

 10 Madison, Paige               Unattached               26.77   4 

 11 Kreichelt, Emily             Unattached               26.82   4 

 12 Lowe, Tityona                Unattached               26.85   3 

 13 Lee, Rhonda                  Unattached               27.12   5 

 14 Dukes, Cara                  Unattached               27.17   5 

 15 Kucharski, Kelly             Unattached               27.33   3 

 16 Young, Tara                  Unattached               27.48   2 

 17 Bragg, Erin                  Unattached               27.69   2 

 18 Scott, Brianna               Unattached               27.93   2 

 19 Akeredolu, Tofunmi           Unattached               28.08   3 

 

Girls 400 Meter Run

===================================================================

 MITS RECORD: $ 56.22  2005        Jessica Jones, Maximum Output               

    Name                    Year School                  Finals  H#

===================================================================

  1 Humphrey, Erin               Unattached               56.58   6 

  2 Moore, Kiara                 Unattached               57.95   7 

  3 McGee, Dynasty               Unattached               58.56   7 

  4 Clark, Sydni                 Unattached               59.14   7 

  5 Tate, Sierra                 Unattached               59.36   7 

  6 Drayton, Katrina             Unattached               59.71   6 

  7 Harvin, Elizabeth            Unattached               59.75   5 

  8 Dillon, Erin                 Unattached             1:00.22   7 

  9 Smetana, Bryn                Unattached             1:00.38   6 

 10 McKnight, Lindsey            Unattached             1:01.68   4 

 11 Haygood, Clarisa             Unattached             1:02.06   5 

 12 Roberts, Amy                 Unattached             1:02.23   4 

 13 Daniels, Kelcie              Unattached             1:02.33   4 

 14 Golson, Marissa              Unattached             1:02.81   6 

 15 Reed, Mushea                 Unattached             1:03.00   3 

 16 Hill, Dana                   Unattached             1:03.01   6 

 17 Bendson, Ernanda             Unattached             1:03.39   7 

 18 Lee, Jessica                 Unattached             1:03.56   1 

 19 Jackson, Shannon             Unattached             1:03.97   3 

 20 Stone, Carly                 Unattached             1:04.11   1 

 21 Schaffer, Jen                Unattached             1:04.73   3 

 21 Holland, Mawkita             Unattached             1:04.73   3 

 23 Watkins, Vallerie            Unattached             1:05.11   4 

 24 Young, Lonisa                Unattached             1:05.76   5 

 25 Vankoevering, Kelly          Unattached             1:05.95   1 

 26 Smith, Stephanie             Unattached             1:07.01   5 

 

Girls 800 Meter Run

================================================================

 MITS RECORD: $ 2:08.77  2005        Gina Gall, Infinity                       

    Name                    Year School                  Finals 

================================================================

  1 Bannister, Amelia            Unattached             2:14.09  

  2 Morgan, Stephanie            Unattached             2:14.89  

  3 Fondren, Ramzee              Unattached             2:15.26  

  4 Webb, Natalie                Unattached             2:18.51  

  5 Myles, Tamila                Unattached             2:21.10  

  6 Arrowsmith, Lisa             Unattached             2:21.72  

  7 Lohner, Raeanne              Unattached             2:21.74  

  8 Farrow, Christina            Unattached             2:22.19  

  9 Sickman, Lisa                Unattached             2:24.35  

 10 Gakenheimer, Lindsey         Unattached             2:24.84  

 11 Alfredson, Katie             Unattached             2:27.40  

 12 Forstner, Kristin            Unattached             2:27.45  

 13 Brown, Domonique             Unattached             2:28.38  

 14 Hemstra, Rebecca             Unattached             2:28.46  

 15 Webb, Kelsey                 Unattached             2:29.28  

 16 Schork, Madelina             Unattached             2:29.77  

 17 Olison, Aija                 Unattached             2:30.01  

 18 Filek-Gibson, Dana           Unattached             2:30.35  

 19 Stebbins, Ashley             Unattached             2:31.04  

 20 Zaidieh, Camille             Unattached             2:31.21  

 21 Wilson, Lauren               Unattached             2:31.42  

 22 Hampton, Tressanique         Unattached             2:33.90  

 23 Carpenter, Grace             Unattached             2:35.18  

 24 Hsieh, Samantha              Unattached             2:35.33  

 25 Pinkston, ShaRiece           Unattached             2:35.78  

 26 Severson, Kelcie             Unattached             2:36.88  

 27 Cooley, Devon                Unattached             2:37.78  

 28 Minkler, Samantha            Unattached             2:39.76  

 29 Mayfield, Jane               Unattached             2:41.76  

 

Girls 1600 Meter Run

================================================================

 MITS RECORD: $ 4:56.91  2004        Lisa Senakiewich, All World               

    Name                    Year School                  Finals 

================================================================

  1 Glencer, Alexa               Unattached             5:08.76  

  2 Dixon, Brittany              Unattached             5:10.59  

  3 Burgess, Lori                Unattached             5:18.81  

  4 Leach, Jenna                 Unattached             5:19.21  

  5 Schultz, Sara                Unattached             5:20.70  

  6 Severin, Raechel             Unattached             5:21.17  

  7 Krych, Kelsey                Unattached             5:21.99  

  8 Winchester, Rebecca          Unattached             5:29.39  

  9 Steepe, Emma                 Unattached             5:29.72  

 10 Lindman, Janelle             Unattached             5:30.80  

 11 Sutton, Michele              Unattached             5:31.01  

 12 Schedlbauer, Andrea          Unattached             5:31.13  

 13 Ziel, Erica                  Unattached             5:31.96  

 14 Meyers, Kelsey               Unattached             5:33.35  

 15 Ross, Kendra                 Unattached             5:34.22  

 16 McFarlane, Rachel            Unattached             5:35.32  

 17 Smith, Kristin               Unattached             5:38.70  

 18 Cvengros, Erin               Unattached             5:39.10  

 19 Whittum, Shelby              Unattached             5:41.14  

 20 Smigeliski, Erin             Unattached             5:41.64  

 21 Hope, Erica                  Unattached             5:41.85  

 22 Franich, Francine            Unattached             5:43.28  

 23 Doan, Kayla                  Unattached             5:46.58  

 24 Kincaid, Tiffany             Unattached             5:46.82  

 25 Nosain, Cayla                Unattached             5:47.12  

 26 Wilson, Emily                Unattached             5:47.84  

 27 Gabl, Marion                 Unattached             5:51.53  

 28 Metzger, Lauren              Unattached             5:53.20  

 29 Freeland, Mindy              Unattached             5:54.81  

 30 Payne, Ashley                Unattached             5:58.99  

 31 Kuhta, Elle                  Unattached             5:59.15  

 32 Teague, Katelyn              Unattached             6:00.50  

 

Girls 3200 Meter Run

================================================================

 MITS RECORD: $ 10:33.7h  1997        Sharron Vantuyl, Mad Dog                 

    Name                    Year School                  Finals 

================================================================

  1 Lemcke, Kellee               Unattached            10:50.08  

  2 Zimmerman, ThereseAnn        Unattached            10:57.79  

  3 Armstrong, Jessica           Unattached            11:12.17  

  4 Smeltzer, Rebekah            Unattached            11:12.24  

  5 Freeland, Meggan             Unattached            11:19.60  

  6 Lafave, Erin                 Unattached            11:20.53  

  7 Langenberg, Emily            Unattached            11:30.06  

  8 Cieslak, Kylen               Unattached            11:38.19  

  9 Koster, Jessica              Unattached            11:42.46  

 10 Green, Grace                 Unattached            11:45.28  

 11 Palinkas, Melinda            Unattached            11:47.64  

 12 Dent, Adrian                 Unattached            11:48.14  

 13 VanWasshenova, Emily         Unattached            11:50.29  

 14 Brackins, Megan              Unattached            11:53.19  

 15 Litz, Caitlin                Unattached            11:58.33  

 16 Shibler, Chelsea             Unattached            11:59.03  

 17 Ford, Jasmine                Unattached            12:04.95  

 18 Klein, Alex                  Unattached            12:08.65  

 19 Mester, Holly                Unattached            12:08.94  

 20 Kolin, Amy                   Unattached            12:11.85  

 21 Carter, Megan                Unattached            12:12.21  

 22 LeForce, Chelsea             Unattached            12:13.01  

 23 Micheloni, Marcela           Unattached            12:17.47  

 24 Hoffman, Andrea              Unattached            12:19.19  

 25 Wilson, Kelly                Unattached            12:25.13  

 26 Pinkston, Shaniece           Unattached            12:33.03  

 27 Carpenter, Kelsey            Unattached            12:35.30  

 28 Vintevoghel, Alexandria      Unattached            12:38.18  

 29 Farrans, Kristie             Unattached            12:38.61  

 30 Meernik, Kaitlyn             Unattached            12:43.13  

 -- Murphy, Jenny                Unattached                  NT  

 

Girls 60 Meter Hurdles

===================================================================

 MITS RECORD: $  8.55  2003        Candice Davis, Ann Arbor Youth              

    Name                    Year School                 Prelims  H#

===================================================================

Preliminaries

  1 Buckley, Landria             Unattached                9.04Q  3 

  2 Clay, Raven                  Unattached                9.11Q  5 

  3 Uche, Chidimma               Unattached                9.12Q  6 

  4 Lemonious, Alexandria        Unattached                9.13Q  7 

  5 Hale, Lesley                 Unattached                9.38Q  1 

  6 Stanley, Crystal             Unattached                9.43Q  2 

  7 Winans, Kacy                 Unattached                9.51Q  4 

  7 Marable, Rajae               Unattached                9.51Q  4 

  9 McCauley, Aurielle           Unattached                9.43q  1 

 10 Morrison, Amy                Unattached                9.48q  5 

 11 Cross, Emily                 Unattached                9.70q  3 

 12 Hartley, Alexandria          Unattached                9.77q  1 

 13 Sisson, Allie                Unattached                9.81q  6 

 14 Esters, Mignon               Unattached                9.90q  6 

 15 Caldwell, Kyra               Unattached               10.01q  2 

 16 Obidike, Jaimie              Unattached               10.02q  5 

 17 sheahan, Tamara              Unattached               10.22   7 

 18 Wynn, Ashllie                Unattached               10.25   1 

 19 Foster, Carmen               Unattached               10.33   2 

 20 Gentille, Brittany           Unattached               10.38   3 

 21 Mets, Maria                  Unattached               10.44   5 

 22 McCreery, Laura              Unattached               10.50   3 

 23 Horn, Jess                   Unattached               10.52   4 

 24 Hamilton, Shamika            Unattached               10.55   4 

 24 Doyen, Merradith             Unattached               10.55   7 

 26 Robinson, Amanda             Unattached               10.58   5 

 27 Oshanski, Kari               Unattached               10.61   1 

 28 Vincent, Janelle             Unattached               10.63   3 

 29 Horn, Jen                    Unattached               10.64   2 

 30 Eldred, Dana                 Unattached               10.74   7 

 31 Napieralski, Chelsie         Unattached               10.76   5 

 32 Younglove, Katy              Unattached               10.85   2 

 32 Brooks, Darla                Unattached               10.85   6 

 34 Quinn, Emily                 Unattached               10.86   6 

 35 Taylor, Missi                Unattached               10.87   1 

 36 Horvath, Nikki               Unattached               10.91   2 

 37 Glover, Aneice               Unattached               11.11   1 

 38 Boyd, Kate                   Unattached               11.16   3 

 39 Groce, Melissa               Unattached               11.76   2 

 40 Lucas, Faith                 Unattached               13.24   6 

 

Girls 60 Meter Hurdles

===================================================================

 MITS RECORD: $  8.55  2003        Candice Davis, Ann Arbor Youth              

    Name                    Year School                   Semis  H#

===================================================================

Semi-Finals

  1 Buckley, Landria             Unattached                8.82Q  2 

  2 Marable, Rajae               Unattached                9.12Q  1 

  3 Lemonious, Alexandria        Unattached                9.03q  2 

  4 Clay, Raven                  Unattached                9.13q  1 

  5 Uche, Chidimma               Unattached                9.14q  1 

  6 Winans, Kacy                 Unattached                9.36q  2 

  7 Stanley, Crystal             Unattached                9.40q  1 

  8 McCauley, Aurielle           Unattached                9.47q  2 

  9 Cross, Emily                 Unattached                9.49   1 

 10 Morrison, Amy                Unattached                9.50   1 

 11 Esters, Mignon               Unattached                9.63   1 

 12 Caldwell, Kyra               Unattached                9.73   1 

 13 Hartley, Alexandria          Unattached                9.83   2 

 14 Sisson, Allie                Unattached                9.99   2 

 15 Obidike, Jaimie              Unattached               11.86   2 

 16 Hale, Lesley                 Unattached               15.53   2 

 

Girls 60 Meter Hurdles

================================================================

 MITS RECORD: $  8.55  2003        Candice Davis, Ann Arbor Youth              

    Name                    Year School                  Finals 

================================================================

Finals

  1 Buckley, Landria             Unattached                8.72  

  2 Lemonious, Alexandria        Unattached                8.83  

  3 Uche, Chidimma               Unattached                8.93  

  4 Clay, Raven                  Unattached                9.13  

  5 Stanley, Crystal             Unattached                9.30  

  6 Winans, Kacy                 Unattached                9.34  

  7 McCauley, Aurielle           Unattached                9.37  

  8 Marable, Rajae               Unattached                9.46  

 

Girls 4x200 Meter Relay

===================================================================

 MITS RECORD: $ 1:41.04  2003        Maximum Output                            

    School                                               Finals  H#

===================================================================

  1 Ann Arbor Youth  'A'                                1:43.32   3 

  2 Motor City Track Club  'A'                          1:44.06   3 

  3 Maximum Output  'A'                                 1:46.12   3 

  4 Michigan Accelerators  'A'                          1:46.22   3 

  5 Speed Zone  'A'                                     1:47.45   3 

  6 Ann Arbor Youth  'B'                                1:47.68   1 

  7 Team Green  'A'                                     1:49.23   3 

  8 Ann Arbor Youth  'C'                                1:50.66   1 

  9 Adrenaline Rush  'A'                                1:51.54   2 

 10 Team Michigan  'A'                                  1:51.81   2 

 11 Blue Streak  'A'                                    1:51.98   2 

 12 Michigan Ave. Track Club  'A'                       1:52.02   2 

 13 Spirit of Pre  'A'                                  1:53.07   1 

 14 Melon Heads  'A'                                    1:56.86   1 

 15 Herbs Runners  'A'                                  1:59.39   2 

 

Girls 4x400 Meter Relay

===================================================================

 MITS RECORD: $ 3:50.7h  1977        Motor City                                

    School                                               Finals  H#

===================================================================

  1 Maximum Output  'A'                                 3:56.14   3 

  2 Ann Arbor Youth  'A'                                3:56.74   3 

  3 Motor City Track Club  'A'                          4:02.37   3 

  4 Michigan Accelerators  'A'                          4:02.48   3 

  5 Jackson  'A'                                        4:11.19   3 

  6 Ann Arbor Youth  'B'                                4:14.60   1 

  7 Michigan Ave. Track Club  'A'                       4:17.31   1 

  8 Ann Arbor Youth  'C'                                4:17.79   1 

  9 Spirit of Pre  'A'                                  4:20.89   2 

 10 Bay Area Racing Club  'A'                           4:21.35   2 

 11 J Dubbs  'A'                                        4:21.89   2 

 12 Livonia  'A'                                        4:23.47   2 

 13 Adrenaline Rush  'A'                                4:27.21   1 

 14 Herbs Runners  'A'                                  4:32.81   1 

 15 North Kent Racing Club  'A'                         4:33.84   2 

 16 Elite Heat  'A'                                     4:48.52   2 

 

Girls 4x800 Meter Relay

================================================================

 MITS RECORD: $ 9:19.06  2000        North Kent                                

    School                                               Finals 

================================================================

  1 Running Gear  'A'                                   9:36.62  

  2 Livonia  'A'                                        9:37.84  

  3 Spirit of Pre  'A'                                  9:41.94  

  4 Jackson  'A'                                        9:46.48  

  5 Ann Arbor Youth  'A'                                9:53.07  

  6 Motor City Track Club  'A'                          9:54.21  

  7 Tortise & Hare  'A'                                 9:55.21  

  8 Herbs Runners  'A'                                 10:05.38  

  9 Ledges  'A'                                        10:09.50  

 10 North Kent Racing Club  'A'                        10:17.10  

 11 Lake Erie Striders  'A'                            10:17.62  

 12 Red Tide  'A'                                      10:27.86  

 13 Rotpac  'A'                                        10:28.01  

 14 Larc  'A'                                          10:34.55  

 15 Elite Feet  'A'                                    10:39.90  

 16 Michigan Ave. Track Club  'A'                      10:39.98  

 17 Liberty Striders  'A'                              10:54.99  

 18 Jackalopes  'A'                                    10:55.59  

 19 Polar Bear  'A'                                    11:07.36  

 

Girls Distance Medley

================================================================

 MITS RECORD: $ 12:18.58  2004        North Kent                               

    School                                               Finals 

================================================================

  1 Livonia  'A'                                       12:28.20  

  2 Spirit of Pre  'A'                                 12:35.68  

  3 Jackson  'A'                                       12:50.19  

  4 Red Tide  'A'                                      12:55.56  

  5 North Kent Racing Club  'A'                        13:06.51  

  6 Lake Erie Striders  'A'                            13:07.29  

  7 Running Gear  'A'                                  13:09.19  

  8 Breen  'A'                                         13:13.99  

  9 Fronline  'A'                                      13:21.95  

 10 Northern Michigan Flyers  'A'                      13:23.46  

 11 Ann Arbor Youth  'A'                               13:31.28  

 12 Rotpac  'A'                                        13:39.40  

 13 Pirates  'A'                                       13:56.80  

 14 Genesee Flyers  'A'                                13:57.97  

 15 Herbs Runners  'A'                                 14:01.40  

 16 Harriers  'A'                                      14:03.80  

 17 Melon Heads  'A'                                   14:04.96  

 18 Fowler  'A'                                        15:04.63  

 

Girls High Jump

================================================================

 MITS RECORD: $ 5-10.50  2003        Vanessa MAher, Detroit Cheetahs           

    Name                    Year School                  Finals 

================================================================

  1 Scholl, Erika                Unattached             5-06.00  

  2 Hunault, Ashley              Unattached             5-04.00  

  3 Cross, Emily                 Unattached            J5-04.00  

  4 Thorstad, Stephanie          Unattached            J5-04.00  

  5 Doyen, Megan                 Unattached             5-02.00  

  6 Lane, Jennifer               Unattached            J5-02.00  

  7 Jenkins, Brianna             Unattached            J5-02.00  

  8 Richardson, Shelleyse        Unattached            J5-02.00  

  8 Johnson, Tanisha             Unattached            J5-02.00  

  8 Hale, Lesley                 Unattached            J5-02.00  

 11 Akeredolu, Tofoami           Unattached            J5-02.00  

 12 Hintz, Kristine              Unattached             5-00.00  

 12 McKnight, Lindsey            Unattached             5-00.00  

 12 Lockhart, Brittany           Unattached             5-00.00  

 12 Matthewson, Shelly           Unattached             5-00.00  

 16 Diegel, Julia                Unattached             4-09.00  

 16 Salgot, Nicole               Unattached             4-09.00  

 16 Hahn, Stephanie              Unattached             4-09.00  

 16 Henry, Kamilah               Unattached             4-09.00  

 16 Pashnik, Chelsea             Unattached             4-09.00  

 16 Piorkawski, Kara             Unattached             4-09.00  

 16 Poitier, Jessica             Unattached             4-09.00  

 16 Esters, Mignon               Unattached             4-09.00  

 16 Brooks, Darla                Unattached             4-09.00  

 16 Ogg, Kim                     Unattached             4-09.00  

 -- Roberts, Ariel               Unattached                  NH  

 -- Ellison, Jennifer            Unattached                  NH  

 

Girls Pole Vault

================================================================

 MITS RECORD: $ 11-06  2005        Katie Shaw/Melissa Ullenbrush, GRTFC / Big D

    Name                    Year School                  Finals 

================================================================

  1 Schiffer, Carly              Unattached            11-06.00$ 

  2 Gager, Katlyn                Unattached            11-00.00  

  3 Kettlehut, Christi           Unattached           J11-00.00  

  4 Harmon, Shari                Unattached            10-06.00  

  4 Krupp, Lisa                  Unattached            10-06.00  

  6 Pilkerton, Rebecca           Unattached           J10-06.00  

  7 Morrison, Amy                Unattached            10-00.00  

  8 Hoesel, Kristen              Unattached           J10-00.00  

  9 Mckerchie, Emily             Unattached           J10-00.00  

 10 Wandug, Bailey               Unattached             9-06.00  

 11 Northway, Lauren             Unattached            J9-06.00  

 12 sheahan, Tamara              Unattached             9-00.00  

 13 Hankins, Val                 Unattached            J9-00.00  

 13 Wackernagel, Chelsea         Unattached            J9-00.00  

 -- Reidt, Emily                 Unattached                  NH  

 -- Brooks, Kelly                Unattached                  NH  

 -- Bowden, Ashley               Unattached                  NH  

 -- Ernst, Jessica               Unattached                  NH  

 -- Okeefe, Ann                  Unattached                  NH  

 -- Fassett, Stacey              Unattached                  NH  

 -- Shanahan, Abby               Unattached                  NH  

 -- Davison, Gretchen            Unattached                  NH  

 -- Demers, Jackie               Unattached                  NH  

 

Girls Long Jump

================================================================

 MITS RECORD: $ 19-06.50  1989        Trinette Johnson, Tech                   

    Name                    Year School                  Finals 

================================================================

  1 Howard, Brittany             Unattached            17-10.00  

  2 Hale, Lesley                 Unattached            17-06.75  

  3 McCauley, Aurielle           Unattached            17-00.75  

  4 Buchanan, Janica             Unattached            16-08.00  

  5 Guikema, Katie               Unattached            16-07.75  

  6 Hunault, Ashley              Unattached            16-07.50  

  7 Lemonious, Alexandria        Unattached            16-06.75  

  8 Foster, Carmen               Unattached            16-02.50  

  9 Glass, Elise                 Unattached            15-09.75  

 10 Lofgren, Allison             Unattached            15-05.75  

 10 Richardson, Shelleyse        Unattached            15-05.75  

 12 Fregene, Temi                Unattached            15-05.25  

 13 Bouvens, Megan               Unattached            15-01.25  

 14 Miller-Tolbert, Kim          Unattached            15-00.75  

 15 Akeredolu, Tofoami           Unattached            14-11.75  

 16 Bendson, Ernanda             Unattached            14-10.50  

 17 Kramer, Andrea               Unattached            14-08.75  

 18 Hall, Chelsey                Unattached            14-07.75  

 19 Madison, Paige               Unattached            14-07.50  

 20 Pashnik, Chelsea             Unattached            14-04.75  

 20 Vesey, Sharonda              Unattached            14-04.75  

 22 Donaldson, Ciara             Unattached            14-03.50  

 22 Byrne, Stephanie             Unattached            14-03.50  

 24 Valko, Katie                 Unattached            14-02.00  

 25 Stuart, Paige                Unattached            13-08.25  

 26 Polce, Meghan                Unattached            13-08.00  

 27 Smith, Stephanie             Unattached            13-05.25  

 28 Keys, Laura                  Unattached            13-03.25  

 29 Gentille, Brittany           Unattached            13-00.75  

 

Girls Triple Jump

================================================================

 MITS RECORD: $ 35-05  1998        Sherita Williams, Detroit Roadrunner        

    Name                    Year School                  Finals 

================================================================

  1 Johnson, Tanisha             Unattached            33-03.25  

  2 Stuart, Paige                Unattached            31-07.75  

  3 Hoesel, Kristen              Unattached            31-00.50  

  4 Hunault, Ashley              Unattached            29-08.75  

  5 McGhee, Summer               Unattached            28-03.50  

  6 Smith, Christina             Unattached            28-02.00  

  7 O'Connell, Kelly             Unattached            26-08.00  

  8 Fitz-Simmons, Erin           Unattached            25-04.75  

  9 Outten, Tara                 Unattached            24-11.25  

 

Girls Shot Put

=======================================================================

 MITS RECORD: $ 46-08  2000        Becky Breisch, Border Bandits               

    Name                    Year School                  Finals  Points

=======================================================================

  1 Lawrence, Ashley             Unattached            40-07.00  

  2 Angell, Mary                 Unattached            40-05.00  

  3 Hartley, Alexandria          Unattached           J40-05.00  

  4 Cooper, Irene                Unattached            39-11.00  

  5 Liske, Alison                Unattached            37-06.00  

  6 Bond, Sarah                  Unattached            36-10.00  

  7 Clifton, Jasmine             Unattached            36-00.00  

  8 Denison, Rachel              Unattached            33-09.00  

  9 Ames, Colleen                Unattached            33-07.00  

 10 Christensen, Katie           Unattached            32-08.00  

 11 Greer, Ashley                Unattached            32-03.00  

 12 Slosson, Cara                Unattached            32-02.00  

 13 McLeod, Mary                 Unattached            31-08.00  

 14 Walker, Judea                Unattached            31-05.00  

 15 Mann, Brittany               Unattached            30-08.00  

 16 Carlson, Stephanie           Unattached            30-07.00  

 17 Rutherford, Jessica          Unattached            30-01.00  

 18 Lindsey, Laura               Unattached            29-11.00  

 18 Schondelmayer, Dimi          Unattached            29-11.00  

 20 Williams, Jefonne            Unattached            29-10.00  

 21 Kelly, Alysha                Unattached            29-08.00  

 22 Engel, Heather               Unattached            29-01.00  

 23 Clay, Tanya                  Unattached            28-00.00