Clarkston ace Jenny Morgan wins Spartan Invitational at Michigan State University,
their first meet of the season, over Saline's Eileen Creutz.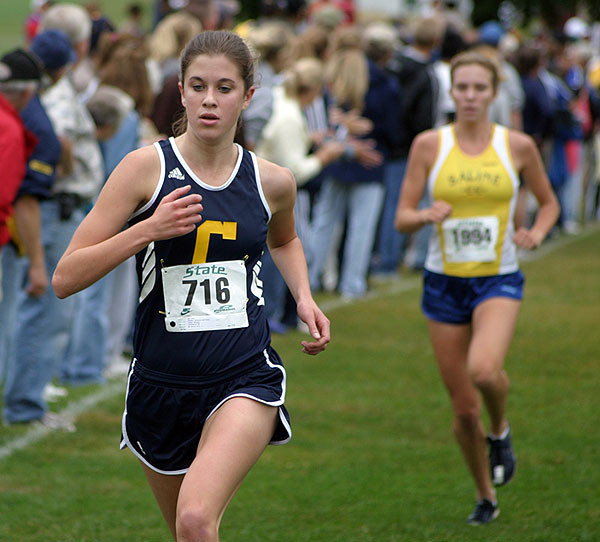 photo by Davey, RunMichigan.com
by Steve Underwood, Senior Editor
A four-day visit with the US#2/MW#1 Clarkston MI girls' cross-country squad, perhaps the team most glaringly stymied from participating in the inaugural Nike Team Nationals last year by state association restrictions, reveals that the best measure of their mental and emotional state comes not from any tirade about what happened last fall by the coach or athletes. Nor does it come in the form of any vow to fight the Michigan High School Athletic Association for the right to go to Portland this year.
Instead, it is revealed in moments like this: During a big dinner at the home of senior Lisa Sickman the night before the season-opening meet Friday, September 17, several team leaders are sitting around a table, laughing and sharing what the Lady Wolves are all about. At one point, a revelation comes to Jenny Morgan, who is not given to holding back her thoughts. She shakes her head in wonderment. "Now that we're getting interviewed, I'm like, 'Gosh, I love you guys!"
There is no silliness or embarrassment. The epiphany says what most needs to be said about Head Coach Jamie LaBrosse's team. After being nearly torn apart last October and November by contrasting viewpoints regarding running NTN and what it would do to team members' eligibility after the MHSAA issued its decree, as well as a state meet debacle that bruised their bodies and souls, the girls have regrouped. The focus this season is on what they can control: their caring for and unity with their hardscrabble coach and each other.
new goals
That's not to say there are not competitive goals. LaBrosse and the Lady Wolves want not just to complete another undefeated season, but also to thoroughly dominate the state harrier landscape. After six of them fell at the start of the state meet last year, they want to put up a point total November 5 at MIS that has been unmatched by anyone in state history, except perhaps the vintage Rockford teams of early this decade.
And top runner Jenny Morgan is on a mission to show she is not the runner who was 18th at state last fall, but rather the one who is a serious Foot Locker championship contender, who swept three individual and relay D-1 track titles last spring, and who later ran the fastest 2-mile ever (10:24) by a Michigan runner.
no more battles with MHSAA
However, look for a story on a battle with the MHSAA, and you will find a Clarkston team that's finished fighting that one. Been there, done that. If that governing body amazes everyone by changing its stance, great, the girls would likely run the 2005 NTN if they maintain their high rank.
But look for the Lady Wolves anywhere outside of Michigan this fall, as a team, and you'll likely be disappointed, too. Because unless a massive swell of support comes from the association's statewide membership to change MHSAA Rule 1, Section 13, this will be the best team 98 percent of the country will never see.
So this season for Clarkston, and every other in the foreseeable future, has to be all about continuing to win and building their young, but already massive legacy of championships, as well as getting ready for college and creating future leaders. It's about their support for each other, and that which they get from their parents, administration, and community. It's about a growing dynasty that could not have been more unlikely six years ago.
seeds of a dynasty were planted in Canada
But back then, Jamie LaBrosse was not the Lady Wolves head coach. And this is his creation.
You have to begin with this 32-year-old from Kitchener, Ontario, who could easily pass for one of the girls' older brothers, or the scraggly college runner he used to be, and who admits to a cocky swagger but isn't afraid to say to one of the girls' moms, if he's happened to upset her daughter, "I screwed up, didn't I?"
After a college running career at Central Michigan that never really took off, he wanted to stay in the sport. "I always assumed I would coach boys," he says. "I didn't have a clue about girls. But they've probably taught me more than I've taught them. Now I wouldn't trade it for anything. I would never give up coaching girls now."
Talk about unlikelihoods – there was a time in LaBrosse's life when it was a miracle he was in any school at all. But here he is in his 6th year as head coach, walking down the hallway at this huge, handsome and high-tech fortress of an institution (1,800 students in 10th-12th grades) in his Clarkston CC t-shirt and jeans. "I've gotten used to it now," he said. "But yeah, at first it was something else."
practice starts in the school hallway
What the uninitiated sees as practice begins on this Wednesday, two days before that September 17 MSU Spartan Invitational season-opener, is sort of a mix of the normal and the quite-impressive. The 26 athletes wait for and meet with their coach sitting in a hallway outside the locker rooms that could be anywhere. But then, with a recovery day at hand, the team splits up and you are introduced to the school's beautiful pool with a section that seems tailor-made for the water-running workouts – a LaBrosse staple – that several of them will do.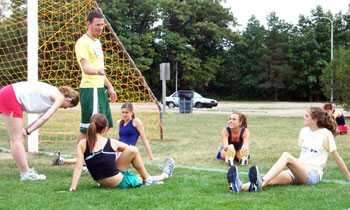 The rest hit the track for a mile warmup that will precede a day of modest mileage and you notice the synthetic surface of the oval and (on second look) the state-of-the-art artificial turf of the football field it surrounds. The team will re-congregate later for stretching, drills, and weights. The previous day, they did "The Viren," named for the Finnish Olympic distance legend, a mixture of tough hill runs and mile repeats. It will be the last hard workout before the meet.
Throughout the afternoon, as you get the grand tour, LaBrosse isn't shy about talking about his team's accomplishments and potential for 2005. He is clearly proud of what the program has grown to. "We're really healthy right now," he says. "I don't have one girl I have to sit out … and the freshmen are really coming on strong."
Big boards with school track and CC records, and an all-time CC top ten times, adorn a large section of wall above the indoor track that circles above the gym. With all due respect to those who preceded his reign, LaBrosse wants the board filled with his athletes. He's almost there.
The community, school, and its administration seem to have embraced Clarkston girls cross-country. When you meet Dan Fife, the athletic director and one of the deans of Michigan basketball coaches, he says with a laugh, "Jamie's taken us from the outhouse to the penthouse."
No one is knocking the previous coach, Debbie Zonca, who herself had coached state championship teams at Troy Athens earlier in her career. But in her last year as head coach, and LaBrosse's second as an assistant, 1999, the team was last in the Oakland Activities Association conference. The team missed state by a point LaBrosse took the reins in 2000. Since then, they have finished sixth, second, first and first in the D-1 race.
When the land and pool running is complete, the team does a variety of drills up and down the rubberized floor of the wrestling room. LaBrosse, talking with one athlete, gets in the way and takes an elbow from another. He staggers and groans in mock pain. "That's gonna leave a bruise," he says. "I just got hit with a broomstick." The room is filled with laughter and the owner of the elbows, Stephanie Morgan, responds by saying that, well, he was in the way.
Later he tells assistant coach Marley Brown, an early grad of LaBrosse's program, not to sit on the stuffed wrestling dummy that was sitting in the front of the room. "That's (so and so's) homecoming date," he quips.
It's apparent that LaBrosse enjoys cutting up with the team, but it soon also becomes apparent that he has an uncanny ability to adjust, chameleon-like, to whatever is needed at the time.
"I think it's just knowing what to be at the right moment," Jenny Morgan will say later. "He's a complete jokester sometimes, but at the right times. And he's completely professional other times."
school and community support Lady Wolves
A second day at Clarkston and some conversations with administrators reveals some of the support that LaBrosse and the Lady Wolves have fostered.
Assistant Principal Gary Kaul, whose uncle once coached the sport, has a good sense of what's going on. "Cross-country's always been a sport where the kids get along well," he says. "We've experienced success, but nothing like what we've had since Jamie's been here. He brings to it such a passion and all of the kids feed off that. I think they'd run through a brick wall for him."
Kaul has grown up in the community and is especially proud of those who he's seen blossom. "He's developed a lot of home-grown talent. He really did it with kids who were 7th- and 8th-grade track runners. He instilled the virtue of hard work.
"From an administrative standpoint, it brings a lot of notoriety and recognition to the school," he continues. "We have some great scholar-athletes and we really get to showcase how great these kids are. Jamie has made this sport so popular here.
"Even if they can't compete at nationals, they know they know in their hearts that they're number two or number one."
LaBrosse, Kaul says, has truly developed a program, like that seen in other sports. With Coach Fife's basketball program, for example, coaches below the high school level run the same offense so that it will be ingrained in the athletes when they hit the varsity. "It's pretty much the same with Jamie."
Fife, as it happens, is amazed by the dizzying speed by which LaBrosse has built the program. "He went from point A to point B just like that," he says, snapping his fingers. "It just seemed so quick. I don't know if everyone really realizes what they've done.
"You could never pay him for the time he puts in," he continues. "It's amazing. I don't know what kind of words to describe it. With a lot of schools, success is cyclical, but he's done this for five years."
Fife gives a lot of credit to the seniors who departed last year – Liz Mengyan, Anne Oltman, Gillian Nordquist, and Mo Kuhta – for establishing the success level of the program, and had a fresh idea about what that success means. "The group that graduated last year, they're the ones who bought into everything as freshmen," he says. "In the end, everything worked out for them; they'll be runners for the rest of their lives. These kids work hard all year long. You could even say it's brought financial success, in terms of kids getting scholarships, that we've never had before."
The team seems to have support from everywhere. Besides the administration and parents, there's a booster club headed up by Keith Clement. There's Mr. Doyle, a city groundskeeper who takes special care to groom the team's invitational course and do all sorts of other things for them. There's Jamie Rykse.
"We didn't have a middle school program," LaBrosse says. "I put one together almost overnight. We needed to have a feeder program. The first few years I'd kind of oversee it, but now I don't really have anything to do with it at all. Jamie is great. I get freshmen from him every year."
One thing the school doesn't have, which is odd to some, is a shared program with the Clarkston boys team. The Wolves, now coached by Mike Taylor, have had standouts over the years from Gordon Sanders in the 1970s to Dave Sage just a few years ago, as well as some team success (though not on the same scale). But the programs were growing apart before LaBrosse came, and they continued to do so. "We just do things differently," LaBrosse says.
practicing starts to avoid last year's state meet disaster
The day's pre-meet practice has the Lady Wolves running over to a nearby park for stretching, strides, and a little psychology. At the end, while the rest of the team is running back to the school, the top seven are held back. "We're going to practice our start," Coach LaBrosse says.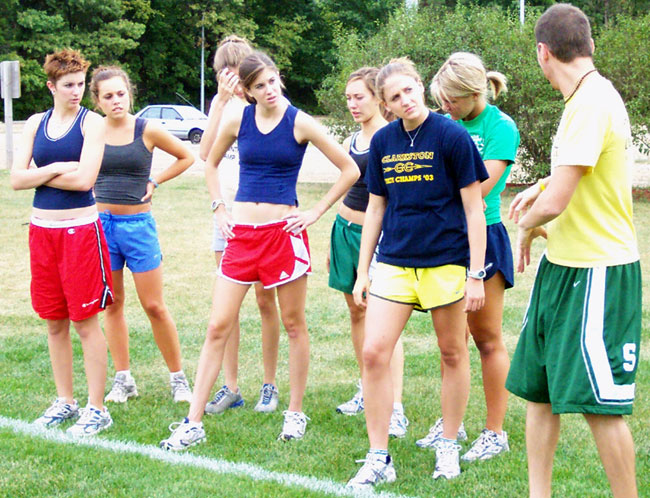 No, the Lady Wolves have not been suddenly transformed into a bunch of sprinters. But they have not collectively toed the line for a cross-country race since last November's state meet near-disaster, where six of the seven girls fell in the first 200 meters. Three of those six graduated, but Morgan, Jenna Leach, and Beth Hoekstra remain and, well, there's obviously no other teams around, but can it hurt to do a couple runs anyway? LaBrosse, who leaves no stone unturned, even gives the girls instructions on how he wants them to line up in their box. As it will turn out, they will be in an end box the next day and get off smoothly.
Later that evening, at the team dinner, Jenna Leach, whose positive energy and laughter constantly lights things up, remembers that bright November day. "The gun went off and I felt pretty good, then all of the sudden, Gillian (Nordquist) fell over, and I was like, 'is this happening?!?' It felt so unreal. I didn't think it was actually happening. I fell down and I was like, 'Oh gosh, this is the state meet! We fell! We have to get up and go! It felt like a dream, almost."
"I caught back up at the mile, all the way up from last," adds Jenny Morgan. "We were under 5:30 and I was spent. It kind of says what a good teammate Liz (Mengyan) was. She pulled up next to me and said, 'Are you ok?' and was talking to me for a little while. I was like, 'I'm hurting real bad.' And she was just staying with me and the leaders were kind of breaking away a little bit. I had to yell at her, 'Go! Go!' and she wouldn't leave my side. But she finally went."
Amazingly, Liz had her own tragedy as well, getting into the lead, but then, confused, stopping at the 3-mile point thinking it was the finish. By the time her mistake was realized and she started running again, she had been passed by two others.
So Liz was 3rd in 18:17, with Jenny falling back to 24th (19:00). The rest finish between 19:30 and 20:20 and they win the team title decisively, with 132 points to Traverse City Central's 172. But the girls are bruised, bloodied and dazed when the cross the line and have to be coerced into smiling later when presented with the team title. It does not feel like a win should feel like.
"It was not what we planned," LaBrosse had said earlier. "It was nice to overcome adversity. But even though we won, it left a bad taste in our mouths."
pasta dinner - the team talks about the team
The team dinner is excellent chance to get to know the kids better, as well as giving the strong impression that the team and their families have mastered Healthy Runners' Nutrition 101. With several parents contributing to the spread, seemingly everyone has a hearty plate of pasta (most with meat), fruit, and salad. LaBrosse later says he has had nutritionists talk to the team and that he has not had any major eating disorder issues in his tenure. The girls seem to know that it takes the right fuel to win.
Unfortunately, senior Beth Hoekstra has to leave early due to academic obligations, but as the feast winds down, a table filled with the other varsity members and a few key JV upperclassmen provides the perfect opportunity for the girls to show they are as collectively eloquent as they are fast. They quickly seem to forget about the tape recorder in the middle of the table.
While each of the seniors has her own special leadership qualities, the girls' hearts seem particularly connected to Lisa Sickman, the senior who has labored as 8th runner for the past two years and appears ready for breakout performances. "This is her time," is the buzz around the team. Not quite as outgoing as the others, she hesitates at first when asked about what it is that makes the Lady Wolves so good, but then gets right in the groove. "Since we have so many good runners on the team, and our team goes so deep, it's so competitive and everyone has to work," she says. "You can't take a day off. You can't slack off, because then someone behind you is just going to come and take your spot.
"Second of all, we all have respect for each other and we all help each other and push each other through the workouts," she continues. "We either succeed or fail as a team. We're all with each other every step of the way."
Without prompting, she quickly adds what LaBrosse has done. "Coach is obviously a great coach, but it's not just the coaching. We all respect him as a coach and know he knows what he's doing, and we all want his respect as runners.
"And he makes it so much fun."
At that, everyone laughs and starts talking at once, as if their favorite Coach story is on the tips of each of their tongues. Jenna: "I don't know what it is that he does … we're out on long runs and he's like, 'I'm going to head back,' … and then he's hiding in the bushes and pops out and scares us."
Gales of laughter.
"You don't even want to hear some of the stories," says Jenny forebodingly.
More Jenna: "I don't know how to explain it. I've had soccer coaches and basketball coaches, but I've never been this close to a coach. I never thought I could just go up to a coach and just talk about my day … anything. He just totally changed the definition of a coach for me."
But it's not just the fun, it's the inspiration, too, and … it's still apparently hard to quantify. More Jenna: "At that (Viren) workout the other day, we had another repeat to go and we were wondering if we can do this … I don't know, the words and how he puts them together, he really got me fired up. We wound up running awesome and we just needed that."
Says Lisa: "You want him to respect you, he's like, 'You can run this time, but if you want to, run harder.' It's like a trigger in your head and you want to run harder."
"But it's not a stress and a burden," Jenna adds. "It's like, 'I'm going to run my hardest, but if I feel good, I'm going to go.'"
And it's not just the elite varsity runners that get attention from their coach. Says Kara Bogard, a senior who has spent most of her career on JV. "He takes care of each individual's needs. He always knows what's going on with everyone."
Freshman Angela Haight is asked if it's hard being one of the JV masses behind the varsity elite. "No, I love being part of a good team," she says. Eventually, I'll get there."
"They should feel that way," replies Jenny. "Coach has taught them to think that way. We know they can do it."
last year's four seniors are still role models
For role models, this year's upperclassmen could hardly have had better than the four 2005 graduates: Liz Mengyan, Anne Oltman, Gillian Nordquist, and Mo Kuhta. Bring them up and, again, everyone has something to say.
"Our seniors last year did such a great job," says Lisa. "They were always talking to us, seeing how we felt, encouraging us in our races and making sure we didn't do anything to jeopardize our running. When we did something stupid, they'd let us know, but at the same time, they were always supportive of us and positive. They were the first team, and it's hard to live up to them."
"They were the starters of the program," clarifies Elle Kuhta.
"They were just always there, day in and day out, like our moms, our best friends," adds Jenny. And from earlier: "We had wonderful seniors. It was really hard to let them go. They were the heart and soul of the team. We talk about them and call them all the time. We get to live by their examples."
Says Jenna: "I miss them. I used to run in the pack with Anne and Gillian … I've really only ran with them (as primary training/racing partners) my whole career. They were like sisters, especially in the summer, because we'd see each other every day. And then we'd call each other every weekend, like, 'Hey, do you want to go hang out?'"
teammates are friends too
Then there is more laughter, this time as if the proverbial cat is out of the bag. It comes to light that with these girls, there are friends, and there are teammates. And friends are what you fall back on if, by some bizarre turn of events, a teammate can't be found to hang out with.
"You wouldn't believe it, the way we hang out," Jenny says above the din. Earlier, she had talked about how well the girls accepted her the previous summer when she moved to Clarkston, and that it felt like she had been here for years. "I would ditch my friends any time for these guys. We really like each other."
She says this as if it's something strange, that other people just don't quite get. And, again, there's stories. "You do not want to know stories!" she laughs.
"We even wonder if other teams get along like we get along," says Kara. "We'll be at meets and say, 'I wonder if they hang out with each other just as much as we do?'"
More laughter.
Suddenly, there's 9th-grader Stephanie Morgan, who's been quiet all this time, from the far side of the table: "My friends are like, "You hang out with high-schoolers?" she deadpans. "I'm like, 'Yeah.'"
Now the girls are falling off their chairs, because they know "Steffie," whom they say is really more like a sophomore now with her experience running with her teammates in the relays at Nike Outdoor as an 8th-grader last spring, is sequestered in the 8th/9th-grade building, where she's like, well, a bit of a young woman among children. Steffie carries well the Morgan family height gene and some of her friends, apparently, don't quite measure up.
"That one girl you were with was up to your waist," one teammates howls.
"But that was the shortest one, okay?" Steffie responds. Indeed, the youngest Morgan may be a freshman, but she is getting up to speed, figuratively and literally, very quickly.
the NTN dream is squashed -
"it was so difficult . . . I felt like I was tricked out of it"
Finally, the discussion turns to last fall's debacle with the MHSAA in their hopes to go to NTN and the mood turns a little more somber.
We don't even talk about it any more," says Elle. :"It's like getting your hopes up … it caused so many problems."
For one who had thought the team didn't deal with this until the weeks before the state meet, it is surprising to find out that the team had first begun getting pumped up for NTN very early in the season … the track season. It was March of 2004, they say, when Coach LaBrosse first learned of the new meet and began to inspire his charges, which he knew would be strong that fall, to consider it an ultimate goal. And this was even before the Morgans moved into the district.
"Our entire cross-country season was based around it," says Lisa. "It was like 'If we win this meet, we'll be invited.' The whole time, we were like, "Gotta get there, gotta get excited. Every race we thought about it."
The girls explain that the MHSAA told them during the fall that there was an existing rule against teams from member schools (almost all of the schools in Michigan) competing in national championships. It didn't matter if individuals were already allowed to go to meets like Foot Locker, Nike Indoor, or Nike Outdoor, because that was individual. It didn't matter if you went as a club, because the berth would have been attained by the school team's performance. If the team decided to go anyway, even as a club, there would be loss-of-eligibility consequences that might filter down into the following spring's track season or the next cross-country season. But the seniors of Class of 2005 would never have had such a chance again.
"It seemed like a real cool meet," says Lyndsay Smith, a junior then. "It went back and forth … it was real difficult."
Says Jenna, "I thought it would be a great opportunity and it sounded really neat. It was hard, though, because we knew if we lost eligibility … we had a possibility of winning state this year, too, and if we ran and lost eligibility, we wouldn't be able to win state, it wouldn't be fair to Lisa and Elle (who weren't on varsity in 2004). It was cut down the middle; no matter how many times we did pros and cons, it was so difficult."
"Losing our eligibility was like a last resort," says Jenny. "We had talked about it all season long last year and we were so excited. So it was kind of a big letdown."
I felt like I was tricked out of it," says Jenna, finally. "We had our hopes up for going, then all of the sudden, 'no.'"
a roller coaster for the parents too - "to look at their faces every day was awful"
After the kids scatter, some of the parents remain, also reflecting on the previous fall, an emotional roller coaster for them as much as the team. Naturally, they wanted their kids to be able to have this experience of a high school runner's lifetime.
"Personally, I support what NTN is doing," says Susan Morgan, Jenny and Stephanie's mom. "It's a great thing. It fuels the appetites of the kids on a high level."
In fact, she would like to see Nike dig even deeper to reach the kids. "If you look at the history of the sport," she says, remembering her days growing up a runner in New York, "there were so many track clubs going, we had hundreds of kids in clubs. Soccer drew them away. I'd like to see Nike work with (still existing) youth clubs and elementary schools, and cultivate interest at a younger age."
Mrs. Sickman remembers the dark days of indecision. "We couldn't even go as a club, because we earned the ranking as high school team," she groans. "It was tough. Ultimately, coach really left it up to the kids.
"The girls resolved the issue with themselves. They said, 'We're not going. It's not worth it.' To look at their faces every day was awful."
The parents are glad to see the positive atmosphere revived into this season. "There's so much camaraderie and deep friendships on this team," says Mrs. Morgan. They have such a good energy amongst them. And Coach really has the gift of motivation. He makes it fun. He's really had to figure out how every girl ticks and he's grown as a coach."
"He runs with the girls, shows them how to do it, and he gives them individualized training when they need it," says Mrs. Sickman. "He has really gained their respect."
the long debate with MHSAA -
"we were looking for a compromise, but they wouldn't budge"
Race day comes and, traveling to and from the meet with Coach LaBrosse, opportunities are afforded to talk about anything and everything. The previous fall's difficulties are brought up and he confirms NTN was something the team began aspiring to even before the cross season started. "I told them, 'This is our goal now. We're going to this thing,'" he says. The MHSAA was written early in the fall when the team's preseason ranking made it clear that an invitation was a strong possibility. Then the long process of debate began.
"We were looking for a compromise, but they wouldn't budge," he recalls. "At one point, we were wondering if we should just go anyway … just run, then deal with the consequences. It was a tough decision, but the girls (still on the team after that season) would have lost eligibility.
"It went back and forth. It was getting to the point where we were losing sleep over it. But it was a team decision in the end. We got through it and it's over with. There are no hard feelings."
The girls, he says with finality, "live and die by the team. They run for their teammates."
That LaBrosse eventually left it in the girls' hands, and didn't clash with his boss, said as much about his desire to maximize things he can control as it does his respect for Coach Fife and his team. "This team is like my family," he'll say later.
And like his team, LaBrosse is not too interested in a repeat of the MHSAA battle this fall.
"I don't know what else to do that we didn't already do," he says. "I don't want to be the one to fight the battle. I don't think it's worth it.
"It was frustrating, though, because we were looking for a bigger prize. I don't know if we could have beaten Saratoga (the NTN national champion) last year, but I think we could have been second. This year, I think we could race them."
Despite his aspirations of those first giddy days of possibility, LaBrosse says the number one goal is always to win state. "Everything else is secondary. If you don't win state, NTN is probably not an option anyway."
state association stands firm
And it's probably good no one has their hopes up again, because it appears there's no chance of anything changing this fall, anyway. The MHSAA rule in question is Rule 1, Section 13, said assistant director Mark Uyl in a conversation some days later. It was he, along with fellow assistant Nate Hampton, that dealt with the Clarkston situation last fall. The rule states that "Students shall not compete in any sport, under MHSAA jurisdiction, in an All-Star contest or national championship regardless of the method of selection. Participation in such a contest shall cause that student to become ineligible for a maximum period of one year of school enrollment."
However, there is another rule that states, "After practicing or participating with a high school team, student-athletes cannot participate on non-school teams in that sport during that season. Student-athletes in individual sports may participate in a maximum of two non-school individual meets or individual contests."
That latter rule opens the door for events such as Foot Locker and Nike Outdoor. The MHSAA doesn't sanction indoor track at all, so Nike Indoor for individuals or club relay teams is also open.
"This rule far pre-dates me, and I've been here eight years," said Uyl. "We believe the pinnacle for competing schools should be the state championship. And that goes along with our philosophy of educational athletics."
Regarding some of the Clarkston confusion over exactly what would happen to students eligibility-wise and for how long, if they violated that rule, he would not say exactly, but rather it would depend on circumstances and decisions. "It's a hypothetical question."
The "method of selection" part of the first rule was the knife into the Lady Wolves' hopes for going as a club: They had attained their ranking as a school team, therefore they would still be penalized for competing. "You can call a hamburger a piece of pizza, but it's still a hamburger," Uyl said.
Generally speaking, he continued, individual states across the country have been adamant in opposition to national championships in high school sports. The fact that more than 40 states are allowing the clubs made up of school athletes to compete at NTN would not have an impact on Michigan's policies.
What would be the harm in following suit with other states in this instance?
"The harm is in the teams traveling across the country and missing days of school," Uyl said. "And, he added, families would start expecting trips to national competitions to become a part of school districts' budgets, during a time when most districts are slashing budgets.
"It appears that there's very little support from our membership for a change," he said, in sum For there to be a change in such a rule, he said, there would have to be a request in writing to the representative council and a "series of meetings, statewide discussion, and widespread approval."
Friday - Spartan Invitational - first meet of the season
Mild temperatures, a light rain that never gets too bad, and a damp, but not swampy golf course greet the runners at the Spartan Invitational. All focus is on the first meet of the year for this team. Speaking earlier, Jenny had talked about how nice it was to have everyone back together again (regarding Jenna and Elle's injury problems) and that "we're really excited as a team. We have a target on our backs and we welcome it. We don't mind people wanting to beat Clarkston. We say come on and try and beat us."
She also spoke of senior leadership. "It's extremely important. We have so many leaders … Lyndsay, Lisa, Beth ... those girls lead by example. We're going to work our butts off, and the freshmen see that. We work hard, set goals and attain them. We're proud of the Clarkston tradition and want to keep that going."
Her personal goals are not far from her mind, either. "I have some loose ends I want to tie up this year, I'd say."
"She's on a mission," says LaBrosse. "She's got a little mean streak. I wouldn't dare anyone to go with her."
The coach admits concern about Rockford at this meet, which had some impressive earlier showings. But a threat from the Lady Rams would never materialize. The Clarkston contingent doesn't realize until after the fact that their No. 1, Rachel Wittum, was injured and didn't run.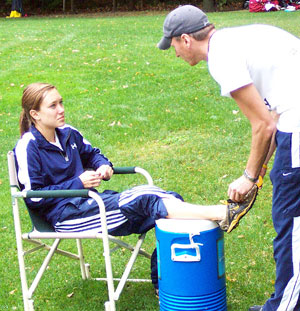 The serious LaBrosse comes to full flower as the team prepares for the race. Belying the occasionally goofy persona is someone with a highly structured pre-race ritual of running and stretching. During both that stretching and a ritualistic taping of the spikes in special Clarkston gold-colored tape, he quietly gives each girls a minute or two of individual instruction, inspiration, or whatever he feels they need. There are no bored looks on the girls faces. They focus in on his every word and leave the short meeting as if they've been entrusted with a world-saving mission. The respect is definitely there.
And most of the girls do indeed have unique expectations on them. Jenny is a solid favorite in Coach's mind, but given her adjustment period to some new orthotics and having had her summer training tempered by modest injury, he wants her to hold something back, then make a move before halfway. Though rapt with potential, Stephanie is expected run conservatively in her first 5k race and to stay with Lyndsay in the lead pack.
Jenna, on the other hand, is running her first race, period, since last fall's state meet, having missed track with injury. Elle, a junior, ran an 11:17 2-mile as a freshman and has struggled with injury since. LaBrosse has certain splits he wants her to hit the first two miles. "Even if you have to walk the last mile," he says. This is a test for both of them.
Coach figures that Lisa, the "it's your time" girl, is ready to smash her PR of 20:01, and Beth is expected to be solidly in the mix with Lisa and Jenna.
Before the start, the girls get another LaBrosse staple: "No long faces." Once the pained, frowning look gets on a runner's face, he explains, they're done. "You know it's over at that point. They're hanging on, not racing." Broad smiles aren't necessary, but keeping oneself up psychologically from start to finish is.
Minutes after his seventh girl is in, LaBrosse is assessing the results, his team having won by 40. His reviews are mixed. For his first five, everything goes to plan. Jenny takes a small, but decisive lead after the mile and is never challenged, winning by seven seconds over defending D-1 champ Eileen Creutz of Saline in 18:13.
Stephanie feels her way through the lead pack with Lyndsay, then moves up and is just edged for third. Her outstanding debut of 18:29 is everything that could have been hoped for. Lyndsay's finish of 18:46 in 9th is also very pleasing to both her and LaBrosse. It's within a few seconds of her PR and easily the best she'd ever started a season.
Lisa, with clear effort and resolve, crosses in 19:26, 27th place, indeed smashing that PR. She has ascended to a new level. Jenna follows in a solid 20:07 in 52nd, a good start with room for improvement.
But his final two, Beth and Elle, do not finish where he planned, with the former 61st in 20:16 and the latter 152nd in 21:58. He has great concern about that, and is not shy about expressing it to the media and some of the parents, though he will choose different words for the girls. He had admitted earlier that he has, not intentionally, said things that have brought most of his girls to tears at one time or another. "But we don't hold grudges."
Still, the competitive, no-nonsense LaBrosse is clearly in full force. He makes strong mention of the freshmen, specifically Kristin Smith, who he feels may be soon ready to take a varsity spot.
Smith, who was taken here with some other freshmen to get a feel for the varsity preparation and experience, will be running at Holly the next day. LaBrosse is entering her and six others, his 'B' team, in the D-1 varsity race. It will be one of several times during a season when he will give his not-yet-elite runners a chance to shine, whether it be a situation like this, or subbing them in for a varsity member in a race he feels he has a cushion in. "I try and throw them bones whenever I can."
Clarkston wins the Spartan Invitational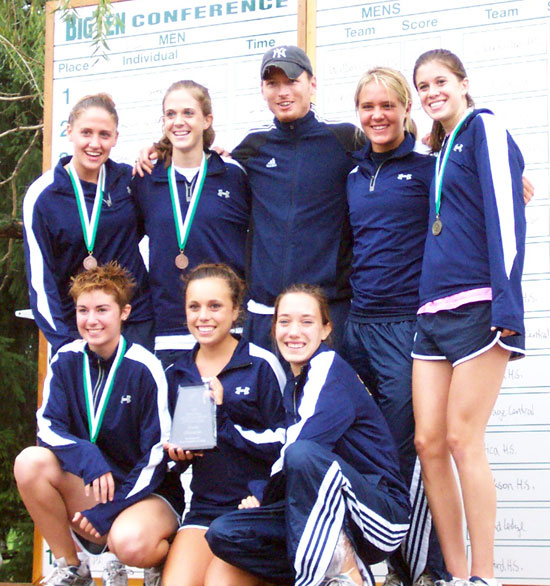 The End … and Beginning?
If Clarkston never has a chance to compete at NTN, then the coach and his Lady Wolves may have no other choice than to keep taking it out on Michigan opponents. And know this about LaBrosse: Above all else, he wants to win, no matter what the magnitude of the meet. "I don't like second-place trophies," he says.
He takes pride in the fact, for example, that Jenna, a third year varsity runner as a junior, could have a chance to never be on a losing team for her whole career … that is, if Clarkston can go unbeaten in Michigan this year and the next. He really thinks about things like that.
But that's maybe what separates him from some other coaches. Even many of the best ones are more focused on runners' improvement, with winning as a by-product, or may tank a race here or there to rest key runners. LaBrosse's mentality, at least as far as wins and losses go, is on a par with any great football or basketball coach.
On the other hand, the coach never misses a chance to build up a runner for an excellent performance, no matter how far down on the JV they might be. "I love seeing kids overachieve and persevere." The best of both worlds.
LaBrosse no doubt seeks to impart his attitude on his charges, and he has, but at times even he has been surprised by what he has wrought. Back on the first day of this visit, on the school tour, he had pointed out a trio of framed, glass-covered plaque-like prints on the wall in an athletic office. Actually, they were created from posters made at state meets by a Michigan company and offered to the kids and their families. The 18"x24" computer creations contain a collage of state meet photos of team members, with a newspaper-style banner headline and the team's state meet results.
It's quite a nice commemorative product, offered to the top three teams. LaBrosse was kind of excited when he realized they were available, after his second state-meet team was runner-up to Rockford in 2002. "I thought for sure some kids would want it as a keepsake, but not one kid wanted one," he said. "Not one."
"They said, 'Coach, we'll get one next year when we win.'"
"That," Jamie LaBrosse added, "was the beginning."
Needless to say, the company sold a number of the posters to the Clarkston Lady Wolves in 2003 and 2004. They may have a market there for many years to come.