Quality Remains High at LSU Classic: Six US#1s!
Sprint queens Bianca Knight MS 6.79 55m (after 6.82) and Brandi Cross TX 54.89 400 dominate. Will Coppage LA 24-1.25 last jump for win. Mike Green LA 47-9.5 to beat two 47-6s. Trey Harts LA 6.30 55m, Kendrick Poullard LA 6-7 HJ, Dallas Gold TC girls 1:40.27 4x200 (different schools).
By Steve Underwood
The LSU High School Track and Field Classic, the first major track meet in Louisiana since last fall's hurricanes, was smaller than recent editions, but that fact was easy to forget once the meet got rolling. In what was the first competition of the year for almost everyone in attendance, the athletes turned the weekend into a thrilling show of nation-leading performances and last-effort victories.
It's almost a given that the Classic is a smorgasbord of sprint and jump superlatives, but dramatic efforts in events like the pole vaults were highlights as well. Truly, however, the meet belonged to the likes of sprint queens Bianca Knight and Brandi Cross, who backed up their superstar credentials. The stars weren't just the athletes, however, as the staff from LSU and the Louisiana Track and Field Officials Association continued to set the standard for running a big meet.
Sprints, Hurdles, Relays: Knight, Cross Set the Tone for 2006
Despite the fact that they were competing in fields with pretty reasonable depth, Texas's Brandi Cross and Mississippi's Bianca Knight were truly dominant in the 400- and 60-meter dashes, respectively. After their races, each star made no bones about their plans for 2006: To get on top, and/or to stay on top, and to leave their mark before heading to the college ranks.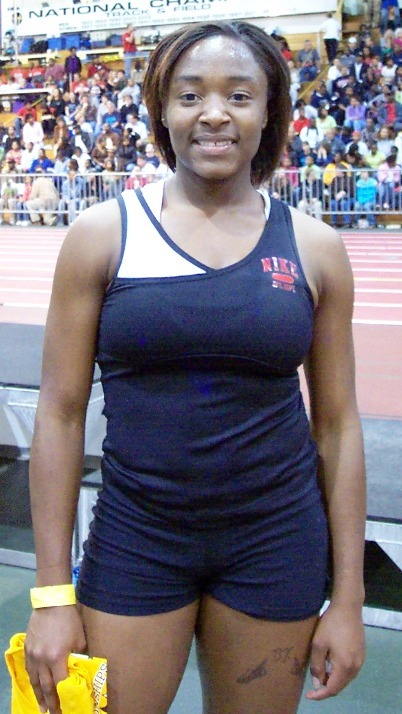 In the girls 55, the competition knew it was in trouble in the prelims, when Knight powered to a US#1 6.82. In the final, 2005's World Youth champ at 100 meters (11.38) blasted away and never left any doubt, though the crack field produced two more sub-7s and seven at 7:18 or better – all to make the DyeStat Elite list. Despite improving her 2005 meet and fieldhouse record time of 6.90 down to 6.88, Starkville MS's Santana Lowrey still was 0.09 back of Knight's stunning 6.79.
After finishing, Knight sprang from the landing pads at the end of the straight, laughing and seemingly fired up about her performance. It turned out, however, that it was a good-natured rueful reaction to running so well, yet missing her goal of 6.75, which she wanted to be able to qualify for the Tyson Invitational at Arkansas. Not a high school race, mind you, but the professional race.
"I was a couple of 100ths off that," she sighed. "But other than that, I'm very pleased. I was trying to open up with a good time."
Despite her championship in Morocco last summer, Knight does not want a repeat of last year. She admitted she allowed herself to get too heavy over the winter, hampering her competitiveness in the spring and keeping her from getting razor sharp until the summer. Now she appears simply powerful. "I took only about two and a half weeks off after Morocco," she said. "And the weather so far this fall and winter has been good for me."
After watching two of her rivals get DQ'd, including her sister Candace, Cross smoothly strode away from the field in the fast heat. Running for Stampede Track Club, the Fort Bend Marshall TX senior's nation-leading and meet record 54.89 was 1.36 ahead of Erica Alexander (56.25), with Sandy Wooten another 0.11 back.
The Texas state champ and World Youth finalist, a South Carolina signee, said she's ready for a big 2006. "After last year, I think a lot of girls will be out to get me. But I want to stay on top."
Some of her optimism comes from a new weights program she and her teammates have undertaken, instituted by Coach Benita Smith. Of her 52.46 PR, she added, "I plan on getting that down to 51 or a mid 50-point."
Both Crosses later helped their club, which also included HS teammates Carmen Mitchell and Cyne Wardsworth, to a winning 3:55.44 4x400 triumph. They were the only team to break 4:00.
The boys individual sprints were hardly pedestrian, either. Trey Harts (Barbe LA) produced a blistering 6.30 to take the national lead in the 55, while Armanti Hayes (Worldwide TC/Moultrie GA) came from behind to claim the 400 in 48.92, the country's No. 2 time. "I was betting on catching up on the last curve," he said. "I'm more of a come-from-behind runner."
While not quite as blazing as the flat races, the 55 hurdle events were impressive as well. Tim Grier (Gazelle TC/Westlake GA), in fact, put a cap on an amazing weekend by rambling by his foes with a 7.47, second best in the country. Earlier, his long jump had not been quite what he hoped (3rd at 22-9.5). But in the triple jump he was 2nd with a 47-6.75 … oh, and it was his first triple jump competition ever. The girls 55 hurdles title was claimed by Valerie Flournoy (Florida Sports/Gainesville FL) in 8.31.
In the 4x200 relay, Dallas Gold accumulated many of Texas's best on the girls side. The quartet of Tara Thomas (Dallas Skyline), Sandy Wooten (Mineral Wells), Victoria Jordan Ft. Worth Dunbar), and Porscha Lucas (Plano) blitzed a 1:40.27. The victory was all but in hand after the blazing No. 2 leg by Wooten. It was the first time the quartet had raced together, but they looked like a well-oiled machine. "I wanted to show Sandy she can do more than just the first leg," Coach Mike Hart said. Their splits were, in order, 25.1, 24.8, 24.9, and 24.3.
The boys 4x200 went to the San Antonio Blazers in 1:30.94, while the Stampede TC picked up a double by winning the boys 4x400 in 3:25.70.
Field Events: A Meet Full of Superlatives
That this was going to be a great field-event meet became clear early Friday when Alexandria LA sr. Mike Green popped a nation-leading 47-9 triple jump in the prelims. He was pressured heavily in the finals when Tim Grier and Michael Rheams both hit 47-6-plus, but by the time he came up for his last jump, the win was in hand. Still, he impressed by improving to 47-9.5.
The PR effort was not expected. "I was happy to be able to do it; it was amazing," Green said. "I didn't expect to have a jump this good this soon. On the last jump, I just tried to stay straight up."
Green wasn't the only one to find his groove in his last attempt. The same was true of his Alexandria teammate Will Coppage. Finding himself suddenly relegated to second in the final round of the long jump by Zack Allen's 23-2.75, he went and popped a nation-leading 24-1.25 on his final jump. "I was challenged and I had to take the challenge," he said. "I had to have someone bring that out of me."
In the boys pole vault, Alexander Bentley (Tejas Vaulters/Tomball TX) appeared to have the event won when he cleared 15-8. But wait, Jordan Scott (Spirit of North Georgia/Watkinsville GA) hadn't even taken out his pole yet. Scott would clear 16-4, but miss what would have been a US#1 16-7. But what the heck, it was his first meet. "I'm working on everything," he said. "Just trying to get stronger and faster, and working on the little things."
Youth was served in the girls pole vault as Vanderbilt Catholic LA soph Rachel Laurent cleared 12-0, breaking the meet record and her own fieldhouse mark, and 7th-grader Morgann LeLeux reached 10-8. Laurent, with a PR of 12-6, then missed at 12-7. "I think she's about where she wants to be right now," said Laurent's coach Kevin Trosclair. "She was trying to push for the freshman national record last year (she made 12-6 compared to the record 12-8), now she's going to shoot for the sophomore record."
The second Mike Green to pick up a win was a shot putter from Worldwide TC (Cedar Shoals GA) that waited until his final throw to unleash a 51-3.5 for the win. He had led with a 49-1 in the prelims, but was struggling with fouls. After Alexandria's Will Phillips went 50-1.5, he responded with his ultimate effort, surpassing his career 50-8 PR from region last year. "It was just adrenaline and a flick of the fingers," he said.
On the girls side, 2005 Great Southwest runner-up Tierah Hall opened her campaign with a 43-4.5, which would leave her ranked third in the country by the end of the weekend. "I'm practicing more this winter and working more on driving up in my throws," the DeSoto TX senior said.
Other field event winners were Kendrick Poullard (Lacassine LA), who equaled the best boys high jump in the country at 6-7, and LeCresha Styles (Titans TC/Marietta GA) with a 17-1.5 in the girls long jump, Veronica DiLullo (Central Texas Elite/Round Rock TX) with a 37-3.75 in the girls triple jump, and Ke'air Jones (Natchez MS) with a 5-4 in the girls high jump.
Middle and Long Distances: A Transplant and an 8th-Grader Shall Lead Them
Karjuan Williams was one of the nation's most decorated track athletes affected by Katrina and Hurricane Rita. Thanks to the efforts of famous author and former 800 great Nick Sparks, he landed at New Bern HS in NC. On his return to Louisiana Friday night, the smooth-running junior made his 2006 debut and looked every bit the runner whose credentials include a 1:50.14 PR and a bevy of prep and junior titles and high placings. He split 55-plus and seemed to effortlessly stride away from the competition to win in 1:56.59.
"I just tried to get out and run my race," he said. "I'm doing a whole new training regiment this year, trying to concentrate more on building a base and working more to being in top shape at the end of the season."
Cory McGee, the Pass Christian MS 8th-grader who finished in the top eight at Foot Locker South XC, but was not eligible for nationals, showed she's ready to continue her strong racing with an almost-wire-to-wire, even-paced PR 5:10.73 win in the 1600. She got a big challenge in the final 50 from St. Thomas Aquinas AL's Whitney Curry, but pushed to hold her off by 0.12. She just missed the fieldhouse and meet records.
It was McGee's first indoor race. "I didn't really know what to expect," she said. "I didn't know (Whitney) was so close. Then I saw her coming up out of the corner of my eye and had to just shoot it in the last couple of steps."
The girls 3200 went to Emily Collins (St. Paul's AL), who pulled away mid-race and won by 25 seconds in 11:33.32. Both boys distance runs were claimed with relative ease, with Alan Sticker (Pineville LA) taking the 16-lapper in 9:52.03, and Daniel Simpkins (Madison Central MS) the 8-lapper in a negative-split 4:36.66. LaKendra Bass (License to Speed/Lancaster TX) took advantage of a late slowdown by Monika May to come from behind and win the girls 800 in 2:24.18.
Titles in the 4x800 relays went to the St. Paul's AL girls (9:58.17) and the Memphis Elite boys (8:30.19).
DyeStat Elite Performances
54 performances qualifying for DyeStat Elite national ranking
Boys
Event Mark By
B-55 6.3 Harts, Trey, 2006, Barbe LA
B-55 6.44 Parson, Rynell, , San Antonio TX
B-55 6.51 Hobley, Wayne, 2006, Southern Lab Baton Rouge LA
B-400 48.92 Hayes, Armanti, ,
B-400 49.09 Alexander, Ronnie, 2007, Belaire LA
B-400 49.25 Lawhorn, Bill, , Lake Charles LA
B-400 49.62 Betters, Lajerald, 2006, Waco TX
B-400 50.28 Spradley, Brandon, , Leflore
B-600 1:56.59 Williams, Karjuan, 2007, New Bern NC
B-55H 7.47 Grier, Timothy, 2006, Hiram GA
B-55H 7.51 Jones, Steven, , Lake Charles LA
B-55H 7.58 p Nugent, Barrett, , N. Vermillion
B-55H 7.65 Pitts, Jordan, , Dallas TX
B-55H 7.69 p Roberts, Cory, , St. Thomas Aquinas
B-HJ 6' 7 Poullard, Kendrick, , Lacassine
B-LJ 24' 1.25 Coppage, Will, 2006, Alexandria LA
B-LJ 23' 2.25 Allen, Zach, 2006, Hamilton Memphis TN
B-LJ 22' 9.5 Grier, Timothy, 2006, Hiram GA
B-TJ 47' 9.5 Green, Mike, , LA
B-TJ 47' 6.75 Grier, Timothy, 2006, Hiram GA
B-TJ 47' 6.25 Rheams, Michael, 2006, Walker LA
B-TJ 46' 11.5 Haslom, Reggie, 2006, Southern Lab New Orleans LA
B-TJ 46' 4 Mills, Keith, , Alexandria LA
B-TJ 45' 9 Jones, Julio, , Foley
B-TJ 45' 5 Harris, Josh, , Wossman LA
B-TJ 45' 2.75 Carter, Christopher, 2007, Hearne TX
B-PV 16' 4 Scott, Jordan, 2006, Oconee Co Watkinsville GA
B-PV 15' 8 Bentley, Alex, 2006, Tomball TX
B-PV 15' 4 Watson, Paul, 2006, Vandebilt Catholic Houma LA
B-PV 15' 0 Cheek, Cameron, 2007, Franklin Co. GA
B-PV 15' 0 Dominguez, Joshua, , Ponchatoula LA
B-PV 14' 8 Rowland, Donnie, 2006, Walker LA
B-4x200 1:31.51 p Boys Relay, , Southern Lab LA
B-4x200 1:32.29 Boys Relay, , Richardson TX
B-4x400 3:27.09 5 Boys Relay, , Barbe LA
Girls
G-55 6.79 Knight, Bianca, 2007, Ridgeland MS
G-55 6.88 Lowery, Santana, 2006, Starkville MS
G-55 6.95 Jordan, Victoria, 2008, Dunbar Fort Worth TX
G-55 7.05 Alexander, Erica, 2008, Friendswood TX
G-55 7.11 p Wooten, Sandy, 2006, Mineral Wells TX
G-55 7.15 Thomas, Tara, 2007, Skyline Dallas TX
G-55 7.18 Lucas, Porscha, 2006, Plano TX
G-400 54.89 Cross, Brandi, 2006, Marshall Fort Bend TX
G-400 56.25 Alexander, Erica, 2008, Friendswood TX
G-400 56.36 Wooten, Sandy, 2006, Mineral Wells TX
G-400 58 Story, Kamelia, , Northwood
G-55H 8.31 Flournoy, Valerie, 2006, Yonge Gainesville FL
G-55H 8.32 Jones, Tenaya, 2007, Lancaster TX
G-TJ 37' 3.75 DiLullo, Veronica, , TX
G-TJ 36' 6 Codrington, Elizabeth, , West Jefferson LA
G-PV 12' 0 Laurent, Rachel, 2008, Vanderbilt Catholic Houma LA
G-SP 43' 4.5 Hall, Tierah, , Desoto TX
G-SP 41' 9.5 Orieukwu, Davina, , Westbury Houston TX
G-4x200 1:45.81 Girls Relay, , Westbury Houston TX