What a Meet!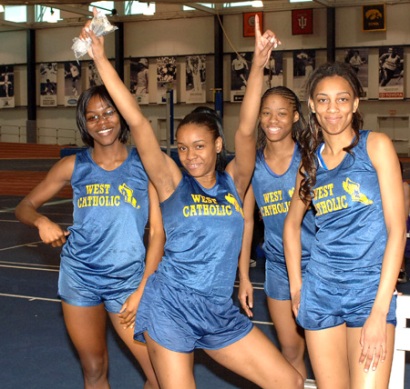 At left, West Catholic celebrates the team title following 4x200 and 4x400 wins. At right, Manheim Twp.'s Craig Miller en route to 8:22.65. Photos by Don Rich, PennTrackXC/ Milesplit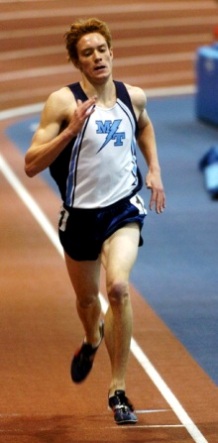 Boys Highlights:
North Penn outslugs Simon Gratz for title, 45-36.
Manheim Twp. sr Craig Miller smashes state record with US#1 8:22.65 3000m, US#15 all time (Elwood City sr. Jake Walker 2nd in US#4 8:30.35).
Chichester sr. Carrington Queen US#2 7.89 60H
Red Land's Aaron Kauffman wins monster 800 1:55.34 with 6 under 1:56, 10 under 1:58, and 15 sub-2. He won from the next-to-last heat!
Hot Relays: US leader Gratz dominates 4x200 in 1:29.79 (now owns top 3 4x2s in nation), but Harrisburg claims an impressive 4x400 in US#5 3:20.92. North Penn shows its stuff with US#4 7:53.73 4x800 (Wissahickon US#5 7:54.53).
Gratz sr. Ken Talley takes 200 in US#9 21.96, while it's Bensalem sr. Reggie Carter in the 400 US#6 48.36.
Strong winning field-event marks: 15-6 PV, 47-8 TJ, 23-2 LJ, 55-9.5 SP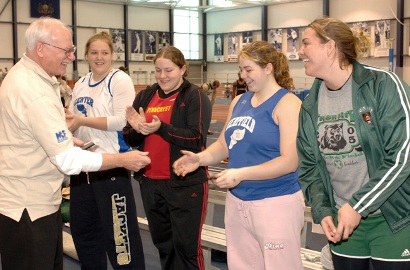 At left, West Catholic coach Tim Hickey presents medals to the top four of PA's shot putters. Photo by PennTrackXC's Megan Zeller. At right, Lindsay Regan wins 4th straight PV indoor title coming off one practice after cheerleading injury. Photo by Don Rich, PennTrackXC/Milesplit
Girls Highlights:
West Catholic rules with 62 to Easton's 40.
WC gets US#1 2:09.70 800 from sr. LaTavia Thomas (Easton so. Chanelle Price 2:10.57), a US#4 54.88 400 from sr. Kneshia Sheard (she and Simone Carter also 2-3 in 200), and blazing relays: US#5 3:53.23 4x400, 1:41.91 4x200.
Center's Allyn Laughlin wins SP battle with US#2 47-9.5 over Penncrest's Karen Shump 46-7.5 and Hempfield Area's Samantha Fetter 45-0.75.
Laurel Highland jr. Breehana Jacobs US#6 and state record 7.46 60m.
Chambersburg jr. Sarah Morrison 4:54.05 mile.
Great multiple medal performances from Methacton so. Ryann Krais (19-3.75 LJ-1st, 8.71 60H-1st, 24.79 200-4th), Bradford sr. Erin Hannon (5-6 HJ-1st, 38-8.5 TJ-1st, 18-3.25-2nd, 9.27 60H-6th, Conestoga sr. Liz Costello (4:57.24 mile-2nd/10:17.26 3k-1st ahead of Penn-Trafford's Diana Filtz 10:17.92).
Easton sr. Lindsay Regan 12-6 PV, winning her fourth straight title!
In the 800, 5 at 2:15.07 or better and 18 under 2:21.
Boys Summary
Coming off just three workouts and a bit higher mileage than he used to win XC states this past November, Manheim Township senior Craig Miller ran a US#1 and #15 all-time 8:22.65 3000 meters, erasing the state best of Southmoreland's Chris Dugan, a multiple all- American NC State grad. Miller led wire-to-wire, and was never challenged. Coming through the mile in 4:26, he to the crowds urging when told of the threatened record by closing in 31.7. During the entire race, he never exceeded 35 seconds for a lap.
Ellwood City's Jake Walker, who had set the meet record in 2005, shaved another seven seconds off his PR with an 8:30.35.
But Miller was not alone in his national level performance. Senior hurdler Carrington Queen of Chichester got faster through three races of the 60 Hurdles, finishing off with a US#2 7.89. Simon Gratz's Kenneth Talley used a late surge to win the 200 in a US#9 21.96. he was also on the winning 4x200 that went 1:29.79, a time that gives his squad the top three 4x200 times this season. But Gratz and every other team in the final race of the day ran into a buzzsaw as Harrisburg used a spirited anchor performance to win in a US#5 3:20.92.
Generating 31 points in the three relays and another ten in the Triple Jump, North Penn charged past Simon Gratz, Bensalem and every other team to tally 45 points for the team win. The relay barrage included a US#4 7:53.73 win in the 4x800, a 3rd in the 4x400 and a 4th in the 4x200. Wissahickon chased North Penn anchor Cody Edling to capture the US#5 spot in the 4x800 at 7:54.53. North Penn's Brandon Turner contributed ten points with his 47-08 win in the Triple Jump. Bensalem's Reggie Carter posted a US#6 48.36 400. Strath Haven's Scott Henkelman went 23-02 to win the Long Jump
Girls Summary
At left, West Catholic's Kneshia Sheard speeds a 54.88 400. At right, Conestoga's Liz Costello knows she has company as she and event Mile champ Sarah Morrison of Chambersburg arrive to beginning of the last lap. Photos by Don Rich, PennTrackXC/Milesplit
Kneshia Sheard and Latavia Thomas led West Catholic to their third state title tallying 62 points. Sheard had a hand in 38 of those by winning the 400 in a US#3 54.88, taking 2nd in the 200 in 24.76 (teammate Simone Carter was 3rd in 24.78), and joining with Thomas and two other teammates to take the 4x200 in 1:41.91 and the 4x400 in 3:53.23. In the 800, Thomas beat Easton's Chanelle Price with a US#1 2:09.70. Price is now US#4 at 2:10.57.
There was one meet record for the girls as Laurel Highlands' Breehana Jacobs ran 7.46 to win the 60m Dash. Conestoga SR Liz Costello went for the distance double, but despite a 4:57.24 Mile, was out sprinted over the final 200m by Chambersburg JR Sarah Morrison who narrowly missed the meet record in running 4:54.05. Costello did come back in the 3000 to win in 10:17.26. Penn-Trafford JR Diana Filtz was 2nd at 10:17.92.
Erin Hannon of Bradford finally got her state championship... in fact, she took home two, taking the Triple Jump at 38-08.50 and the High Jump, clearing 5-06. Hannon was 2nd in the Long Jump to sophomore sensation Ryann Krais of Methacton, who leapt 19-3.75. Krais also won the 60 Meter Hurdles, going 8.71 in the Finals. The three US-ranked shot putters finished on top of the standings with Center SR Allyn Laughlin defeating defending state champ, Penncrest SO Karen Shump of Penncrest on the last throw with a 47-09.50 effort, just after Shump had gone 46-07.50. Hempfield's Samantha Fetter threw 45-00.75. And Easton SR Lindsay Regan won her third straight indoor Pole Vault title, clearing 12-06. She had only been able to practice once in the past couple of weeks because of a back strain.
Event Mark By
B-60 6.91 Nelson, Andre, 2006, Springfield-Delco PA
B-60 6.99 p Sanders, Javan, , Avon Grove PA
B-60 7.02 Muvdi, Chris, , Holy Name
B-60 7.03 Debardelaben, Jere, , Brashear PA
B-200 21.96 Talley, Kenneth, , Simon Gratz PA
B-200 22.08 Nelson, Andre, 2006, Springfield-Delco PA
B-200 22.15 Carter, Reggie, 2006, Bensalem PA
B-200 22.29 Talley, Kevin, , Simon Gratz PA
B-200 22.37 Featherstone, Khaliff, 2008, Simon Gratz PA
B-200 22.41 Henkelman, Scott, 2006, Strath Haven PA
B-400 48.36 Carter, Reggie, 2006, Bensalem PA
B-400 48.77 Sargent, Chad, 2007, Neshaminy PA
B-400 49.93 Tomasco, Mike, , Msgr Bonner PA
B-400 49.96 Potts, Joshua, , Harrisburg PA
B-400 50.12 Stonfer, David, , Cumberland Valley PA
B-400 50.23 De La Pena, Francis, , Bensalem PA
B-800 1:55.34 Kauffman, Aaaron, , Red Land PA
B-800 1:55.68 Malet, Zack, , Friends Central PA
B-800 1:55.75 Jones, Jamar, , Engineering & Science PA
B-800 1:55.88 Rhodes, Elliot, , Germantown Academy PA
B-800 1:55.95 Smith, Adam, , Camp Hill PA
B-800 1:55.98 Gordon, Matt, , Upper Dublin PA
B-800 1:56.21 Hall, Matt, , Downington East PA
B-800 1:57.01 McNally, Rob, , Upper Darby
B-800 1:57.31 Brown, Max, 2006, North Allegheny PA
B-800 1:57.74 Brodsky, Mike, , Unionville PA
B-800 1:58.3 Edling, Cody, , North Penn PA
B-800 1:58.38 Epple, Zac, , Altoona PA
B-800 1:58.7 Burns, Griffin, , Mercersburg PA
B-1600 4:15.89 c e Springer, Paul, 2007, Unionville PA
B-Mile 4:17.39 Springer, Paul, 2007, Unionville PA
B-Mile 4:20.48 Hardy, Duriel, 2006, West Chester East PA
B-Mile 4:20.89 Gillin, Matlack, 2006, Springfield PA
B-Mile 4:21.12 Brown, Max, 2006, North Allegheny PA
B-Mile 4:21.39 Thistle, Paul, 2006, Wissahickon PA
B-Mile 4:21.93 Hibbs, Josh, 2006, Hatboro-Horsham PA
B-Mile 4:23.53 Neyhart, Josh, , Kutztown PA
B-Mile 4:24.24 Font, Mike, , Hill School PA
B-Mile 4:24.89 Sclafani, Jon, , Devon Prep PA
B-3000 8:22.65 Miller, Craig, 2006, Manheim Twp PA
B-3000 8:30.35 Walker, Jacob, 2006, Ellwood City PA
B-3000 8:38.96 Rainford, Trevon, , Eng. & Science PA
B-3000 8:39.3 Bixler, Curtis, 2006, Cumberland Valley Mechanicsburg PA
B-3000 8:44.85 Zarzeczny, Lucas, 2007, Avonworth PA
B-3000 8:48.17 VanKooten, Scott, , Pittsburg Central PA
B-3000 8:51.73 Cullin, Brian, 2006, East Stroudsburg PA
B-3000 8:53.44 Speare, Rob, 2007, Strath Haven PA
B-60H 7.89 Queen, Carrington, 2006, Chichester PA
B-60H 8.04 Marell, Kamal, 2006, William Penn PA
B-60H 8.18 Clemons, Toney, , Valley PA
B-60H 8.2 Parris, Chris, , North Penn PA
B-60H 8.22 Lawrence, Ivan, , Glen Mills PA
B-60H 8.24 Kern, Bill, , Council Rock North PA
B-60H 8.29 Selby, Peter, , Norristown PA
B-HJ 6' 6 Boys Relay, , Franklin Pierce WA
B-LJ 23' 2 Henkelman, Scott, 2006, Strath Haven PA
B-TJ 47' 8 Turner, Brandon, , North Penn PA
B-TJ 45' 7.5 Westbrook, Caesar, , McCaskey PA
B-TJ 45' 2 Maxwell, Andy, , Cedar Cliff PA
B-PV 15' 6 Gil, Sean, , North Allegheny PA
B-PV 15' 0 Jodon, Jared, , Laurel Highlands PA
B-SP 55' 9.5 Stewart, Nathan, , Glen Mills PA
B-SP 55' 1.5 Banks, Weston, , Hempfield PA
B-SP 55' 1 Williams, Robert, , Glen Mills PA
B-4x200 1:29.79 Boys Relay, , Simon Gratz PA
B-4x200 1:31.1 Boys Relay, , Glen Mills PA
B-4x200 1:31.31 Boys Relay, , Harrisburg PA
B-4x200 1:31.42 Boys Relay, , North Penn PA
B-4x200 1:31.57 Boys Relay, , Bensalem PA
B-4x200 1:31.82 Boys Relay, , William Penn PA
B-4x200 1:32.43 Boys Relay, , Norristown PA
B-4x400 3:20.92 Boys Relay, , Harrisburg PA
B-4x400 3:22.05 Boys Relay, , Bensalem PA
B-4x400 3:22.51 Boys Relay, , North Penn PA
B-4x400 3:22.67 Boys Relay, , Simon Gratz PA
B-4x400 3:23.14 Boys Relay, , Neshaminy PA
B-4x400 3:24.04 Boys Relay, , Conestoga PA
B-4x400 3:24.7 Girls Relay, , Houston Arlington TX
B-4x400 3:27.1 Boys Relay, , Coatesville PA
B-4x400 3:27.58 Boys Relay, , McCaskey PA
B-4x800 7:53.73 Boys Relay, , North Penn PA
B-4x800 7:54.53 Boys Relay, , Wissahickon PA
B-4x800 7:56.2 Boys Relay, , Upper Dublin PA
B-4x800 7:59.9 Boys Relay, , Cardinal O'Hara PA
B-4x800 8:00.6 Boys Relay, , East Westchester PA
B-4x800 8:00.99 Boys Relay, , LaSalle PA
B-4x800 8:01.5 Boys Relay, , St. College PA
B-4x800 8:02.27 Boys Relay, , Henderson W. Chester PA
B-4x800 8:02.51 Boys Relay, , Hatboro Horsham PA
B-4x800 8:04.63 Boys Relay, , Council Rock North PA
B-4x800 8:07.77 Boys Relay, , Msgr Bonner PA
B-4x800 8:08.54 Boys Relay, , Great Valley PA
B-4x800 8:08.88 Boys Relay, , Strath Haven PA
B-4x800 8:09 Boys Relay, , St. Joseph's PA
B-4x800 8:10.91 Boys Relay, , Downington East PA
G-60 7.46 Jacobs, Breehana, 2007, Uniontown PA
G-60 7.64 Carter, Simone, , West Catholic PA
G-60 7.69 Davis, Charelise, 2006, Oakland Catholic PA
G-60 7.7 Flowers, Tierra, , Coatesville PA
G-200 24.53 Davis, Charelise, 2006, Oakland Catholic PA
G-200 24.76 Sheard, Knesha, , West Catholic PA
G-200 24.78 Carter, Simone, , West Catholic PA
G-200 24.79 Kraiss, Ryann, 2008, Methacton PA
G-200 25.33 Matthew, Whitney, , Mercersburg PA
G-400 54.88 Sheard, Knesha, , West Catholic PA
G-400 56.71 Iheoma, Ije, , Council Rocks South PA
G-400 57.11 Johnson, Abigail, 2006, Hershey PA
G-400 57.9 Smith, Clair, , Central Bucks West PA
G-400 57.93 Goines, Acoya, , Engineering &I Science PA
G-400 58.13 Cottle, Jasmine, , Penn Hills PA
G-800 2:09.7 Thomas, Latavia, 2006, West Catholic Philadelphia PA
G-800 2:10.57 Price, Chanell, 2008, Easton PA
G-800 2:13.92 Chambers, Shaniel, 2007, Chester PA
G-800 2:14.54 Taylor, Benita, 2008, Engineering & Science Philadelphia PA
G-800 2:15.07 Aagenes, Anna, , Central Bucks West PA
G-800 2:17.22 Berg, Erin, , North Penn PA
G-1600 4:52.25 c e Morrison, Sarah, 2007, Chambersburg PA
G-Mile 4:54.05 Morrison, Sarah, 2007, Chambersburg PA
G-Mile 4:57.24 Costello, Liz, 2006, Conestoga PA
G-Mile 5:05.87 Boland, Colleen, , Arch Prendergast PA
G-Mile 5:06.73 Woodruff, Alycia, 2007, West Chester East PA
G-Mile 5:09.16 Vienneau, Lisa, 2006, Strath Haven PA
G-3000 10:17.26 Costello, Liz, 2006, Conestoga PA
G-3000 10:17.92 Filtz, Diana, 2007, Penn Trafford PA
G-3000 10:18.23 Meholick, Kassie, 2007, Cedar Cliff PA
G-3000 10:19.46 Davies, Kathleen, 2007, Saint Basil Academy PA
G-3000 10:20.76 Milewski, Liz, 2007, Radnor PA
G-3000 10:22.9 Zozos, Jessica, 2008, Shaler PA
G-3000 10:29.22 Lunzi, Sarah, , Bradford PA
G-3000 10:29.65 Sikora, Allison, 2007, Council Rock North PA
G-60H 8.71 Kraiss, Ryann, 2008, Methacton PA
G-60H 9.02 p Hunt, Jazmine, , Reading PA
G-60H 9.04 Dolan, Lindsay, , Center PA
G-HJ 5' 6 Hannon, Erin, 2006, Bradford PA
G-LJ 19' 3.75 Kraiss, Ryann, 2008, Methacton PA
G-LJ 18' 3.25 Hannon, Erin, 2006, Bradford PA
G-LJ 18' 3 McBall, Sequoia, , Coatesville PA
G-TJ 38' 8.5 Hannon, Erin, 2006, Bradford PA
G-TJ 38' 2.75 VanBuskirk, Megan, , Pottsgrove PA
G-TJ 37' 10.75 Thomas, Shanae, , Halahan PA
G-TJ 37' 0.5 Fapohunda, Wummi, , Gateway PA
G-PV 12' 6 Regan, Lindsay, 2006, Easton PA
G-PV 12' 0 Schaffer, Abby, , Easton PA
G-PV 12' 0 Finn, Beki, 2007, Liberty PA
G-PV 11' 6 Borso, Brooke, 2006, Whitehall PA
G-PV 11' 6 Frye, Becky, , Liberty PA
G-PV 11' 6 Meissner, Jacqueline, , Saucon Valley PA
G-PV 11' 6 Fairbairn, Caitlin, 2006, Bishop Shanahan PA
G-PV 11' 6 Acker, Alexandsra, 2007, McDowell Erie PA
G-SP 47' 9.5 Laughlin, Allyn, 2006, Center Monaco PA
G-SP 46' 7.5 Shump, Karen, 2008, Penncrest PA
G-SP 45' 0.75 Fetter, Samantha, 2006, Hempfield PA
G-SP 42' 3.75 Clickett, Natalie, 2006, Union City PA
G-SP 42' 3 Gray, Kaleena, , Coatesville PA
G-SP 40' 1.5 Goetter, Krysten, , Hatboro-Horsham PA
G-4x200 1:41.91 Girls Relay, , West Catholic Philadelphia PA
G-4x200 1:43.11 Girls Relay, , Penn Hills PA
G-4x200 1:44.45 Girls Relay, , Penn Wood PA
G-4x200 1:44.79 Girls Relay, , Henderson West Chester PA
G-4x200 1:45.78 Girls Relay, , Strath Haven PA
G-4x200 1:45.78 Girls Relay, , North Penn PA
G-4x200 1:45.83 Girls Relay, , Girls PA
G-4x200 1:45.9 Girls Relay, , Council Rock North PA
G-4x400 3:53.23 Girls Relay, , West Catholic Philadelphia PA
G-4x400 3:57.31 Girls Relay, , Engineering & Science PA
G-4x400 3:58.23 Girls Relay, , Easton PA
G-4x400 4:00.37 Girls Relay, , Henderson West Chester PA
G-4x400 4:00.42 Girls Relay, , Ridley PA
G-4x400 4:00.95 Girls Relay, , Girls PA
G-4x400 4:01.28 Girls Relay, , Central Bucks West PA
G-4x400 4:01.79 Girls Relay, , Strath Haven PA
G-4x400 4:02.26 Girls Relay, , Council Rock South PA
G-4x400 4:02.53 Girls Relay, , Methacton PA
G-4x400 4:02.7 Girls Relay, , Downington West PA
G-4x400 4:02.72 Girls Relay, , Hershey PA
G-4x400 4:04.78 Girls Relay, , Downington East PA
G-4x800 9:23.66 Girls Relay, , Easton PA
G-4x800 9:25.03 Girls Relay, , Archbishop Prendergrast Drexel Hill PA
G-4x800 9:27.66 Girls Relay, , Henderson West Chester PA
G-4x800 9:31.05 Girls Relay, , Conestoga PA
G-4x800 9:32.15 Girls Relay, , North Penn PA
G-4x800 9:36.15 Girls Relay, , St. College PA
G-4x800 9:38.72 Girls Relay, , Pennridge PA
G-4x800 9:41.24 Girls Relay, , St. Basil PA
G-4x800 9:42.17 Girls Relay, , Gwynedd-Mercy PA
G-4x800 9:42.4 Girls Relay, , Unionville PA
G-4x800 9:43.13 Girls Relay, , Archbishop Carroll Radnor PA