story from PennTrackXC.com
Let's say you want to get in some good hill training during the summer before facing the worst the fall cross country courses have to offer.
You see you have the Spiked Shoe on your schedule on the Blue Golf Course at Penn State University, along with its lengthy closing rise. You know you're going to run at Steel City, with its winding, grueling trek toward the VA hospital at the top. And there's that challenging home course race in State College two weeks later. Plus, if all goes as planned, there is the nasty hill 600 meters into the race at the Hersheypark course in the PIAA State Championship.
You've been to a great camp at Millersville University. You've increased your mileage over past years. But you're still looking for that hill that'll make all the other hills pale by comparison.
OK, so you went to extremes to find a hill. But you have to admit that running the Pike's Peak Ascent on August 20th is a really great workout. 13.32 miles. Elevation gain of 7,815 feet. 14,110 feet above sea level, the top three miles above the tree line. Average grade 11%. Time, 4 hours, 9 minutes, 2nd in your age group.
Meet Katherine Ward, State College PA junior. And winner of four invitationals this fall, including Big Valley, Spiked Shoe, Steel City and State College.
Her lone loss to date came at the Slippery Rock Invitational on September 17th where she finished 5th, 51 seconds off the pace of Diana Filtz of Penn-Trafford. But by her own admission, her race preparation was something she'll not repeat. Two days prior to the race, she ran eight miles in the morning (unknown to her coach) and then did a hard workout that afternoon. "That's not an excuse, but I was a little tired on Saturday."
Ward has been a runner on the rise for both of her first two years at State College. In PIAA District 6, Ward has won three District titles, taking the cross country win in 2004, and also winning the 1600 and 3200 titles last spring. In her 2004 XC state meet, she finished 38th, 17 seconds out of the medals... but a two minute, 71- place improvement over 2003. And her 2004 T&F state meet was less than she had hoped for, failing to advance in the 1600 and taking 21st in the 3200.
This summer, she rededicated herself to training... and out of the blue, she got new coaches who just happen to compete at a very high level, one a distance runner, one a heptathlete. The effects from these changes can be seen in the results.
Running roots, and growing.
Katherine's mom, Karen, was an 800 runner in high school. Her AA 4x800 team won the AA state title in 1980 when she was a freshman.
But Katherine didn't become really serious about running until this year, and in fact, didn't start running until 8th grade. She was generally active, always outside, moving, playing softball. And she was in the marching band. "But I got tired of band, and I wasn't coordinated for other sports. So I did cross country in 8th grade the year before we moved from Louisiana."
Katherine does admit to a strong competitive streak. It showed in her very first high school race, when she won the JV race at Big Valley. She immediately set goals -- to be one of the top three on State College by the end of her freshman year (did it)... and to be the #1 girl her sophomore year (done that).
While she currently sees herself as a stronger cross country than track runner, her sophomore oval times improved over a year earlier. She had a 2:28 split in the 4x800 indoor, plus ran 5:11.50 and
11:23.56 for 1600m and 3200m outdoor, both at the same meet.
Her competitive nature would drive her to try to run with the top group at the Millersville XC Camp in the summer of 2004. "I refused to move down." She trailed the group all through camp.
But this summer, she took every opportunity to train with the State College guys, and in addition to adding mileage, which never exceeded 50 mpw, she was prepared for camp. "I was one of the top two girls in the top group (the other was Christopher Dock senior Sarah Clemmer).
She added strength and conditioning work, including core, circuit training, plyometrics... "a little bit of everything. Lots of crazy ab stuff."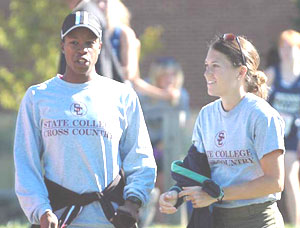 The new training plan, while already different during the early part of the summer by adding the running with the guys along with more two- a-days, was refined when she and the State College girls program got new coaches (left). Enter former all-American Rebecca Donaghue and world class heptathlete Virginia Gi-Gi (Miller) Johnson. Donaghue ran at the University of Massachusetts, and is currently training for the US XC Championships next February in New York. Donaghue moved to State College from her home in Massachusetts two years ago, and had followed the girls program. When the job opened in late summer, she jumped at the chance. "I saw a little of her talent, but her work over the summer has allowed her to make an improvement," Donaghue says of Katherine. Donaghue is just trying to get Katherine and the team through the District meet to States, and see how far Katherine can go. "She has this confidence I can see."
Now that's a hill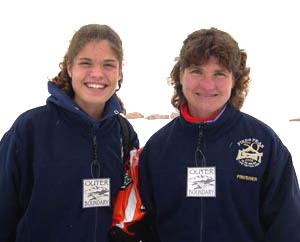 The August 20th Pikes Peak Ascent is a race she did with her mom (right). They arrived in Colorado a week before so that they could acclimate to altitude. Plus, Karen wanted Katherine to see the course so that she wouldn't be surprised at any point. After all, it is a mountain.
Accompanying them was Karen's high school 4x800 teammate and Denver- area teacher Paula (Ehrle) Maresh. They spent a night at Barr Camp, halfway up. This was Karen's 4th Ascent, so she and Paula coached Katherine on the do's and don'ts of the race... like stay hydrated; don't stop, no matter how much you want to; and don't go out too fast. Katherine did the latter - whooshing through the "horrid" first five miles of switchbacks, before being caught by her mom. They stayed together until near the top when Katherine sprinted ahead.
Mom's PR on the mountain - around 3-1/2 hours - will be safe for another year. But 4:09 earned Katherine 2nd in her age group and helped in the confidence and conditioning categories. Experiencing three inches of hail shortly after they finished their race -- weather that forced the cancellation of the second wave of the race -- served to prepare Katherine for almost anything PA can throw at her in the fall.
Still that 9th grader.
Katherine is amazed by her success so far this season, but not really surprised, saying she accepts that she "has earned it."
She has had to revise her season goals. It had been simply to break 19 minutes, a feat she accomplished with her winning 18:35 at the Spiked Shoe Invitational, a time that is within 16 seconds of 2004 Foot Locker Finalist Frances Koons (Allentown Central Catholic / Villanova) on the same course at the same time of the season, 2 years ago. For the time being, Katherine is keeping those goals between herself and her coach.
But while she increasingly feels that she belongs at the front of races, she insists she is still that nervous 9th grader on the line. "I go into a race nervous, thinking someone will catch me. So I run faster."
That's a philosophy that will get you to the top of the podium much of the time. Especially when you count Pikes Peak as one of your hill workouts.
By the way, even though Katherine won, that other fall State College success story, the Penn State football team, lost in the final second. We won't go there. Go Blue. Go Katherine.