Central Dauphin senior Ryan Whiting didn't come out of nowhere. It's where he's going this year that has everyone turning from the track to watch, and to watch out for, the shot put.

As a junior, Whiting had Shot Put PRs of 63-00.50 indoor at the PTFCA state championships, and a 65-footer at the District 3 Championships in May. But the improvement he has made this year has turned a lot of heads. In fact, at the PTFCA Track Carnival, the officials working the shot made sure that every head was turned watching him throw. For their own safety. The FAT timing system was within 68 feet, so a slightly errant throw could have scattered some people and equipment.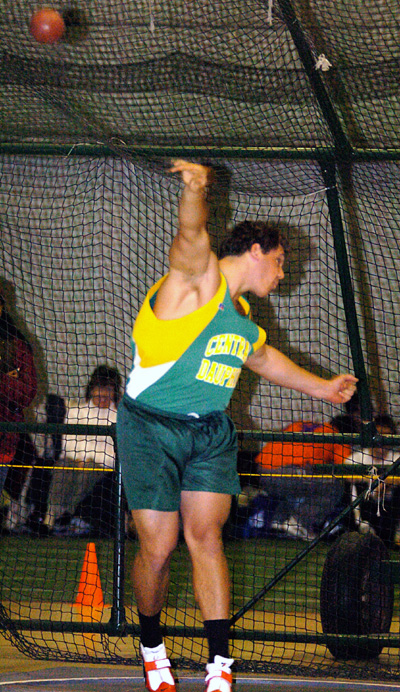 He did get over 68 feet, to 68-01.50 to be exact. The throw was dead center from the ring. And it was the 2nd throw over 68' this season. His best, a 68-09.50 on January 8th at Kutztown, placed him at 11th on the all-time indoor list. There are only three preps ahead of him. It's the one at the top of the chart - Brent Noon of Fallbrook, California - that he's chasing. Noon has seven throws in the top ten, the best an astounding 74-11, accomplished in 1990. But Whiting doesn't seem intimidated by the mark, just focused on his technique and each opportunity. In fact, he thinks he is due for another jump in distance.

The big difference this year, he says, is the additional coaching from Glenn Thompson of Long and Strong. "He picks out the smallest thing wrong with me and helps me fix it."

But the first thing he fixed with Ryan when the two first teamed up following the adidas Outdoor Championships last June, was a complete rebuilding of his start. A spinner, Whiting says he wasn't getting the most from his legs, an important part of the physics of throwing. "Last year when I started in the back, I started up and really tall with straight legs. This year, I'm down in almost a parallel (to the ground) squat, so that helps a lot with the legs." Whiting also changed his lifting cycle and has continued to get faster and more powerful.

While not immediately apparent, the improvements were soon seen in the results when he threw 64 with the new technique at a meet in September. For those looking for other changes, you'll notice that this year his trajectory isn't a line drive like it was in early 2004. Whiting knew he was going to have a big indoor season when he hit 66 at his first meet at Dickinson College in December. He threw three times at Kutztown, the first of which was the big one. And he's pleased with those throws because he says the ring is more slick at Kutztown than other facilities, such as Lehigh and the one at Penn State University.

What's more, he gained some confidence from his recent PTFCA Carnival 68-01.50, because it was done after an hour-an-a-half break between prelims and finals, and thrown on pure adrenaline. "In practice, that would have been a 65. When I finally get one like I do in practice all the time, people are going to notice."

Whiting is also looking forward to outdoor, and adding the Discus. His PR of 194-04.75 came the same day as his outdoor Shot Put PR last spring. With no marks under 65-04 in the Shot Put this season, he is taking aim at "over 220" with the disc. While Whiting knows he has taken a jump from the low 60's to the upper 60's, he says the biggest difference lies ahead - "between 69-11 and 70... but I think once I hit it, I'll keep hitting it."

His 65-04 on January 22nd is his shortest of the five throws this season. Remarkably, that throw is a full foot ahead of the next closest competitor. So Whiting is aiming up the all-time list. "I'm just competing against the numbers right now." As for Noon's 74-11 - "I want to get close if not hit him"

Then it's off to Arizona State next fall. After all the big meets, of course, including Arcadia, Penn Relays, and Nike Outdoor Champs. But first, keep your head turned toward the throws in PA. It could be one for the records.