Results:
Partial - Complete Girls
Results from DVGTCA
Latavia Thomas led West Catholic, winning the 400, and anchoring
the 4x200 and 4x400 relays to victories.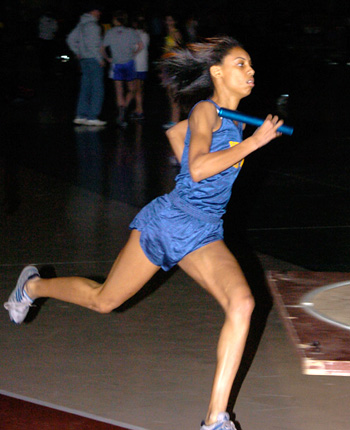 .
Clarenchell Tate, Simon Gratz, took the 55 and 200.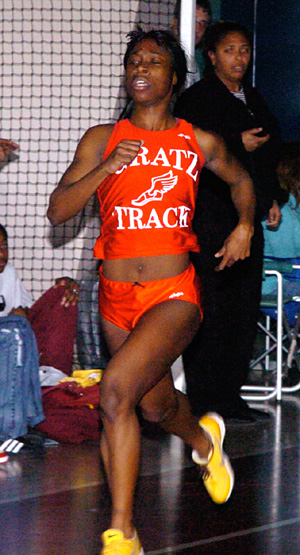 Caitlin Klaas, Hatboro Horsham, won the 800 and anchored
the 4x800 to a come-from-behind win with a 2:15 split.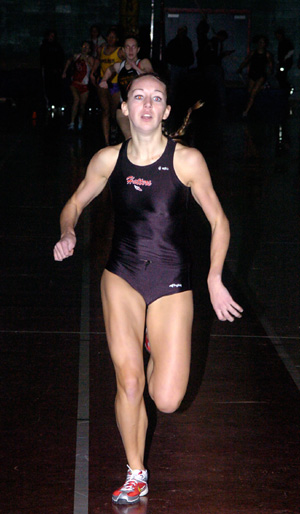 The stars came out and reflected brightly off the shiny Kutztown track with performances that you'd expect at a meet of this caliber. Some showdowns weren't as close as anticipated, but the best of the best did finish on top.
One of the busiest athletes was West Catholic's Latavia Thomas. With the entire meet finished in under 2-1/2 hours, she didn't have to wait long between runs. She first took her individual event, the 400 in 56.78 (with Methacton frosh Ryann Krais 2nd at 58.82); and then in the relays, she anchored both the 4x200 (1:45.76) and 4x400 (3:59.17) to winning efforts. Her 25.6 200 sealed the deal in that event, and she followed Christina Taylor (61.3), Kneshia Sheard (58.2) and Ciarra Lawson (64.1) with a 55.4 anchor in the meet's final race. Hatboro's Caitlin Klaas won an individual race, taking the 800 in 2:17.43. Earlier, she had anchored her team to a come-from-behind 9:32.08 win in the 4x800, the best this season in PA and US#9 (Theresa Gould- 2:31, Megan Rae- 2:23, Kerry Swayne- 2:21, Caitlin Klaas- 2:15) Winning two individual events was Clarenchell Tate of Simon Gratz, who twice held off Krista Simkins of Wissahickon. Tate's 7.22 - 25.15 double was impressive. Simkins ran 7.45 in the 55, and then after a hesitant start, went 25.42 for 2nd in the 200. Upper Dublin senior Lauren Bowles ran 5;18.41 to win the mile. West Chester East's Alycia Woodruff set a PR in winning the 3000 in 10:34.42. Elisse Douglas of Episcopal Academy went 8.87 to win the 55 Hurdles. The other long relay was a great race, as well. Strath Haven used a 5:09 1600 anchor by junior Lisa Vienneau to win the DMR in 12:41.11. Krais took the Long Jump at 17-03.50; Boyertown's Natalie Miller cleared 5-06 to win the High Jump; Michele Frayne, Cardinal O'Hara leapt 36-00.50 to take the Triple Jump; Coatesville's Kaleena Gray won the Shot Put at 38-06.50; and Kelli McDonald, Phoenixville, cleared 10-00 to capture the Pole Vault.
 
55m - Clarenchell Tate,  Simon Gratz, 7.22 
200m - Clarenchell Tate,  Simon Gratz, 25.15 
       Krista Simkins, Wissahickon, 25.42
400m - Latavia Thomas,  West Catholic 56.78

800m - Caitlin Klaas, Hatboro-Horsham, 2:17.43

3000 - Alycia  Woodruff, West Chester East,  10:34.43

4x200 - West Catholic,  1:45.76
        Simon Gratz, 1:46.60
4x400 - West Catholic, 3:59.15
        Engineering & Science, 4:01.07
        Central Bucks West, 4:04.83
4x800 - Hatboro-Horsham, 9:32.68
        Engineering & Science, 9:37.12
        Archbishop Prendergast, 9:43.93
        Downingtown West, 9:45.10
DMR - Strath Haven, 12:41.11 
High Jump - Natalie Miller, Boyertown, 5-06
Triple Jump - Michele Frayne,  Cardinal O'Hara, 36-00.50
Shot Put - Kaleena Gray, Coatesville, 38-06.50

Partial Results
55m
Clarenchell Tate,  Simon Gratz, 7.22 
Krista Simkins, Wissahickon, 7.45
Jewel Daye, Central, 7.47

200m
Clarenchell Tate,  Simon Gratz, 25.15 
(meet record-betters 25.1 by Juanita Broaddus, William Penn 2003) 
Krista Simkins, Wissahickon, 25.42  
Igeoma Iheoma, Council Rock South, 26.48

400m
Latavia Thomas,  West Catholic 56.78 
(meet record, betters 57.5 by Danielle Rodgers, Penn Wood, 1999)
Ryann Krais, Methacton,  58.82
Heather VanDorn, Council Rock North, 1:00.09

800m
Caitlin Klaas, Hatboro-Horsham, 2:17.43 
Anna Aagenes, Central Bucks West, 2:20.36
Shayla Simms, Upper Darby, 2:22.83

Mile
Lauren Bowles, Upper Dublin, 5:18.41
Kristen Reed, Upper Perkiomen, 5:21.34
Julia Somers, Haverford High, 5:22.91

3000
Alycia  Woodruff, West Chester East,  10:34.43 
Allison Sikora, Council Rock North, 10:38.17
Janine Walsh, Archbishop Ryan, 10:46.81

55H
Elisse  Douglass, Episcopal Academy, 8.87
Amber Koon, Coatesville, 8.90
Kelly Kajunski, Downingtown East, 8.92

4x200
West Catholic,  1:45.76 (Latavia Thomas 25.6 anchor)
Simon Gratz, 1:46.60
William Tennent, 1:48.06 

4x400
West Catholic, 3:59.15 DS
(Christina Taylor  61.3, Kneshia Sheard 58.2,  Ciarra Lawson 64.1, Latavia Thomas 55.4)
Engineering & Science, 4:01.07
Central Bucks West, 4:04.83

4x800
Hatboro-Horsham, 9:32.68 
(Theresa Gould- 2:31, Megan Rae- 2:23, Kerry Swayne- 2:21, Caitlin Klaas- 2:15)
Engineering & Science, 9:37.12
Archbishop Prendergast, 9:43.93

DMR
Strath Haven, 12:41.11 
(meet record, betters 12:41.5 by Archbishop Prendergast, 1998)
(Molly Carroll, Kristen Kildea, Nikki King, Lisa Vienneau-5:09 anchor) DS
Radnor, 12:51.73
Upper Perkiomen, 13:06.43.

High Jump
Natalie Miller, Boyertown, 5-06 
tie: Kelly Kajunski, Downingtown East, and Allyson Morris, Neshaminy, 5-2

Long Jump
Ryann Krais, Methacton, 17-03.50
Jawanda Jackson, Chester, 17-01.75
Elisse Douglas, Episcopal Academy, 16-11

Triple Jump
Michele Frayne,  Cardinal O'Hara, 36-00.50 
Saqenda Dallas, Girls High, 35-04.75
Kiersten Craig, Downingtown East, 34-11

Shot Put
Kaleena Gray, Coatesville, 38-06.50
Alana Owens, West Chester East, 37-00.75
Katie Johnson, Interboro, 36-00.50

Pole Vault
Kelli McDonald, Phoenixville, 10-00.00
Lisette Delgado, Archbishop Ryan, 10-0
Krista Foulds, Phoenixville, 10-0