At about 3/4-mile, Chaminade's Kevin McDermott is pushing the pace.
But Kevin Tschirhart of Northport NY and Council Rock's John Mahoney are nearby.

Girls race at one mile: Kate Vernon, Gwynedd, heads into the woods with a lot of company, including Henderson #1 Meghan Durkee. Vernon would win the race. Durkee led her team to a 2nd place behind Eleanor Roosevelt HS of MD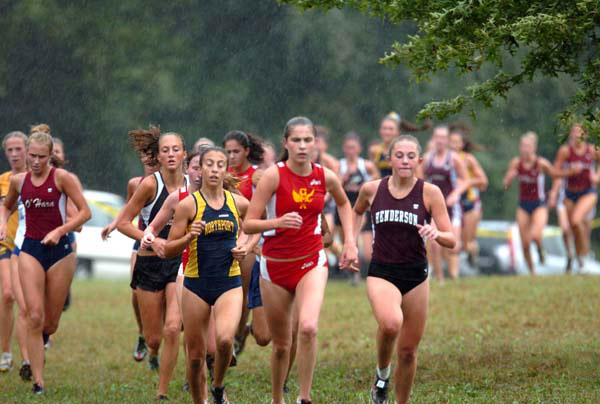 NE#7 Chaminade NY came into PA with high hopes, and left with a 3rd place behind a very strong Council Rock North squad, 1st with 51 points, and just five up on LaSalle. Chaminade #1 Kevin Mcdermott ran the fastest time of the day, a 16:32. Rock placed five runners within a minute, and their top three in 4th, 5th and 6th, just 16 seconds apart.
Eleanor Roosevelt MD girls ran into NE#2 Bay Shore NY on 9/11 at Penn State, but found southeastern PA more to their liking - barely. Just three points separated them from both West Chester Henderson and Gwynedd Mercy. Roosevelt was led by a 2-3 finish by Dominique Lockhart and Jennifer Redman.
Henderson took 2nd based on their 6th runner, who finished 36th.
Hatboro-Horsham, with two top runners under the weather, finished 4th with 99 points. Kate Vernon staked her claim for the #1 spot on Gwynedd Mercy with a 19:36 on the rain-drenched course. New Monarch Liz Kearnins, who won her appeal on her transfer just a few days ago, finished 5th in 20:14.
Boys
Council Rock North 51
LaSalle 76
Chaminade NJ 81
O'Hara 111
Carroll 114
Council Rock South 146
West Potomac 158 VA
Northport 165 NY
Holy Ghost Prep 179
Kevin McDermott, Chaminade NJ 16:32
Kevin Tschirhart, Northport NY 16:40
Sean McKinnley, LaSalle 16:46
Brandon Pomerantz, 12, Council Rock North 16:52 John Mahoney, 12, Council Rock North 17:00 Keith Capecci, 11, Council Rock North 17:08 Greg Thomas, O'Hara, 17:11 Don Savoy, Carroll, 17:11 Andrew Miller, Northport NY 17:13 Pat Jeffers, LaSalle 17:17 Brendan McCann, Chaminade, 17:18 Chris Tilger, Carroll, 17:20 Mike Terzyk, Council Rock South 17:23 Grant Stanfield, 12, Council Rock North 17:28 Brian McDermott, Chaminade, 17:31 Steve Van Wert, Holy Ghost Prep 17:34 Bob McCullough, LaSalle, 17:40 Frank Devon, West Potomac VA, 17:41 Tim Shay, LaSalle, 17:46 Connor MacNamara, Chaminade, 17:46
Girls
Eleanor Roosevelt 77
Gwynedd Mercy 80
C.W. Henderson 80
Hatboro-Horsham 99

Individual Finishers

Kate Vernon GM 19:36
Dominique Lockhart ER 19:54
Jennifer Redman ER 19:57
Elizabeth ? West Genesse 20:03
Liz Kearns Gwendolyn Mercy 20:30

15) Nayda Pirela ER 20:57
25) Tameka Jameson ER 21:30
32) Takecia Jameson ER 21:43
35) Tunisia Milner ER 21:52