10/22/2005

What up?

Last week he had one of the biggest GSL (Greater Spokane League) meets in a long time. The course was in awesome shape; wet and muddy. We raced at a neutral course against Ferris, North Central, and Rogers. We came in pumped up for some really good competition. The race started off and it was close all around. At the mile the packs started to split. Mead/Ferris all up there in contention. The second mile came and we started to pull away from Ferris. We ended up winning the meet and the GSL title!

Taylor Nepon (L) and Dylan Hatcher (R) from MEAD coming into the finish off the hill in dual with Ferris, North Central, and Rogers in GSL meet.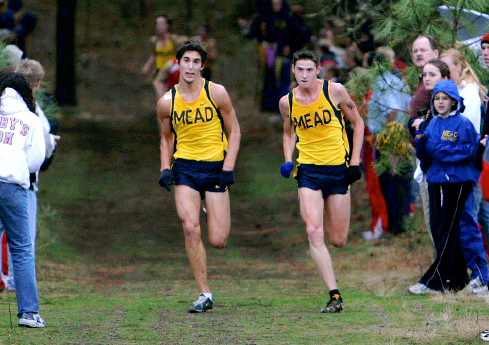 Photo Courtesy of Steve Price of Price Photography
10/17/2005

What up guys,

Today we had a little fartlek, not to hard. Started tapering today for the Ferris meet. We did a light file run over our course then some cutdowns after. Followed by some good stretching, guts, and pushups.
10/14/2005

Hey guys what up?

We have no school today so were meeting up in the afternoon and just doing a easy run and the usual routine.

We went over to a state park where we are going to race Ferris which is going to be our toughest meet yet. We always have a really tough battle against them. Were doing a nice tune up speedworkout over the course. It should be good but not killer. Then have a little team builder after the workout to pump us up.
10/3/2005
Hey gang,

We don't have a meet till this coming weekend, so I have time to start sending you blogs this week. Today we had a really good speed workout on the track. We started off by doing in and out 45 to 35 second 200m drills for about 10 laps. Our legs were tired from the Stanford Invite and we ran pretty fast at one of our gsl meets last Wednesday; where the top 7 were all under 15:47.

After that we did a upbeat 15 min recovery around some trails by our school. Then came back and did 6x200 cutdowns. It was a good workout in all. It started pouring rain so we did a shorter recovery. I'll fill you in as soon as Tyson posts our workouts for this week on Monday.
-Taylor
10/2/2005
This is the first journal entry of #2 man and jr-Taylor Nepon, one of the Tyson Army runners. Follow his blogger as they prepare for the NTN Championships in Portland, OR on Dec 3rd!!!

2004 NTN Championships - 3rd place overall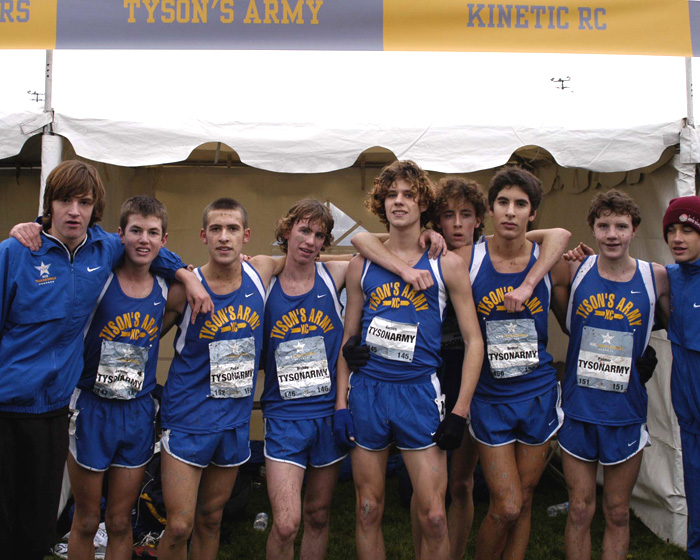 Our team right now is pretty young but good. We have 2 seniors, 4 juniors, and 1 sophmore on varsity. With a very fast jv puhsing us. We have three guys that are borderline varsity. A junior, sophmore, and the fastest freshman yet to come to Mead.

The team is all about working hard and being as tough as you can be. We really emphasize being a team and every man counts. That you should be fighting for your spot no matter what man you are on the team. Everybody on the varsity is fighting for there positions every meet, which is good. We try to pack up, but we end up with usually with 2 packs. One thing the coaches really like to push us on is digging deap and not letting down.

About myself I am a junior and a co-captain of the team. My sophmore prs were okay but not great. 800-1:57 1600-4:25 3200-9:23 5k-15:52. So far this year we have only had a few races where were raced hard. I'm currently the number 2 man on the team right behind a guy who is another junior. My best so far this season for 5k-15:59 2.98 mile course-15:21 and 2.5mile course-12:39.

We havent really had many meets so far but they will be starting this weekend. Then I'll give you some good times and good stuff for you to put up.
-later