Arianna Lambie's Preparation for her 4:37 Mile
[ 1 ] [ 2 ] [ 3 ]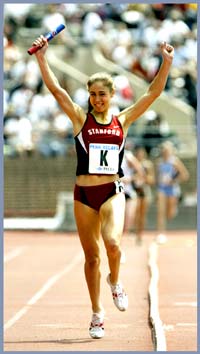 My senior season resulted from months, and in many senses years, of build-up. We all know that it takes time and patience to become a strong runner, a fact that I truly learned after rushing my return from injury last year. So, as my high school coach says, the specific workouts I did the spring of my senior year are not important details. I attribute the success I had to our positive outlook, commitment, and appreciation of the journey. Of course, my training schedule gave me the necessary fitness, so I share with you some basics:
My mileage was around 35 a week in the fall and 30 in the winter and spring. I would do one long run of about 8 miles, 1-2 workouts depending on meets, one day off, and the rest were training runs of 5-6 miles. The workouts in the beginning of each season were primarily hill intervals or fartleks. All of my fall training was off the track, while winter training consisted of four track workouts, which helped build for the spring.
Leading up to the end of spring, I focused on 400m track workouts. These were a good mental challenge for me because I refused to follow one interval with a slower one, despite how hard the last few felt.
Compared to a typical high school season, I did not race much that spring. That way I could focus on hard workouts and consistent recovery. Many runners benefit from lots of racing, but this pattern of competing only seven times before States worked well for me.
I'm still trying to find the best balance of racing, training, and recovery, which will be different for all of us. One thing I've always liked is racing different events throughout the season. It kept me on my toes and actually served as good preparation for the event I finally settled on each season.