May 11, 2001 at Coral Springs FL
3A Florida State Meet
Photo Page - Sanya Richards
Drive for five ends at two for hobbled star
by John Dye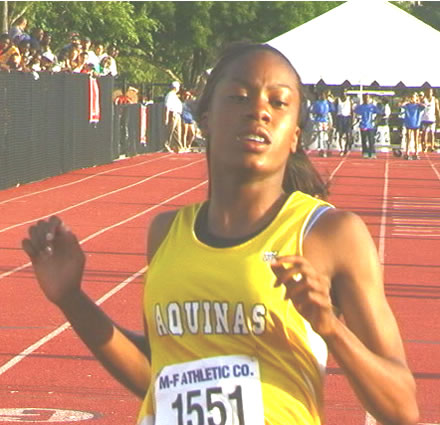 Sanya Richards advanced to the Florida 3A state finals in five events and, amazingly, she was favored in all five -- long jump, high jump, 100, 200, and 400. But she was hurting with season-long nagging injuries -- shin splints, hamstring, and turf toe. Furthermore, winning the five events was really eight competitions in one day because there were preliminaries in the sprints.
Things started auspiciously with a 19-11.25 win in a great long jump competition (four more girls were better than 18-11), but the drive for five ended in the high jump as Richards couldn't make her seed height of 5-6 and finished second to Marla Jackson's 5-6..
Then came the sprints - six races in a little over 4 hours. Richards advanced out of the prelims in all three events.