Jan 6, 2001 at the New York Armory, New York City
Coca Cola
Hispanic Games
Complete Results: BOYS - GIRLS
Table of Winners - DyeStat Elite performances (136)
Hispanic Games Photo Stories:
Brendan Sullivan, Port Jefferson 4:21.82 wins the Mile with a devastating last lap kick. He bided his time in third as Charles Millieon and Tim Walker took turns leading through 7 laps and then accelerated down the backstretch of the anchor leg. Brian Boyett (in black) 4:22.19 also passed the early leaders to get second.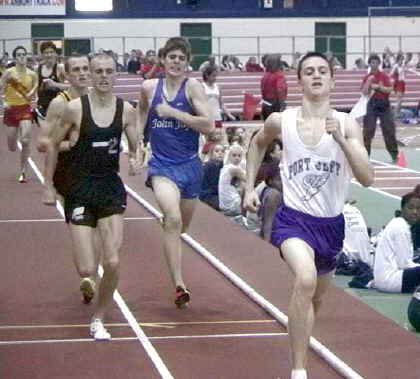 I-Perfection Harris doubled in the long and triple jump -- 23-10 MR and US#1, 45-10 US#3.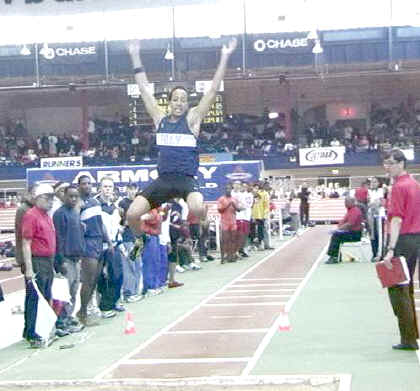 Sacred Heart wins girls 4x400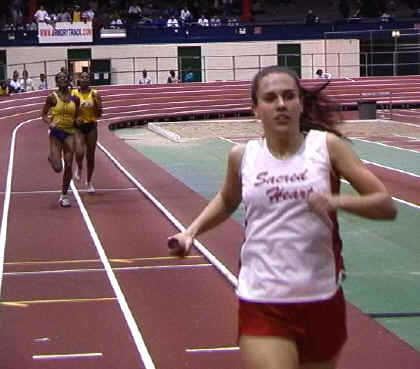 Glenn McFadden, Hill House CT 21.51 edges Kedar Inico, Campus Magnet 21.66 -- new US #1-2 in 200 meters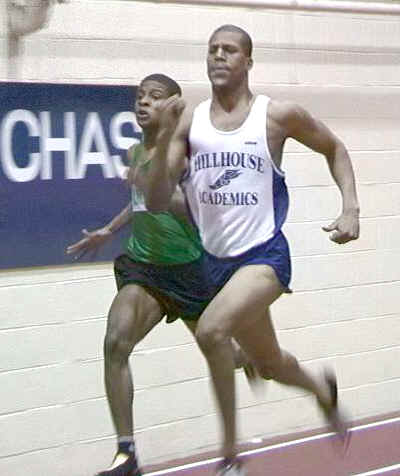 Shana Cox wins girls 200 decisively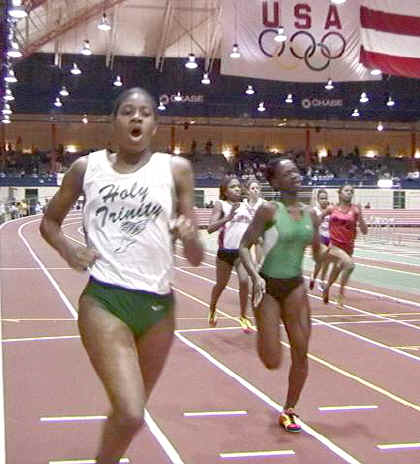 Six boys go under 1:59 in the 800
Michael Brown Transit Tech 1:57.36 and Ben Assinor, Dewitt Clinton 1:58.18 start the bell lap nip and tuck.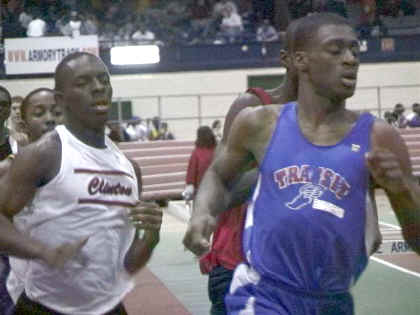 Brown just holds off Chris Musano Spellman 1:57.41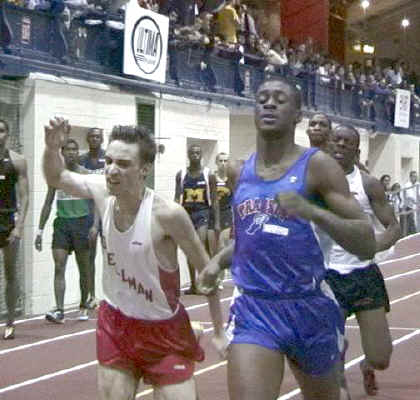 Bellport sr Theresa Fath 4:59.58 turned the girls mile into a rout with the second fastest time in the nation this season.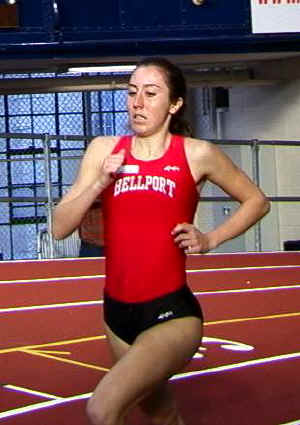 Mile winners Brendan Sullivan, Port Jefferson, and Theresa Fath, Bellport, with their trophy crystal bowls and coaches Rod Cawley (L) and Steve Schoppman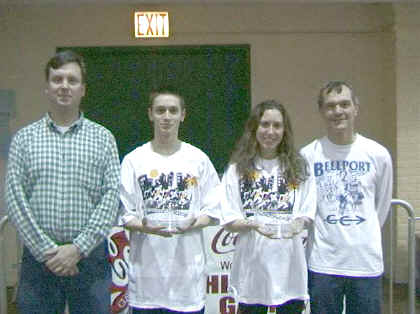 And a good time was had by all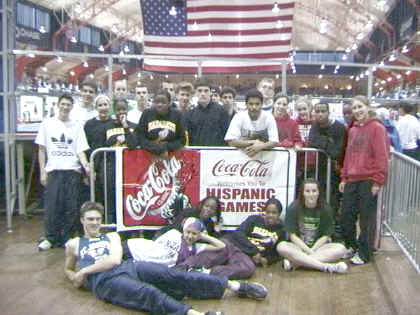 55: Jamar Ervin, Camden NJ 6.38 MR
200: Glenn McFadden, Hillhouse CT 21.51 US#1
400: Kedar Inico, Campus Magnet 48.66 US#2 (to his own 47.67)
800: Michael Brown, Transit Tech 1:57.36 US#1
Mile: Brendan Sullivan, Port Jefferson 4:21.82 US#2
3200: Brian Dalpiaz, Sayville 9:27.87 US#1
55H: Dwight Ruff, Camden NJ 7.43 MRt US#2
4x200: Kellenburg 1:31.27 US#6
4x400: Transit Tech 3:20.69 US#1
4x800: Bishop Loughlin 7:58.42 US#1
HJ: Mike Morrison, Willingboro 6-8
LJ: I-Perfection Harris, Poly Prep 23-10 MR US#1
TJ: .I-Perfection Harris, Poly Prep 45-10 US#3
PV: Jermaine Jasewicz, Colonie 13-6
SP: . Tarvon McKay, M.L.K 53-5
55: Karen Robinson, New Rochelle 7.22 MR
200: Shana Cox, Holy Trinity 24.86 MR US#1
400: Tiandra Ponteen, Wash. Irving 55.30 MR US#1
800: Melanie Hardy, Cardozo 2:16.30 US#2
Mile: Theresa Fath, Bellport 4:59.58 MR US#2
3000: Catha Mullen, Bronxville 10:22.05 US#1
55H: Amber Williams, Roxbury NJ 8.03 MR US#2 (to her own 7.94)
4x200: Robeson NY 1:42.31 US#2 (to their own 1:41.15)
4x400: Sacred Heart 4:01.89 US#7
4x800: A. P. Randolph NY 9:17.20 US#1
HJ: Lauren Edwards, Port Jefferson 5-4
LJ: .Shenae Dawkins, New Rochelle 18-0 US#5
TJ: .Tatiana Warren, Clara Barton 37-2 US#5
PV: Ann Wiley, Hunterdon Central NJ 9-6
SP: .Marina Liander, Notre Dame 40-0
DyeStat Elite Performances (136)
B55: 6.38 -- Ervin, Jamar, 2003, Camden NJ
B55: 6.47 -- Hussey, Ronald, 2001, Mt. St. Michael NY
B55: 6.56 -- Dutch, Todd, 2002, Washington Twp NJ
B55: 6.59 -- Gregory, Steve, , Curtis
B55: 6.6 -- Harrison, Marquis, 2001, Shaker NY
B55: 6.62 -- Uche, Emeka, 2002, East NY
B55: 6.63 -- Amoona, Joe, , Hewlett NY
B200: 21.51 -- McFadden, Glenn, 2001, Hillhouse CT
B200: 21.66 -- Inico, Kedar, 2001, Campus Magnet NY
B200: 21.96 -- Bolling, Michael, 2001, Willingboro NJ
B200: 22.16 -- Dutch, Todd, 2002, Washington Twp NJ
B200: 22.72 -- Capra, Mike, , Schenectady NY
B400: 48.66 -- Inico, Kedar, 2001, Campus Magnet NY
B400: 49.11 -- Ross, Sanchez, 2001, Brooklyn NY
B400: 49.14 -- Frelow, Rob, 2001, White Plains NY
B400: 49.27 -- Smith, Jade, 2002, Camden NJ
B400: 49.59 -- Susser, Brian, 2001, Colonie NY
B400: 49.66 -- McKenzie, Chase, , South Shore NY
B400: 50.34 -- Thoms, A., , Woodlawn MD
B400: 50.65 -- Aguirre, Ricardo, , Mt. St. Michael NY
B400: 50.71 -- Patrice, , South Shore NY
B800: 1:57.36 -- Brown, Michael, , Transit Tech NY
B800: 1:57.41 -- Musano, Chris, , Spellman NY
B800: 1:58.18 -- Assinor, Ben, , Clinton NY
B800: 1:58.44 -- Victory, Dwayne, , South Shore NY
B800: 1:58.59 -- Thomas, Corey, , Bishop Loughlin NY
B800: 1:58.81 -- Telesford, Chris, , Bishop Ford NY
BMile: 4:21.82 -- Sullivan, Brendan, 2002, Port Jefferson NY
BMile: 4:22.19 -- Boyett, Brian, 2001, Parsippany Hills NJ
BMile: 4:22.5 -- Millioen, Charles, 2001, St. Anthony's NY
BMile: 4:22.52 -- Walker, Tim, 2001, Jay E. Fishkill NY
BMile: 4:24.53 -- Palermo, Ed, , Bay Shore NY
BMile: 4:25.1 -- Colin, Martin, , Chaminade NY
B2Mile: 9:21.27 c -- Dalpiaz, Brian, 2003, Sayville NY
B2Mile: 9:27.47 c -- Corelli, Justin, 2002, Latham Shaker NY
B2Mile: 9:37.57 c -- Romaniuk, Justin, 2001, Suffern NY
B2Mile: 9:38.97 c -- Mammone, Chris, , Valley Stream S.
B2Mile: 9:43.24 c -- Contario, Jesse, 2001, Newark NY
B55H: 7.43 -- Ruff, Dwight, 2001, Camden NJ
B55H: 7.6 -- Francis, Fillippe, , Westbury
B55H: 7.8 -- Moore, Ian, , Lenape NJ
BHJ: 6' 8 -- Morrison, Michael, 2003, Willingboro NJ
BHJ: 6' 6 -- Canty, Ezekiel, , Freeport
BHJ: 6' 6 -- Jacques, Chris, , Chaminade NY
BLJ: 23' 10 -- Harris, I. Perfection, , Poly Prep NY
BLJ: 22' 1.5 -- Gilmore, Jakeen, , Poly Prep NY
BTJ: 45' 10 -- Harris, I. Perfection, , Poly Prep NY
BTJ: 45' 4.5 -- Francis, Fillippe, , Westbury
BTJ: 45' 0 -- Harrison, Marquis, 2001, Shaker NY
BTJ: 44' 7 -- Vicks, Dakel, , Jefferson
BTJ: 44' 5 -- Peters, Gary, 2002, Mt. St. Michael NY
BTJ: 44' 4.25 -- Guidotti, Mike, , St. Anthony's NY
BSP: 52' 1 -- Scarpa, Mike, 2001, Msgr Farrell NY
BSP: 53' 5 -- McKay, Taivon, , King NY
B4x200: 1:31.27 -- Boys Relay, , Kellenberg NY
B4x200: 1:32.22 -- Boys Relay, , Campus Magnet NY
B4x200: 1:32.65 -- Boys Relay, , Holy Cross NY
B4x200: 1:33.29 -- Boys Relay, , Jefferson NY
B4x400: 3:20.69 -- Boys Relay, , Transit Tech NY
B4x400: 3:22.54 -- Boys Relay, , Mt. St. Michael NY
B4x400: 3:23.62 -- Boys Relay, , Camden NJ
B4x400: 3:26.71 -- Boys Relay, , Science Skills NY
B4x400: 3:26.87 -- Boys Relay, , Tilden NY
B4x400: 3:28.87 -- Boys Relay, , Lenape NJ
B4x400: 3:29.07 -- Boys Relay, , Pleasantville NJ
B4x400: 3:29.28 -- Boys Relay, , Clinton NY
B4x400: 3:29.33 -- Boys Relay, , Woodlawn MD
B4x800: 7:58.42 -- Boys Relay, , Bishop Loughlin NY
B4x800: 8:00.75 -- Boys Relay, , South Shore NY
B4x800: 8:06.9 -- Boys Relay, , Campus Magnet NY
B4x800: 8:06.92 -- Boys Relay, , John Jay NY
B4x800: 8:13.82 -- Boys Relay, , Xaverian NY
B4x800: 8:13.97 -- Boys Relay, , Iona Prep NY

G55: 7.22 MR -- Robinson, Karen, , New Rochelle NY
G55: 7.24 -- Arthur, Candace, 2001, Friends Acad NY
G55: 7.36 -- Hammond, Chelsea, 2001, Elmont NY
G55: 7.39 -- Henry, Shanae, , Kellenberg NY
G55: 7.4 -- Alston, Erica, 2002, Robeson NY
G200: 24.86 MR -- Cox, Shana, 2003, Holy Trinity NY
G200: 25.16 -- Williams, Kasia, 2001, Robeson NY
G200: 25.56 -- Offor, Chinny, 2002, Half Hollow Hills NY
G200: 25.84 -- Hunter, Tameika, , Clinton NY
G400: 55.3 -- Ponteen, Tiondra, 2003, Wash. Irving NY
G400: 55.99 -- Offor, Chinny, 2002, Half Hollow Hills NY
G400: 56.26 -- Stoddart, Shevonne, 2001, Uniondale NY
G400: 57.35 -- Hardy, Melanie, 2001, Cardozo NY
G400: 57.62 -- O'Connor, Natasha, , Randolph NY
G400: 57.67 -- Bridgewood, Nicole, 2001, Connetquot NY
G400: 58.56 -- Doyley, Yanique, 2002, Robeson NY
G400: 58.6 -- Wilson, Helenor, 2001, Lincoln-Brooklyn NY
G400: 58.66 -- Anosike, A., , Curtis NY
G400: 58.85 -- Burnett, Aisha, 2001, New Hyde Park NY
G400: 59.69 -- Powell, Kelly, , Bellport
G400: 59.73 -- Andrews, Anisha, , Lincoln Yonkers NY
G800: 2:16.39 -- Hardy, Melanie, 2001, Cardozo NY
G800: 2:18.54 -- Hanson-Hall, Nana, 2003, New Rochelle NY
GMile: 4:59.58 -- Fath, Theresa, 2001, Bellport NY
GMile: 5:09.94 -- Hawrylo, Shannon, 2001, Hunterdon Cent. NJ
GMile: 5:13.6 -- Iatauro, Heather, 2004, Tri-Valley NY
GMile: 5:14.31 -- Hessberg, Anne, 2002, Holy Names NY
GMile: 5:14.91 -- Oberman-Breindel, Hannah, 2002, Fieldston NY
GMile: 5:16.45 -- Briggs, Sally, , John Jay NY
G3000: 10:22.05 -- Mullen, Catha, 2003, Bronxville NY
G3000: 10:22.47 -- Boykin, Nicole, 2001, White Plains NY
G3000: 10:29.36 -- Gleman, Jean, , Wantagh NY
G3000: 10:33.4 -- Mullen, Caroline, 2003, Bronxville NY
G3000: 10:33.9 -- Rorke, Michelle, , Bronxville NY
G3000: 10:34.04 -- O'Shea, Megan, 2001, Miller Place NY
G3000: 10:34.44 -- Gubbins, Megan, 2001, Southampton NY
G55H: 8.03 MR -- Williams, Amber, 2001, Roxbury NJ
G55H: 8.14 -- Dawkins, Shenae, 2002, New Rochelle NY
G55H: 8.21 -- Byam, Sherian, 2001, Robeson NY
G55H: 8.27 -- Finley, Deanna, , Brandeis
G55H: 8.49 -- McGill, Tamara, 2001, Franklin Somerset NJ
G55H: 8.54 -- Kitton, Fara, 2001, Bellmore JFK NY
G55H: 8.68 -- Scotidas, Katie, 2001, Massapequa NY
GHJ: 5' 4 -- Edwards, Lauren, 2001, Port Jefferson NY
GHJ: 5' 4 -- Taibe, Jessica, 2002, Hunterdon Cen NJ
GLJ: 18' 0 -- Dawkins, Shenae, 2002, New Rochelle NY
GLJ: 17' 8 -- Finley, Deanna, , Brandeis
GLJ: 17' 3 -- DeBeuedetto, Collette, , Mt. Lakes
GTJ: 37' 2 -- Warren, Tatiana, , Clara Barton NY
GSP: 40' 0 -- Liander, Marina, 2002, Notre Dame Acad NY
G4x200: 1:42.31 -- Girls Relay, , Robeson NY
G4x200: 1:42.81 -- Girls Relay, , Tilden NY
G4x200: 1:43.58 -- Girls Relay, , Willingboro NJ
G4x200: 1:45.02 -- Girls Relay, , Lincoln-Yonkers NY
G4x200: 1:46.87 -- Girls Relay, , Franklin
G4x400: 4:01.89 -- Girls Relay, , Sacred Heart NY
G4x400: 4:04.49 -- Girls Relay, , Bishop Loughlin NY
G4x400: 4:05.99 -- Girls Relay, , Uniondale NY
G4x800: 9:17.2 -- Girls Relay, , A.P. Randolph NY
G4x800: 9:34.81 -- Girls Relay, , Bellport NY
G4x800: 9:34.81 -- Girls Relay, , Colonie NY
G4x800: 9:47.64 -- Girls Relay, , Arlington-Lagrangeville NY
G4x800: 9:59.25 -- Girls Relay, , Brooklyn Tech NY
return to DyeStat US home page