Julia Pudlin of Pennsylvania
Part 1
Changing focus from soccer to running
by Don Rich, publisher of DyeStatPA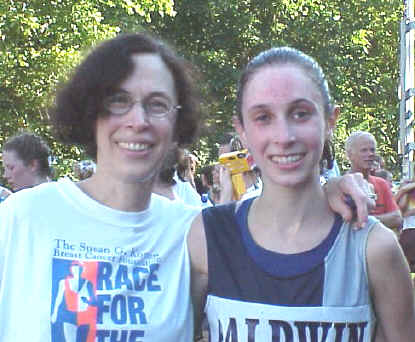 Julia Pudlin with mom
Attention all cross country runners. Most of you probably have friends who play soccer. And we all know they would be a whole lot happier if they had a sport they could truly call their own. A sport that involves a team, but rewards individual dedication and effort. Soccer players probably run five miles a day chasing a ball anyway. So why not get to see more interesting scenery than a couple of nets, a few referees, and a funny looking ball?
The sport they should try is cross country. And just has happened many times before (and likely will again), many of its best participants have come from the soccer fields to discover their true passion - distance running.
Meet Julia Pudlin, 15, (she turns 16 Nov. 17) and a junior at the Baldwin School, a small private all-girls' prep school on Philly's Main Line, and another ex-soccer player-turned elite XC and T&F athlete.
Julia actually played with a travel soccer team until she was 11 before the reality hit her. "I always got to the ball first, but then I didn't know what to do with it when I got there." A friend on the team talked her into focusing on track. She quit soccer, and turned her attention full-time to the part of soccer she excelled in, the running.
Actually, Julia had been running for a few years. She was just eight when she joined the Dashers, a Lower Merion Track Club. She ran some cross country on 3000 meter courses. In fact, the coach, Dermot Anderson, still trains Julia during the summers, and works closely with Baldwin Cross Country Coach Suzanne Valutas to coordinate Julia's training and race planning.
Most importantly, Julia had found her passion. She loves the competition. But just as much, she loves the outlet it has become for her intense approach to virtually every aspect of her life. "I can be a very stressed-out person. I really put a lot of pressure on myself, and running is a great way to let go."
Her focus on a single sport paid almost immediate dividends.
At 12, and still an eighth grader, she was permitted to run with the varsity cross country team at Baldwin. Not intimidated in the least, she won the Inter-Academic League Championship on her first try, the youngest varsity champion in the history of the league. She repeated the favor to the upperclassmen in 9th, as well as 10th grades.
But Julia was only just beginning.
In the two years that she has been in the Upper School (9-12) at Baldwin, Julia's dual meet record in cross country is 25-0 (counting her first five meets of the 2000 season). She holds the course record at every school at which she has competed. She won the Pennsylvania Independent Schools State Championship in both 9th and 10th grades, setting the meet record as a sophomore. When she won the state meet in 9th grade - at just 13 - she became the youngest state champion in meet history. And the recognition has extended beyond the league to include being named First Team All-State in cross country the past two years by The Pennsylvania Track and Field Coaches Association.
Julia has also extended her reach to include national level competition, experience which she believes has prepared her to compete successfully at that level during her final two years in high school.
Her first national effort showed XC observers that she would be someone they would hear about again. In her very first "hot heat" Footlocker Northeast Regional as a 14-year-old freshman on New York City's Van Cortlandt Park, Julia finished 23rd, gaining a medal for fourth team, All-Northeast. She also won a medal that day as a top five finisher on the Pennsylvania team.
Even with her incredible showing as a freshman, Julia doesn't believe she ran as smart as she will with more experience. Those who know the course - America's oldest - know that getting to the woods just before the mile in good position is critical to success. But the successful finalist also has to run within themselves. According to Julia, she went out a bit too fast (5:10), and lost momentum, and valuable places, in the woods. Coming out for the final 800, she was in the 40's, but was able to summon the strength to pass enough people for her 23rd place finish.
To close her frosh XC season, Julia went to the National Junior AAU XC Championships in Knoxville, Tennessee, and made First Team-All American.
Julia's frosh spring season included a few high school meets, posting times of 10:34 in the 3000 and 4:48 for the 1500. During the summer, she competed in both AAU and USATF age group competitions.
Last season, as a sophomore, Julia also won and set meet and course records in the three invitational meets in which she competed (Salesianum, Woodlynde and George School).
But then she hit the first bump in a road that had been a very smooth ride. While the cause can never really be pinpointed, Julia believes that a shoe change while preparing for her second Footlocker Northeast Regional led to a knee injury. While there was no trauma, the pain in an IT Band was so bad, she had to cancel the rest of her season. The Pennsylvania Independent Schools State Championship would have to be the last race of her soph season. And another chance at the Footlocker National Championships would have to wait for November, 2000.
The injury hit Julia pretty hard. "I thought I would never run again. I was so dejected. But I said to myself that I just can't get like that. What I realized was that running is not my entire life. Now I go out more with friends. I'm more focused on school. And I think I have things more in perspective."
Things were touch and go coming back from the injury in time for the Indoor season of her sophomore year. But she improved. Got back to training. And used her new-found perspective on her sport and her life to her advantage.
The result turned out to be a rested, focused, stronger Julia Pudlin. Her track times started to drop. At the Pennsylvania Indoor State Championships at Penn State University, she took 2nd in the 3000 with a PR of 10:19. Julia says that it was one of the most amazing races she had ever seen. She was in a group with North Allegheny's Stephanie Madia, West Allegheny's Lauren Shaffer, and Oxford's Josianne Lauber. "Stephanie and I made a move, and Lauren just flew away. I was happy with second."
Julia prepared for her big Spring meets with two high school meets in New York and four in PA. Her first big meet was the Penn Relays 3000, an invitational that includes many of the top runners in the US. The race was won by Sayville, NY's Jillian Mastroianni in 9:47.70. Julia would finish just out of the medals with a sixth place time of 10:04.23, a PR. She has higher hopes for 2001. "My 2000 Penn 3000 was not a good race."
At the Footlocker Outdoor Championships, Julia was seeded ninth in the 2-mile. Again, she was there to gather more valuable experience preparing to race, and then racing against the best.
While she was with the leaders after three laps of the eight-lapper, she did get another lesson in pacing. She would run an 11:12.19 to finish 15th. But she had gained something quite valuable, knowledge that she could compete at the national level. And with two more seasons to do something about it, she is in good position.
California's Anita Siraki took the race in 10:18. Wyoming's Alicia Craig was second, four seconds back, and Carlifornia'a Sara Bei, was third in 10:28. All three are seniors this year.
And Julia is not achieving this level of performance by pounding out incredible miles. In eighth and ninth grades, she stayed in the 20-25 miles-per-week range. In 10th grade, it was 30-35. And this year, it's a comfortable 35-40, giving her plenty of room to grow as she becomes stronger and more experienced. Her weekly training includes at least one day of hill work, intervals on grass, 1000 or mile repeats, and tempo runs. This year she has also added a heart monitor, and says it has helped her keep her slower runs slower so that she can get proper recovery for her hard runs. A common theme of her training regimen is that everything she does is quality. "However," says Julia, "I can't be quoted as I like hills, but it keeps it interesting."
Following her June trip and race to Raleigh, Julia took a month off, and came back to training feeling even stronger.
No one could have anticipated how strong she actually would be.
Return to DyeStat Feature page