The meteoric rise of
San Lorenzo Valley
How a new coach and a new attitude made national champions out of the girls from the mountain forests above Santa Cruz CA

What are their new "impossible" dreams for 2000-2001?
by John Dye
A star is born
Arcadia Invitational, April 10, 1999, Girls 1600 meters -- Great matchup between two well known veterans of national and international racing: Katie Hotchkiss of California and Sara Gorton of Arizona.
Hotchkiss and Gorton were together as the last lap unfolded. Which one would win the stretch duel? Neither. Instead, a third runner grabbed the lead on the far turn and devastated the field with a 31-second finishing kick over the last 200 meters for the victory in 4:47.94.
"Who's that?" shouted the experts at the finish line. It was Alejandra Barrientos of San Lorenzo Valley CA, the beautiful young girl with the beautiful name and a killer kick. High School track guru Doug Speck wrote: "A surprise winner in a stunning display of explosive power near the end that one has to go back a long, long time to see at the high school level. 65 second last laps do not happen very often at the high school level."

The local Santa Cruz newspaper posted big black headlines, "A STAR IS BORN." And so she was.
The start
Until that day in Arcadia, SLV was unknown in California track circles, let alone the nation.
The rise of SLV and Barrientos started a few months before when a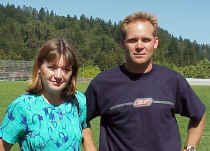 short, mild mannered man walked over to see SLV coach Thea Jorgenson and asked if he could help out with the team. (left) Rob Collins had coached with success in Oregon before he decided his family was more important and he wanted a change of scenery. He found a small corner grocery for sale in the mountains above Santa Cruz. The crossroads village is called Felton. He soon noticed that there was a high school a short jog up the mountain. "I knew he couldn't resist," says his wife, Carmen.
Coach Jorgenson said yes.
You gotta believe
Coach Collins believes that more than half the battle to success in running is challenging the expectations; making runners believe they can go beyond their wildest dreams.
First there was Alejandra, which soon became shortened to Ale as she became famous. An awkward, but raw talent when Collins arrived at SLV, Ale was unknown outside the valley and not even number one at SLV. Collins immediately told Ale she could break the school record in the mile (5:17 -- 10 seconds slower than the cutoff for the DyeStat Elite top 100 national rankings). He took her to the all-weather track at Soquel and she ran 5:15. She started to believe.
Then Collins told Ale she could become the California state champion. The next spring, she did. She ran the 1999 Outdoor table with three great victories that made her one of the elite girl runners in the country: Arcadia Invitational, California State Meet, and Junior Nationals. She was second to a college runner at the Pan Am Juniors.
When Ale won the Junior Nationals 1500 meters in 4:27.78, Doug Speck wrote: "Barrientos' finishing power is probably the most explosive by a prep since National Mile Record Holder Polly Plumer from back in the early 1980's."
Next on the confidence building list was the SLV team. With Ale a believer, Coach Collins turned to the team as a whole. They had never been a force outside their own little valley. This would change quickly in the 1999-2000 school year. They won the California Division 3 cross country championship in November with the best team time of the meet in all five divisions (94:09).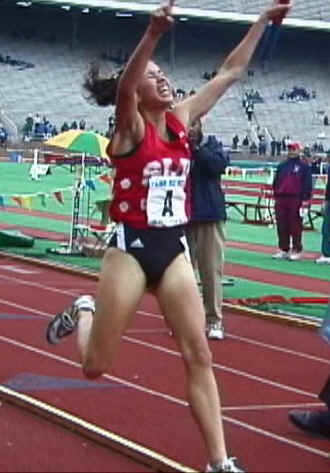 Collins then told them they could break one of the oldest and seemingly unbreakable records in HS girls -- the distance medley relay record of 11:43.53 set by the fabled University HS, Irvine CA girls in 1982. Collins wrote down the times it would take for the 400, 800, 1200, and 1600 meter legs. They warmed up with an 11:55.68 at Arcadia in early April. Then they flew East to the venerable Penn Relays for the record assault. Each runner did her part with times within fractions of Coach Collins' predicted times, ending with Ale's glorious 4:44.28. anchor leg (above), that left her clawing the sky in exhilaration and mobbed by her teammates (below). The winning time: 11:41.28, more than 2 seconds better than the record.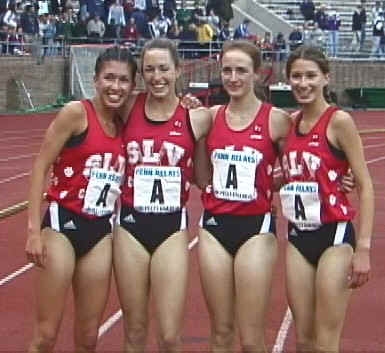 Secret Weapon - the Forest
| | |
| --- | --- |
| Go to a practice at SLV and you wonder where the team is. There is a dirt track that gets muddy when it rains -- hardly a platform for a national power. Coach Collins is walking the track alone, with no runners in sight. "They are out running," he says. Collins believes in individual differences -- different workouts for different runners, depending on their needs. | |
The secret weapon is the dark, tall, mountain forest that surrounds the school. There are miles of trails open to the public, starting a few steps from the SLV track.

Walk those trails and every few minutes a runner will come by, stop for a brief chat with Collins, and move on. This is a workout at SLV.

"Sometimes we stop for a rest, look up at the tops of the trees and just think, " says Collins. Visualizing those challenging goals.
the Barrientos family
Gordon Hyde is the father of Vicki Barrientos, the mother of the Barrientos sisters. He admits to trepidation years ago when his beautiful blonde daughter brought home her handsome, dark haired Mexican-American boy friend, Sal Barrientos. "Now he is my best friend," Hyde says, and the family could be a poster for ethnic diversity.
The 70-year-old Hyde never followed track before until Ale started making headlines. Now, his life in retirement revolves around trips anywhere in the country to see Ale run.
Hyde joins the family for dinner, cooked by professional chef Sal for visiting track writers John and Donna Dye. Son-in-law Sal teases widower Gordon about fixing him up with a lady friend. "She better like track," is all Gordon says.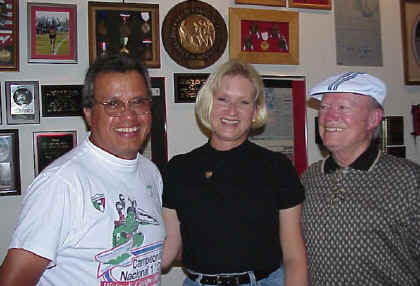 father Sal, mother Vicki, and grandpa Gordon in front of the trophy wall
There is a third Barrientos girl at the dinner table, saucy little Christina. She turns to Ale and Raquel and announces: "I'm going to break all your records." She believes already.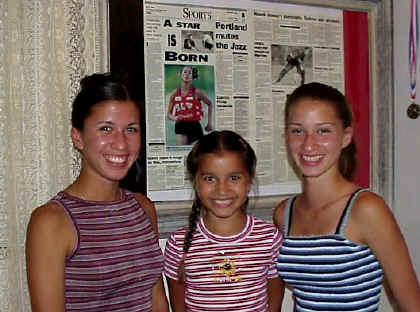 Alejandra, Christina, and Raquel Barrientos
Other than cooking, Sal's contribution to SLV running success is his famous megaphone. This amplifies his booming cheer leading of a growing SLV fan base. Track meet officials sometimes try to ban the megaphone, trying to squeeze this into the rules against unfair aid to runners. "I ask them, show me in the book where it is wrong to cheer for your daughter," says Sal.
the skeptics
Rob Collins had everyone scratching their heads when he starting laying out unbelievable goals.
Sal Barrientos: We listened, but thought "Hmmmph. What is this man talking about?"
Vicki Barrientos: "It is all because of Rob. Without him, we know Ale would have been a good runner, but nothing like what she has become."
Grandpa Gordon Hyde: "He knows the pscyhology of running. How to make the heart and brain work together."
New attitudes
Shiloh Whiting: "Before, we all ran as individuals. Now we are a team."
A new proud papa
Three days before the mighty meet in Charlotte (Great American, September 23), which will be the first test of the 2000-2001 season, Coach Collins wants to talk about his son. "He's a runner," Rob said, reporting that 7th grader Kevin Collins just turned in a 4:53 mile. Last summer, Collins told DyeStat he didn't care if his kids (there is also a daughter in 5th grade) run, "I just want them to be on some kind of team." But he seems mighty proud that Kevin came to him recently and said, "Dad, I want to run."
What are the next impossible goals?
Here are Coach Collins goals for the SLV girls for 2000-2001:
First: Lower the DMR record by an unbelievable 20 seconds. SLV left one record on the books at the Penn Relays. The Penn Relays record (11:40.51 Vere Tech JAM 1992) still stands even though the American record fell. Collins thinks SLV can chop 20 more seconds off the record next April in Philadelphia, and here are the new assignments: Lindsay Scarborough, 55 seconds in the 400 (a 3 second improvement); Shiloh Whiting, 2:11-2:12 in the 800 (6 seconds); Raquel Barrientos, 3:30 in the 1200 (14 seconds); Ale, 4:40 or better in the 1600 (4 seconds).
Second: Become national cross country champions. That campaign starts Saturday September 23 in Charlotte at the Great American Cross Country Festival. A big question mark is the recovery of Ale Barrientos from a season-ending stress fracture last June. She has not run competitively since. She maintained fitness and aerobic base through the summer by bicycle and swimming pool workouts. But her running workouts have been limited to 3-4 miles every 5 days. Will she be ready in time to help the team achieve its new goals?
Don't bet against it. If you believe . . .
Return to DyeStat features index