Running with the Buffaloes
A season with Adam Goucher, Mark Wetmore and the University of Colorado men's cross country team
a new book by Chris Lear
"It would take a hell of a life to cloud over the shining glistening days of collegiate cross country." - Adam Batliner
Review by John Dye
94 days and thousands of miles.
This is an insider's story of the 1998 cross country season of the University of Colorado men, from the heat of August to the NCAA championships in November at Rim Rock Farm in Kansas. 
Former New Jersey prep and Princeton runner Chris Lear went to Boulder and spent every day with the team, even riding a bicycle to keep up with Adam Goucher on workouts.  He wrote it all down.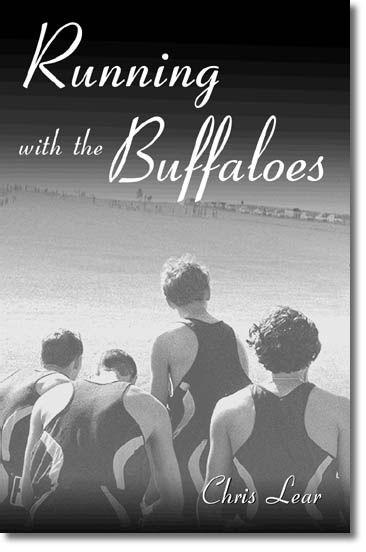 It is a story of Goucher's quest for the NCAA title.  As a freshman, he was second in the NCAA championship, highest ranking freshman since Bob Kennedy won the title in his first year at Indiana.  But now Goucher is a senior still looking for that title.
Even more, it is a story of the whole team and of coach Mark Wetmore's technocratic, high mileage training methods.  No Knute Rockne exhortations to "win one for the Gipper."  Not even "win one for Chris."  When Chris Severy, #2 runner and emotional leader of the team, was killed in a bicycle accident in mid season, there are no black shoulder patches or pre-race speeches.  Instead, the Colorado runners approach the starting line quietly as always, one at a time. 
"Trust your training," is Wetmore's quiet advice. 
But that doesn't keep Goucher from feeling that Chris is with him the last 2k as he overcomes the pain and weariness and breaks away for a 23 second win over Abdi Abdirahman and 30 seconds over Julius Mwangi.  ("Mixed into the sea of African faces with his pale complexion and black and gold uniform is Adam Goucher.")
Colorado finishes third, a satisfying result considering the injuries and setbacks of the season, and higher than they were ranked before the race.  It is the 6th straight top 5 finish for Colorado since Wetmore became head coach in 1992.
Publication of the book is timely with Goucher's recent victory at 5000 meters in the US Olympic Trials sending him to Sydney in September.
Even though you know the ending, the book builds suspense as you follow each runner's quest to overcome the pain of long distance running.  The real story is how the runners internalize Wetmore's goals and achieve personal victories apart from the results on the course. 
Senior Adam Batliner, who overcame serious injuries to toe the line at Rim Rock Farm, wrote these remarkable passages in his diary on the eve of the race:
This team is not tragic, this season is not tragic; Chris's death was tragic.  We get to pay tribute to what he was about while he was around by finishing, in grand style, what he never got to finish.  I know it's on all of our minds even though we don't want to talk about it -- this is for Chris.  That doesn't mean we go out harder and run harder than ever (which isn't possible), it doesn't mean we do a chant on the start line.  It means we do what we always have done, which is race intelligently and methodically and race as hard as our bodies will let us.  It means continuing the legacy that Chris was a part of.  Run our asses off and do what we do so well that we defeat all kinds of people that are supposed to be better than us.
This is going to be my last race in college.  I can't decide yet what exactly that means for me.  This is the last experience of truly being on a united team, and that is what I know I'll miss.   This team knows what it is to be invested in a plan, to be dedicated to a system that simultaneously  scares the hell out of you and makes you so excited you can barely hold it in. 
Running, like Wetmore said once, is like getting up every morning and shooting yourself.  You know that you are going to put yourself through something really painful, but you also know how much strength and speed are going to come with it. 
The passion of the runner is to force forgetfulness on that pain and embrace the benefits that will without fail make you a better person.   I think me and all these guys have it down pretty well, too well even, since we keep managing to forget to listen to the despair that scrapes across our nerves and end up injured.
But it's the respect and camaraderie that goes along with experiencing that, together, that is priceless.  These are some of the greatest moments of our lives, we may not see it yet, we may not even know it, but I think that we will look back as withered elderly men upon these times as some of the most profound of our lives.  And if I don't, that's even better, because it would take a hell of a life to cloud over the shining glistening days of collegiate cross country.
The book is chock full of training times and methods and personal thoughts of the runners and coaches.  Steve Underwood is also reviewing the book and will make more of that than I can. 
There is lots more, and the book is a great read on any level.  It will be enjoyed by all runners, coaches, family, and friends. 
Running with the Buffaloes, by Chris Lear (2000, Trafford Publishing, Victoria Canada) - 257 pages; catalogue #00-0081; ISBN 1-55212-417-7; CDN$24.54 (US$15.95)
The book can be ordered online at www.trafford.com/robots/00-0081.html.  Trafford Publishing also has a toll free number 888-232-4444 (Canada and US only) and fax number 250-383-6804.
Also see Chris Lear's web site: http://www.runwiththebuffs.com/