Part 4
- The Distance Gods are Back!
Those California Girls:
Bei - Barrientos - Siraki
By Stephen ("steveu") Underwood
The old Beach Boys song goes, "I wish they all could be California girls … !" If you are a prep distance coach in the year 2000, you certainly might be singing that tune as the Golden State again has more than its share of the nation's top female 1600 and 3200-meter runners.
If you had to pick one, however, it would be awfully tough. Between California's distance state champs, and two other special young ladies who have earned a great deal of time in the spotlight this year, there are some strikingly diverse stories of the ups and downs of racing - and some true "Distance Goddesses" or "Queens!"
They have tales to tell of glorious triumphs and heartbreaking injuries, high expectations and graceful perseverance, steady consistency and dramatic emergence. Sara Bei, Alejandra Barrientos and Anita Siraki have all been to the mountaintop and the valley at one time or another this year. While newly crowned 1600 state titleist Jenny Aldridge, Amber Steen, Lynn Dixon and other distance/middle distance stars have also taken the stage, it's the three above juniors who seem to be the heart and soul of California girls distance running.
And it's been the harder times that seem to have brought these rivals closer together, not only with each other, but their peers. Those times have served to teach some valuable life lessons.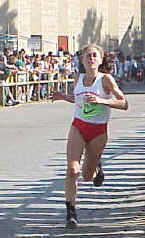 Bei looked unbeatable as the 1999 CC season dawned, two years of prodigal success behind her. She had numerous state titles and a third at the 1998 CC nationals, and looked like she might be the best in the nation after dominating victories at Mt. SAC (17:05, pictured at left) and the Cal State Meet (17:25).
But something happened at FootLocker West, something still inexplicable in its origin and unmistakable in its repercussions. "I was blacking out," Bei says of the latter portions of that race. "I think I had some mental issues going on, too."
The pressure of her time at the top had taken its toll. But Bei couldn't have imagined, when she crossed the finish line in 10th place, that things would unfold the way they did.
"It ended up being such a positive experience," she says. "I got over 150 letters and e-mails. I never knew how much people cared. It made me look at the reasons why I run and what's important."
The Montgomery (Santa Rosa) HS junior began the season solidly, but has seen her times slip ever so slightly as Siraki, Barrientos and other elites have improved, making things crowded at the top - but also allowing for a camaraderie beyond what could have otherwise existed. And with a pair of runner-up finishes at state, plus a third in the GWI 1600 last weekend, Bei's still very much in the championship hunt.
At the Nike Indoor meet in March 2000 and as the outdoor season began, the ebullient Barrientos exploded on the scene again, looking like she could beat anyone in the nation at any of the distances. After her mile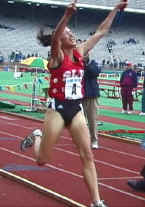 win at Nike, she quickly became the national outdoor leader at 800 (2:09.35), 1600 (4:46.60) and 3200 (10:11.19).
And with her San Lorenzo Valley (Fenton) teammates, "Ale" shared one of this spring's peak moments, a national HS record (11:41.28) for the distance medley relay at the Penn Relays (left).
"Running is kind of like my joy and hope," she says of the spontaneous expressions that have followed many a big win. "I enjoy it so much … it's not so much the winning, but just being there. It's such a gift."
Amazingly, Barrientos ran just 6:30 in the mile as a freshman (though she also had a 2:28 800 to her credit), but she and her teammates got a big boost when Coach Rob Collins started working with them before the '98 CC season.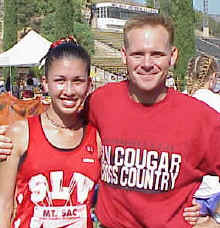 "He has a very good ability to read me," she says. "It just took a lot of willingness and trust (to improve) … and we have a very close-knit team."
"I told Ale after that cross-country season that she could break the school record in the mile," says Collins (right, with Ale at Mt. Sac 1999), indicating that she did just that in a subsequent time trial, setting up the incredible '99 track season - she ran a best of 4:45.02 - that followed.
But as unforgettable as her triumphs were, so too was the scene at Cerritos College almost two weeks ago when she dropped out of her 1600 heat at state, with injury that ultimately ended her campaign.
The pain had started during an easy trail run the previous Tuesday. Two days off seemed to have alleviated it initially, but it intensified during her warm-up and walk onto the track, then became unbearable during the first lap. A trip to the doctor 3 days later revealed she had a stress fracture in the right tibia.
Like with Bei, Barrientos found in a down time that she had more support than she knew. "I got a lot of letters from fellow runners, people in our community and others I didn't even know," she says. "It's been really nice to have that. It was hard during the rest of the meet, because I was so ready to race. But there's a time and place for everything, and I'm taking this as being something to make me stronger."
"She's taking it quite well," says Collins. "Better than I did, at first. She's going to take a few weeks off completely, then do some swimming and biking, and we hope that she can be racing by September."
Though she, too, has had a few ups and downs, Siraki has been very consistent, stayed injury free and has won the two biggest and fastest 3200s of the year so far. She seems poised to peak as arguably the favorite in Raleigh this week after skipping GWI.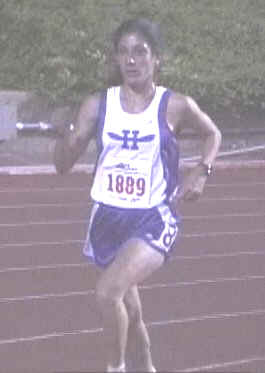 The Hoover (Glendale) junior (right) has only really been running since 9th-grade, but has improved quickly every year. "It's mostly because of my coach," she says. "He works with us to be consistent. He's been coaching 25 years."
"She's gone from fourth in her league, two years ago, to fourth in the nation (at FootLocker CC)," says Coach Greg Switzer. "She's a rare, utterly committed runner … I say she's a gift from the Lord."
The turning point for Siraki came after a freshman year where she ran some solid times, but had her season cut short by injury.
"Going into my sophomore year, I was so excited about racing again," she says. She started working her CC times into the 18s and a couple of 17s, also, over the course of the year, increasing her base training mileage into the 40s and eventually, the 60s.
Though she has twice broken 10:20 for 3200, Siraki has never actually gone out faster than 5:09 for the first half of the race. At Arcadia, her winning 10:18.61 went 5:16/5:02, while at state, she was 5:13/5:05 for a 10:18.50.
"She's been erratic in her racing before," says Switzer, "but she's learning how to bring the first half of her race down … and how to be strong under pressure."
Through the challenges they have had this year, the California Girls have formed some lasting friendships, despite their rivalries.
"With Sara, at meets we're at together, we'll warm up and cool down together," says Siraki. "And Ale, I'm always talking to her by e-mail … I felt so bad for her when she was injured. She was so awesome all season. I would hate that to happen to anyone."
"We have a special bond," Barrientos agrees. "We all support each other; we're rivals, but we look past that … Like when I was injured, Sara could understand what I was going through."
While Ale was going through her ordeal, Bei and others encouraged her sister Raquel, the fast freshman who has also become very close with her older sibling, as she tried to qualify for the finals.
Similarly, after Bei was edged by Aldridge in the 1600, Siraki gave her a lot of encouragement in the 3200.
"Anita and I are really good friends," says Bei. "As you become greater competitors, you talk with each other more. She really helped me as I was feeling down after the 1600. She's very unselfish."
Speaking with typical eloquence, Bei has much to share regarding lessons learned during tests and difficulties. "In a lot of ways, I've matured, she says. "I feel a lot less pressure; I had felt like I always had to win. Now I've learned that it's most important to run to please God and myself."
"I feel like God gave me my running for a purpose … It can be a selfish sport and we can get caught up in personal glory, but I know my ability isn't my own doing. I feel God gave me running as a platform."
Indeed, with most of these runners and/or their coaches, the spiritual aspect of running and racing is the key to having the sport reside in its proper place.
Sara, Anita and Ale. They are the cream of the crop, but what a crop it is, too. The impressive sophomore Aldridge, who came from behind with a great finish and breakthrough for her 4:49.56 that nipped Bei, already has a stake to the queenhood. Not far behind are the freshman Dixon, the junior Steen and others.
For the generations of California distance girls that follow, they could hardly have better role models than Sara, Anita and Ale.
---
In the days ahead, leading up the Foot Locker outdoor championships in Raleigh, N.C. on June 16-17, we'll take a closer look at some of the athletes and teams who have made the biggest splashes this year - for both boys and girls, in the mile/1600 and 2-mile/3200.
Next, we travel up to Big Bear Lake in California to meet Ryan Hall
The Distance Gods series by Stephen Underwood: