April 27-29, 2000 at Franklin Field, Philadelphia PA
HS Summary - Day 2
Alan Webb's 3:59.9 anchor
turns on the electricity
but the Irish prevail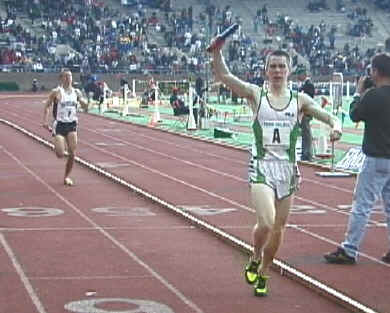 Conor Sweeney hits finish line with Webb in pursuit
Aaron Emery catches Dan Coval in 8:32.18
Dropped Baton costs Berkeley CA girls in 4x400
Holmwood Tech gives Jamaica 15th straight girls 4x800
By John Dye
Forty minutes of electricity . The record Friday crowd of 36,444 was limp after waves of excitement ended a gorgeous day of high school track.
First at 5:10 pm came the boys distance medley - St. Malachy's of Ireland holds off Alan Webb's amazing attempt to come from 11th place, 8 seconds behind. Webb ran 3:59.9 for the 1600 meter anchor leg, the fastest prep four laps in 33 years.
This was followed in breathtaking fashion by the boys mile -- Mason Ward 4:13.71; the boys 3000 -- Aaron Emery upsetting Dan Coval on the last lap; and the girls 4x400 -- with Berkeley CA poised to beat the vaunted Jamaicans when a dropped baton ruined their chances at the start of the last lap.
Boys Distance Medley
A dropped baton started out to be the story in this race, when St. Malachy's lead runner Thomas Frazer dropped the baton on the crowded first turn. He looked around seeming to expect a restart before finally starting up again in last place. But the 1200 meter leg is forgiving, so Frazer caught the leaders after two laps.
St. Malachy's anchor, Conor Sweeney, said the baton drop changed the strategy. "We expected to have the lead when I got the baton." Instead, St. Anthony's NY clung tenaciously to the lead.
Now started the drama that everyone was hoping for. Could South Lakes VA jr Alan Webb, America's hope as the next 4 minute miler, catch the leaders? He was in 11th place, about 60 meters behind St. Malachy's, when he got the baton. The race clock stood at approximately 6:02.
It seemed too much to ask. But Webb started picking up runners in his machine-like pace. Quickly to 5th on the first lap. To second at the start of the bell lap. The announcer said Webb turned three laps in 3:03. Now it seemed possible.
But St. Malachy anchor Conor Sweeney had other ideas. "I heard the announcer mention the 3:03. I decided I'm not sitting on this any longer." Webb inched closer and closer, but on the far turn Sweeney stopped the bleeding. Webb could get no closer, and they crossed the finish line 1.62 seconds apart as the scoreboard clock hit 10 minutes. Sweeney reached for the sky in jubilation as the Irish boys took home the Penn Relays DMR trophy for the fourth straight year.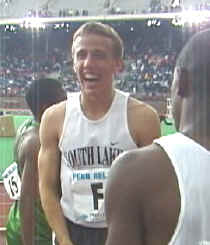 Webb got his own chance to leap and shout (right) when the stadium announcer proclaimed that Webb ran under 4 minutes. "Yeah - Yeah," screamed Webb after leaping into the air and hugging his teammates. The official split was 3:59.9. It's not a mile, but it's close. "Only 9.3 meters," said Webb, with a look that said he knows he can do it.
Track and Field News high school editor Jack Shepard made a quick trip to the archives and pronounced it the fastest four laps under any condition by a US high schooler runner in 33 years -- since Marty Liquouri in 1967.
Webb contrasted the race to a year ago. "Last year, when I got the baton I couldn't see anyone. This year I could see the leaders and I thought I had a chance. I just didn't have enough track. I wasn't consciously trying to catch anyone; I just wanted to run my own race."
Conor Sweeney on Webb: "I'd like to meet him with a standing start some day. Maybe at the World Juniors in Chile. I think I would do OK." Sweeney's anchor split was 4:07.9.
Webb's response: 'Maybe down the line, at a higher level, we will meet again." But probably not in Chile in October, which comes long after the peak summer meets in the US and conflicts with school schedules.
For the rest of this year, the key dates for Webb will be in North Carolina -- the Herbster Classic in May, which is staging a Nike Mile for elite milers and the Foot Locker National Outdoor June 17 in Raleigh. It was at Raleigh last June when Webb ran a 4:06.94 mile, breaking the legendary Jim Ryun's record for a high school sophomore and marking himself as an awesome talent.
Was the 57+ second last lap his fastest ever? "Yes, in a mile."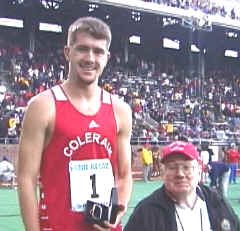 Boys Mile
Cincinnati Colerain sr Mason Ward (left, getting award from Larry Byrne) took the lead after one lap and cruised to a 4:13.71 win, 2 seconds ahead of his future University of Michigan teammate Brian Turner, Omaha NE sr.
Ward is looking ahead to the Foot Locker National Outdoor championships in Raleigh in June and a meeting with Webb. But he is realistic about his chances of beating Webb. "With him running near 4 minutes, no way. My goal for this year is 4:08."
Details of the Boys mile
Boys 3000
A see saw last lap duel ended with Aaron Emery, Beaver River Central NY sr, toppling favored Dan Coval, Council Rock PA sr, in 8:32.18. Coval, who never loses in Pennsylvania, took the lead with 800 meters to go and seemed headed for the win. Emery took the lead on the bell lap, lost it, and regained it with 200 meters to go. "That's when I thought I might be able to win," said Emery.
Emery, who runs for Beaver River Central NY, said his first time at Penn was awesome. "When I came out of the tunnel and saw all those people, I thought WOW!" Asked how many people saw him run in upstate New York, Emery said, "Maybe 15 people at home, and 200 at the state meet."
Emery has signed to run for Oregon next year, where he should see bigger, more appreciate crowds. Details of the Boys 3000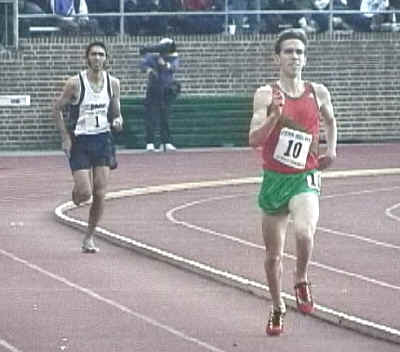 Girls 4x400 Championship - Disaster struck Berkeley CA just as the announcer called them the leader of a furious race. In the last exchange, the baton suddenly hit the ground and rolled away. St. Jago JAM 3:42.37 and Vere Tech JAM 3:43.13 roared to the lead and didn't look back. Eleanor Roosevelt MD 3:44.92 led six American teams across the finish line, with Berkeley finishing last instead of first. Details of the girls 4x400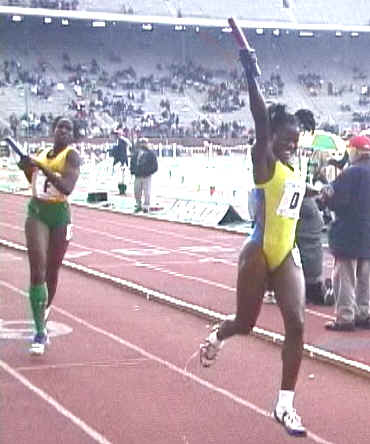 Girls 4x800 Championship - Jamaica captured the title for the 15th straight year with Holmwood Tech 8:55.79 making it three in a row. A scorching anchor split of 2:09.4 by Karen Gayle brought the winners from behind Edwin Allen JAM , which finished second in 8:59.10. Fastest qualifier Boys & Girls NY took third in 9:03.19, a 16-second margin over 4th place Conestoga PA. Details of the girls 4x800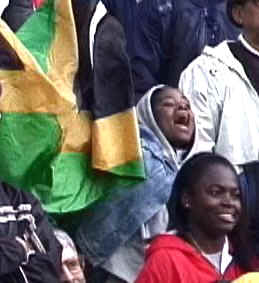 Relays are popular with Jamaican fans
Girls 4x100 Championship - Earlier, Vere Tech JAM had the upper hand over St. Jago JAM as Vere got its 5th straight victory in this event, 45.44 to 45.69. Holmwood Tech JAM 46.03 gave Jamaica a 1-2-3 sweep before the first American team, Largo MD 46.31, arrived. Details of the girls 4x100
Boys 4x100 heats - Going for its 8th title in 11 years, Jamaica placed its top two two teams 1st and 3rd - Jamaica College 41.65 and Wolmer's Boys 42.06. Splitting them was Roman Catholic PA 41.94. Eight fastest teams run in the Championship of America final at 2:10 pm Saturday. Details of the Boys 4x100
Boys 4x800 heats - St. Malachy of Ireland, which has owned the DMR three years running and is favored again late today, branched out into the 4x800 and got the fastest qualifying time in the early morning 4x800 relay: 7:52.04. Each member of the balanced Irish squad was under 2 minutes, led by Francis McCaffrey's 1:56.6. Next fastest of 12 qualifiers for Saturday's 3:05 pm Championship of America final was North Penn PA 7:54.96, led by Steve Craig's 1:55.2. Details of the Boys 4x800
Boys Pole Vault - Details on the Boys pole vault
Boys High Jump - Details on the Boys high jump
Boys Long Jump - Details on the Boys long jump
Boys Triple Jump - Details on the Boys triple jump
Boys Shot Put - Details on the Boys shot put
Boys Javelin - Details on the Boys javelin
Attendance: 36,444, Friday record
Weather: 60s, alternating sunny and cloudy